The Benefits of a Pescatarian Diet
Want to Reap the Healthy Benefits of a Plant-Based Diet? You Might Try Going Pescatarian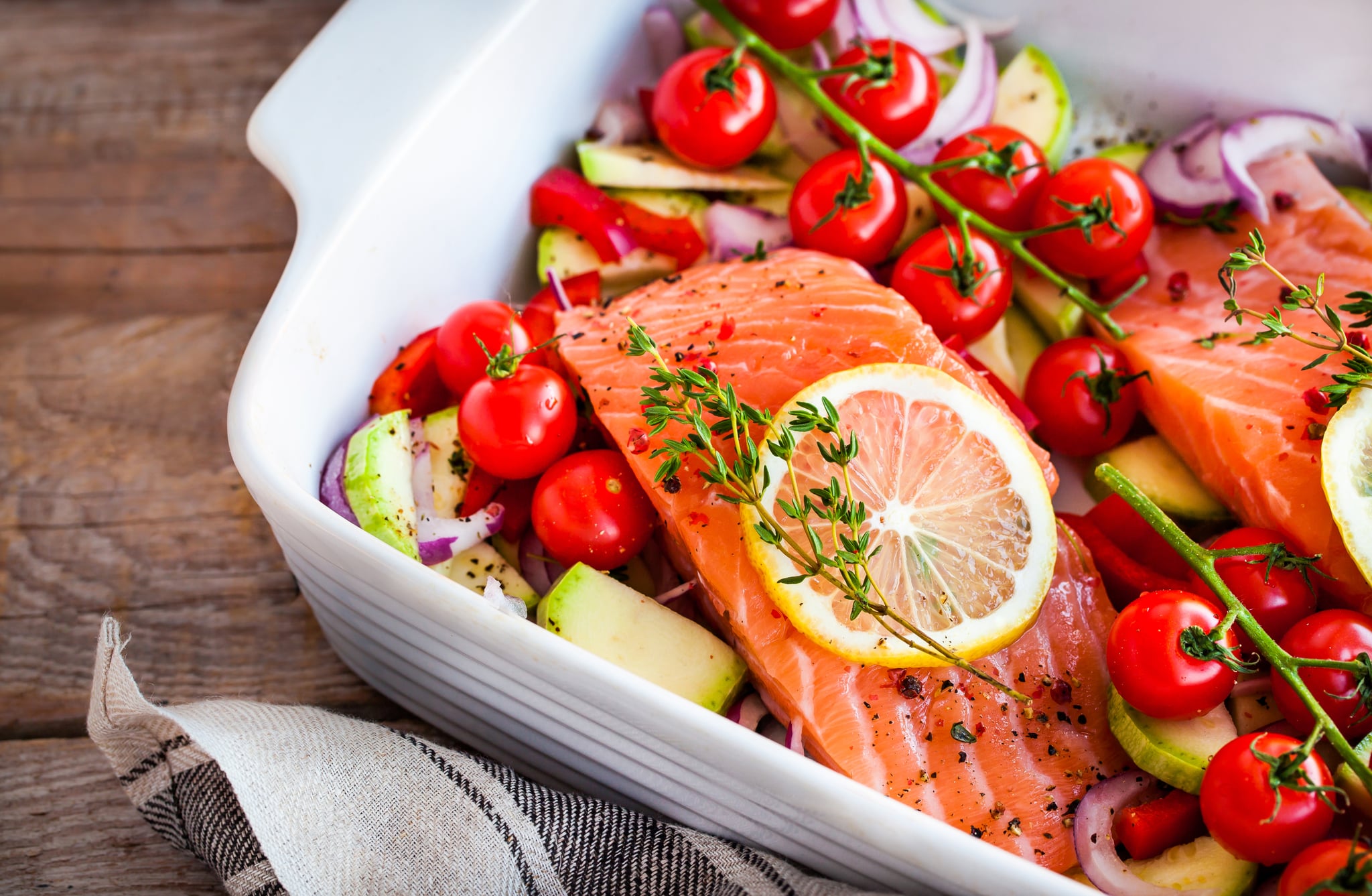 Plant-based diets have grown in popularity in recent years, with vegan burgers popping up on restaurant menus and a new plant-based milk arriving in grocery stores seemingly every week. But while you may be most familiar with a vegetarian or vegan diet, there's another option for those who want to eat more plant-based while still getting some animal protein: the pescatarian diet.
"A pescatarian diet is a vegetarian diet with the addition of fish and seafood," Rahaf Al Bochi, RDN, LD, spokesperson for the Academy of Nutrition and Dietetics and owner of Olive Tree Nutrition, told POPSUGAR. "The focus is on whole grains, fruits, vegetables, plant-based proteins, and seafood. Some people choose to include eggs and dairy."
What Are the Benefits of a Pescatarian Diet?
Apart from being more flexible than other plant-based diets, a pescatarian diet offers two important health benefits:
It's high in fiber. "The pescatarian diet is high in fiber from the whole grains and vegetables, which helps support gut health and reduces LDL cholesterol levels associated with heart disease," Rahaf explained.
It's rich in omega-3 fatty acids. "This comes from the fish and seafood, which can help reduce inflammation associated with many chronic diseases," she said. "The omega-3s from fish also support healthy brain development in infants and children."
So, Can I Eat as Much Seafood as I Want?
While this plant-based diet is generally considered safe for most people, you should still monitor your seafood intake. "Following a pescatarian diet does not mean consuming seafood at every meal," Rahaf told POPSUGAR. "The recommended amount of seafood for adults per week is two to three servings (12 ounces in total)."
Pregnant women should also use caution. "Pregnant women should avoid raw seafood and high mercury fish, such as swordfish, shark, and mackerel. Albacore tuna should be limited to six ounces per week for this population as well," she explained.
That said, if you're looking to up your plant intake, it could be a great option for you. "Anyone who would like to adopt a more whole, plant-based eating style can benefit," Rahaf said. "The pescatarian diet can help you consume balanced, well-nourished meals."