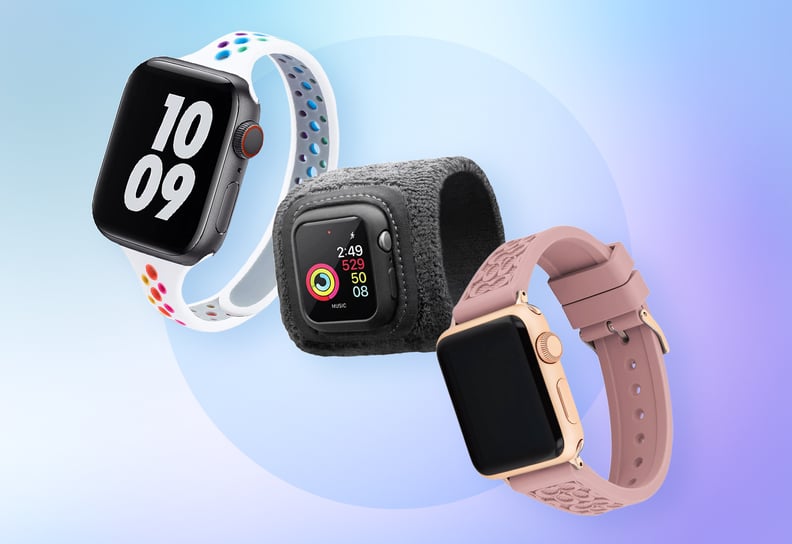 Amazon | Nordstrom
Photo Illustration: Aly Lim
Amazon | Nordstrom
Photo Illustration: Aly Lim
As POPSUGAR editors, we independently select and write about stuff we love and think you'll like too. If you buy a product we have recommended, we may receive affiliate commission, which in turn supports our work.
If you own an Apple Watch, you know that in order to take advantage of all of its fitness-tracking features, you have to actually wear it while you work out. But for anyone who doesn't want to deal with sweaty wrists and heavy straps or who's constantly worried about the band giving out on them mid set, it might seem easier to just leave their Apple Watch in the locker room.
Contrary to popular belief, it actually doesn't have to be that way, as there are hundreds if not thousands of different watch bands that are designed for a variety of athletic activities. For a more comfortable workout, all you have to do is swap out your default watch band for one that's made specifically for your preferred activity — whether it's running, lifting weights, or enjoying a more movement-intense sport like volleyball.
To help you elevate your next workout or competition, our expert editors rounded up the best Apple Watch bands that are stylish enough to match with your go-to workout set, functional, and equipped to withstand anything from HIIT to long hikes. These selects come from a range of different retailers, like Amazon, Target, Apple, and more. Keep scrolling to find the best one for your routine.
— Additional reporting by Kyley Warren
01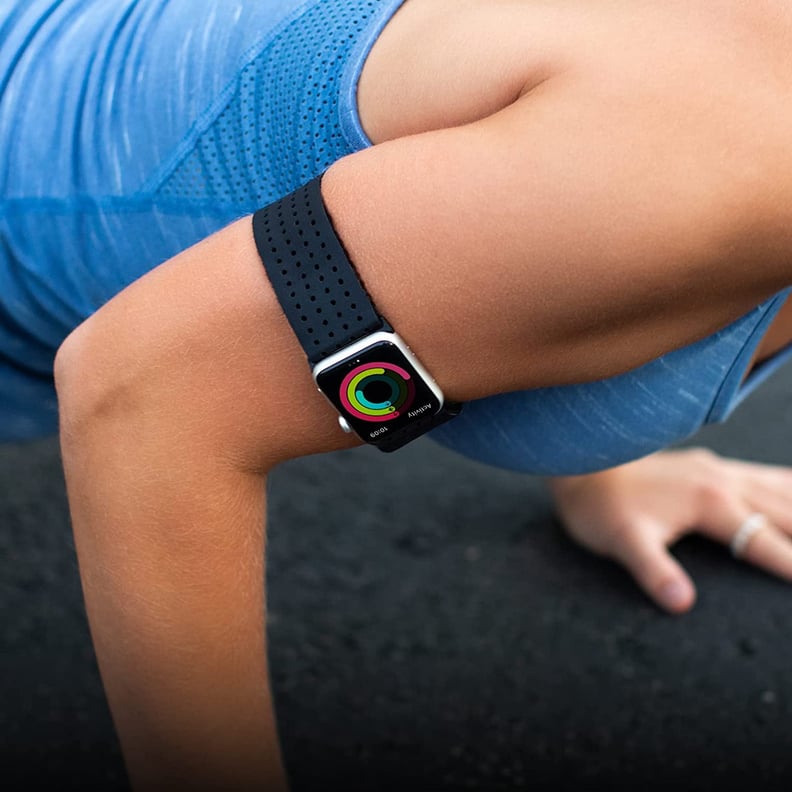 Best Apple Watch Arm Band
Tefeca Breathable Sport Loop Arm and Ankle Band ($18)
With this arm and ankle watch band, you won't have to worry about your Apple Watch jangling around like a bracelet every time you do HIIT. This band allows your Apple Watch to fit around your upper arm or ankle, and the material is soft and lightweight, so it won't feel like it's weighing you down.
02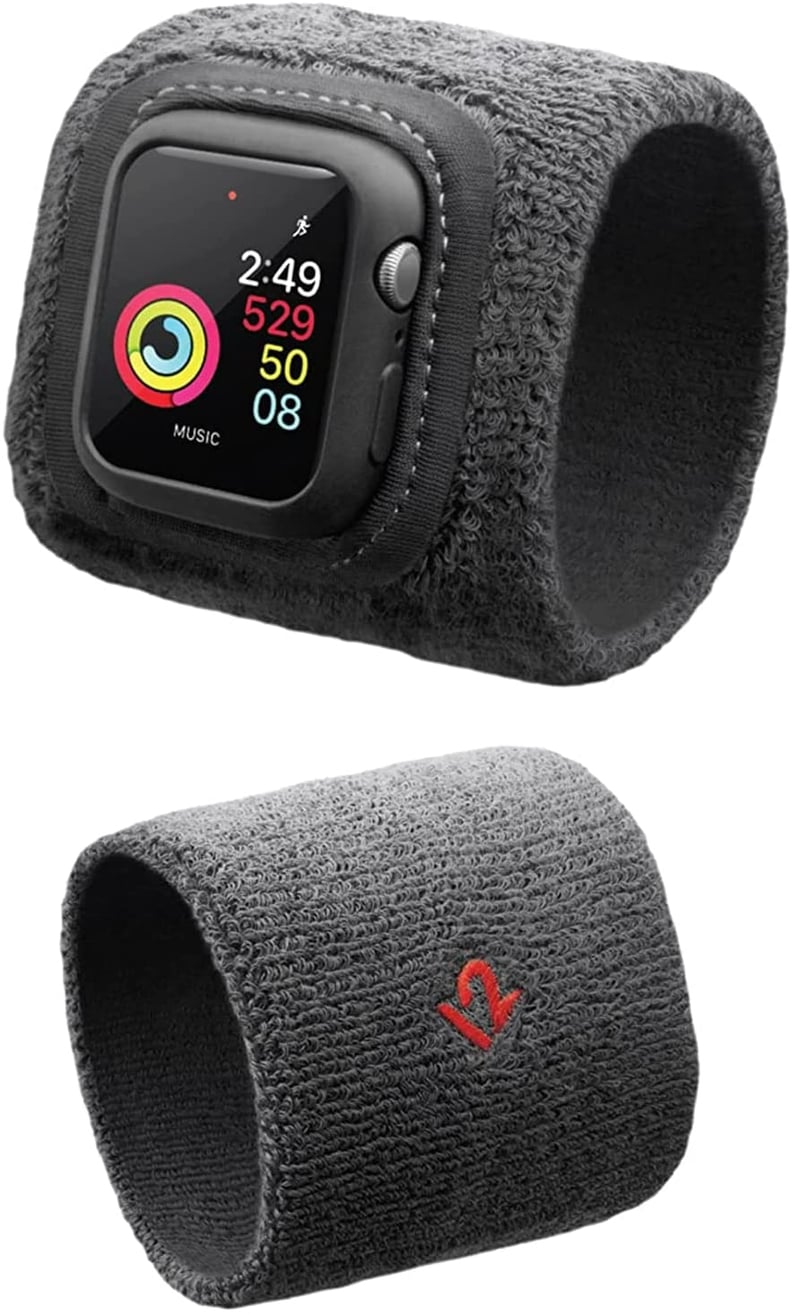 Best Multifunctional Apple Watch Band
Twelve South ActionBand ($26, originally $30)
Take functionality to the next level with this two-in-one watch band from Twelve South. It turns your Apple Watch into a machine-washable sweatband that can fit on either wrist and will stay secure throughout your workout. You can't beat that kind of versatility.
03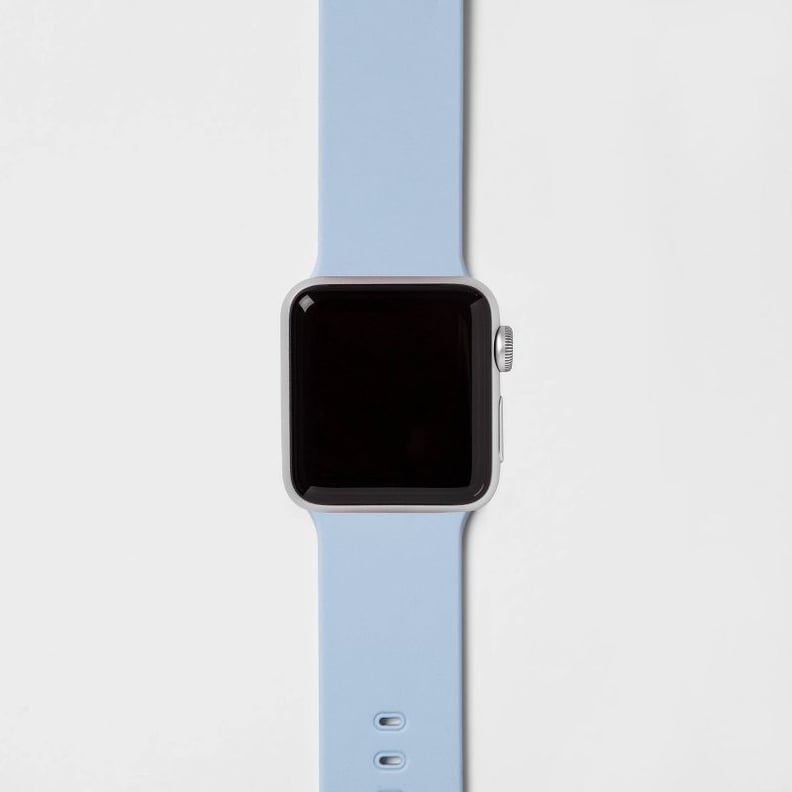 Best Silicone Apple Watch Band
Heydey Apple Watch Silicone Band ($10)
You might not associate silicone with being the most comfortable material, but a silicone watch band is incredibly durable, so it's a great buy if you're someone who enjoys high-endurance activities — and wants something that you won't have to worry about snapping or tearing.
04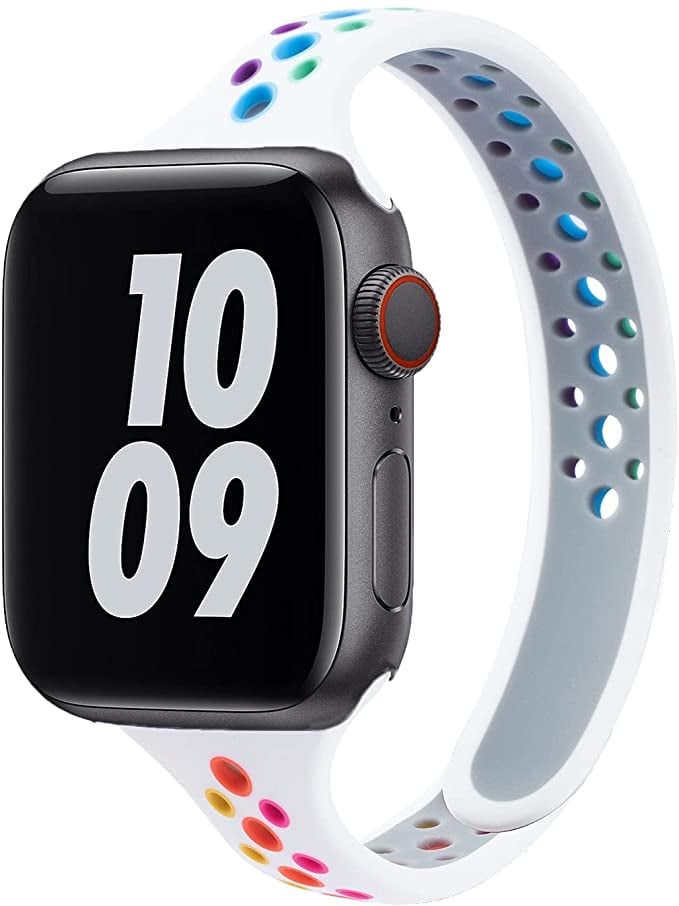 Best Adjustable Apple Watch Band
Plusyard Apple Watch Band ($8, originally $9)
Shoes that fit properly are especially important when you work out, and the same applies to an Apple Watch. This highly adjustable watch band is studded with holes for a more dynamic fit, and as an added bonus, it's made of premium elastomer to prevent skin irritation.
05
Best Waterproof Apple Watch Band
Raelmila Apple Watch Band ($7)
The latest Apple Watches are water resistant, but you'll want to make sure your band is too if you tend to sweat a lot. This colorful watch band is made with waterproof silicone, allowing you to really work up a sweat during an intense workout or continue running when it starts to rain.
06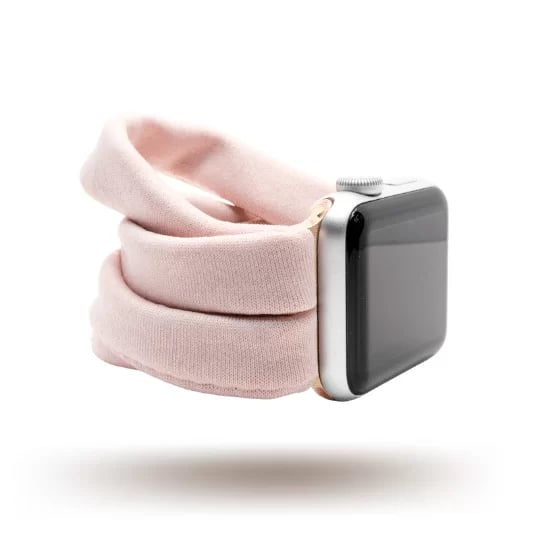 Best Flexible Apple Watch Band
Dot Outfitters Blush Pink Yoga Band ($35)
You know that pair of yoga pants that you can wear all day, every day? This flexible yoga band is just like that, but for your Apple Watch. It's made with stretchy, moisture-wicking fabric just like your favorite leggings, so you can wear it to the yoga studio, the gym, and even to sleep.
07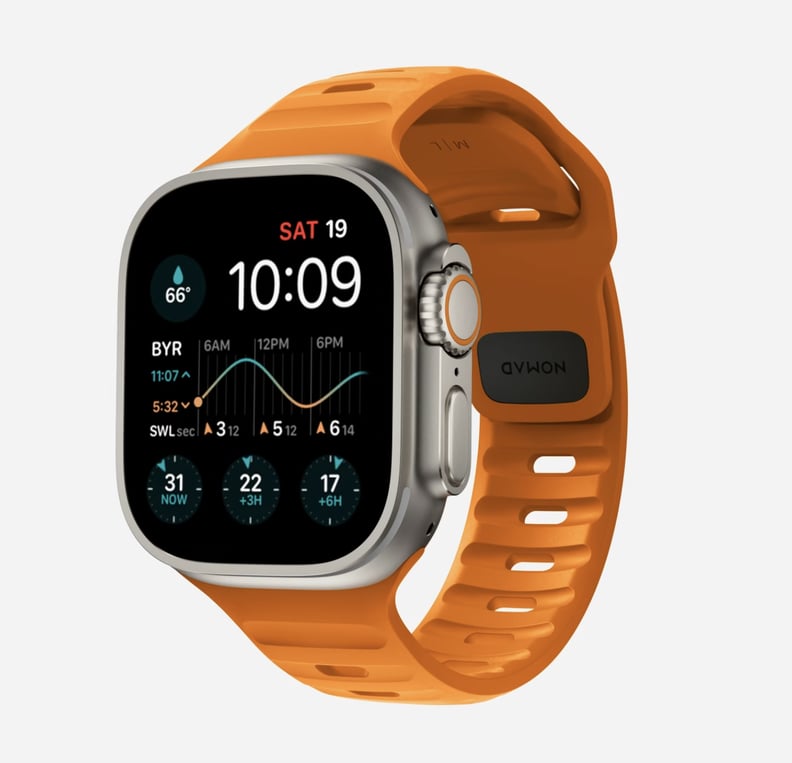 Best Breathable Apple Watch Band
Nomad Sport Band ($60)
That feeling of your Apple Watch band sticking to your skin won't be a thing anymore as long as you have this sporty watch band from. Nomad. It's designed with ventilation channels and wider holes that'll help to maximize airflow as you work out.
08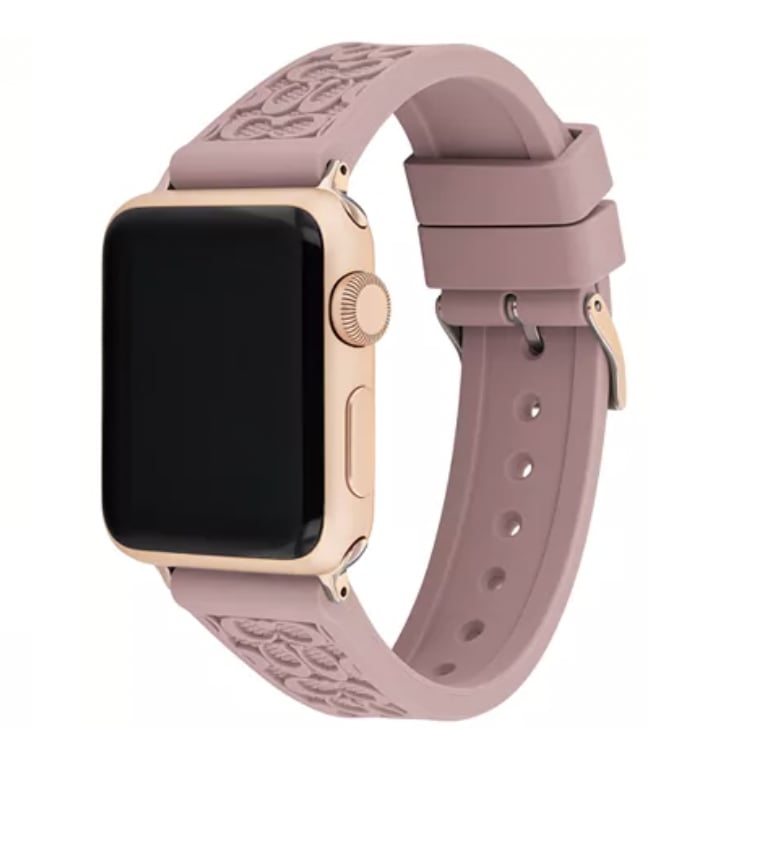 Best Stylish Apple Watch Band
Coach Pink Rubber Watch Strap ($85)
For those days when you go straight from the office to the gym, you'll want to have this designer watch band from Coach on hand. It's stylish enough to wear to work but is made out of a flexible rubber material so it's workout-friendly, too.
09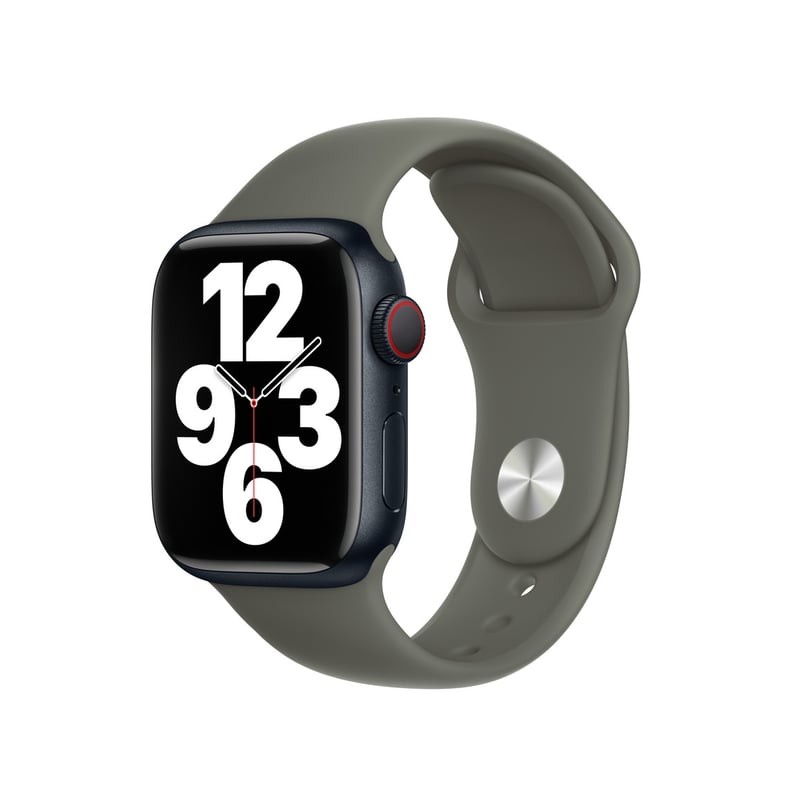 Best Durable Apple Watch Band
Apple 41mm Olive Sport Band ($49)
While we'd argue that there are plenty of high-quality (yet still affordable) watch bands that you can buy from other mainstream retailers, you still can't beat the perfect fit, seamless design, and endlessly comfortable feel of the O.G. Apple watch band — from Apple itself, no less. This product is made from a durable high-performance fluoroelastomer material that's smooth on skin and supremely durable.
10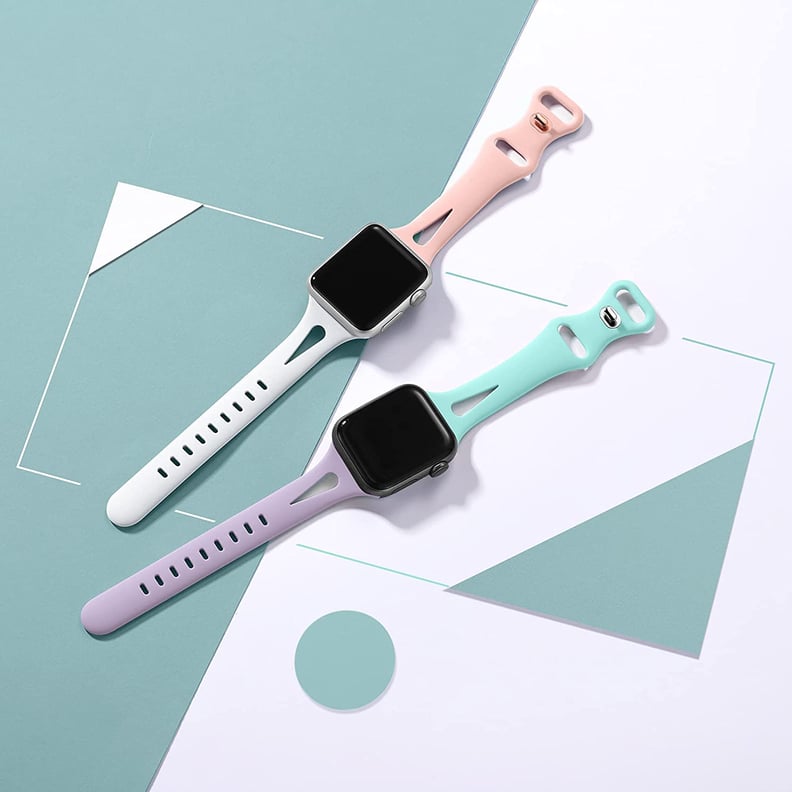 Best Apple Watch Band Set
Getino Apple Watch Bands ($15)
If matching your sports bra to your running shorts wasn't already enough, now you can match them with your Apple Watch, too. This four-pack of athletic watch bands is available in nine different color sets that you can mix and match to go with every one of your workout 'fits.