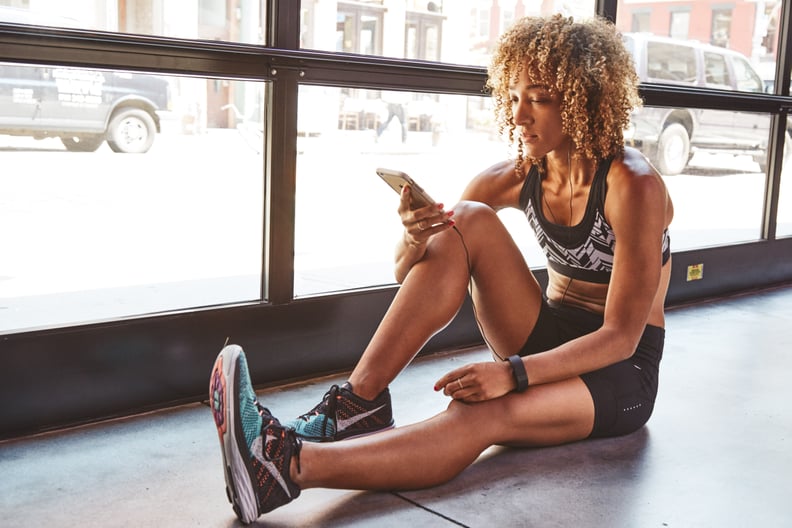 POPSUGAR Photography | Benjamin Stone
POPSUGAR Photography | Benjamin Stone
We love our gyms and our ClassPass memberships, but let's be real: the prices are skyrocketing lately, right? What was already expensive is just getting more and more pricey, but what can you do?
Here's the thing: working out doesn't have to be expensive, and living a healthier life shouldn't break the bank. We rounded up eight fitness apps that have customizable programming based on your skill level, needs, preferences, and goals — and all of them are less than $30 per month, with some being completely free or as low as a $4 flat fee.
Skyfit
Price: $10 per month or $50 per year
Have you dreamed about what it might be like to have a personal trainer take you on a run, or guide you through a cycling workout? The Skyfit app is just that, in digital form. From outdoor and indoor workouts to yoga and 10K training, there's a coach and a program for you.
Nike+ Training Club
Price: Free
The new and improved N+TC app not only lets you download different workouts from pro athletes and trainers, but now you can tune in to live events in different areas, or join a local event like a free run club or training class. You can customize intensity, and the types of workouts you like; the intuitive app asks how hard a session was, and adjusts the next workout accordingly.
Sweat With Kayla
Price: $20 per month
If you're familiar with Kayla Itsines's famous BBG program, you'll love how the PDF guides have been seamlessly streamlined into the functional Sweat With Kayla app, equipping you with all the tools you need to work out and eat right on the go. With customizable plans, guided recovery, and LISS logging, you've got a 360-degree plan in the palm of your hand.
8fit
Price: $10 per month or $60 per year
When you set up 8fit, you estimate your current body fat percentage, and give yourself a goal (it has images of what abs look like at different percentage ranges, which is hilarious to me). Based on your height, weight, age, gender, and fitness goals, the app creates a customized program for you, which includes meal plans and coaching if you want to pay extra ($1-$1.50 per week).
Gaiam Yoga Studio
Price: $4 (flat fee)
A four-dollar flat fee is pretty hard to beat, no? This customizable Gaiam Yoga Studio app lets you choose a 15-minute intermediate relaxation session, or 5-minute beginner stretches, or 30-minute advanced balance — and literally everything in between. You can also create a custom flow, choosing any kind of poses you'd like, creating the order, and then letting the app guide you through.
Spitfire
Price: $30 per month
Those of you who love CrossFit know that an average monthly membership can cost you around $125, depending on your city and gym. If you're trying to weight-lift and get those gains, Spitfire is the app for you, and it's significantly cheaper.
While you'll still need access to weights, the Spitfire app acts as your personal trainer in your pocket. You'll get to see — and follow — plans of "nationally ranked female athletes" while the app guides you through your lifting and strength training, including warmups and cooldowns, and logs your workouts.
Sworkit
Price: $3 per month
Whether you're trying to build strength with yoga or bodyweight workouts, you can customize a program with Sworkit, based on your level, time you have, and workout style preference. You can stream workouts on your phone or on your laptop.