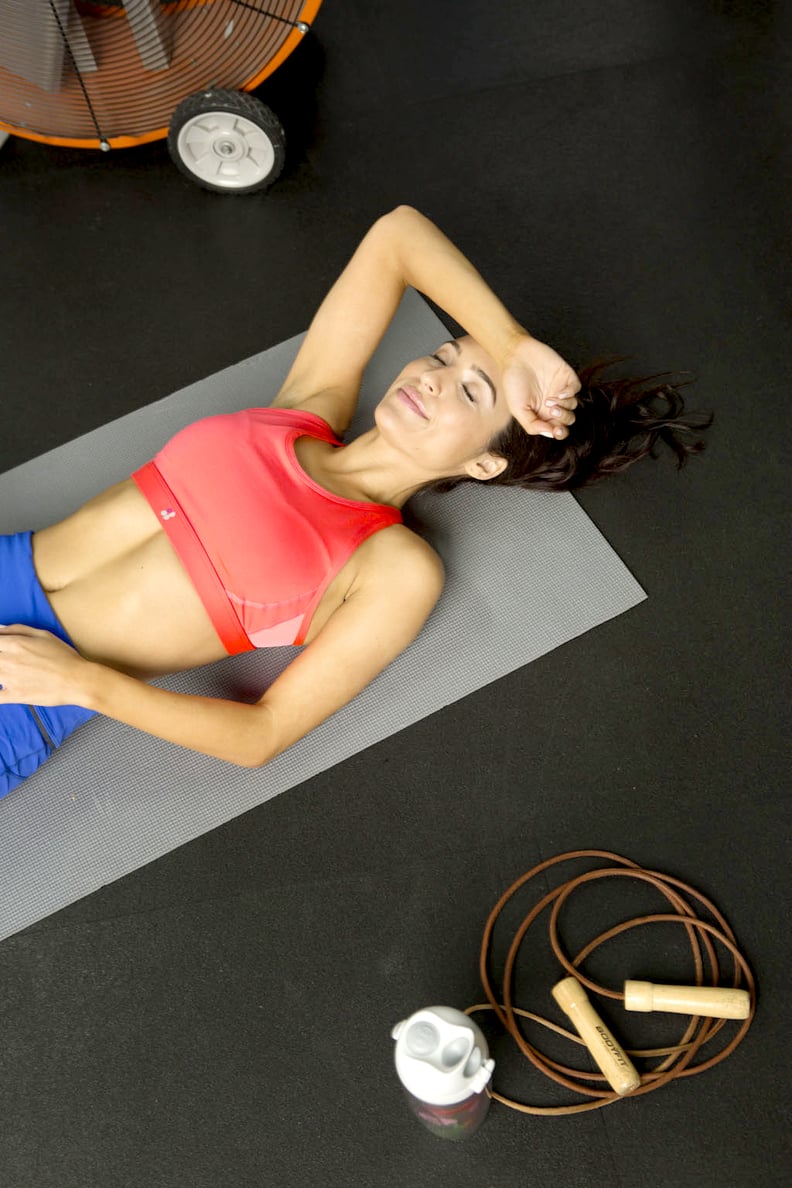 POPSUGAR Photography | Kat Borchart
POPSUGAR Photography | Kat Borchart
As POPSUGAR editors, we independently select and write about stuff we love and think you'll like too. If you buy a product we have recommended, we may receive affiliate commission, which in turn supports our work.
When I work out, I sweat — a lot — and this happens at just about every workout you can think of. It's not unusual for me to walk out of a Pilates class looking like I just completed 60 minutes of Spin. And sadly, my sweat does not smell like roses. It's gross, but it's my reality.
While regular detergent might work on a pair of jeans, this does not hold true to my soaked-in-sweat workout gear. Before discovering detergent that actually got the funk out of my sports bras, capris, and tanks, it wasn't unusual for me to do an entire load of my favorite fitness items, just to find offensive odors still lingering once everything was dry. After playing around with plenty of DIY solutions and testing every detergent I could get my hands on, I've found three solid choices that work. Unlike most detergents, they don't leave a weird residue behind, won't harm the technical properties of good workout gear, and most importantly, eliminate that funk a good session at the gym is sure to leave behind.
Nathan Power Wash
After years of being disappointed with how traditional detergents cleaned — or didn't clean — my gear, I happened upon Nathan Power Wash ($10). While it's a little dramatic to say this about laundry detergent, Nathan's changed my life.
No matter how gross you get while exercising, Nathan Sport-Wash eliminates any odors that are lingering in gear. Case in point: After sweating it out in a Tabata class, I accidentally left my wadded-up gear sitting in my gym bag. As you can imagine, it was not pleasant when I found it a few days later. After washing everything in Nathan's, every trace of foul odor was gone. What I most appreciate about this detergent is that it doesn't cover up odor with flowery perfumes; it eliminates odor and stains and does so by still keeping expensive gear pristine. Nothing fades or stretches, and the prized qualities of technical material are not diminished by frequent washes.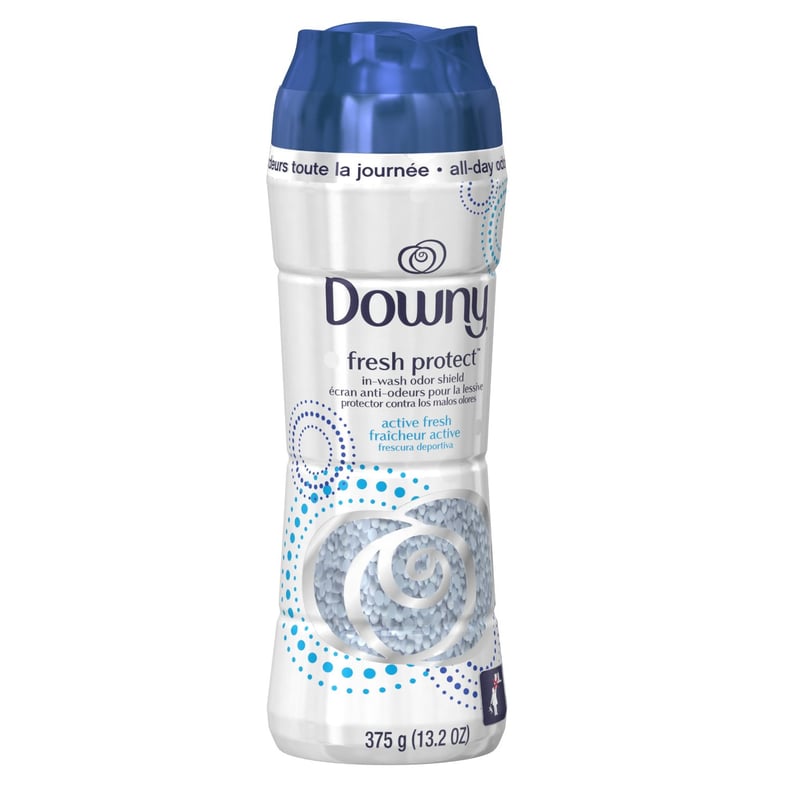 Downy Fresh Protect
If you've ever recoiled at your own scent during a class or been embarrassed at the odor coming from you post-workout while running errands, Downy Fresh Protect ($12) is the pick for you. Adding it to your wash helps protect clothing by neutralizing foul odors that might occur during wear — think of it as protection against the stink that settles in once sweat dries.
After washing a load of workout clothing in Downy Fresh Protect, I put an outfit to the test by doing back-to-back workouts: a 45-minute SoulCycle class followed by 90 minutes of yoga. Despite sweating profusely in both classes, my clothes smelled just as fresh as they did before exercising. The product can fall a little to the floral side, so if you're not keen on strong smells, I've found that it still does the job when I add half the recommended amount to my wash.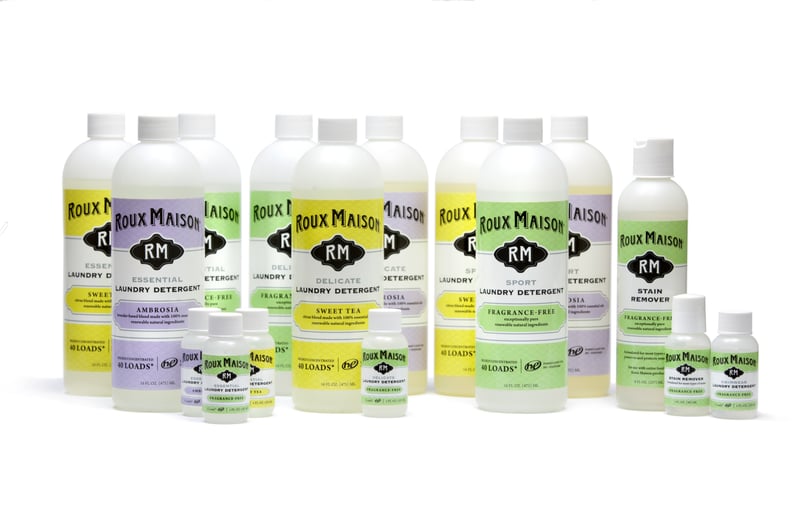 Roux Maison Sport Laundry Detergent
Roux Maison Sport Laundry Detergent ($20) is the perfect pick if you like your cleaning supplies on the fancier — and eco-friendly — side of things. Made without any harsh chemicals, the detergent is all-natural, nontoxic, and housed in a BPA-free bottle. I am a huge fan of the fact that it gets out all the funky odors associated with sweaty workout clothes, leaving behind a light and natural scent. It's also made to protect technical material, which means lycra and spandex stay stretchy, and waterproof gear retains all its properties needed to withstand the rain.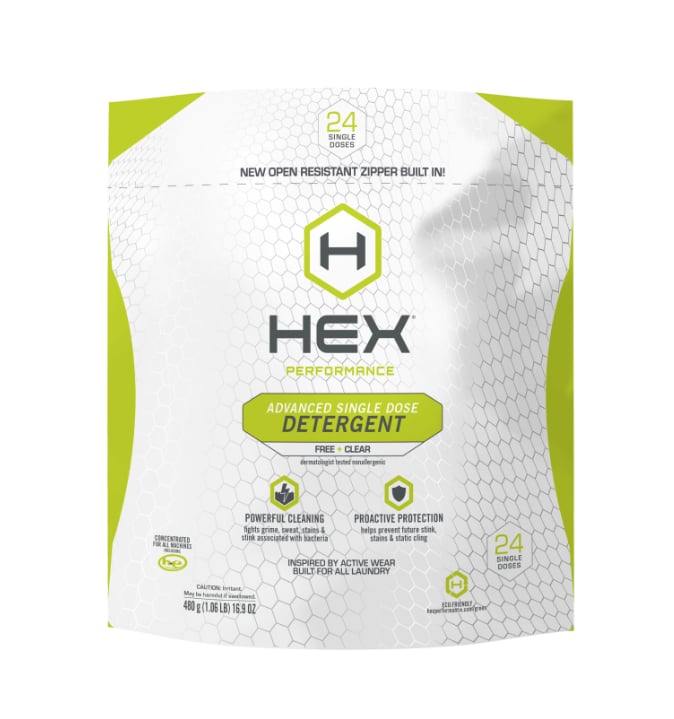 HEX Performance Free + Clear Advanced Laundry Detergent
Because I don't have the luxury of having laundry at my house, I am big fan of HEX Performance Free + Clear Advanced Laundry Detergent ($14). While it's also available in large bottles ($13), the single pods make it easier to deal with when I am lugging all of my gear to the neighborhood laundromat.
Beyond convenience, Hex really works to get foul odors out of stinky workout clothing. The biodegradable, eco-friendly formula is made to work on synthetic material (like workout gear) and it leaves behind a nice, light scent that never overpowers clothing.