10 Comfortable Weighted Blankets That'll Help You Feel More Relaxed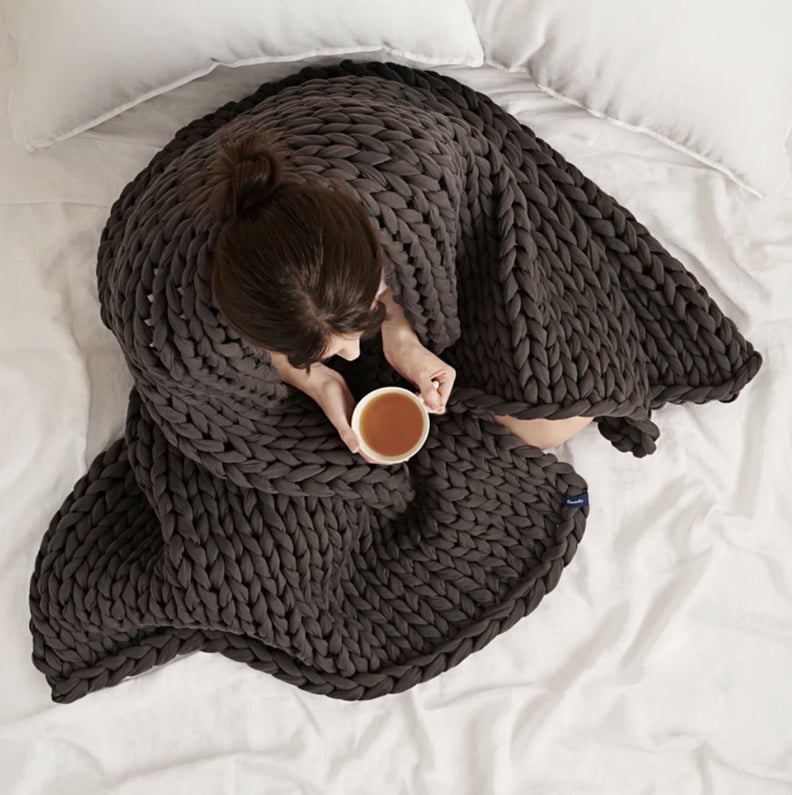 Bearaby
Bearaby
As POPSUGAR editors, we independently select and write about stuff we love and think you'll like too. If you buy a product we have recommended, we may receive affiliate commission, which in turn supports our work.
If sleep is truly one of the universe's greatest gifts to humankind, then a weighted blanket might just be the greatest gift you can give yourself — especially if you're someone who struggles with anxiety or falling (and staying) asleep. While the blanket's are excellent for those suffering from conditions like insomnia or anxiety, these comforting tools can also help to improve your nightly sleep and just generally allow you to relax more easily.
The benefits of weighted blankets are hard to ignore and using one is a great way to wind-down at the end of a long or stressful day. Even better, there are tons of options to shop online — from cozy weighted blankets that you can snuggle up in all cozy season long to washable weighted blankets that are easy to clean and even weighted blankets that are designed with kiddos in mind, there's a style that's perfect for every type of household.
With all this in mind, we went ahead and shopped out the best weighted blankets that are comfortable, cozy, and bound to help you relax more easily. Our favorites come from brands like Bearaby, Brookstone, Gravity, Luna, and more. Keep reading to see our selects.
— Additional Reporting by Charisandra Perez and Krista Jones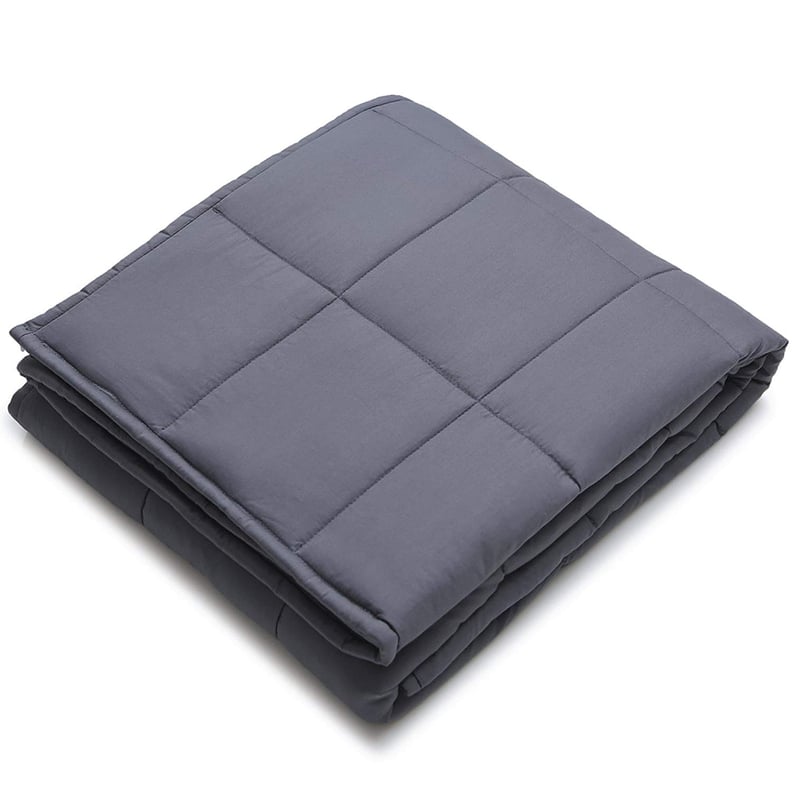 Best Textured Weighted Blanket
YnM Weighted Blanket ($35)
This bestselling weighted blanket has a seven-layer system to comfortably distribute the weight evenly. Per reviewers on Amazon's site, it works great as a blanket, but can also double as a thick duvet covet to have draped over your bed. With a wide array of color options and sizes, you can get one for every room in your home.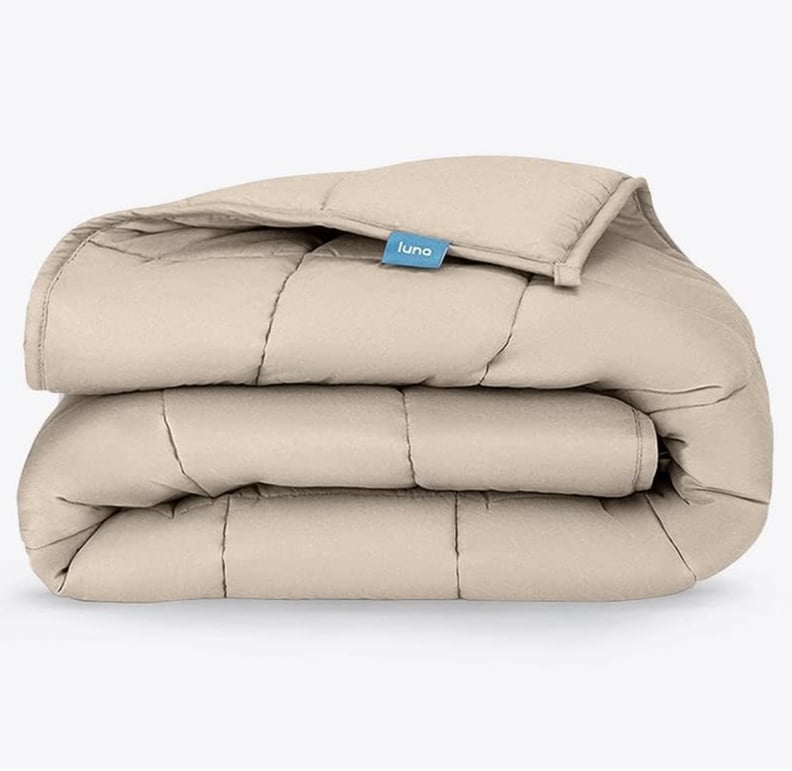 Best Cooling Weighted Blanket
Luna Adult Weighted Blanket ($60)
This Luna weighted blanket boasts over 11,000 positive reviews on Amazon and comes in over 10 fun color choices and patterns. Unlike other styles, this version is crafted from an Oeko-Tex certified breathable, soft cotton material that's made to keep you feeling cool — despite its weighted design.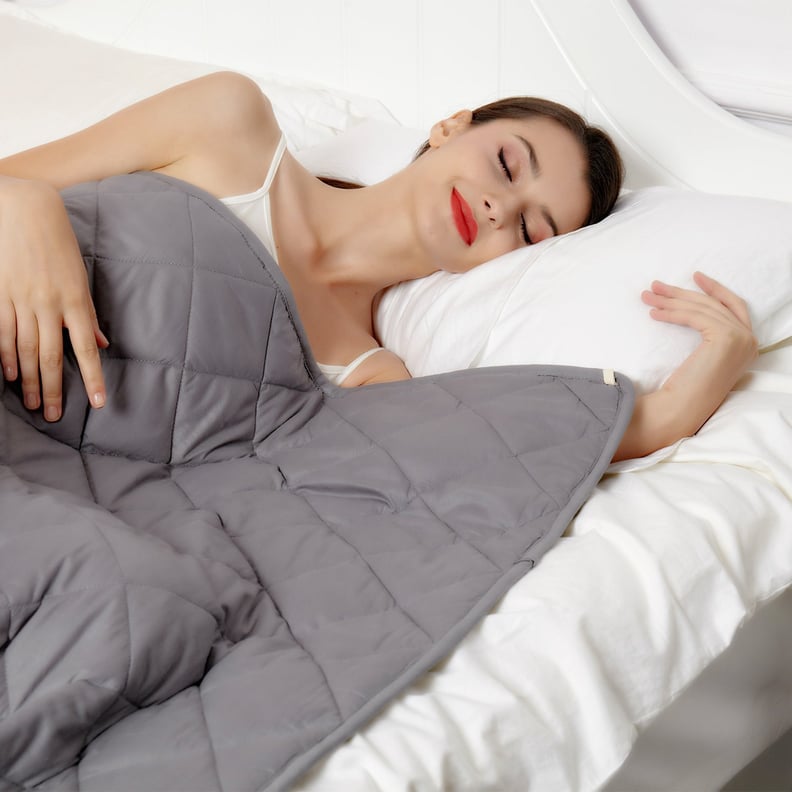 Best Weighted Blanket For Sleeping
Hypnoser Weighted Blanket 2.0 ($36)
Gift this comfortable weighted blanket to a friend who has trouble sleeping (or just scoop one up for yourself). The product feels like a gentle hug that you'll want to be wrapped up in 24/7 — but especially come nighttime when you want a guaranteed better night's rest. It's designed to fit full or twin-size beds.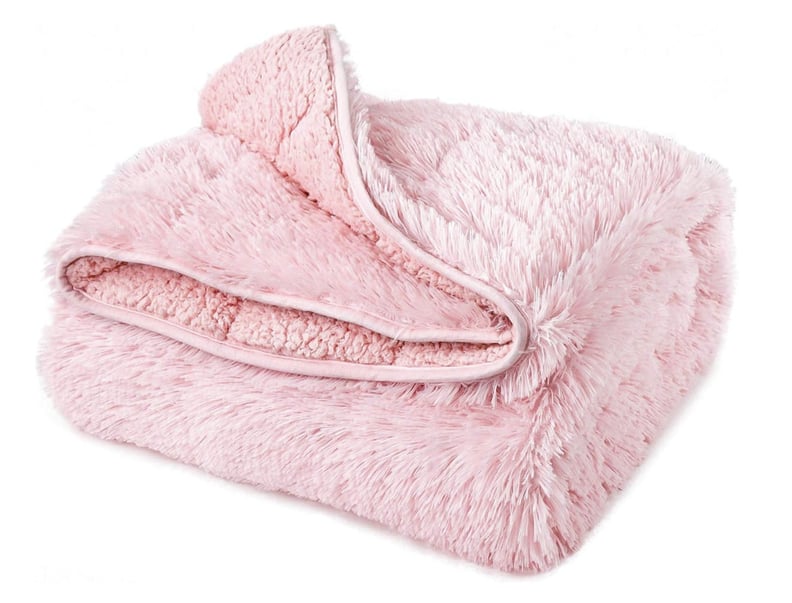 Best Sherpa Weighted Blanket
Pacapet Fuzzy Sherpa Weighted Blanket ($171)
Looking for something a tad cozier than your typical cotton or polyester blanket? This plush product is the perfect choice for anyone who loves anything furry. It's composed of a soft sherpa material that feels so luxurious, despite it's relatively affordable price tag. Plus, that light pink coloring is simply divine.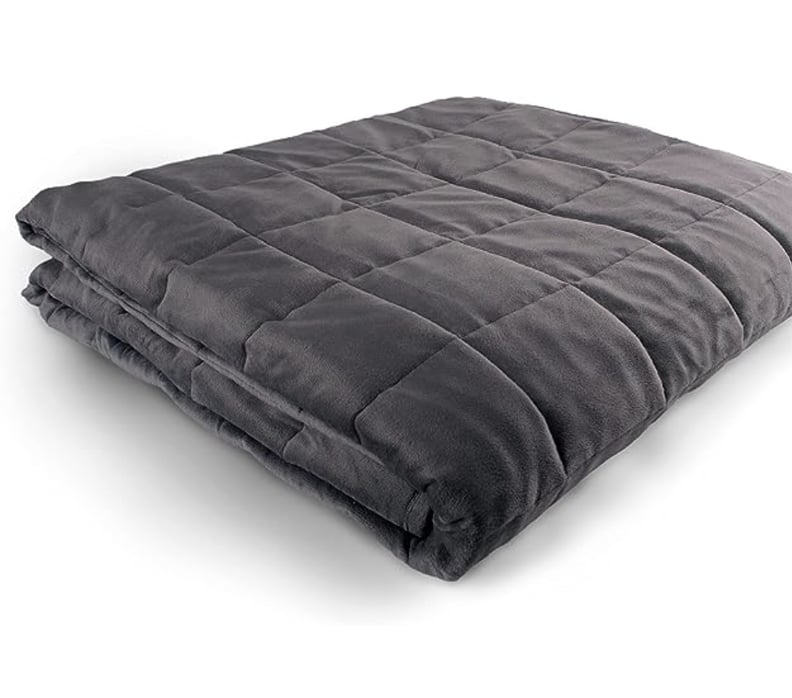 Best Cozy Weighted Blanket
Hug Bud Weighted Blanket ($57)
This isn't your average weighed blanket — in fact, it's way cozier. Not only does the product come in multiple weight options, but also a variety of different lengths and sizes, too. The blanket is filled with premium glass beads which are designed to create a more stimulating, sensory-focused experience for users.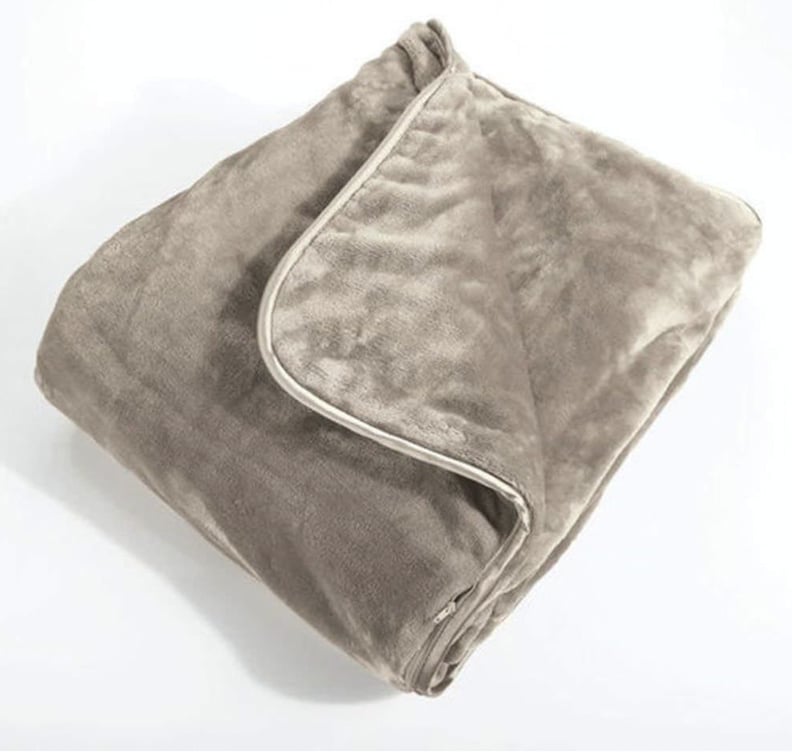 Best Washable Weighted Blanket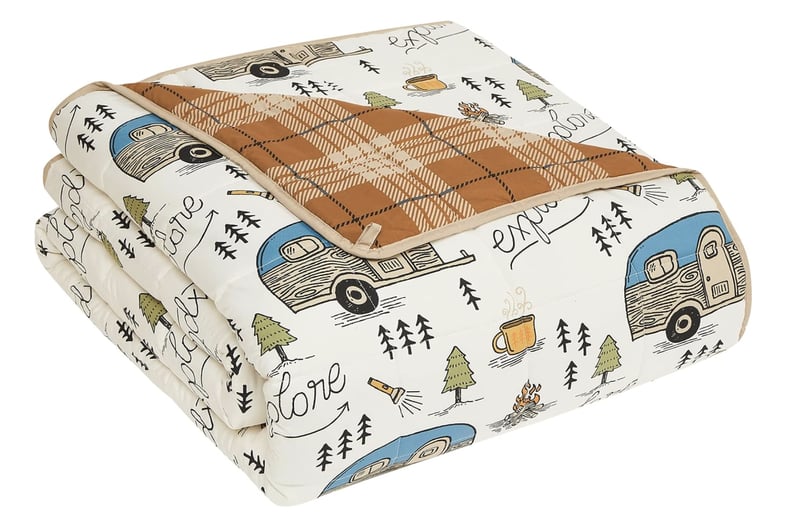 Best Weighted Blanket For Kids
CuteKing Weighted Gravity Heavy Blanket ($40)
Some weighted blankets are a little too heavy for kiddos, which makes this patterned style such a great alternative for children. The blanket is filled with tiny, nontoxic, odorless, cool glass beads that are safe for kids. Plus, it's available to shop in a number of prints, so you can shop out the best option for your child.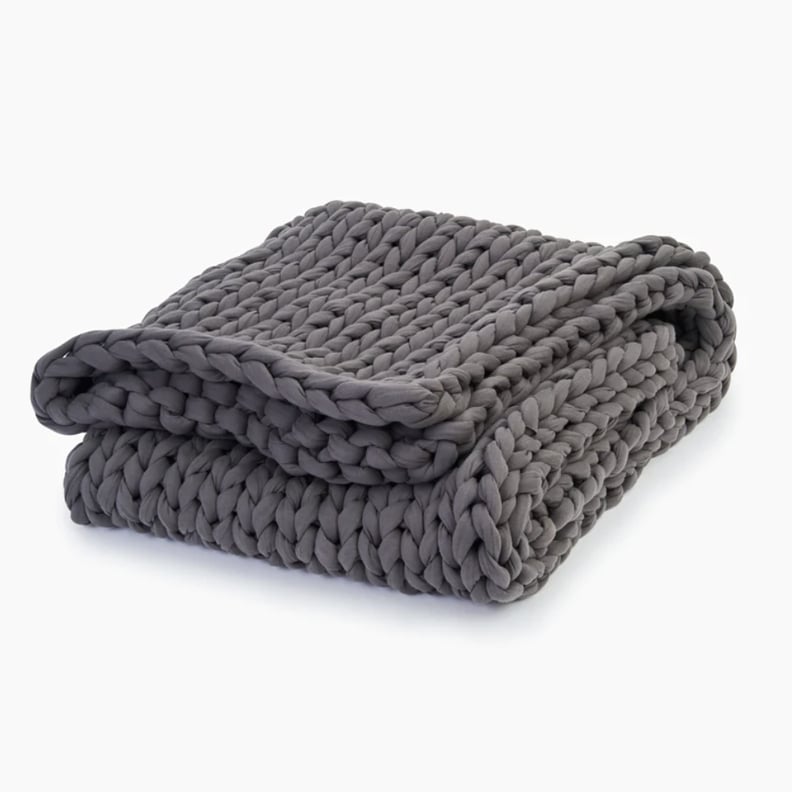 Best Cotton Weighted Blanket
Bearaby Cotton Napper ($249)
Upgrade your next nap time setup for the better with this cotton weighted blanket from Bearaby. It features a cool braided design that elevates the piece with a bit more texture and breathability. Plus, the knitted design is also an editor favorite, and you can read the full review of the Bearaby Cotton Napper here.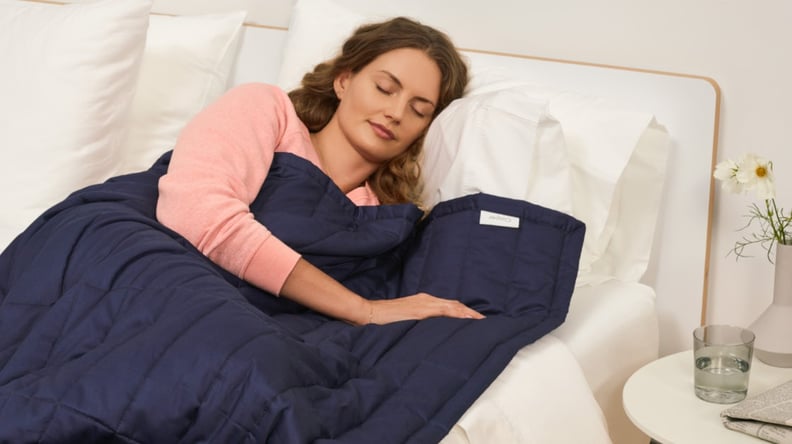 Casper Weighted Blanket
Casper Weighted Blanket ($85, originally $169)
If you're a fan of Casper's popular mattresses, then you'll definitely want to try the brand's top-rated weighted blanket. The popular choice comes in three different weight choices. Per Casper, the brand recommends shopping out the option that's equal to 10 percent of your body weight for optimal comfort.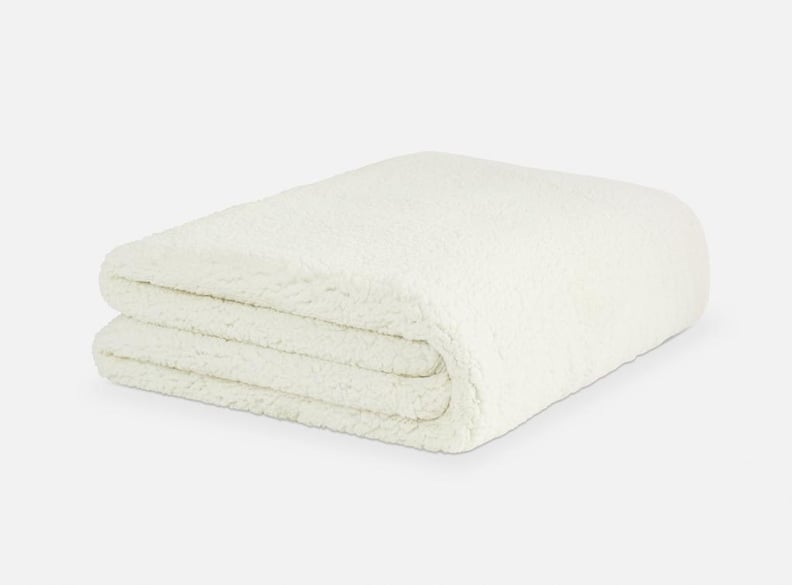 Best Soft Weighted Blanket
Helix Weighted Blanket ($87, originally $109)
Looking for an ultrasoft fleece choice? Then this plush weighted blanket from Helix is the one for you. The product has a soft two-sided cover design which features soft fleece on one side and sheared microfibers on the other. Plus, it comes in several different weight options.