As POPSUGAR editors, we independently select and write about stuff we love and think you'll like too. If you buy a product we have recommended, we may receive affiliate commission, which in turn supports our work.
When you're working out from home, it helps to create a dedicated space for your home gym — but if you reside in a cozy apartment or don't have the real estate to section off part of your home, getting into the workout headspace while in your basement, bedroom, or living room can be kind of hard. One small thing that helps? A quality yoga mat. Not only does it signal to your brain that it's workout time when you roll it out, but it also provides cushioned support and a nonslip surface that's much more suited to exercise than, say, a carpet or hardwood floor.
Even if you head to the gym or a studio for workouts, it can be helpful to have your own mat. Often, the soft, foamy ones in gyms and studios aren't very nonslip and can be prone to crumbling. Not to mention, they're quite literally covered in germs.
All this is to say, a yoga mat is a simple yet necessary fitness tool for anyone who works out. And in case you weren't aware, yoga mats aren't just for yoga; you can utilize them for Pilates, strength training, stretching, bodyweight training — or any time you need a stable and supportive surface for an at-home workout. That said, not all yoga mats are created equal. Some are better suited to sweaty workouts, some provide more cushion, and others are specifically designed to stand up to sneaker scuffs or extreme wear and tear. If you're wondering what the best yoga mat is for your specific needs, the good news is, we've got you covered. We rounded up the best yoga mats on the market for every type of workout and personal preference.
Whether you want something super thick to protect your knees or a thin mat that's flexible and easy to travel with, there's a yoga mat here for you. We found several yoga mats with nonslip surfaces — even one ideal for hot yoga. If you like to work out with a partner, there's also an extra-large yoga mat that can fit two people. There's even an option if you want to work out with your kid. Keep reading for yoga mat picks from Alo, Lululemon, Manduka, Gaiam, and more.
— Additional reporting by India Yaffe, Jenny Sugar, and Lauren Mazzo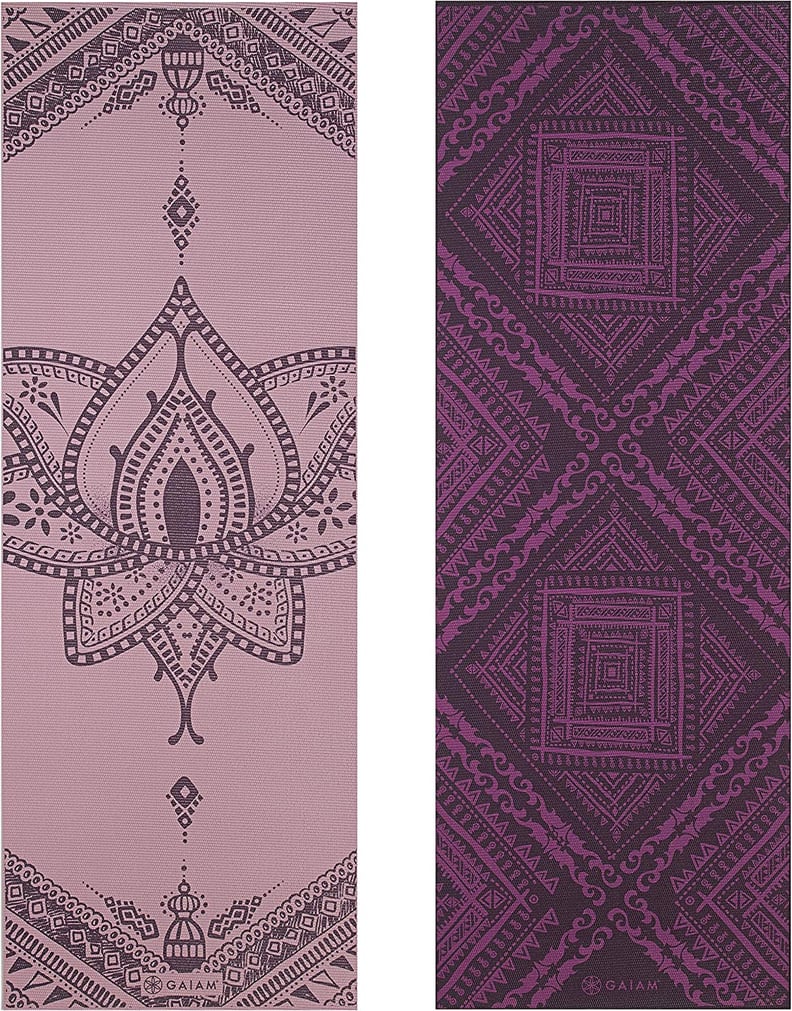 Best Yoga Mat For Beginners
Gaiam Reversible Yoga Mat ($30, originally $40)
Ditch the boring black and solid-colored mats for something colorful and design-centric, like this Gaiam option. This reversible mat has a gorgeous, calming design on each side in a complementary color palette — and if this one isn't your style, there are more than 20 others to choose from.
Why we love it: This PVC yoga mat is budget-friendly and has a medium thickness with a textured, nonslip surface that makes it easy to hold poses in. This is ideal for beginners or those who want a more affordable yoga mat that has some personality.
What's worth noting: Some customers report slipping on this mat when their hands get sweaty or that the mat has a chemical smell when it's new.
Additional details: Size: 68" x 24" x 6 mm | Colorways: 23
Best Thick Yoga Mat
BalanceFrom GoCloud All-Purpose 1-Inch Extra Thick Yoga Mat ($40)
If you want a yoga mat to provide a cushion more than anything else, this could be the best option for you. It comes in handy for core work or floor exercises to provide some padding under your knees, hips, hands, and spine.
Why we love it: If you have sensitive knees or need extra padding for workouts like yoga or Pilates, this is a great option. One editor says, "This mat is so thick and cushioned, it feels more like a pad, but it's got enough grip so that you can still move with it. Since I started using it, I have not worried about my knees when doing leg lifts or fire hydrants, and my wrists have also stayed comfortable in planks, something I never thought would happen." Read her in-depth review of the BalanceFrom GoCloud All-Purpose Extra Thick Yoga Mat here.
What's worth noting: Because it's so cushioned, this yoga mat isn't the greatest option for balance poses or heavy weightlifting, when you need a more stable surface. The foamy cushion absorbs sweat, but it's not exactly nonslip like rubber yoga mats are, some customers report.
Additional details: Size: 71" x 24" x 1" | Colorways: 7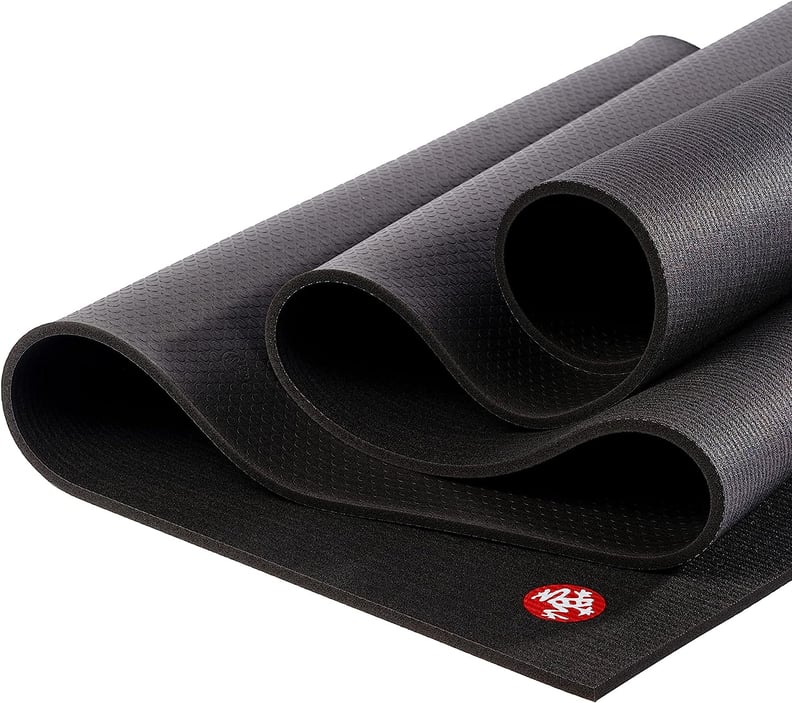 Best Pro Yoga Mat
Manduka Pro Yoga Mat ($134-$260)
This Manduka mat is the mat of choice for many yoga professionals and at top-tier studios, so you know it's good. It's thick and extremely dense, so it protects your bones and joints from pressing into the floor and stays grounded where you roll it out.
Why we love it: This mat is made of super-grippy and durable polyvinyl chloride, and the brand is so determined to prove to you that it'll last forever that it comes with a lifetime guarantee. This makes it a great option for both yoga as well as tougher workouts. You can get the mat in an extra-long or extra-wide size as well.
What's worth noting: This mat is grippy with dry or damp palms, but if you get super sweaty, you may start to slip. There's an easy fix: place a nonslip mat towel, like the Manduka eQua Yoga Mat Towel ($42), over the mat for a heated or particularly sweaty workout.
Additional details: Sizes: 5 options | Colorways: 6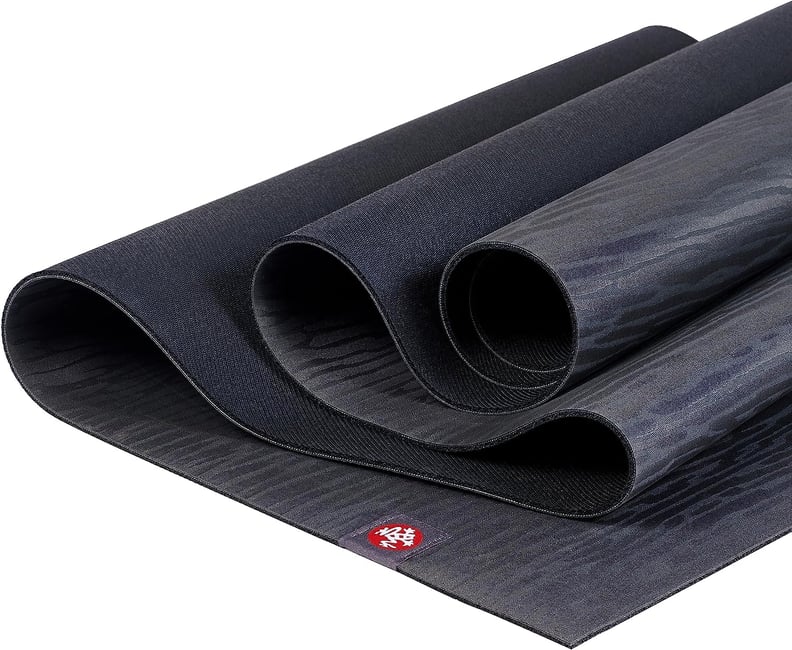 Best Lightweight Yoga Mat
Manduka EKO Lite Yoga Mat ($84)
If the Manduka Pro Yoga Mat is too hefty, pick up the brand's EKO Light mat. With a 4 mm thickness, this mat is thinner than the Pro Yoga Mat but just as durable and grippy.
Why we love it: This yoga mat is made from natural tree rubber with a nontoxic manufacturing process, plus its high-density closed-cell surface makes sure sweat doesn't seep into the mat. With its naturally grippy surface, this is ideal for all types of yoga and low-impact workouts.
What's worth noting: Similar to Manduka's Pro mat, you'll want a towel if you're heading to a heated or particularly sweaty class.
Additional details: Size: 71" or 79" x 24" x 4 mm | Colorways: 9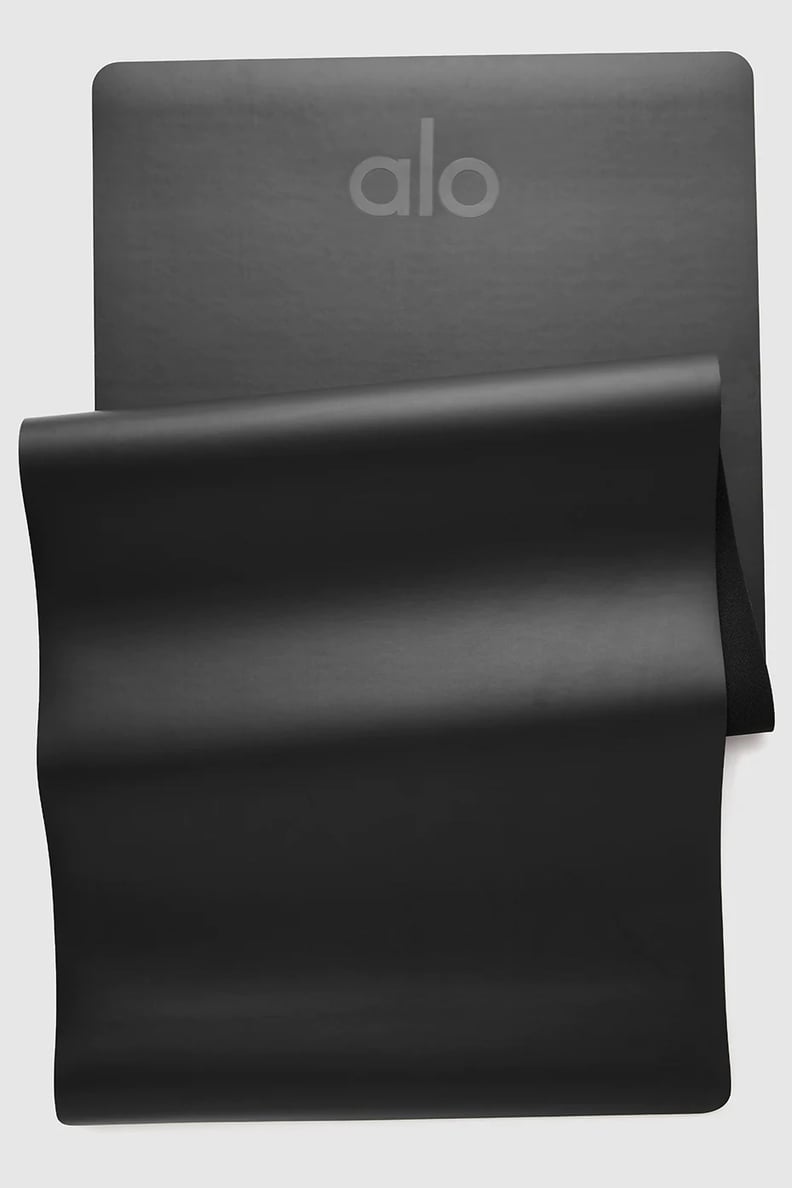 Best Luxe Yoga Mat
Alo Yoga Warrior Mat ($128)
If you've been mulling over investing in an Alo Yoga mat, all we have to say is: go for it. It's a stylish option with a luxe matte finish and a slightly oversize footprint, so you have plenty of room to spread out. You can snag it in a few trendy colors as well as basic black.
Why we love it: With a 5 mm thickness, this mat is cushioned for joint support. It's made with an all-natural rubber that's nonslip wet or dry, so you'll be able to hold poses with undivided attention. It's so good that one POPSUGAR editor has been using it exclusively for years. Read more in her full review of the Alo Warrior Mat.
What's worth noting: At about 8 pounds, this mat is a bit heavy, so keep that in mind if you plan to travel with it or tote it to and from the gym.
Additional details: Size: 6.2' x 2.2' x 5mm | Colorways: 6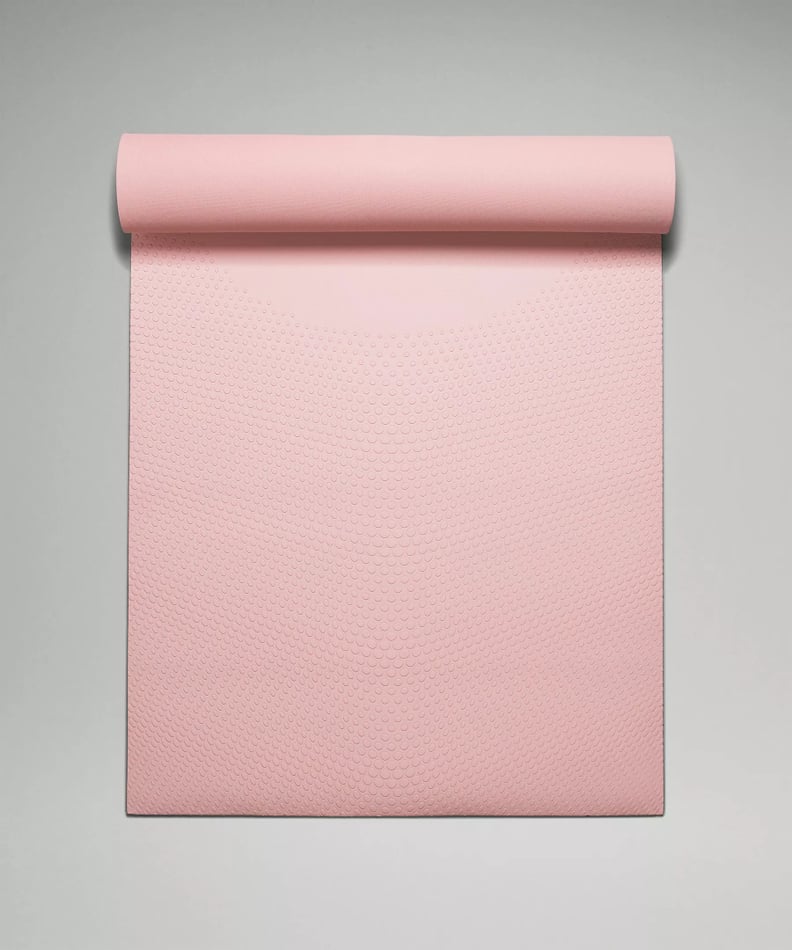 Best Yoga Mat For Training
Lululemon The Workout Mat 6mm ($98)
If you're looking for a mat to use for all your workouts but only the occasional Downward Dog, try Lululemon's mat designed specifically for training, which can "keep up with your high intensity workouts — weights, shoes, and all," per the brand.
Why we love it: Beyond the beautiful color options and subtle raised design (which gives your feet and palms extra grip), this mat offers the perfect amount of cushion for lifting, plyometrics, and more. "I use this 3 times a week for barre class and strength training and it's absolutely perfect," one reviewer writes. "I couldn't be any happier with it for those purposes. If you are looking for an at home workout mat this is it!"
What's worth noting: Customers who've tried to use this for yoga report it being a little slippery. If you plan to use it for yoga sessions as well, consider layering a yoga towel on top.
Additional details: Size: 71" x 26" x 6mm | Colorways: 5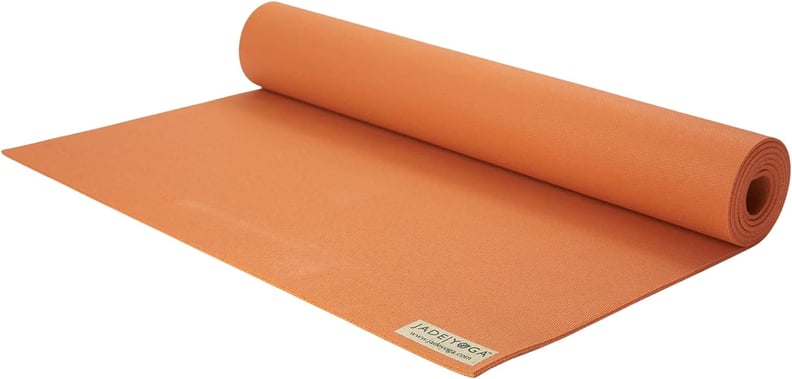 Best Eco-Friendly Yoga Mat
Jade Harmony Professional Yoga Mat ($84-$90)
If you're looking for a standard mat that's also completely eco-friendly, check out this option from Jade. Made of natural rubber, this mat is totally biodegradable and contains no PVC or ozone-depleting substances. The material is also quite tacky, so if you get a little sweaty, you won't end up slipping.
Why we love it: In addition to being grippy and eco-minded, this yoga mat comes in a variety of fun colors, like sky blue, olive green, saffron yellow, and more.
What's worth noting: It may take some time to break in the mat; customers note that it can be slippery or have a strong rubber smell during the first several uses. After a few workouts, they say, the grip gets much better.
Additional details: Size: 68" or 74" x 26" x 0.19" | Colorways: 8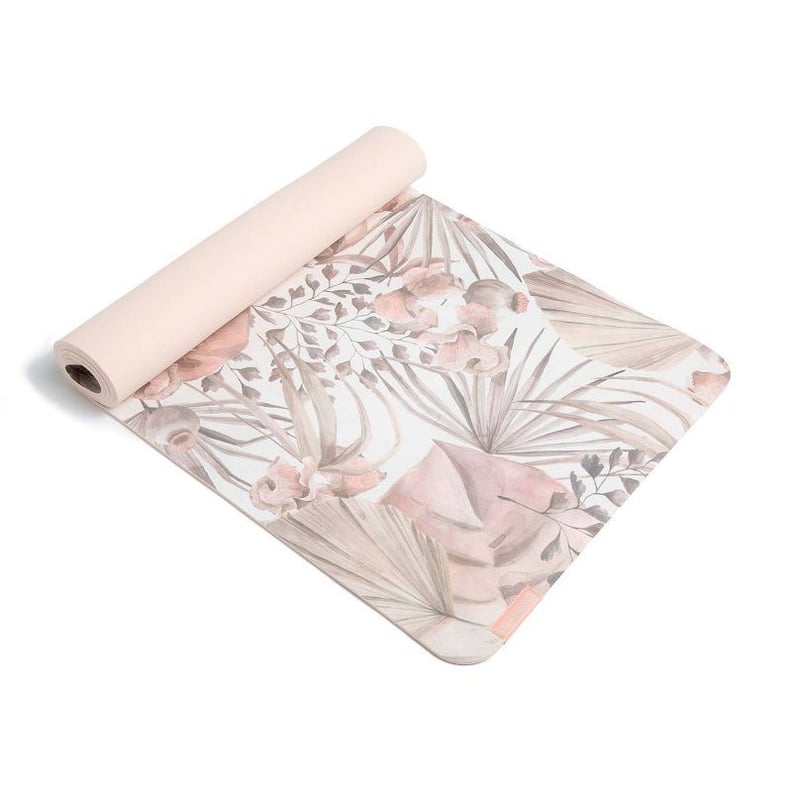 Best Suede-Top Yoga Mat
Blogilates Vegan Suede Yoga Mat Mystical Moment ($35)
If you do mostly heated or hot-weather yoga, a yoga mat with a "suede" top could be the best choice for you; this type of mat is essentially a yoga towel and a yoga mat in one, offering you a slip-free grip when you're sweaty, as well as a few millimeters of cushion. (Note that yoga mats of this type aren't made from actual suede but a vegan material that just feels like it.)
Why we love it: The soft suede top feels amazing, whether you're doing a sweaty yoga session, core work, or chill wall Pilates. Plus, its floral design is super calming and cute.
What's worth noting: The suede top can actually be more slippery when you aren't sweating. To remedy this, you can spritz some water on your mat before starting your practice.
Additional details: Size: 68" x 24" x 6 mm | Colorways: 1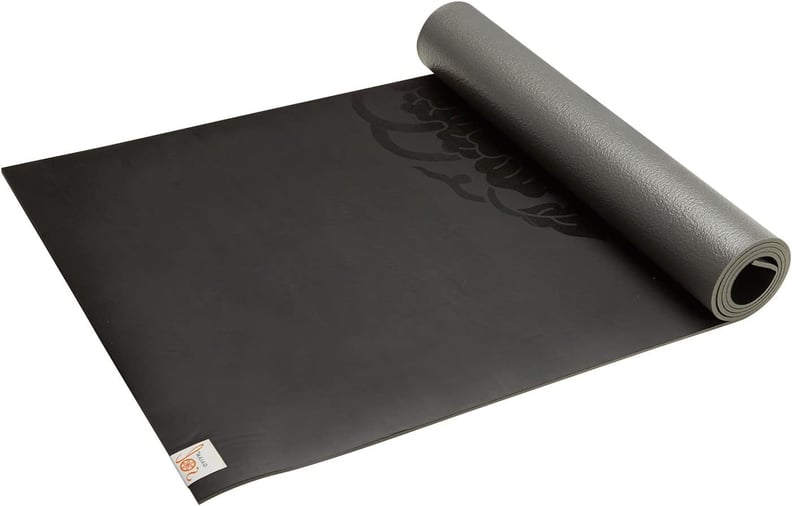 Best Yoga Mat For Hot Yoga
Gaiam Premium Dry-Grip Yoga Mat ($55, originally $70)
If you're a hot-yoga practitioner on the hunt for a mat that can keep up with the heat and sweat, this is an ideal option. With a top coat that wicks away moisture, this yoga mat will provide you with a good grip even when wet.
Why we love it: This mat actually gets stickier when wet, so you won't be slipping and sliding when trying to hold a pose. It has a 5 mm thickness that supports your joints and body. The brand also offers an XL size if you are tall or want more room to flow.
What's worth noting: Customers say the mat can be a little bit slippery during non-heated yoga classes, so keep that in mind depending on which style you practice most.
Additional details: Size: 2 options | Colorways: 5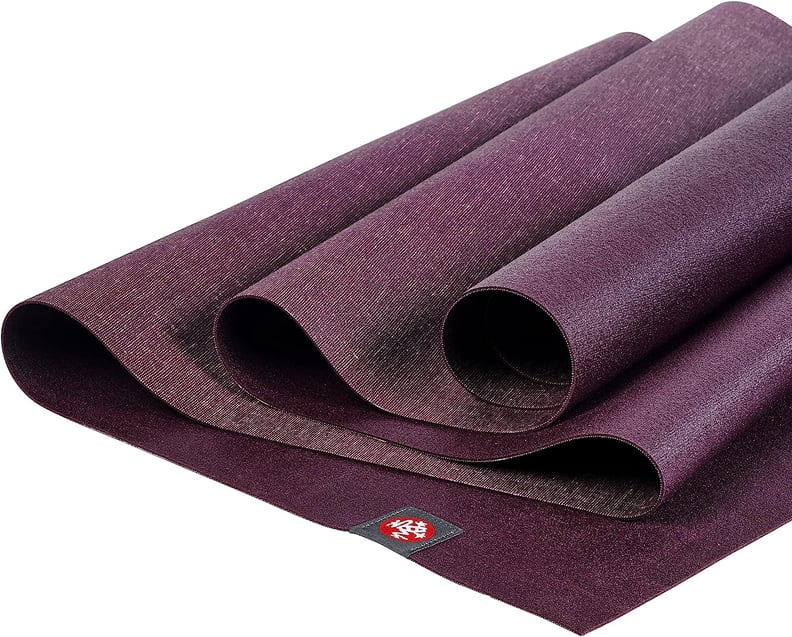 Best Travel Yoga Mat
Manduka EKO Superlite Yoga Travel Mat ($52)
Yes, Manduka's top-quality mat gets even lighter. Its Superlite EKO mat is a quality option for those who travel or practice at studios rather than at home but don't want to cart around a full-thickness mat.
Why we love it: This portable and easy-to-clean mat only weighs about 2.2 pounds, has a 1.5-millimeter thickness, and can fold into the size of a yoga block. It's also got a nonslip surface, so you can stay balanced through any pose. Made from 100 percent rubber, it's also nontoxic and nonabsorbent. Our editors vouch for this one so hard, it got a 2023 POPSUGAR Fitness Award.
What's worth noting: It can have a rubbery smell when you first open it, so if you plan to throw it in your suitcase immediately after ordering, try to give it a few hours or days to air out. It also doesn't provide much cushion; for the best experience, use this travel yoga mat on a soft surface like a carpet or grass.
Additional details: Size: 71" x 24" x 1.5 mm | Colorways: 4
Best Large Yoga Mat
Cambivo Large Yoga Mat ($65-$72)
This double-size yoga mat measures six feet by four feet and can fit around two people. Whether you are doing partner yoga or just want extra room for your functional training workout, this yoga mat will let you work out without space restrictions. The large yoga mat has a double-sided nonslip surface: one provides extra traction for your hands and feet, while the other firmly grips the floor.
Why we love it: You can get this yoga mat in two different thicknesses — 6 or 8 mm — depending on your needs. Made with high-density PVC, this mat also comes with a storage strap, towel, and bag, so you can roll it up and stow it away easily when you're not working out.
What's worth noting: Some customers note that wearing shoes on this mat can cause rips in the surface, so it may be better to reserve this mat for bare feet or socks only.
Additional details: Size: 72.05"L x 48.03"W x 6 mm or 8 mm | Colorways: 5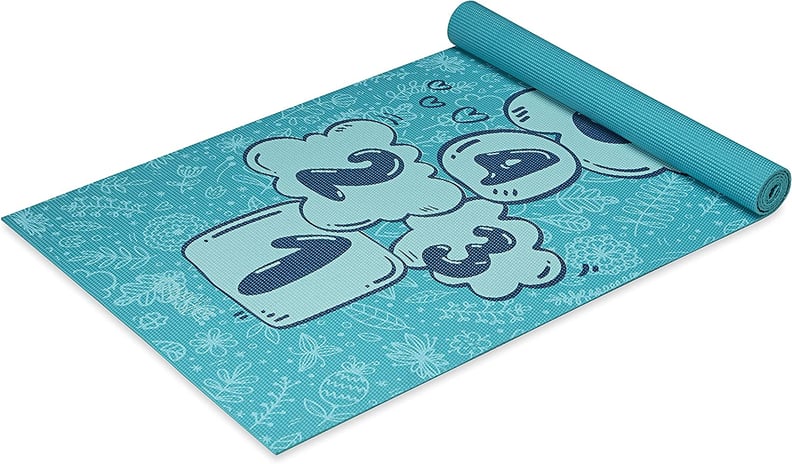 Best Kids' Yoga Mat
Kidnasium Kids Yoga Mat ($17)
If your little ones always want to be part of your workout sessions, it might be time to get them their own mats. This is a great affordable option for a kids' yoga mat, with a little bit of cushion and a nonslip surface that will provide them with a safe grip.
Why we love it: With its colorful, engaging designs, your little one will have fun while staying active. Choose between a hopscotch-designed mat, one with unicorns doing yoga poses, and one that features a workout.
What's worth noting: Some customers report that it's not high enough quality to use for more intense workouts or yoga practices, so keep that in mind depending on what your family will do with it.
Additional details: Size: 60" x 24" x 0.11" | Colorways: 3