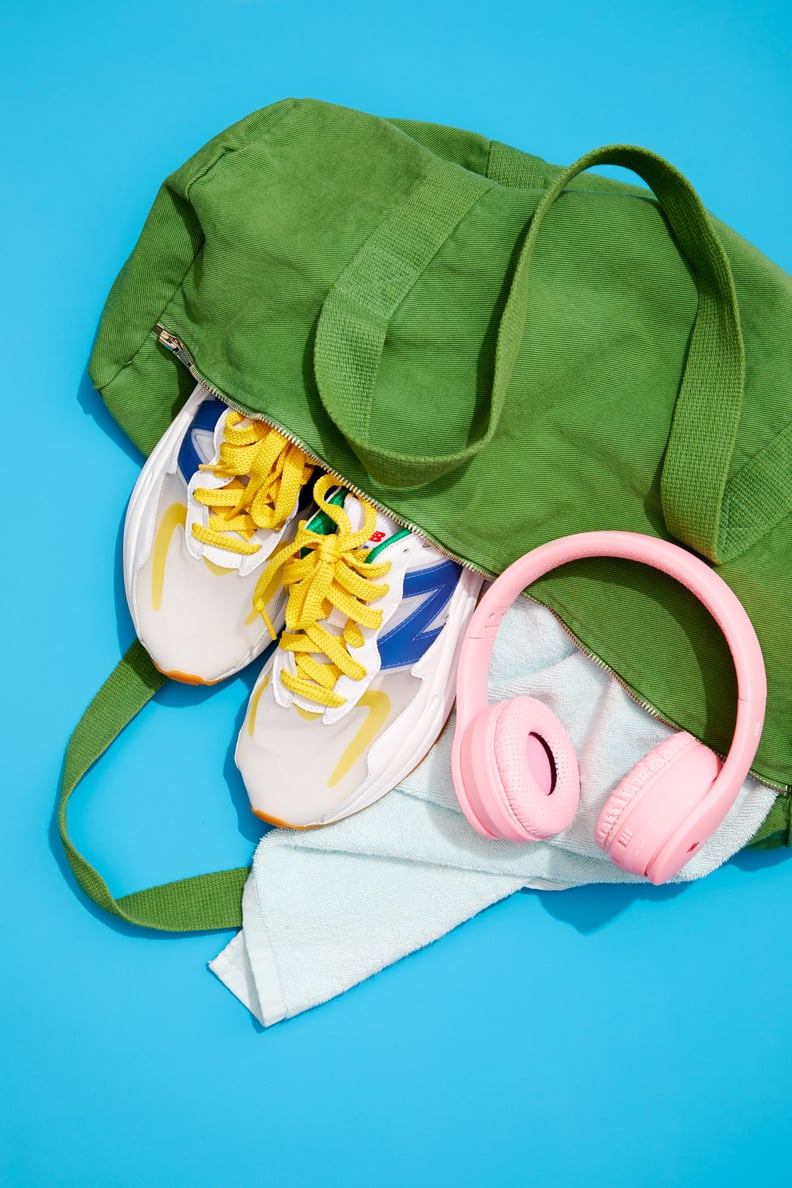 POPSUGAR Photography | Chaunté Vaughn
POPSUGAR Photography | Chaunté Vaughn
As POPSUGAR editors, we independently select and write about stuff we love and think you'll like too. If you buy a product we have recommended, we may receive affiliate commission, which in turn supports our work.
Growing up is realizing exactly how you like your coffee, the importance of proper recovery after a workout, and the self-awareness to BYO gym towel if you're a human sprinkler, like myself.
I know what you're thinking: "Can I just use my T-shirt?" And because I had the same question, I asked a dermatologist. Mona Gohara, MD, associate clinical professor of dermatology at Yale School of Medicine, says it's not that bad in terms of skin health, but it's also not that effective. "Usually these fabrics aren't absorbent, so you're transferring sweat from one location to another," she says.
And that's where gym towels come in. If you don't sweat much, there's no need for a towel, Dr. Gohara says, but for everyone else, "gym towels are great for those who feel as though sweat is accumulating on their skin." If sweat sits on your skin for an extended period of time or dries there, it can clog pores, leading to leading to acne and preventing your skin-care routine from properly penetrating your skin. A good rule of thumb is that if sweat drips off your skin, consider a towel, Dr. Gohara says.
As for which towel? You can use the communal ones provided at your gym (they should be fine as long as they're soft and not irritating to your skin), but Dr. Gohara prefers to bring her own from home because then "you know where it's been." Not to mention, there are a ton of cute gym towels out there that you'll be excited to add to your gym bag.
If you're now in the market for a gym towel, allow me to introduce you to some of the best. As someone who is literally always sweating with any mild physical activity, I have quite a bit of experience with sweat towels — but you don't only have my recommendation. Ahead, get the preferred picks for the best gym towels from self-proclaimed professional sweaters, professional trainers, and more.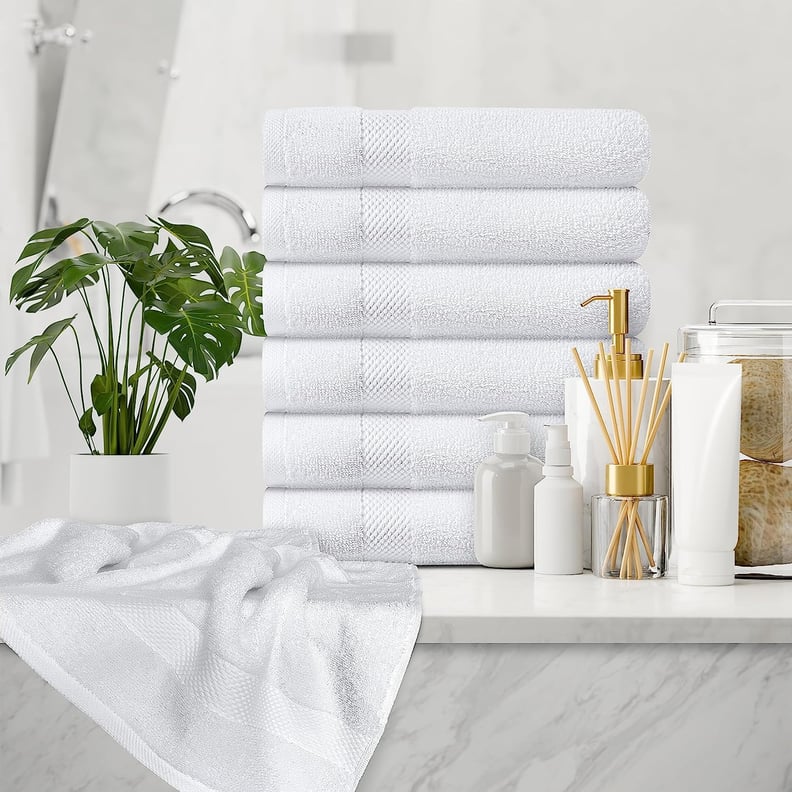 Best Basic Classic White Gym Towel
White Classic Luxury Hand Towel, Set of 6 ($23)
Dr. Gohara is all about no-frills cotton towels, which are super absorbent. The towel measures 30 by 16 inches, so there's plenty of surface area to dab your skin dry throughout your workout. (Dr. Gohara recommends patting skin dry and never scrubbing aggressively, which can irritate the skin.)
Why we love it: This classic hand towel on Amazon has nearly 18K ratings and rave reviews from professionals and shoppers. Lots of customers praise their softness for being "spa quality" — and one reviewer even uses these for the health spa where she works. These towels are also OEKO-TEX certified, meaning every component of the product has been rigorously tested against a list of up to 350 toxic chemicals.
What to keep in mind: Shoppers recommend washing the towels separately from clothes to avoid pilling or color transfer (though there are 18 different color options if you're worried about white getting dirty). And if you're traveling to your gym, Dr. Gohara recommends you storing your towel in a cool, dry place like in a separate pocket in your gym bag to avoid transferring bacteria.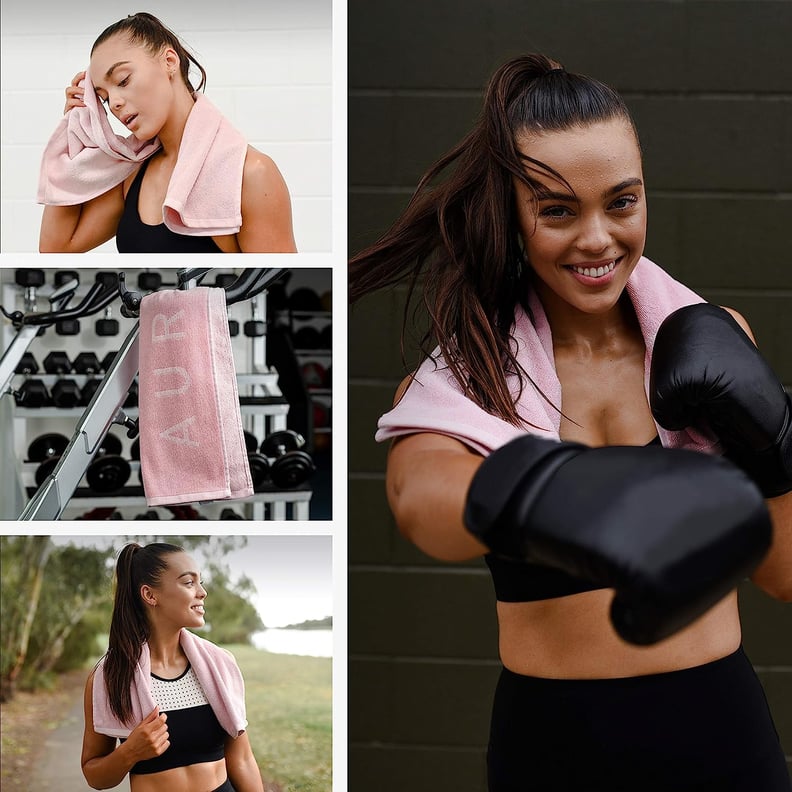 Best Gym Towel For Sensitive Skin
Aurora Athletic Towel Luxury Gym Towel ($15)
If regular gym towels leave your sensitive skin scratched and bothered, Love Sweat Fitness founder and certified personal trainer Katie Dunlop has found a solution: "I tried tons of different gym towels from the most expensive to the cheapest, and so far this is one of my favorites for the quality and price. It's soft, so it doesn't scratch my sensitive face, but also actually absorbs."
Why we love it: At the risk of getting Miley Cyrus stuck in your head, this towel really is the best of both worlds. You get the absorbency of a cotton towel but it's also infused with silver ions, which are added to help keep the towel fresh and odor-free in between workouts. Happy customers call this product a workhorse: "It absorbs a massive amount of sweat and dries quickly. I'm able to use it for multiple workouts consecutively by letting it air dry between them and there's no smell at all. The price seems a little high for a towel, but I'm satisfied so I just came back to review and ordered two more while I'm here."
What's worth noting: Even though the Amazon description says the silver ions make it easier to go without washing, it's still important to wash your towels in between every use. Dunlop agrees: "Wash it daily! Even with the best materials, bacteria can start to grow quickly, so grab enough for the week or be ready to wash them to have a fresh one each day."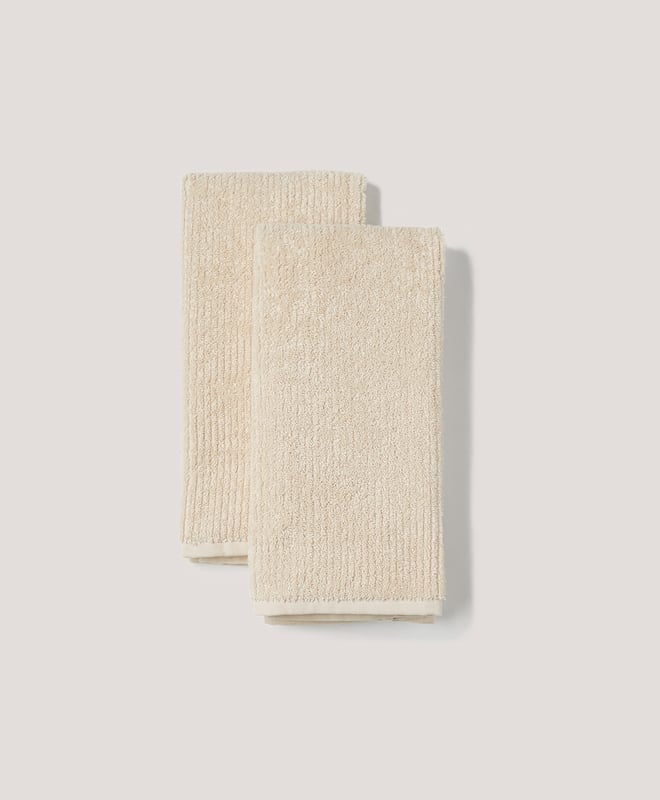 Best Nontoxic Gym Towel
Pact Spa Rib Hand Towel 2-Pack (2 for $30)
For those looking for an environmentally concious way to keep the sweat out of your face, you'll want to look for a GOTS certification (Global Organic Textile Standard), says Sophia Ruan Gushée, founder of Ruan Living, a website dedicated to nontoxic living. "Currently, I'm loving towels by Pact because they're made of organic cotton that is GOTS Certified and claim to be free of toxic chemicals," she says.
Why we love it: The fact that it's GOTS-certified and claims to be free of toxic chemicals is a huge win. "Many towels are made of synthetic materials and chemicals that can break down into tiny particles that you can inhale and ingest (if they become dust-like particles and are on your fingertips)," Gushée says. Plus, reviewers rave about their incredible softness.
What's worth noting: While you don't need to shell out $30 for something that's made to collect your sweat, you can feel good about putting this on your body. Also, note that Pact offers free returns.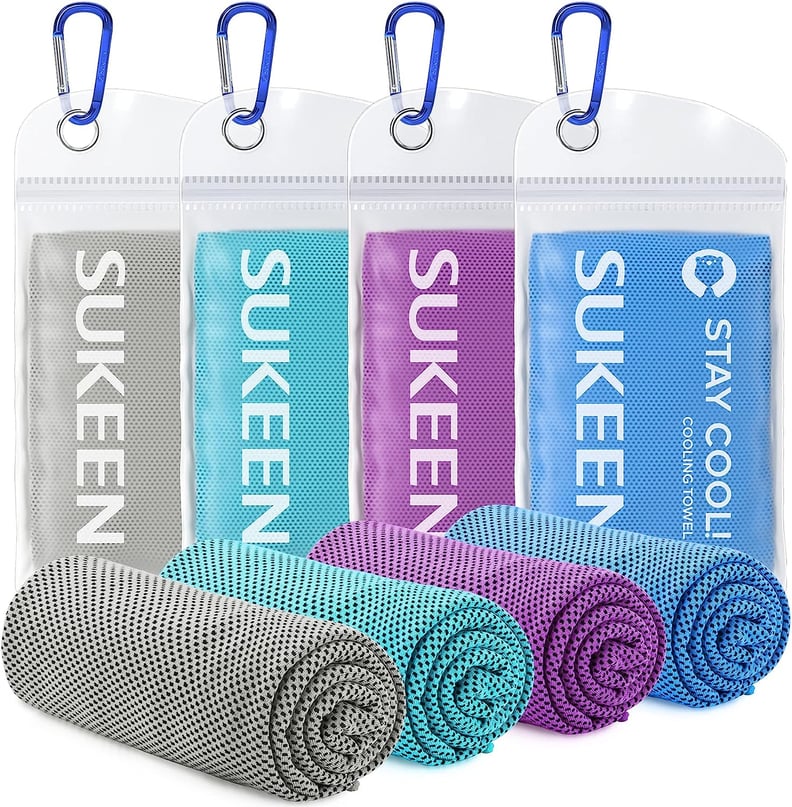 Best Cooling Gym Towel
Sukeen Cooling Towel 4-Pack ($22)
When you just can't seem to cool down, it's time to call in reinforcement. Sukeen's Cooling Towels can be activated by soaking in cold water, ringing the water out, then putting them wherever you need to cool down. This is a great gym towel option for those who tend to overheat in addition to sweating, or who run, bike, hike, golf, or play pickleball outside in hot temperatures.
Why we love it: These cooling towels are an Amazon bestseller, with more than 13K five-star ratings. Each 40-inch-long towel can also help shield your skin from the sun, so feel free to drape it over your shoulders during an afternoon hot girl walk or while exploring Disney to keep you cool and protect your skin.
What's worth noting: Although the carrying pouch seems clutch for storage, shoppers say it is isn't doesn't always last long. One hiker says it broke on first use — though still gave the towel four stars for keeping her cool through two days of hiking the Grand Canyon.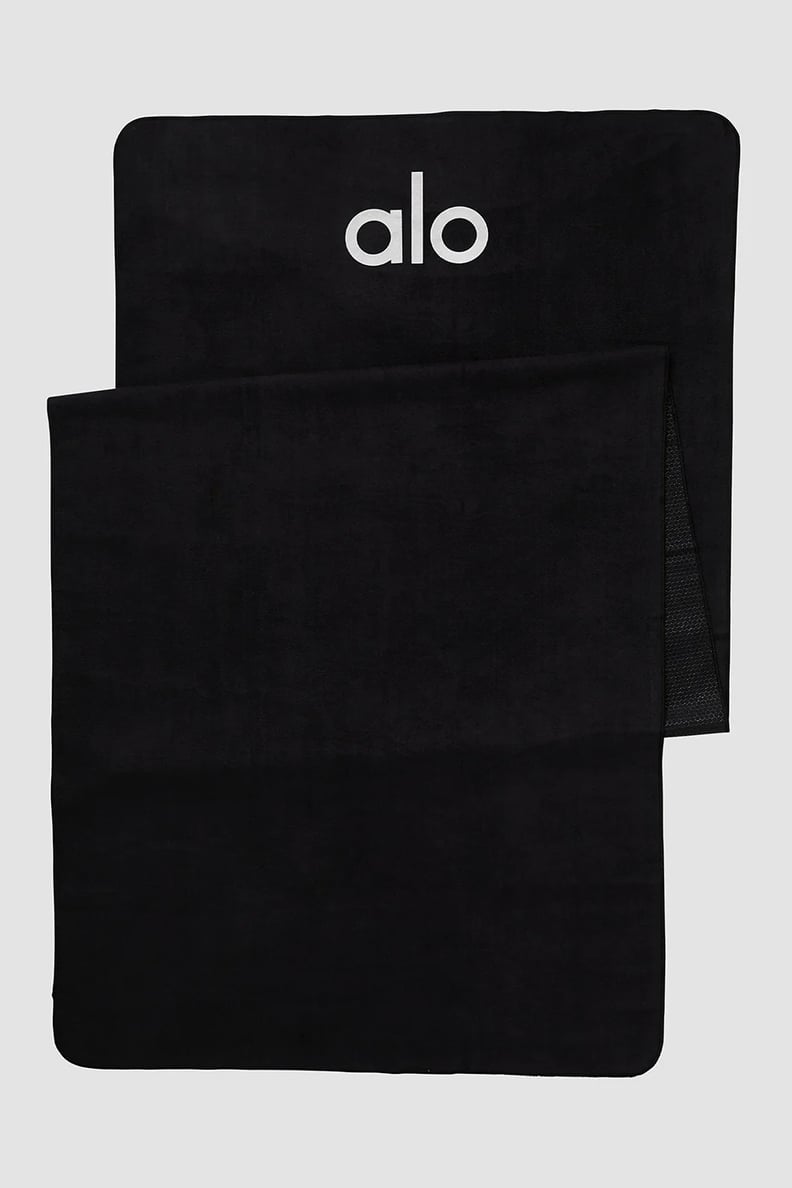 Best Nonslip Gym Towel
Alo Grounded No-Slip Towel ($68)
Whether you're working out at home or taking it to your gym's exercise mat, a no-slip towel like this one from Alo is great to keep you safe from sliding and also protected from the germs of communal equipment. Kelsey Wells, Sweat trainer and host of the "Redefine Fitness" podcast, trusts the mat to stick with her through sweaty at-home workouts and dynamic stretches. "It's sweat absorbent
and the non-slip element helps ensure stability throughout the movement," she says.
Why we love it: The 74- by 26-inch towel is equal parts grippy on the bottom and plush on the top, making it a go-to for any mat work. One hot yoga shopper raves: "It stays in place for all 26 postures even when soaking wet." Plus, it's machine washable (on cold) for easy cleaning.
What's worth noting: Even though we absolutely love all the colors the mat comes in (that smoky quartz has a HOLD on us), shoppers have noted that the colors run on first wash so make sure you wash separately from your favorite Alo workout clothes.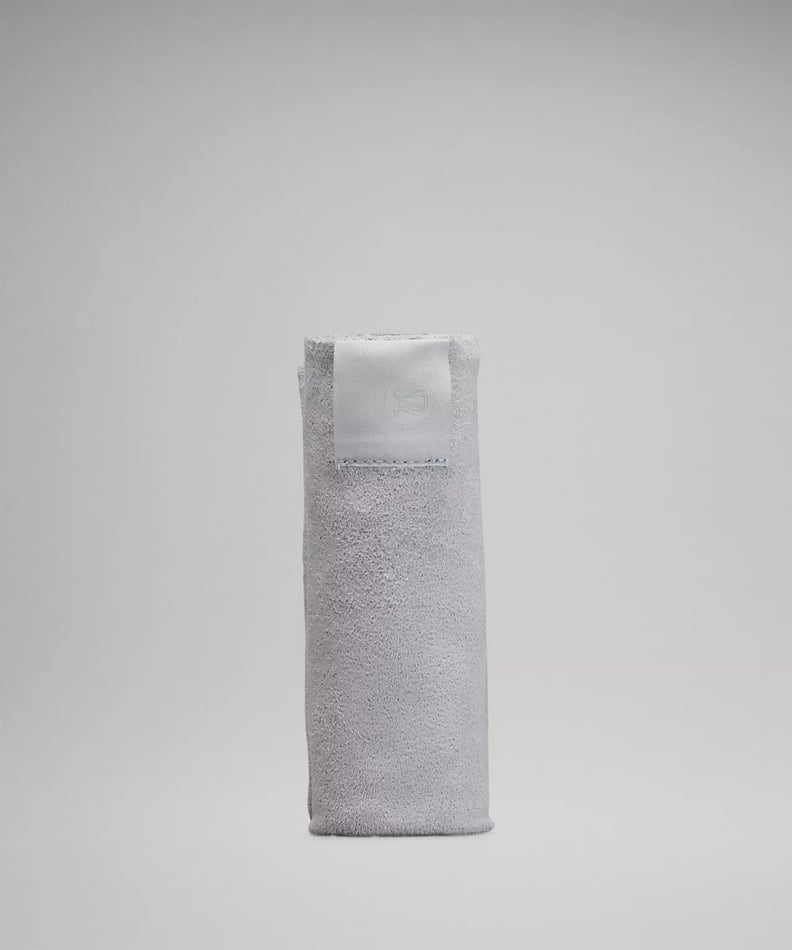 Best Compact Gym Towel
Lululemon The (Small) Towel ($18)
Lululemon's 26-inch-long sweat towel rolls up smaller than a water bottle. This compact towel will easily slip into your gym bag, belt bag, or back pocket, making it perfect for travel or bringing on the go.
Why we love it: Biking, HIIT, yoga, swimming — no amount of sweat is a match for this super absorbent towel. Form Fitness owner Morit Somers loves the microfiber fabric for it's super soft feel.
What's worth noting: It's pretty pricy for a compact towel, but you're paying for that Lululemon quality. Shoppers say they wish a little carrying case came with the towel for the premium price.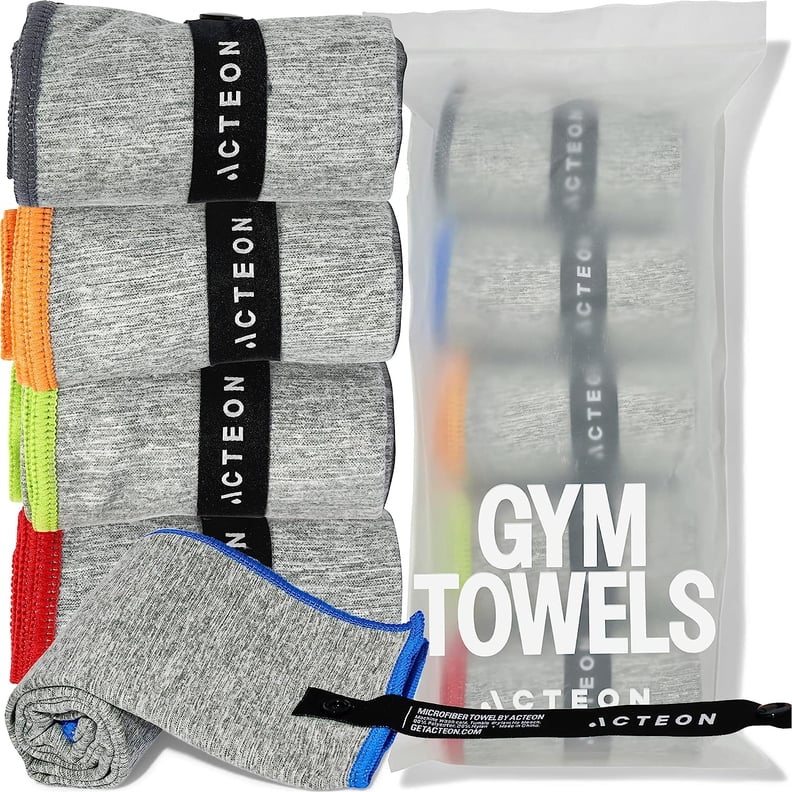 Best On-the-Go Gym Towel
Acteon Microfiber Towel 5-Pack ($30, originally $38)
Each of these ultra quick-drying towels has a loop attached to the top corner, which you can use to hang up your towel up at the gym or on the tennis court fence, and then to securely roll it up before throwing in your bag.
Why we love it: The simple add-on of the Velcro tab makes the towel that much easier to pack on bikes, runs, climbs — anywhere on the go. Reviewers love the silver fabric treatment which helps stop odor.
What's worth noting: Some say the towel is scratchy and doesn't absorb that well despite having over 3K positive reviews.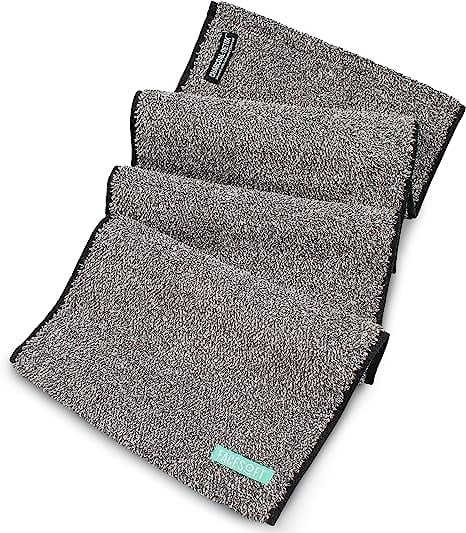 Best Face Gym Towel
Facesoft Charcoal-Detox Towel ($23)
Did you know that many microfibers are made out of plastics that are harmful to the oceans? When the owners of Facesoft found that out, they started on a mission to introduce a better sweat towel to the market. Their towels are made of 87 percent "aqua-cotton" and 13 percent infused charcoal rayon. The brand says the charcoal will "will pull toxins and impurities from your skin" and re-activates naturally when exposed to heat from the dryer.
Why we love it: Even if you're not sold on the charcoal claims, this towel is undoubtedly soft and absorbent. I've personally had a Facesoft towel for about three years, and I'm impressed with how much sweat it absorbs and how it stays smell-free after so many uses and washes.
What's worth noting: Some shoppers have noted lots of pilling on their towels even after first use.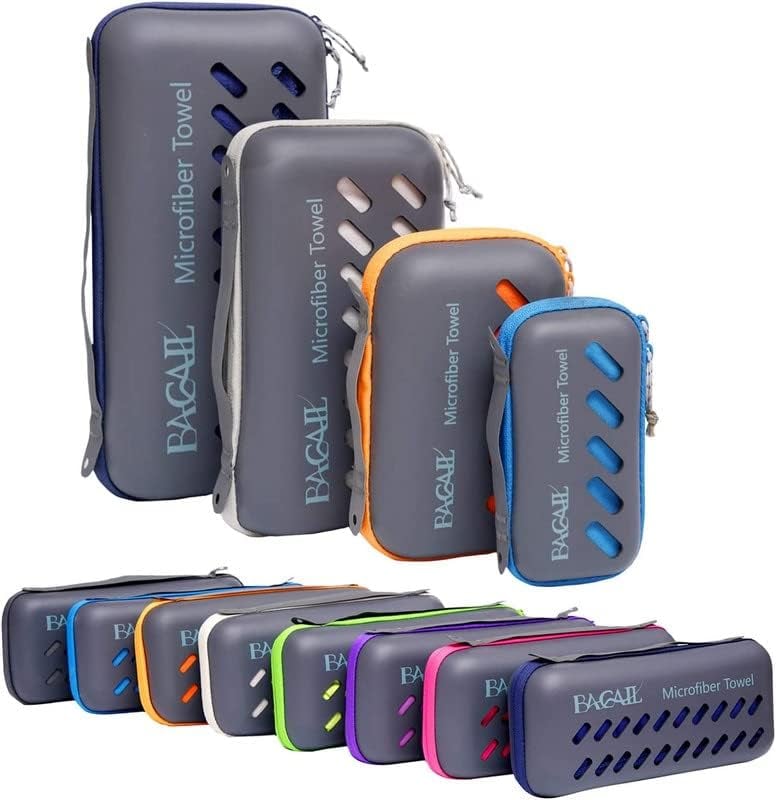 Best Outdoor-Friendly Sweat Towel
Bagail Microfiber Towel ($9-$23)
This microfiber towel is made for outdoor workouts and adventures. Each towel — available in a wide range of sizes — has a zipper pocket, so you can tuck your valuables away in your towel while you work out. Plus, it comes with a ventilated carrying case that's equipped with a zipper and handle.
Why we love it: They come in tons of sizes, so you can choose depending on whether you want a small towel just to wipe up sweat or one to use for drying off from a swim or post-workout shower. There's also a strap with a snap, so you can attach these to a railing or fence to dry, or even onto your tank top strap or a belt loop. They're also machine washable and OK to put in the dryer.
What's worth noting: One shopper noted the loop broke the first time after washing, so consider washing or drying on a gentle setting.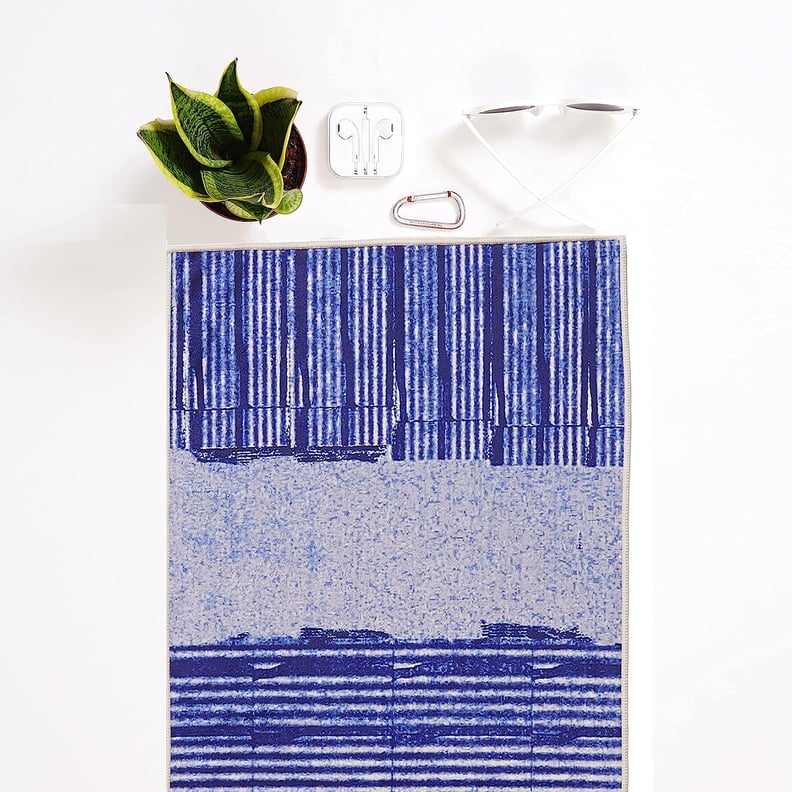 Best Gym Towel With Design
Areté Premium Microfiber Fitness Towel ($24)
Triathletes, tennis lovers, and trainers all agree that Areté's microfiber hand towels deliver consistent absorbance packed in a tiny, fit-in-your-pocket size. They come in eight beautiful designs made with non-bleeding ink.
Why we love it: They are sweat-wicking, fast-drying, and easy to clean. Mary Onyango, elite instructor and coach at Lifetime Fitness NYC, has trusted the brand for over four years to wipe away her sweat while she's training clients, out for runs, or getting after it in the gym. And for all you makeup-lovers, Onyango says her makeup stains come out easily in the wash and the beautiful pattern does not bleed due to the eco-friendly dye.
What's worth noting: Reviewers says these towels don't wring out easily once wet.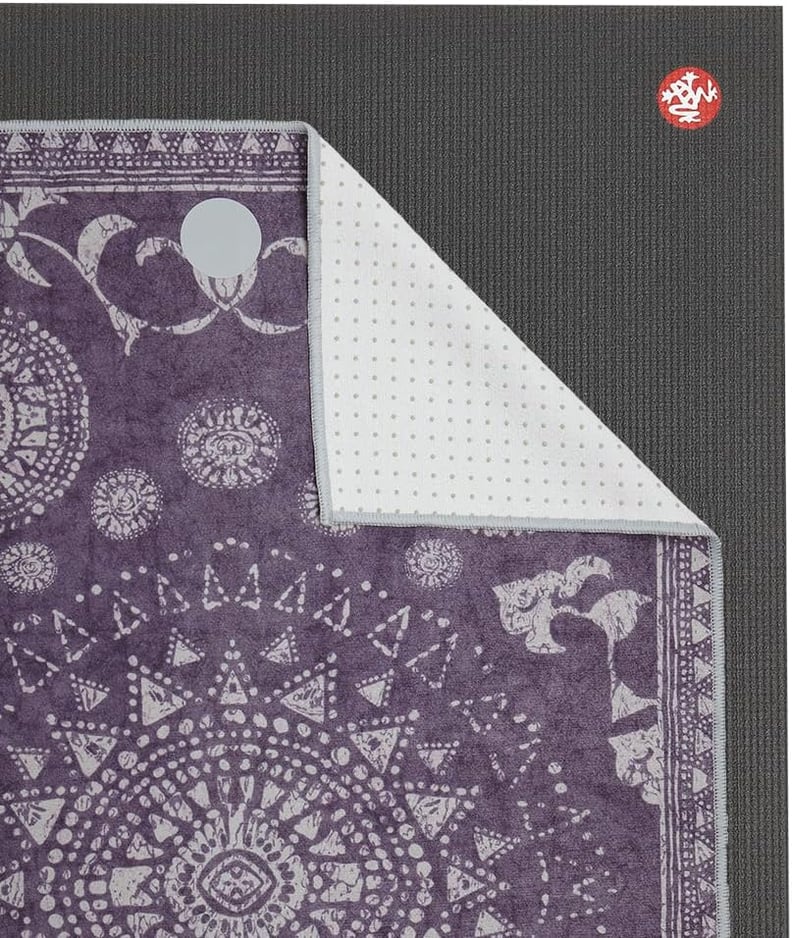 Best Yoga Towel
Manduka Yogitoes Yoga Mat Towel ($66)
Though it's expensive for a gym towel, this one has a more important purpose than just wiping up your sweat; it's essential if you're doing a sweaty yoga practice so you don't slip and fall. It fits perfectly on top of a yoga mat — grippy side down, smooth side up. The brand's patented "Skidless Technology" helps prevent slipping, while the towel itself is ultra absorbent, quick drying, and sweat wicking.
Why we love it: A favorite of POPSUGAR Senior Fitness Editor Lauren Mazzo, these Manduka yoga towels are soft on the top and unbelievable sticky on the bottom, thanks to tons of little silicone dots. You can machine wash and dry this towel, which makes cleaning easy. The come in five solid colors and two beautiful prints, so you can pick one that matches your yoga mat and brings you zen while in Downward Dog. Bonus: Each yoga towel is made from no fewer than four plastic bottles, which get repurposed into yarn.
What's worth noting: If you're doing a nonheated practice or don't sweat much, the towel can actually be more slippery than your mat; in this case, just spray it with water before using, and it'll become sticky.