Meet the Bolivian Cholitas Who Are Challenging Cultural Norms and Sexism Through Skateboarding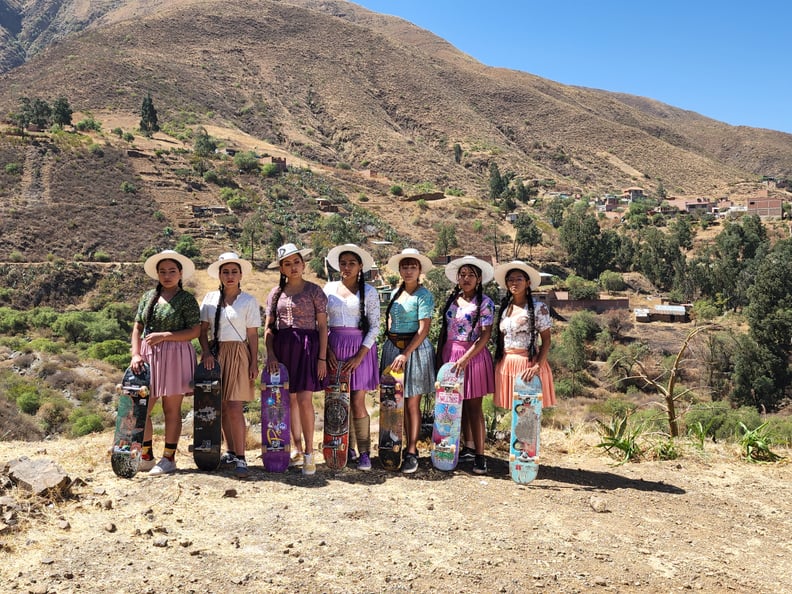 Samsung Mobile
Samsung Mobile
Bolivia's Indigenous women are proof that many things can be true at the same time. You can be traditional and modern, strong and feminine, and a girl who skateboards — all at the same time. Together, nine young Aymara and Quechua women from Cochabamba, Bolivia, are creating public space for themselves not only by adopting skateboarding, a male-dominated sport, but by wearing their traditional polleras while doing it.
Elli Buitrago, Belen Fajardo, Fabiola Gonzales, Brenda Mamani, Huara Medina, Susan Meza, Estefanny Morales, Daniela Santivanez, and Deysi Tacuri started ImillaSkate in 2019 with the vision of focusing on female skateboarding to inspire women of all ages to teach younger generations about their traditions.
"Bringing together this sport, my traditions, and the pollera gives me a sense of authenticity and unique expression."
"I started skateboarding at around the age of 20, and skateboarding is something that helps me find inner joy," Tacuri says. "Bringing together this sport, my traditions, and the pollera gives me a sense of authenticity and unique expression." The women currently have a skateboarding school where they teach children skateboarding skills, as well as the values that ImillaSkate lives by: elevating their cultural heritage and their own individual identities.
"Imilla means 'young girl' in Quechua, and we decided to identify with the Bolivian cholita because of the strength and power that she represents. We are one with her," they said, answering as a group. Although the cholita aesthetic of bowler hats, corset tops, and petticoat skirts has become synonymous with Bolivian culture, the fact is as little as 10 years ago, the polleras were heavily regulated in public spaces. Women who wore polleras were not allowed to have certain careers, enter certain public spaces, or even travel on public transportation. Although skateboarding and traditional attire might not seem like a revolutionary act, it really is.
Since the colonial period in Bolivia, Indigenous women or "cholitas" have had their culture, gender, and appearance tightly controlled by Spanish colonizers and their descendants (criollos). In the 16th century, polleras were imposed as a form of marginalization because they closely resembled the enslaved and poor peasants of Spain. Of course, Aymara and Quechua women have made polleras their own, and they have now become colorful avenues of self-expression and cultural affirmation. But Bolivian women face challenges not only associated with their ancestry but also with the fact that they live in a socially conservative society.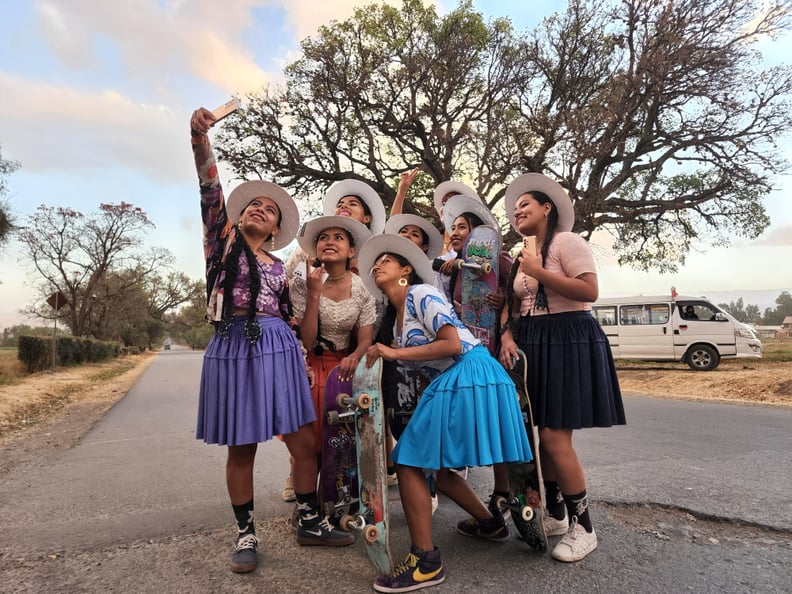 "When I was a girl and I played soccer, I remember that my mother used to get upset because I broke my only shoes doing it," Meza says. "When she punished me, she used to tell me that it was a sport for men." Meza says she has always believed that everything is possible for everyone and that skating has taught her how to make her own decisions and take responsibility for the consequences. While part of their mission is to instill pride in their vestments and heritage, these women also want to shift the narrative and make it clear that anyone can skateboard — regardless of age, gender, what they wear, or where they come from.
"I started skating six years ago and found purpose in the sport, because of the direction that it gave me, and because of how I left my fears behind to step out of my comfort zone," Mamani says. With the help of technology and their Samsung Galaxy A53 smartphones, the ImillaSkate collective have been able to share their desire to drive social change with the world via their viral videos on both Instagram and TikTok. Since Bolivian skateboarding is still technically in its early stages, technology has opened the door for the group to learn more about skating and meet people from all over the world. It has given them an even bigger platform to spread their message and culture.
"Girls and women of all ages should not put limits on their dreams."
Their message for women all over the world is simple: "Girls and women of all ages should not put limits on their dreams," the women say. "Everything is possible if it is in your mind. Enjoy knowing, learning, and experiencing the things that make you go out of your comfort zone. A comfortable life is complicated sometimes, but as long as there is life, there is hope."