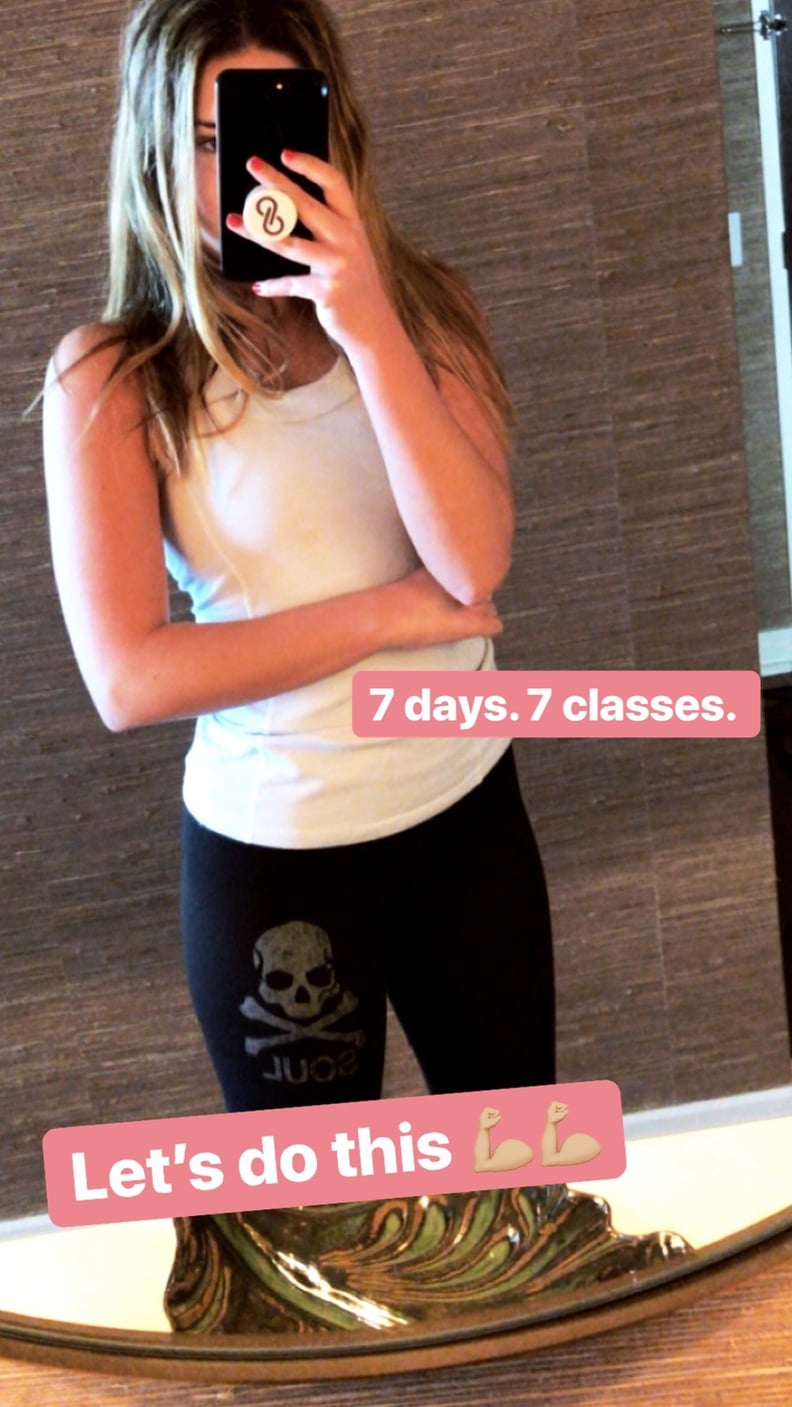 Christina Najjar
Christina Najjar
New Yorkers are many things — passionate, funny, direct, but easygoing is not one of them. Since moving to New York, I have noticed people take fitness very seriously indeed! They wake up at the crack of dawn to Spin, tone, run, and a lot of other verbs I haven't quite figured out yet. Because the city is so crowded and landlocked, there isn't a ton of opportunity to hike or run outside, which is what I did for exercise when I lived in California. This combined with the fact that New Yorkers like to look amazing at all times has produced a plethora of boutique fitness classes to suit every whim and fancy. Nearly every week I hear of a new class frequented by bloggers or celebrities, and I knew I had to try some.
Here's the thing about fancy boutique fitness classes: they are expensive and intimidating. They all seem to have cult followings with supertoned followers who know intuitively how to do every move. There, I said it!
So I decided to do one boutique fitness class every day for a week. It sounds crazy, but I wanted to challenge myself and find out which of these niche workouts is right for me. As I said, boutique fitness is expensive so I only want to frequent classes that are fun, make me sweat, and are worth my time (and cash)!
Thankfully, I am not training for the Olympics nor the Victoria's Secret Fashion Show — I'm just a normal, working girl who sometimes can't muster the strength to just go to the gym and train herself, so that's the filter I'll be analyzing the classes through.
modelFIT
Despite the name, walking into modelFIT for the first time was not intimidating. I was imagining Gigi and Bella Hadid waiting for me in a scary room, but the studio is beautiful, naturally lit, and calm. A long mirror lines the main wall, and the changing room is a cozy nook filled with all of your favorite products. I'll admit, everyone in the class was gorgeous and glowing, but somehow modelFIT feels like going to work out at your best friend's house. There are different types of classes, and I opted for Sculpt. At the start of class, the instructor told us which equipment we would need. Everything was neat and perfectly organized, and because of the small class size there was no scrambling. At no point did I feel rushed or stressed.
Then the workout began — it consisted of a series of small movements done with free weights or bands or other normal equipment. The movements were such that at first, I was like, "oh, piece of cake," but after 30 seconds, I was internally screaming for mercy. Think pulsing your leg back in a little kick with an ankle weight. Still, at no point in the class did I want to leave. The whole experience was relaxing and calm and fun. The music was great, and the instructor was kind and came and corrected me when I did (nearly every) move wrong.
The next day I felt like I had run a marathon carrying an 80-pound backpack. Parts of my bum that I didn't know existed were sore — in a good way. Low-impact but high intensity — I definitely felt like I got my money's worth and immediately made plans to go again.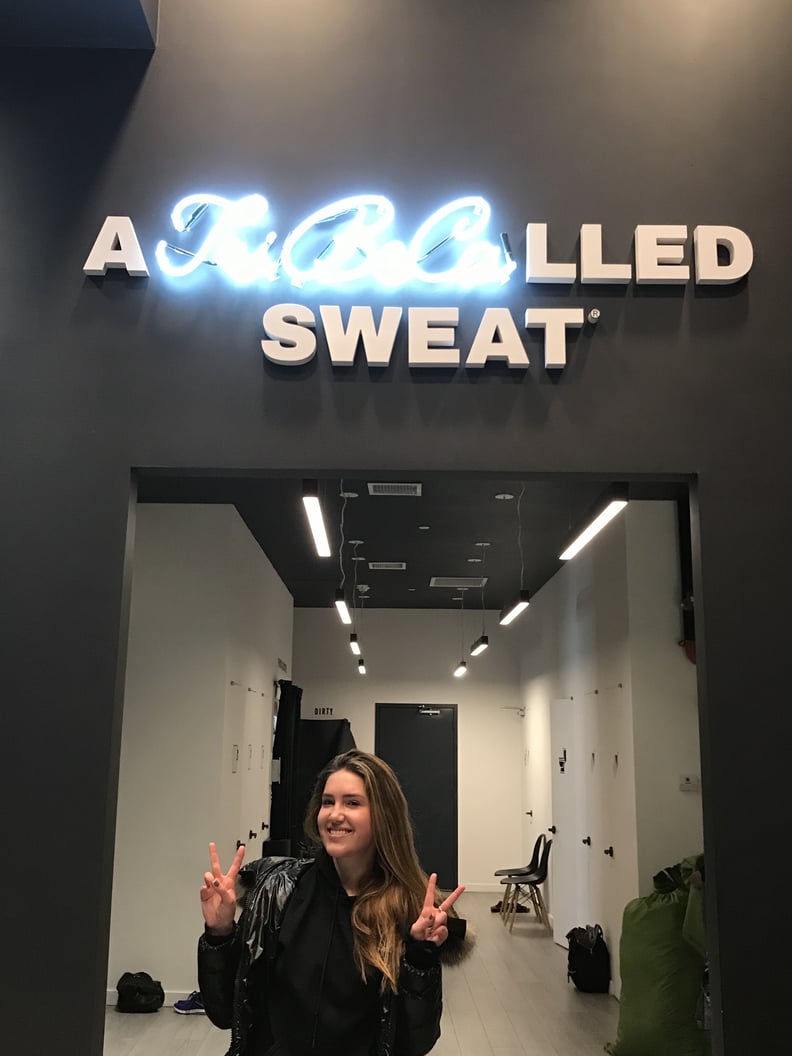 Y7 Yoga
Y7 Yoga is responsible for the trendiest yoga studios in New York. With outposts in all the hottest neighborhoods, I knew I had to give it a go. Before I begin, I should give a disclaimer — I hate yoga. Not total hate, but 15 minutes into every class I've ever been to I start calculating how long till its over. A lot of friends told me I would love Y7 — its classes are different because they blast hip-hop instead of the usual rhythmic chanting you find in yoga classes and create a no-judgment vibe to the whole experience.
Walking into the brand new TriBeCa studio, I felt immediately cooler than I actually am. The blond wood floors, edgy merchandise, and superfriendly staff all made me excited. The actual yoga room smelled amazing and was extremely dark. The instructor immediately put us all at ease. She explained clearly the structure of the class and repeated several times we should not feel any pressure to do hard movements (hallelujah) and that if we felt tired or "over it" we should just relax in Child's Pose. The class was just as it had been promised: fun, nonjudgmental, and unlike any yoga class I'd taken before. The music was a huge plus for me. The instructor actually said at one point "Let Chance the Rapper take you through this flow," and I sure did. I didn't find myself counting down the minutes at all, and when I ate it trying to do a Warrior Three pose, literally no one cared. I left feeling sweaty, nicely stretched out, and happy.
Y7 is yoga for people who don't like normal yoga. It's fun, and you can adjust to whatever speed and level you want. It's dark and sweaty and a great place to destress for an hour. The main pros include all your favorite Drake music and the fact that it's dark enough that no one judges you. However, if you're aiming to learn to do a headstand by Summer, this is not the place for you. Oh, also it has a photo booth, because of course.
Flywheel
I've written before about my SoulCycle obsession, so I purposely wanted to try a different Spinning class to see what I was missing out on. Full disclaimer — I love SoulCycle, so any other Spin class is at a slight disadvantage, but a lot of people love Flywheel!
The studio has a markedly different tone from Soul. A lot more serious and technical even — everyone in the class seemed to want to get in, work out, and leave. There is an option to rank your place in the class, (as in, how fast your bike is going compared to others), but I opted out of this. To me, working out is about being competitive with myself and myself only. In SoulCycle, the main focus is about riding to the rhythm of the music, which is one of my favorite aspects. In Flywheel, there is less of a focus on the music and more about the actual technique of riding.
Although I did enjoy it, I felt as though Flywheel is ultimately for more serious bikers. Real cyclists even. The class is very good — you sweat and move and get the huge high of a Spin class, but SoulCycle will always have my heart!
SLT
I first heard about SLT on a fashion consulting job. After a meeting with a particularly glowing client, my boss remarked, "She swears by SLT." SLT stands for "strengthen, lengthen, tone" — sounds perfect, right? The workout is done on a reformer Pilates machine in a small class (usually around 10 people) and is favored by the fashion set.
If you've been on a reformer before, this class will come easily to you . . . or at least you'll know how to use the machine, which is more than I can say for myself. The class was tough, and by tough I mean I muttered more than a few four-letter words under my breath throughout the hour. The plank-based moves were killer, and I felt like every muscle in my body was screaming out. Everyone else in the class was amazing — I felt like I was watching a synchronized dance. SLT is known to have a loyal following — if you go to 100 classes, you get your name on a plaque on one of the reformers, a testament to how obsessed the SLT set get with the intense workout! If you enjoy Pilates-like workouts and can commit the time (and money!) to going consistently, SLT might be your thing!
One final note is that I like pretty loud, upbeat music to help encourage me through a workout, and here the tunes were more in the background.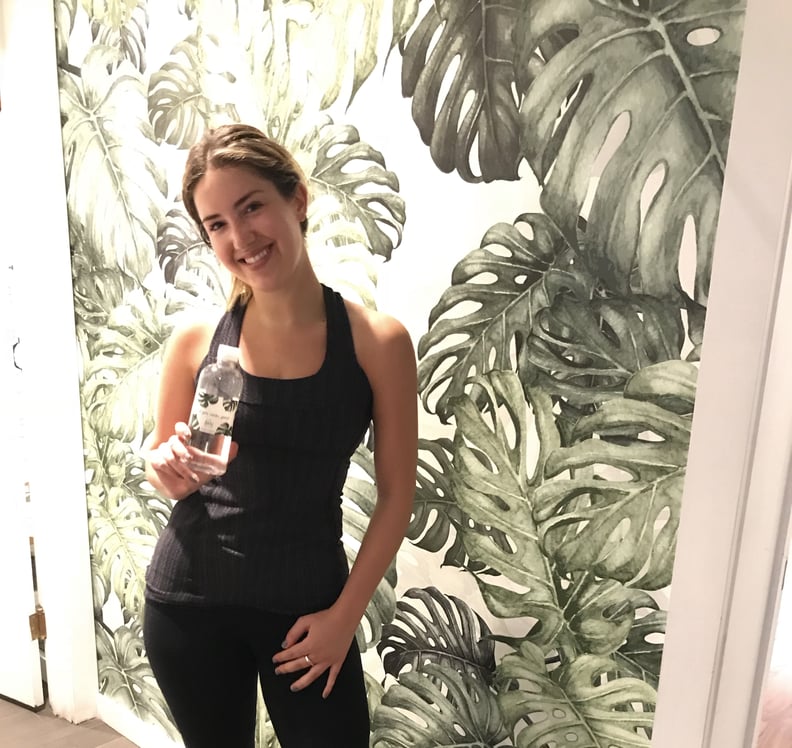 Bari Studio
I had originally heard about Bari from a bunch of friends in the fashion industry. The popular TriBeCa studio is a favorite of the blogger/fashionista set, and I soon learned why. Bari offers three types of classes: sculpt, cardio (done on trampolines!), and dance. First off, the studio is calm and cute. The walls are lined with palm print (yes, so millennial of me, but palm print is my absolute favorite), so I was already in a pretty happy place when class started. I tried the sculpt class. The instructor explained that she would demo moves, and we would follow them. Right before class started, she flipped a switch, and the most flattering light I've ever seen covered the studio. Call me vain if you like, but how I feel while I work out is superimportant to me. Having the right lighting makes all the difference!
The class itself, though only 45 minutes, packed a punch. Five minutes in, I was sweating, and by the end of class I felt like every muscle on my body had received attention. We used light weights, a mat, and a skimmer, which is a flat plastic disc you use on the floor to mimic a Pilates machine. My inner thighs definitely felt those moves! The music was a great mix of pop and dance and helped me get through the tougher parts of class.
I chatted to the instructor, Tiffani Robbins, after class about why she likes the workout. "Bari is the kind of workout that makes you feel good while challenging your entire body. The music, the moves, the community, and the Bari vibes will leave you feeling like Wonder Woman, ready to take on the world." And she was right. I left sweaty, upbeat, happy, and invigorated to take on my day.
Rumble Boxing
Created by an ex-Barry's Bootcamp instructor, Rumble Boxing is an intense, high-paced class that mixes bag work with aerobic-style routines.
Walking in, I was nervous. My boxing knowledge consists of Million Dollar Baby and that other movie where Jake Gyllenhaal looks superhot. The studio is striking with a grimacing logo and boxing gloves hung up for decoration. On arrival, you're provided with wraps and gloves, which you rent. I had no idea how to put on my wraps and suddenly realized I was in way over my head. Once inside, the room is split into two parts: one half is filled with giant rubber bags shaped like water droplets hanging from the ceiling, and the other half is filled with step boxes, which are filled with equipment. In the middle there is a podium for the instructor to stand on. I must admit the instructor was absolutely ripped and glowing. She explained that she would tell each of the groups a sequence that we would then repeat as much as possible in the allotted time given.
This class was so confusing I felt like I was back in AP Math class. I could barely hear the instructor let alone discern whether she was instructing the floor or the bag group. I could not make out the code that was being projected onto the digital wall either. I spent so much time looking around trying to figure out what I was supposed to be doing I barely broke a sweat. I'll admit punching the giant bags was fun for a bit, but mainly my hands just hurt because I had no instruction on how to punch properly.
People swear by Rumble, so I would definitely be willing to give it another go. When you buy your first class, they give you one for free, which is a nice touch (and maybe they do this because the first class is so hard)! I'm sure Rumble is amazing when you get the hang of it, but I left feeling frustrated.
Barry's Bootcamp
Barry's Bootcamp has been around for a while now, and is famed for its tough, circuit-style training. Ellie Goulding is a vocal fan! The studio feels like serious business. People who go to Barry's are there to do WORK. The studio is dark, and, I don't want to say scary but maybe a little intimidating if you aren't a superfit person.
A row of treadmills lines one wall, and step boxes are placed around the floor. You either begin your workout on the treadmill or the floor and then switch for a varying number of rounds. The instructor yells out what to do to both groups. No surprises here — I don't love running, but that part actually didn't bother me too much. Even though the instructor suggests high speeds and inclines, you can take it at your own pace if you want. At one point, the instructor yelled out the speeds she was seeing on the treadmills next to me — and they were high! ("Wow, level 10, level 11, 10.5 . . . ") She stopped when she got to my measly 6.0 speed and declined to yell it out — I only slightly cringed. I'm never going to be Usain Bolt, and I came to terms with that a long time ago.
When we switched onto the floor, we got a set of weights and a resistance band. Different days of the week are focused on different parts of the body. I opted to go to the "full-body workout" day. We went through different exercises with the weights, working out the entire body. I definitely had to modify or opt out of some of the parts because they were so intense.
Combined with the running, I was totally demolished at the end of class. Like wiped out for the rest of the day demolished. Barry's doesn't play! The great thing about Barry's is that if you, like me, are intimidated by the weights section of the gym, you can ease into using handheld weights and actually learn moves that you can practice on your own. Just make sure you don't overdo it on the weight limit or push yourself too hard on the treadmill — with all the shouting, it's easy to get caught up!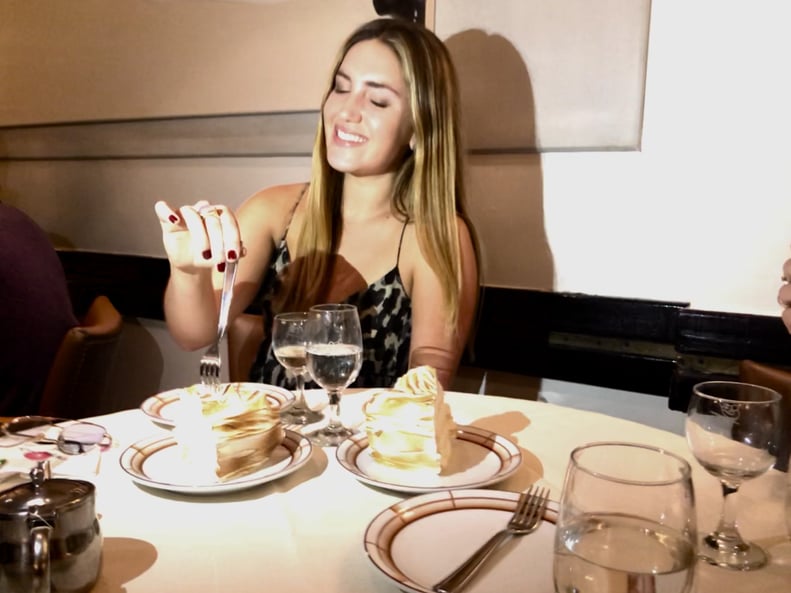 Cake to Celebrate, Duh!
After my week of boutique fitness classes I felt . . . well first of all, exhausted. Working out every day is not for the faint of heart! (Also I literally don't have enough workout clothes, and I refuse to do laundry more than once a week, so I don't think this frequency will stick!) Apart from being extremely sore, I will say I felt good. I slept like a baby every night and did notice my skin was glowing a little more. I also noticed that I was never bored because there was so much variation. The week of exercise kept my body guessing, and that in itself was a win.
Which class did I like the best? It's a toss-up between Bari and modelFit. Y7 is also fabulous, but I would almost put it in a different category since yoga has a slightly different end goal (for me) to a normal workout class. What put Bari and modelFit ahead of the rest is their attention to detail and instruction. If you're going to spend a whopping $30+ on a class, I believe the instructor should be vigilant and correct you if you're doing something wrong. Otherwise, what's the point? Another big factor is class size. I preferred the classes that felt more intimate, first because it's easier to concentrate, and second it feels less intimidating and the instructor can focus more on everyone individually.
Finally — music! It's so important to me. Such a small detail but one thing I noticed in the classes that I liked more was that they would adjust the volume based on what part of class we were in. In Bari, after explaining a move, the teacher would blast the music up to give us a boost while we were pulsing. It is this attention to detail that makes a class worth it.
There you have it! A roundup of the hottest boutique workout classes New York City has to offer. If you're in the market for a workout shakeup, one of these will do the trick. Make sure to do your research about which workout is right for you, and don't forget to mix it up! Now, I'm off to have a piece of cake . . . or two!