Are You Using CBD Safety? Ask Yourself These Questions First
8 Questions to Ask Yourself Before Using CBD
As POPSUGAR editors, we independently select and write about stuff we love and think you'll like too. If you buy a product we have recommended, we may receive affiliate commission, which in turn supports our work.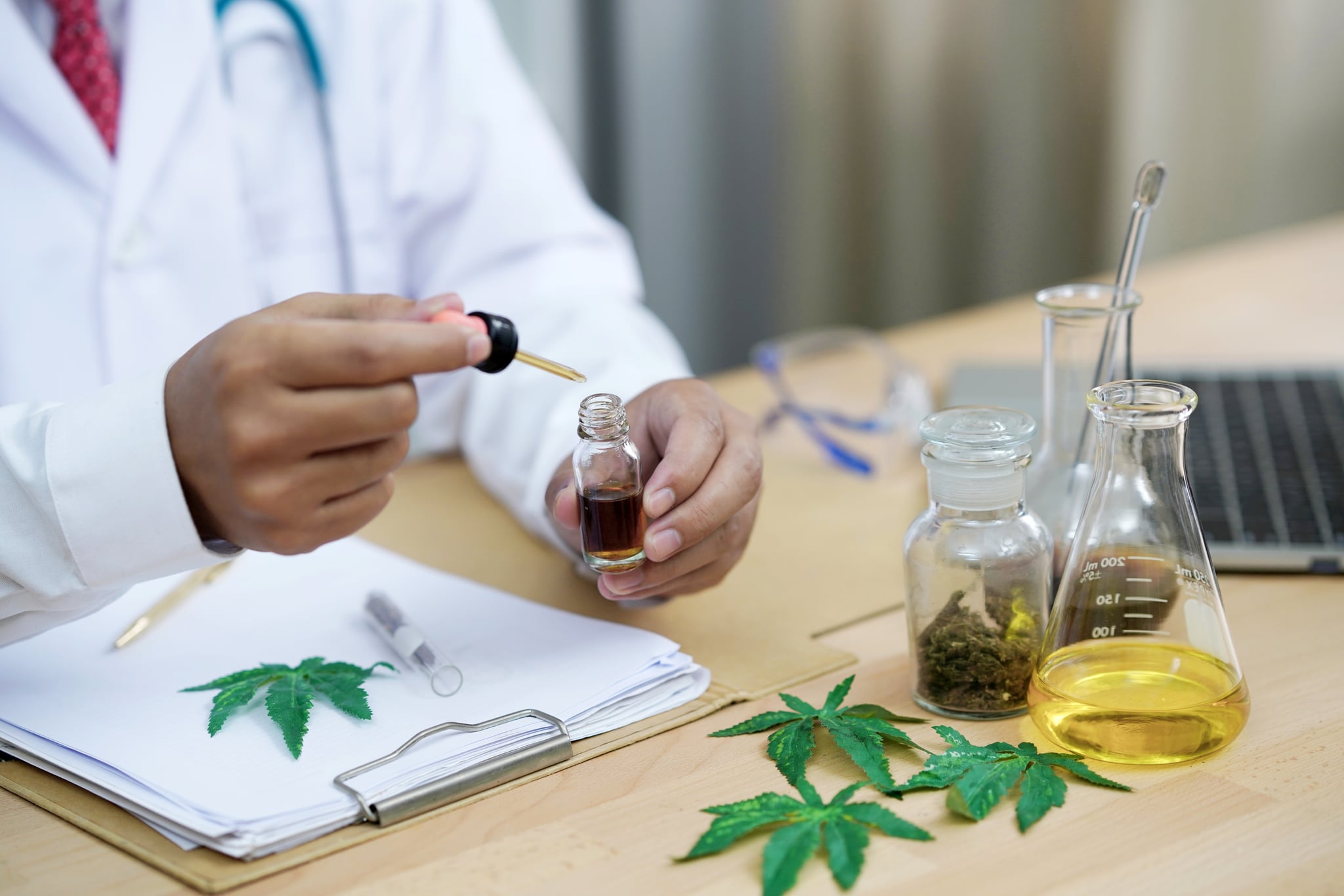 We're sure you've heard — CBD (a chemical found in the cannabis plant that doesn't have psychoactive properties) is the latest "it" trend to sweep the health and wellness world.
Often marketed as a natural solution to aches and pains, CBD can now be found in food, drinks (CBD lattes are actually a thing), and even skincare products — and consumers can't get enough. But, are we all properly researching CBD purchases before using them?
Since CBD is a newer phenomenon, it lacks the support of substantial scientific research — plus, it's not an FDA-approved substance (with the exception of Epidiolex, a prescription drug used to treat seizures caused by two forms of epilepsy: Lennox-Gastaut syndrome and Dravet syndrome), which means there is very little regulation regarding what's on the market.
To help you use CBD responsibly, we've collaborated with two specialists to find out what you should ask yourself before turning to CBD for relief. Remember, it's always best to turn to your doctor for advice and guidance first.
Are You Using CBD For the Right Reasons?
According to Dr. Junella Chin, MD, head of the medical advisory board at cannabisMD and cofounder and medical director of Medical Cannabis Mentor, the potential therapeutic benefits of CBD include reducing pain, inflammation, nausea, seizures, and anxiety, and aiding sleep.
However, some doctors are wary of CBD's effectiveness due to lack of research. For example, Dr. Jordan Tishler, MD, head of the medical advisory board at cannabisMD, instructor of medicine at Harvard Medical School, and president of the Association of Cannabis Specialists, believes that most benefits of CBD are either "purely theoretical" or "have only been shown in mice." That's why he doesn't recommend it be used for "anything except kids with specific rare seizure disorders."
Did You Know CBD and Hemp Extract Are Different?
Hemp is a strain selectively bred from cannabis that produces very little THC but can produce CBD, explained Dr. Tishler. He warns that not all hemp products (including oil) have CBD in them, and without proper labeling, it can be hard to know for sure.
Hemp plants are essentially hyperaccumulators, which means they can be used to suck pollutants out of the soil. Dr. Chin advises that one must be careful of being at risk for contaminants when purchasing "hemp-derived CBD."
Do You Know About the Different Forms of CBD?
Dr. Chin says CBD can be safely consumed in the following forms: tinctures, capsules, edibles (i.e. gummies, chocolates), inhaled plant and vaporizer forms, topical creams, and patches.
Are You Aware of What You're Putting in Your Body?
Currently, there are no federal regulations on CBD, which Dr. Tishler describes as, "no safety checks." He warns that some CBD products on the market have found to have no CBD in them at all.
In a 2017 study published in JAMA, researchers ordered and tested 84 products sold online in 2016 as CBD-containing products. Of those, only 26 were labeled accurately (containing CBD within 10 percent of the claimed amount), 36 of the products had more CBD than their labels said, and 22 products had less. The researchers also found THC in 18 of the 84 samples.
Some have even contained "contaminants like pesticides and heavy metals" and "adulterants like opioids and benzodiazepines."
Dr. Chin added that CBD products should feature clear labeling that confirms lab-testing and dosage. Investigating the product's stability and extraction methods while finding out if the brand tests for solvents, pesticides, heavy metals, and fillers are very important, too. This can protect you from allergic reactions, histamine reactions, or flu-like symptoms such as diarrhea, nausea, vomiting, and stomach pain.
Are You Aware of CBD's Side Effects?
While everyone is different, Dr. Chin admitted CBD users can experience "nausea, diarrhea, and upset stomach." Surprisingly, most side effects are caused by the carrier oil of the CBD supplement, which is usually MCT oil (a supplement made from a type of fat called medium-chain triglycerides that often derives from coconut or palm kernel oil) is known to cause an upset stomach.
She also noted that you shouldn't take medication within two to three hours of taking CBD. Although rare, CBD can cause increased sedation when mixed with alcohol, benzodiazepines, and sleep aids. CBD may also increase INR (the measurement of how long it takes blood to form a clot) values in patients taking Warfarin or other drugs that increase the risk of bleeding.
Other possible side effects Dr. Tishler touched on were wakefulness and jitters.
Did You Know You Can Overconsume CBD?
Just because a product is a "natural supplement" doesn't mean you can't overconsume it. But, don't be too alarmed — Dr. Chin explained that liver toxicity due to CBD is unlikely if you're taking the amount prescribed by a doctor. (Most people can take safely take between 25-50 mg.)
Dr. Chin and Dr. Tishler recommend shopping for CBD products off of cannabisMD's website, as they are tested by their teams.
Other brands are transparent about their products' potency on their websites like Mary's Nutritionals, for example. The brand's The Remedy Tincture ($60) contains a 2 mg dose of CBD per drop and recommends one-to-two drops per dose. Another popular brand Infinite CBD clearly states on their Asteroid Gummies' ($20) packaging that each bite contains 25 mg of pure CBD. (Note: these products have not been tested or endorsed by Dr. Chin and Dr. Tishler.)
Are You Buying From the Right Brand of CBD?
Purchasing the right brand of CBD can be challenging. Dr. Chin instructs people to find "third party-tested brands from labs that are reputable and licensed" and personally recommends products made using only organic, CBD rich, whole-plant extract.
Are You Consulting With Your Doctor Before Using CBD?
Before using CBD, you should speak with your doctor to find a dosage that works for you and to confirm your medications do not conflict with the chemical.
Dr. Chin says that before recommending CBD to her patients, she always evaluates their prescription medications, recent blood work, imaging, and takes a full history, and a physical exam. After performing what she calls "medical cannabis evaluations" in the context of a full-scope general and holistic medical practice, she "starts low and goes slow" by taking a gradual micro-dose approach when prescribing CBD.