CDC Announces Vaccinated People Don't Have to Mask Indoors
Don't Toss Your Masks Yet — Here's When You'll Still Need Them Under the New CDC Guidelines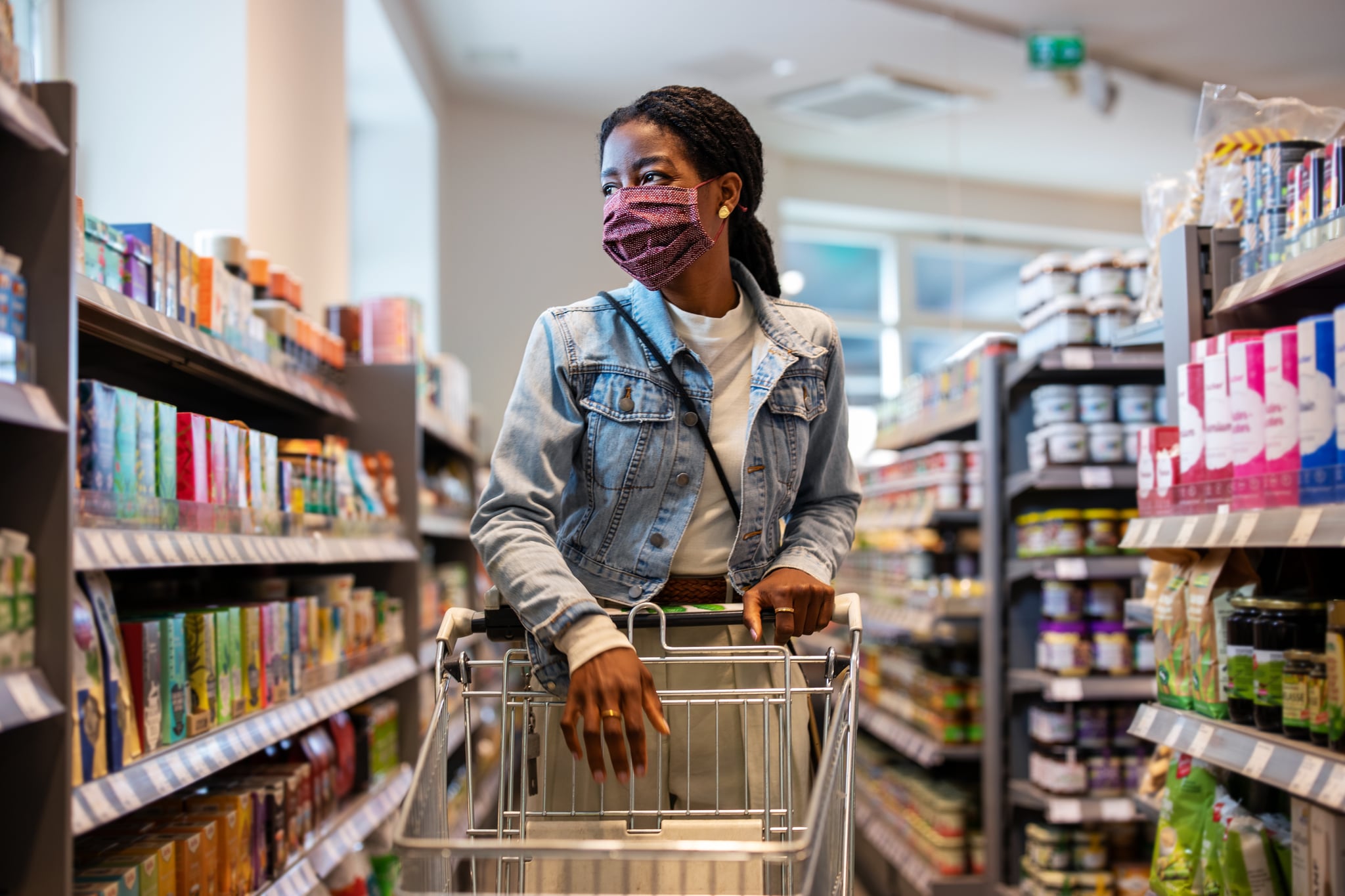 The CDC lifted another COVID-19 restriction today, announcing that fully vaccinated people can stop masking and social-distancing in most indoor and outdoor social settings of any size. The news comes as Americans continue to receive the highly effective COVID-19 vaccines, which may reduce transmission of the disease, according to growing data. It's the latest instance of the CDC loosening COVID restrictions that have noticeable effects on our lives; just a few weeks ago, the agency said you didn't need to mask outdoors while walking, running, and biking, or dining in a small group. But this newest recommendation comes with a few caveats, so read up below before you head to your grocery store mask-free.
What Is the CDC's New Vaccinated Masking Policy?
The CDC now says that fully vaccinated people "can resume activities without wearing a mask or physically distancing." (Note that you are considered fully vaccinated two weeks after your final vaccine dose.) That means indoor and outdoor activities, and it doesn't matter how many people are there, either. Here's the caveat: you do still have to wear a mask "where required by federal, state, local, tribal, or territorial laws, rules, and regulations, including local business and workplace guidance."
So, if a restaurant, doctor's office, or store requires you to wear a mask, you have to wear a mask. Same goes for federal, state, and local regulations. In other words, continue to pay attention to masking regulations set down by your state or local governments, as those will ultimately dictate in which settings you'll still need to wear a mask.
Masks will still be required for travel, including on planes, buses, trains, and public transportation. CDC director Rochelle Walensky, MD, MPH, also noted that immunocompromised people should speak to their doctor before ditching their mask.
Why Did the CDC Change the Masking Guidelines?
The CDC referenced the "minimal risk" that indoor and outdoor situations pose to fully vaccinated people as its rational for loosening mask guidelines. The agency also noted that fully vaccinated people have a "reduced risk" of transmitting the disease to unvaccinated individuals. In announcing the changes at a White House press conference, Dr. Walensky did warn of the possibility that guidelines would need to shift to meet any changes in the pandemic, and said that fully vaccinated people who develop symptoms of COVID-19 should wear masks and get tested.
Some experts also hope that the new masking guidelines will serve as an extra incentive for Americans to get vaccinated, especially as fewer people appear to be receiving the vaccine. The New York Times reported that vaccine distributers are giving out 38 percent fewer doses now than a month ago, when the country hit a peak of 3.38 million given on April 13. (Vaccines are being distributed at a rate of about 2.09 million per day now.)
"We have all longed for this moment when we can get back to some sense of normalcy," Dr. Walensky said. "Based on the continuing downward trajectory of cases, the scientific data on the performance of our vaccines, and our understanding of how the virus spreads, that moment has come for those who are fully vaccinated."
POPSUGAR aims to give you the most accurate and up-to-date information about the coronavirus, but details and recommendations about this pandemic may have changed since publication. For the latest information on COVID-19, please check out resources from the WHO, CDC, and local public health departments.