Go Inside the CrossFit Diet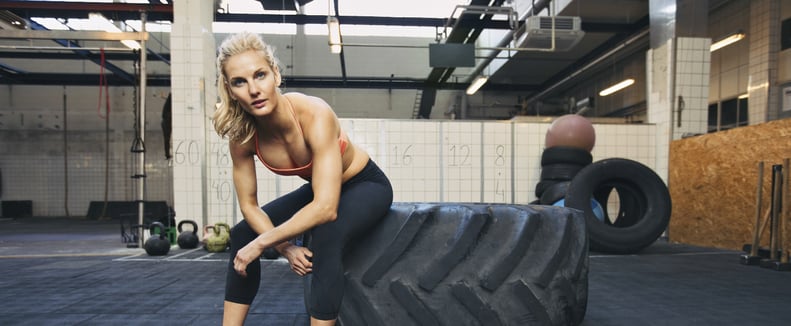 As a CrossFit newbie, I didn't know what to expect when I attended the 2014 CrossFit Games (as a guest of Reebok), but I knew I'd learn a thing or two about the muscle-building workout movement. While I did learn a lot from watching "the fittest on Earth" battle it out on the field, one thing was clear — those muscles are as much made in the CrossFit box as they are in the kitchen. Want to know what it takes to fuel a body that's ready for all those intense WODs? Here's a primer on what many CrossFit pros eat. Source: Thinkstock So Much Meat
What do Paleo-loving weight lifters reach for when they need to bulk up? Meat, of course — and lots of it. While I'm sure vegan or vegetarian CrossFit fans exist, they don't call Paleo the caveman diet for nothing. Lindsey Valenzuela, who finished second in the 2013 CrossFit Games, says she starts and ends her day with six ounces of protein and snacks on salami in between workouts. Even the protein powder was once grazing on grass — this Paleo protein powder, which I tried during the CrossFit Games, is made from a meat and egg slurry that's been dried and turned into powder. While it may not taste anything like meat, it's hard to get that image out of your head when you're drinking the chocolate- or vanilla-flavored beverage. . . . Especially Bacon
A workout movement that encourages bacon consumption? Sign us up. CrossFitters may love any kind of quality meat, but when it comes down to which cut reigns king, it's (sugar-free) bacon or bust. Reebok, which sponsors the CrossFit Games, even passed out bacon-wrapped jalepenos, pork belly, and more to hungry fans throughout the weekend. All Paleo, All the Time
Well, at least most of the time. It was great to see such high-quality foods available at the CrossFit Games — you usually don't see the words "organic" and "grass-fed" advertised when you're at a sporting complex, or even vendors proudly proclaiming the existence of spinach salad on their menus, for that matter. But lest you think that you'll never see a piece of bread again if you want to be a serious CrossFit contender, think again: even the pros indulge in non-Paleo foods from time to time. Lindsey says that her normal Paleo and Zone diets "go out the window," during competition time, since she has so much adrenaline. "I'll eat a hamburger, I'll eat bread, I'll eat peanut-butter-and-jelly sandwiches," she says. CrossFit Games veteran Josh Everett puts it this way: "Paleo or whole foods is the foundation, but I'm not super strict." More Calories, Please
All that muscle is bound to burn a lot of calories, no matter what you're doing, so it's no surprise that CrossFitters have to eat. A lot. "I easily burn 2,000 calories throughout the day coaching and working out," says CrossFit Anywhere owner Blair Morrison, adding that he eats 4,500 calories a day just to maintain his current weight. He says he makes sure to keep it clean by avoiding sugar and dairy. Supplement Science
For those who CrossFit, creating the strongest body means supplementing your diet. Lindsey's list of supplements includes fish oil, Vitamin D, and B Complex, and no CrossFitter's diet is complete without added branched-chain amino acids for faster recovery.