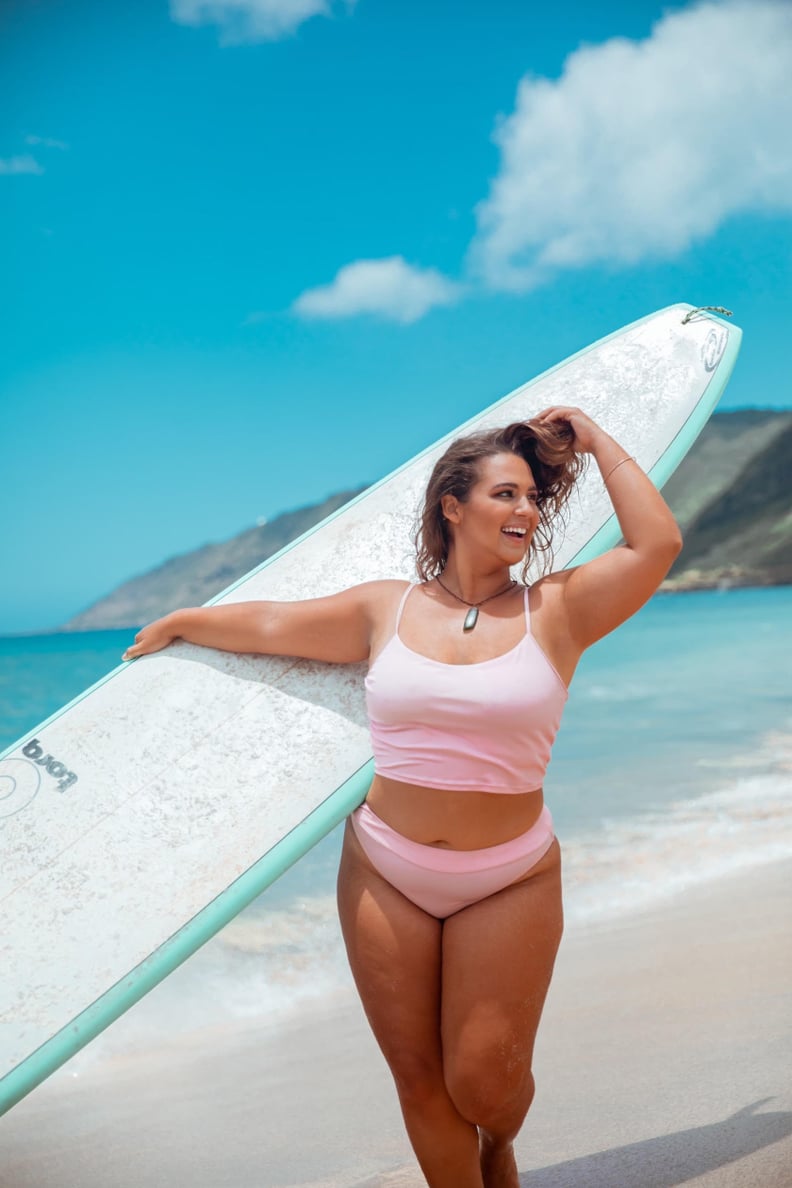 Roalyver Lopez
Roalyver Lopez
Image Source: Roalyver Lopez
Elizabeth Sneed (aka @curvysurfergirl) didn't exactly grow up with an affinity for the ocean. She grew up landlocked, in Northeast Texas and Arizona. And when she was 14, she visited the Gulf Coast of Alabama with friends and got caught in a rip current. The Coast Guard came to rescue swimmers, but missed Sneed's group because they had gotten pulled so far out. Luckily, a fisherman found them and pulled them aboard — but the experience left Sneed with a terrible fear of the ocean. Which makes it all the more remarkable that Sneed went on to become a surfer, and the founder of Curvy Surfer Girl, an Instagram account-turned-community dedicated to bringing size diversity to surfing.
I had a moment of clarity in the ocean: I had never, ever seen a girl with curves surfing.
Despite Sneed's phobia, something had always called her to Hawaii. She finally made it there in 2012, when she was 21, and it was during that trip she first hopped on a surfboard. "I have this immense fear of the ocean, but I also simultaneously had this magnetism that was just pulling me towards it to go in it," Sneed tells POPSUGAR. "I had to talk with the surf instructor and tell them that, and I was mortified." But the instructor consoled and supported her every second she was in the waves. "It was such a positive experience that, from the moment I stood up on that first wave, it changed my entire life. I felt more joy in that moment than I think I had ever felt, and I knew that day that I belonged in Hawaii and that I wanted to be a surfer."
Fast forward, and Sneed made that dream a reality: She moved to Hawaii in 2017, and the first thing she did was find a surf instructor.
Moving to a new place and breaking into a sports community can be difficult for anyone, but during Sneed's first few years living and surfing in Hawaii, she didn't quite feel like she belonged, in a way that had nothing to do with her surf skills or where she came from: "I had a moment of clarity in the ocean: I had never, ever seen a girl with curves surfing."
This feeling wasn't only triggered by the social surf scene; Sneed couldn't even get the right gear. "When I started surfing, I also started freediving," Sneed explains. "When freediving, you need a wetsuit because you're going out very early in the mornings, and regardless if it's what Hawaii or not, the water temperature is still lower than your body temperature, so you can get into a state of hypothermia." But at the time, she was a size 18, and couldn't find a wetsuit that fit. "Most wetsuits produced internationally stop for women at a size extra-large or size 14," says Sneed. If you're not in that range, you can go to a custom wetsuit company to get one tailored for you. But that's not exactly an inclusive or accessible option: commercially available wetsuits usually cost a few hundred dollars; a custom one costs even more.
"So for the first year I started freediving, I had to wear a bikini while everyone else had wetsuits — and I didn't have an option," says Sneed. "My friends would invite me out to free dive, and because I couldn't fit into a wetsuit, to go and have those experiences that everyone else could have, I had to wear a bikini in very cold water for hours, shaking and shivering the whole time. I just thought, 'Well, this is the price that I have to pay for being in a heavier body.' There's a lot of shame and self-destructive thoughts that go into that process, like, 'Maybe if you stop eating or maybe if you just did this or that, you would be able to be like these other girls and you could be a better athlete because you could wear all these things."
Sneed was hopeful that things would change. As the body-positive movement gained steam, she patiently waited for it to migrate over to the surfing community and industry. "I thought, 'Well, this body-positive movement is soaring, so at some point, the surf industry will create that space for us,'" she says. "They'll choose some random girl in some part of the country and they'll make her the 'Ashley Graham of surfing.' I thought, 'It's inevitable. It's going to happen. Somebody's going to do this.' And then I waited and waited and waited. Finally, I lost my job because of the pandemic and I was like, 'You know what? I'm through waiting. I'll be that person.'"
That's how her Instagram account, @CurvySurferGirl, was born. "I felt like 'curvy' was such a positive word because it's widely embraced for multiple body types; you can be on the smaller side and be curvy and you can be on the plus side and be curvy," she says. "And it became a sensation. People were feeling just like I was. No one had ever seen someone surfing on social media that had a body type similar to mine. And then I started incorporating more and more women, and we started showing off their body types and creating body diversity to show women that size is really not a limitation. Surfing is for everyone."
But Sneed knew that representation wasn't enough. Also essential was making sure anyone who wants to surf has gear to wear in the waves. In the years since @CurvySurferGirl's inception, Sneed has teamed up with several brands to launch and promote size-inclusive swimwear, including Rip Curl, September, and Maaji (just to name a few). "The fashion stuff has been such an important part of my mission because, when we talk about traditional surfing, a lot of those styles and designs weren't working for women with curves. People didn't even really have an understanding of how to serve that demographic," she says.
It's so remarkable to me. Somebody was like, 'You know what? I'm going to go float on water'... and now I get to go out and do this every day.
Her latest collab is with JOLYN, a women's swimwear brand that's long been dedicated to serving athletes in the water; the brand just launched JOLYN Surf, their first surf collection, with Sneed as one of their ambassadors. (The others — Courtney Conlogue, Tia Blanco, Maila Ward, and Juli Hernandez — are equally as inspiring, and worth a follow.) In a beautiful full-circle moment, the first surf-friendly bikini top Sneed ever owned (one she wore almost exclusively for her first year surfing in Hawaii) was a JOLYN top; at the time, it was one of the few brands that had sizes for larger-chested women and could hold up against the waves. While women's surf-friendly swim has gotten a major, size-inclusive upgrade in the last couple of years, wetsuits for women above a certain size are still MIA — but that's next on Sneed's list. "It's all just counting our small victories until they add up into real measurable change, which has been happening and will continue to happen," she says.
Sneed's ultimate goal is allowing more women to experience the magic that is catching a wave. "Surfing is liberating," she says. "You go out there in this big blue ocean and you're sitting and waiting — and that alone has benefits: Psychologists have even talked about the power of wide-open, blue spaces on the human mind and how it actually puts us at ease, physiologically and psychologically. Suddenly, you see a wave building, you get this excitement coming through your body. You start pumping your muscles, paddling, and then you stand up, and the entire world fades away. You can barely feel your body of all of these feel-good feelings spreading everywhere, and you look up, and you're riding a wave. This just pure sense of joy washes over you, and you're like, 'I can't wait to do that again.' And then you paddle back and you wait for the next one."
If that sounds incredible, but there are some (or many) reasons stopping you from giving it a try, take heart that Sneed was once in the same boat — or, board. "I was so scared that I was going to fail at surfing. I was like, 'I'm 26, I'm overweight, I have arthritis, and I'm scared of the ocean, and I'm seasick.' I had all these excuses in my head about why this probably wouldn't work," she says. "If I could just go back and talk to myself on day one, I would say, 'none of that is going to matter as you keep going through this journey. It's going to unfold for you in a way that you can't even imagine."