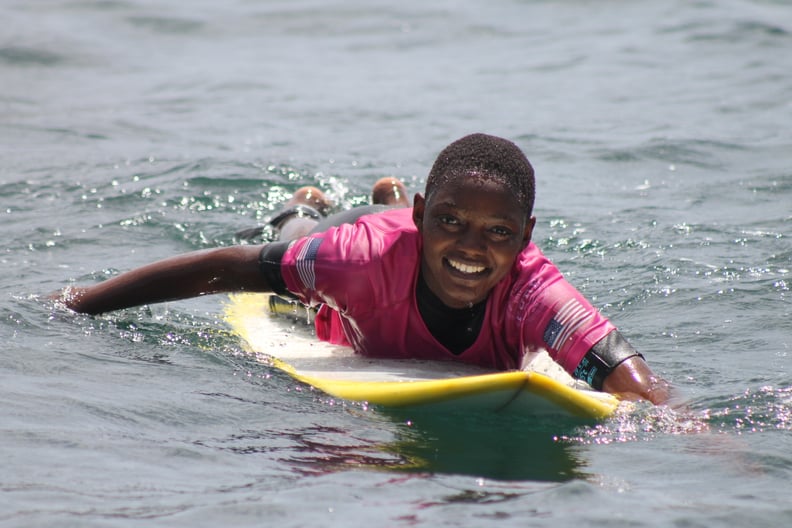 Rhonda Harper
Rhonda Harper
Rhonda Harper has been in Senegal since January. It was meant to be a short trip for Harper, the founder of Black Girls Surf, to do some filming with Khadjou Sambe, a Senegalese surfer whom she's training for the Olympics and the pro World Surf League. But days before Harper was due to return to the US, she said, the country was "locked down" due to COVID-19-related travel restrictions.
Out of the extended overseas stay has come something groundbreaking: a Senegal-based Black Girls Surf camp with the explicit goal of not only teaching young Senegalese women to surf, but seriously training them to enter the pro ranks. It's not perhaps the exact timeline Harper had had in mind, but to hear her tell the story of her career leading up to the 2014 founding of Black Girls Surf, that's only fitting.
Falling in Love With Surfing
Harper was born in Kansas City, KS, where she fell in love with the culture of surfing through so-called "beach party movies" in the '70s. When she moved to San Jose, CA, with her family at age 10 and got a glimpse of the Pacific Ocean in nearby Santa Cruz, it was love at first sight.
A strong swimmer, Harper loved being in the water, but didn't try surfing until she started running into trouble at school. Harper recalled that her family was probably the largest population of Black people in her school system. She and her siblings and cousins were constantly harassed, she said, and it came to a head when three kids walked into class one day dressed as members of the KKK. "I remember throwing a shoe at them," Harper said. Concerned that Harper would "end up in jail," her mom sent the 15-year-old to live with her older sister on the North Shore of Hawaii.
At the resort where her sister lived, Harper spent all day watching surfers on the breaks. Finally, a crew member from the TV show Magnum P.I., which was filming there at the time, asked her if she wanted to try surfing tandem (two people on one board). The first attempt was disastrous: "We both stand up for like two seconds. I go one way, he goes one way. He comes up with clothes. I come out without a top. I said, 'I'm never surfing again.'" But Harper couldn't stay away. She was given an old board and surfed every chance she got.
It wasn't until Harper went home to California that she felt the stirrings of racial tension in the surfing community. One day, when she was around 18 or 19, she brought her shortboard to a beach in Santa Cruz, "the same place where I fell in love with the ocean." The water was flat (no waves to catch), so she hiked back up to her car. "Lo and behold, on the side of my car it said: 'go home n-----.'" Shaken, Harper wouldn't even drive her car, letting her boyfriend at the time get rid of the vandalism and drive her home.
It happened again when Harper moved to San Diego just a few years later. She was paddling into a wave when another surfer yelled a racial slur at her. The hatred and racism drove Harper from surfing for years. "I just stopped, because I didn't want to deal with that," she said. "It bums you out. You don't want to get back in the water."
Founding Black Girls Surf
Harper stayed connected to the surf community, though, and it was that link — and her love for fashion — that eventually led to the creation of Black Girls Surf. Harper had designed clothes for celebrities in the past, and had a vision of creating a fashion line that was "beach-oriented, but Afrocentric." She quickly realized the problem: there was no target market. "Where were the surfers?" Harper remembered thinking. "Let me find surfers of color. And there weren't any."
Harper had been working with surfers on the men's tour as well as reporting on surfing for the Black Athlete Sports Network. She was familiar with the competition circuit, and decided that the best way to find and showcase Black surfers would be to hold a new competition. In 2014, she helped launch Africa Surf International, inviting surfers from the African diaspora to compete in Sierra Leone. They only had one woman surfer, Kadiatu Kamara from Sierra Leone, so Harper went to surf camps across the continent to scout out more female talent. She eventually found Khadjou Sambe, and with two female athletes signed on, Harper was about to launch a "final push." That's when the first case of Ebola was reported in Guinea. It soon spread across West Africa.
"This is my second pandemic," Harper says of coronavirus. "The first one was Ebola. We watched every single day and the body count went higher." They were forced to postpone the contest, but Harper realized the extra time was a perfect opportunity to find girls to train. Black Girls Surf was born, with the expectation that when Sierra Leone opened up again, they'd showcase the surfers at the contest.
Back in California, Black Girls Surf gained slow but steady momentum, organizing quarterly meetups in regions including the US, Jamaica, and Sierra Leone and gathering steam on social media. The organization evolved; originally a way to promote Black surfers in contests and build awareness of the lack of representation, Harper was now using it as a way to seriously train Black female surfers for the pros.
It wasn't until 2018 that Harper was able to navigate political roadblocks and get one of her two main surfers to the United States to train. When Khadjou Sambe arrived in San Jose, according to Harper, "surfing started changing right then." The Senegalese surfer attracted publicity from outlets as big as CNN as she set her sights on the Tokyo Olympics, where surfing is set to debut. "An African surfer, a West African female surfer coming into play — that's never happened before," Harper said. "The publicity was nonstop."
If it hadn't been, Harper added, "I wouldn't be stuck in Senegal right now. I came to Senegal to film her with the WSL, and I got locked in."
Training the Next Generation
As Sambe continues to train for a spot on the Senegalese national team and, hopefully, a chance at qualifying for the Olympics, Harper has taken Black Girls Surf to the next level. The elite training center she's opened for Senegalese girls and young women follows a rigorous daily schedule: the athletes, who range in age from 11 to 17 years old, have two to three hours of workouts followed by in-water training. They work with personal trainers and online yoga instructors, balancing their training with school, which is required for every athlete. Black Girls Surf often foots the bill for its students' education, Harper said, because many families don't see girls' schooling as high-priority. Harper wants to open these surf training centers across West Africa — Senegal, Sierra Leone, Nigeria, Liberia, and Côte d'Ivoire — with the ultimate goal of funneling Black girls and women into the professional ranks of surfing. (She also trains boys through a separate organization.) Right now, Harper's elite squad members have their sights set on the 2022 Junior Olympics in Dakar, Senegal.
Having Black women at the top of the surfing world is crucial, Harper said, because it opens the door for young athletes like those in her training centers. "It's very important for self-esteem and just basic motivation to do something better with their lives, to strive for something bigger and larger," she said. Sambe is already making waves; Erika Berra from Costa Rica, and Brazilians Yanca Costa, Potira Castaman, and Maria Eduarda are other up-and-coming talents that Harper is excited about.
With all the work Black Girls Surf is continuing to do, Harper said that as of now, her biggest accomplishment came on June 20, International Surfing Day. After working with the WSL for a year, Harper said, the WSL officially released a statement decrying racism and discrimination in surfing and beyond. "We stand . . . with the belief that the ocean is the great equalizer and that surfing is for everyone," the WSL said on Instagram. The organization also committed to pushing for equality and inclusion in its competitions and community, and "starting to help develop athletes who don't have access," Harper said. So far, "that was the biggest win that I've had in the surf industry."
Harper said that statements like that give her hope. Despite her job, she doesn't actually surf very often; when people ask why, her response is that she'll surf when the work is done. "You work, work, work, work. Then once you get your goal, you can surf for the rest of your life," she said. "I'm not getting in the water until we're free."
Follow Black Girls Surf on Instagram and support its work on GoFundMe.