Daily Harvest Recalls Lentil Crumbles After Health Scares
Daily Harvest Recalls Lentil Crumbles Following Reports of Serious Illness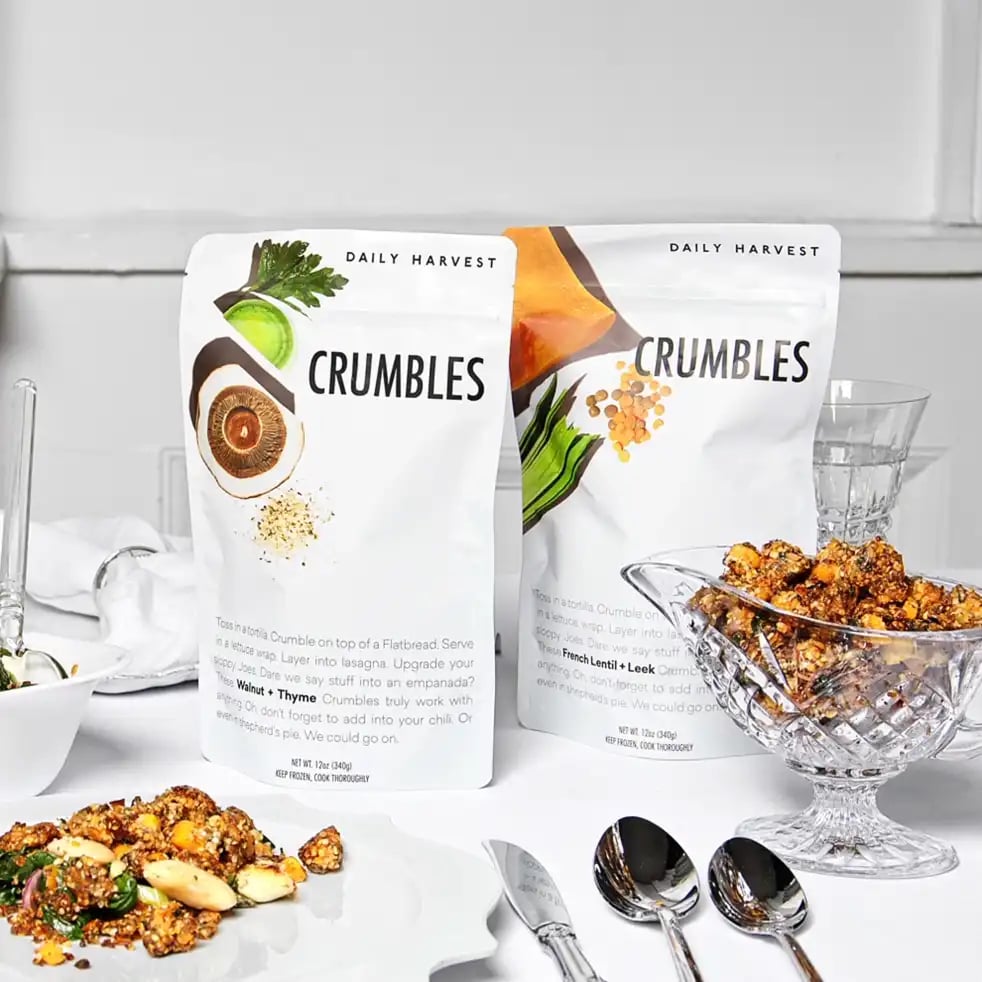 On June 19, food-delivery service Daily Harvest issued an important announcement for the brand's French Lentil + Leek Crumbles, a blend that includes organic butternut squash, hemp seeds, cauliflower rice, French lentils, red lentils, tricolored quinoa, and cremini mushrooms. "We've received customer reports of French Lentil + Leek Crumbles causing gastrointestinal issues," the company said in their statement. According to Consumer Reports, multiple consumers posted to Reddit, TikTok, and other platforms, claiming that eating the crumbles had caused them to become ill, in some cases reportedly causing such severe stomach pain and intestinal discomfort that it led to hospitalization.
According to Bloomberg, Daily Harvest may have been addressing customer complaints about the product on Instagram as early as June 15, nearly a week before the official statement was released. (Daily Harvest did not respond to POPSUGAR's question about when it began responding to complaints.) "We took immediate steps to address what we heard from customers, reaching out to every person who received French Lentil + Leek Crumbles, instructing them to dispose of the product and not eat it," Daily Harvest said in their announcement, which was posted on their website. "We simultaneously launched an investigation with internal and external experts throughout our supply chain and in accordance with regulatory procedures. We will share more information as soon as it's available."
The Daily Harvest website's product page for the crumbles states that the item has now been temporarily discontinued, and asks people to "dispose of this item and do not eat it." In an article about the advisory, Consumer Reports stated "that the Food and Drug Administration said it could not confirm or deny whether it is working with Daily Harvest on the recall."
"If you have any French Lentil + Leek Crumbles, please dispose of them and do not eat them."
Speaking with NBC News, customer Luke Tashie explained that he experienced "extreme liver pain" after consuming the French Lentil + Leek Crumbles and was concerned about potential long-term side effects. Similarly, on TikTok, influencer Abby Silverman said she received the Daily Harvest product as part of a PR package, but a day after eating the product, wound up in the ER with "extreme stomach and gastro pain," where it was found that she had "elevated liver levels" and bacteria in her urine. Silverman said the medical professionals attending to her weren't sure what was causing her symptoms.
In the video posted to TikTok, Silverman showed a screenshot of an email she allegedly received from Daily Harvest, which said that after receiving "a small number" of complaints of symptoms being caused by the crumbles, the company was instructing recipients to throw out the product and not eat it. In a similar email sent to Tashie that NBC News reports viewing, Daily Harvest stated that "lentils must be thoroughly cooked to an internal temperature of 165°F" to be consumed safely and offered customers a $10 credit for every bag of the product that was purchased.
POPSUGAR reached out to Daily Harvest to ask whether the company had received reports of the crumbles causing symptoms similar to those Tashie and Silverman outlined, whether they emailed known recipients of the product instructing them to dispose of it, and whether they are offering a credit to customers. In response, a representative for the company sent POPSUGAR the same advisory posted on its website.
For anyone hoping to sprinkle the crumbles over lettuce wraps or tostadas, Daily Harvest is strongly advising you to throw out any remaining packages. "If you have any French Lentil + Leek Crumbles, please dispose of them and do not eat them," the company said. Daily Harvest encourages customers to address any questions or concerns to hello@daily-harvest.com.