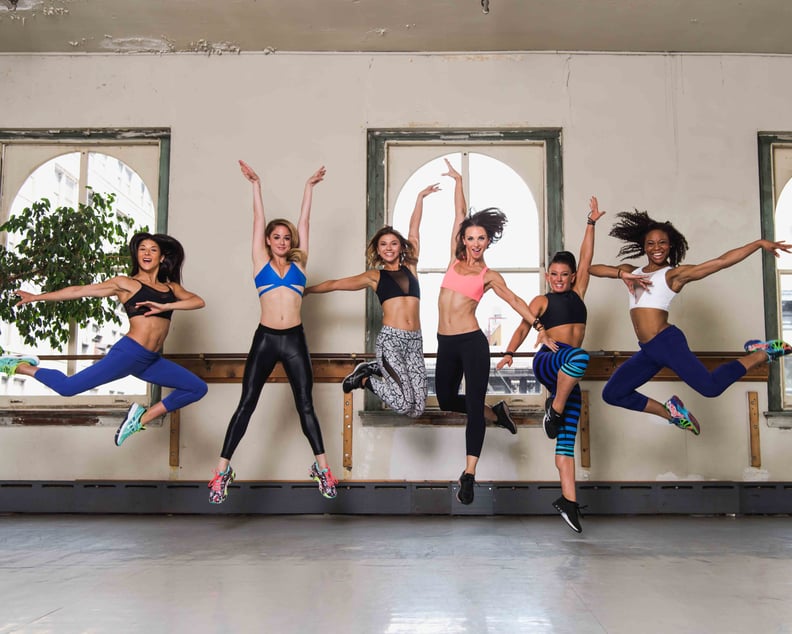 Source: Photo Courtesy of Dance Body
Source: Photo Courtesy of Dance Body
I was pumped to give Dance Body, a fitness class created by a former professional dancer, a try at the SELF Up 'N Out Studio event in New York City. As a former dancer myself, I foolishly thought I would cruise through this class as if it was a little 30-minute warmup to my following Y7 yoga class.
Let me be the first to warn you: Dance Body is NOT a warm-up class. I quickly found out that it is a high-intensity, non-stop jam session that will have you jumping, squatting, smiling, and sweating profusely within the first 90 seconds and up until the very last move of class.
My teacher, Courtnay, was no joke. She kept our heart rates racing throughout the entire workout to keep up with her moves, where we were instructed not get too hung up on missing the steps. Dance Body is formatted to be a follow-along style class the entire time, meaning the choreography isn't introduced piece-by-piece. Instead, dancers jump right in and catch on to the sequences as quickly as possible. Though the follow-along format was a challenge for me, the added element of mental work helped to distract from how hard my body was working. A few tracks near the end of our workout focused on deep squats and oblique work, all disguised as fun dance routines.
In all honesty, I'd recommend being prepared to not feel like a total pro during your first time in Dance Body class. I decided to just go with the flow, have a good time, and sweat it out to tracks from Beyoncé and The Chainsmokers while doing my best to pick up Courtnay's routines. I'd imagine that the more frequently you go to Dance Body classes, the better your workout gets!
My little dance class "warm up" ended up leaving me sore for days after class — and I had a great time doing it! I'll definitely be visiting a NYC location for another round. If you live outside New York or Miami but want to give this class a try, you're in luck. Dance Body also offers workouts on a streaming platform. Start getting your groove on anytime, anywhere!