Quietly Melt Fat With This 21-Minute Full-Body Dorm Room Workout
Late-night pizza delivery, snacking during all-nighters, all-you-can-eat dining halls, having the freedom to eat whatever you want (ice cream for breakfast, lunch, and dinner!), and drinking (if of age) are all reasons that college can cause weight gain. If you can stay active, it'll help burn some extra calories, build muscle, and release tension.
If getting to a gym isn't possible, you can still get in a heart-pumping, calorie-crushing workout in your dorm room. Here's a workout that requires zero equipment and won't make a lot of noise (in case your roomie is sleeping).
The Workout
Equipment needed: none
Directions: Complete each of the 12 moves for 30 seconds each (six minutes total), then take a one-minute break. Repeat two more times and you'll be done in 21 minutes. Do take some time to cooldown with a few stretches, after all they are quiet, too.
Air squats
Push-ups
Alternating lunges
Frogger
Lateral hops
V-sits
Air squats
Plank jacks
Alternating lunges
Up down plank
Lateral hops
Forearm plank hip dips
Keep reading for details on how to do each move.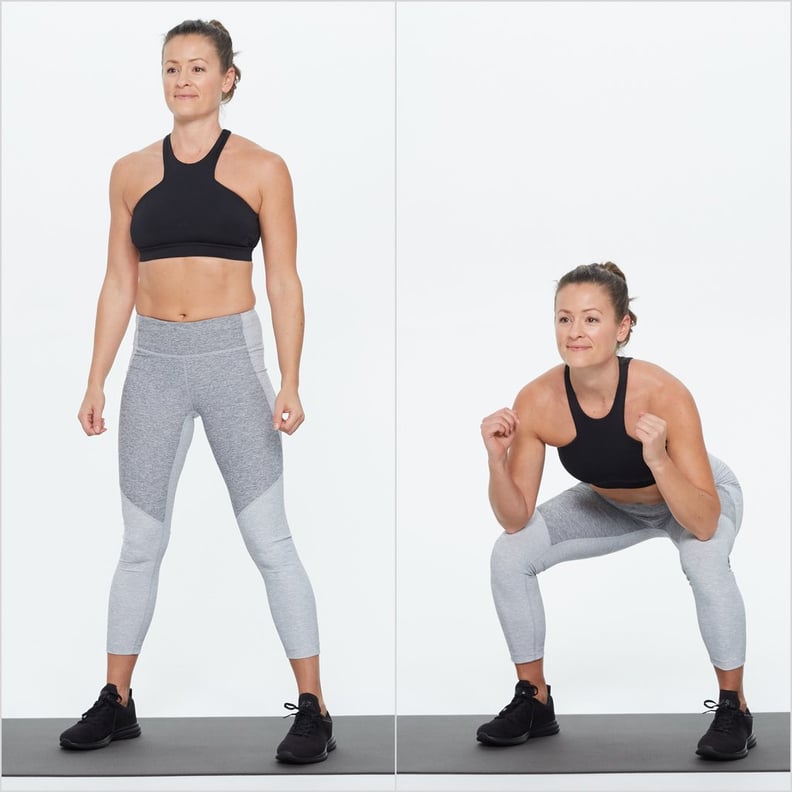 Air Squat
Begin with your feet slightly wider than hip-width apart and toes pointed slightly outward.
Keeping your weight in your heels, sit back into your deep squat as you bring your elbows to your knees.
Return to standing while lowering your arms to your sides. This completes one rep.
Continue for 30 seconds.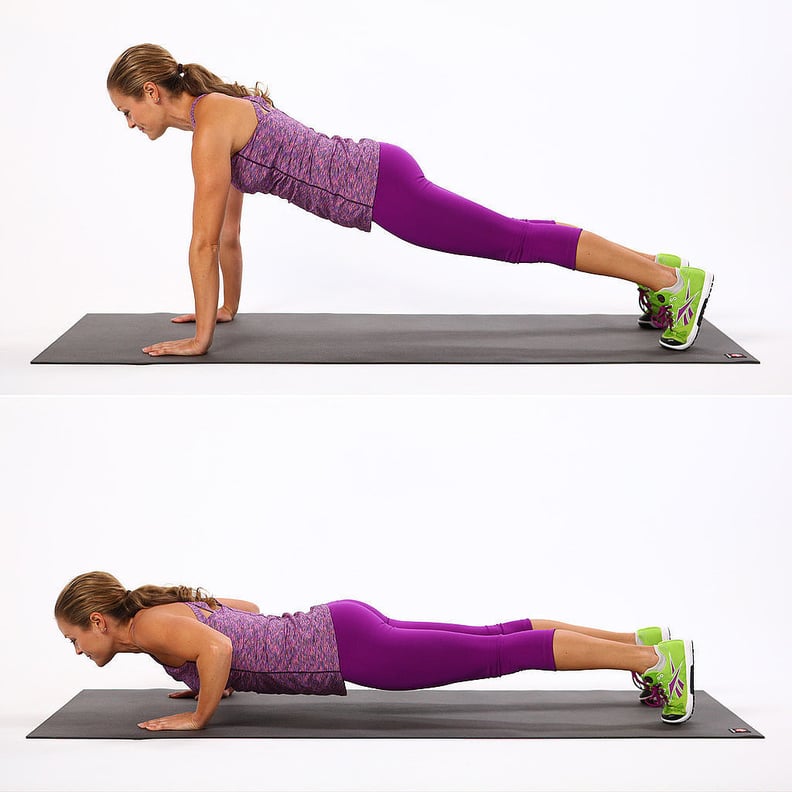 Push-Up
Start in a plank position, with palms spread out evenly and your shoulders over your wrists and legs out behind you. Pull your belly button in, and keep your back straight.
Bend your elbows outward to lower your body toward the floor. Hold at the bottom before pushing your arms to straight to return to plank position. To modify, bring your knees on the floor.
Do as many push-ups as you can for 30 seconds.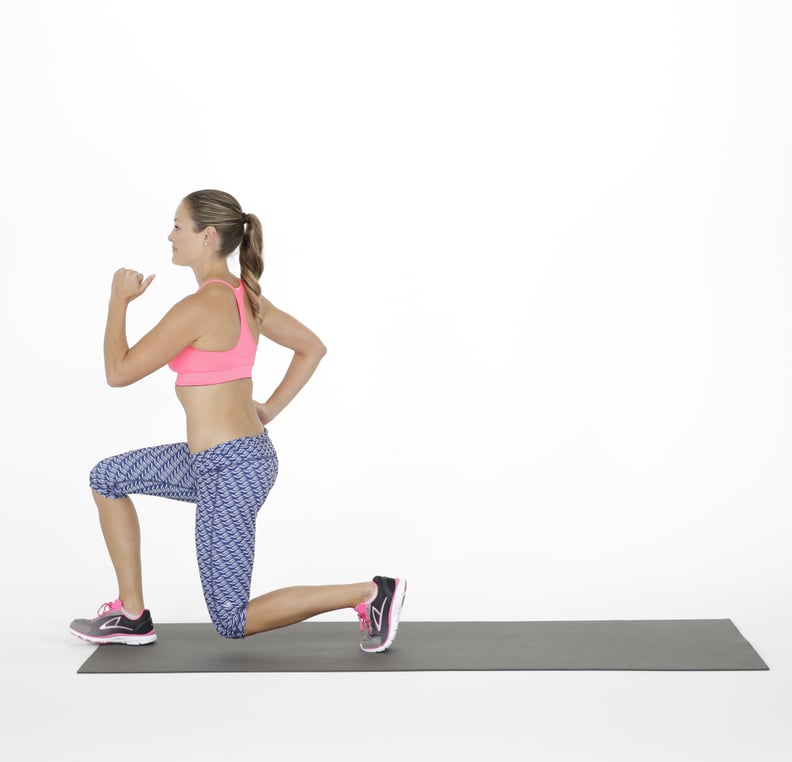 Alternating Forward Lunge
Stand tall with your feet hip-width apart. Bend the elbows at your sides or rest your hands on the hips.
Step forward with the right foot, lowering your hips until both knees are bent at about a 90-degree angle. Keep the front knee directly above the ankle, and lower the left knee to just above the floor.
Keep the weight in your heels as you push back to the starting position, completing one rep.
Repeat stepping with the left foot this time, completing a second rep.
Keep alternating for a total of 30 seconds.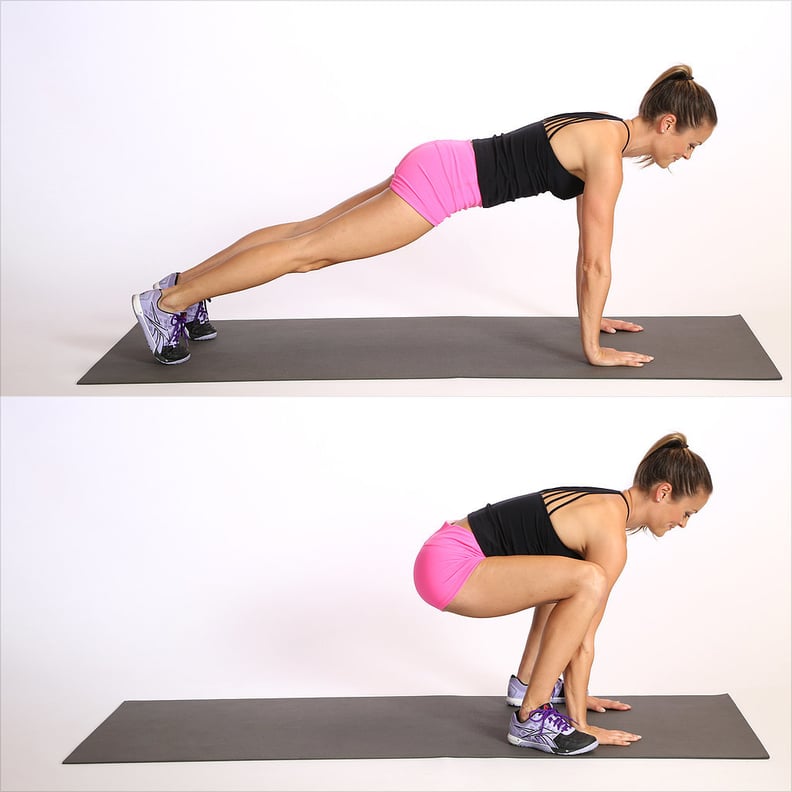 Frogger
Begin in a plank position. Jump your feet to the outside of your hands, coming into a deep squat and keeping your hands on the floor. Engage your abs to slow down your legs in order to land without making a sound.
Gently jump your feet back to a plank to complete the rep.
Keep going for 30 seconds.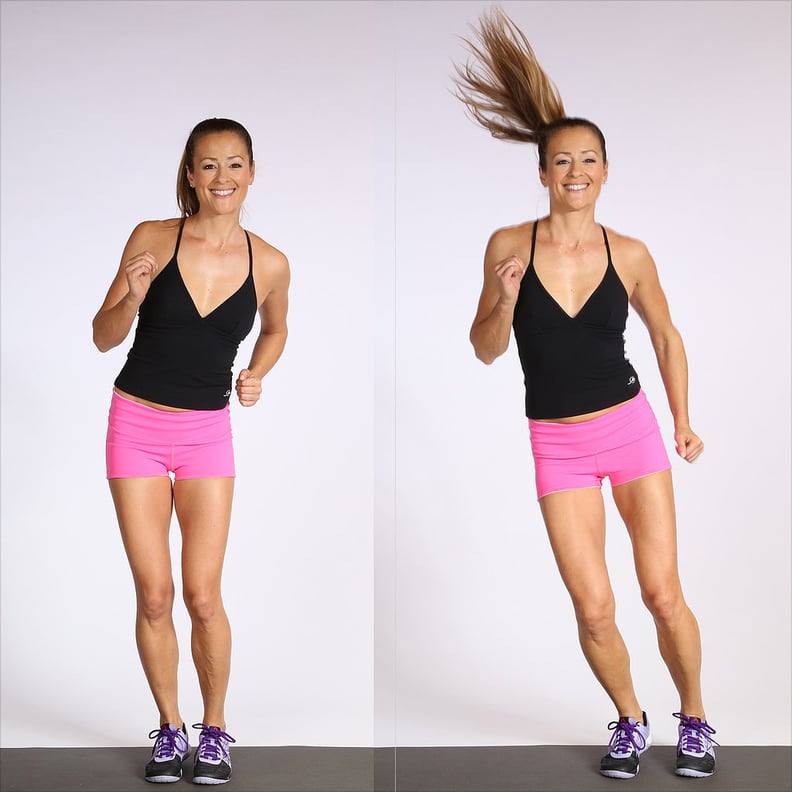 Lateral Bunny Hop
Make small jumps side-to-side as if you are jumping over an invisible line.
Keep your legs as close together as possible, and swing your arms to help you jump.
A jump to the left then the right completes one rep.
Continue hopping (softly) for 30 seconds.
If you're worried this move might make too much noise, march in place instead. But definitely keep the movement vigorous.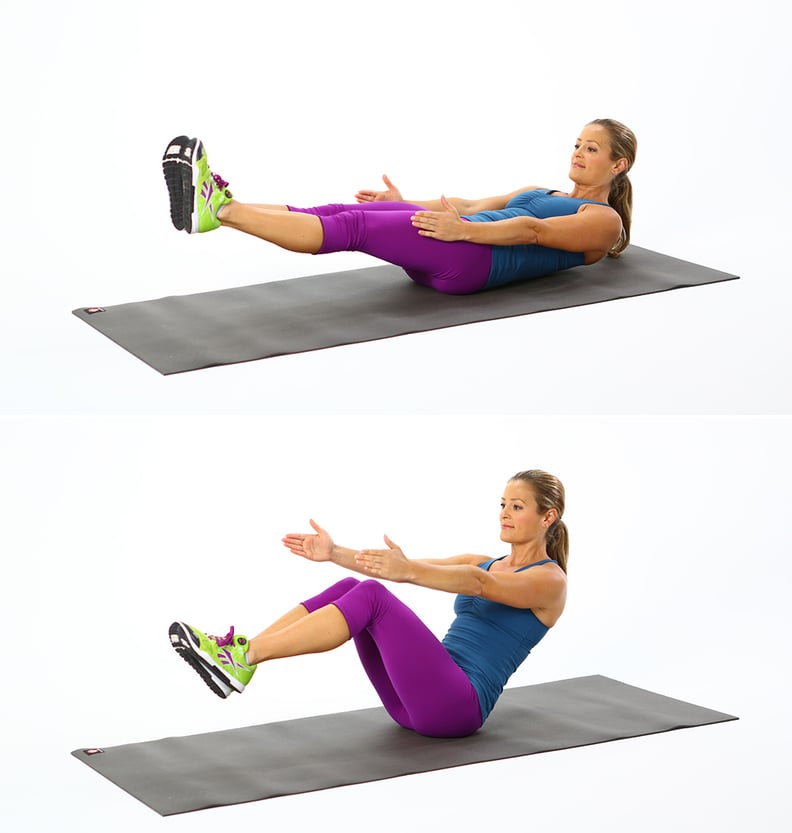 V-Sit
Lie on your back, and reach your arms rigidly to your side, off the floor. Lift your legs off the floor, and point them so they are at about a 45-degree angle. Lift your head so your shoulders are off the floor as well.
When you're ready to begin, lift your upper torso off the floor, and bend your knees toward your chest. You can lean back to make this move harder or come up more to make it easier. Slowly lower your upper body back down to the floor, straightening out your legs as you do so. Stop when your back is on the floor, but not your head, shoulders, or legs.
This completes one rep.
Do as many reps as you can for 30 seconds.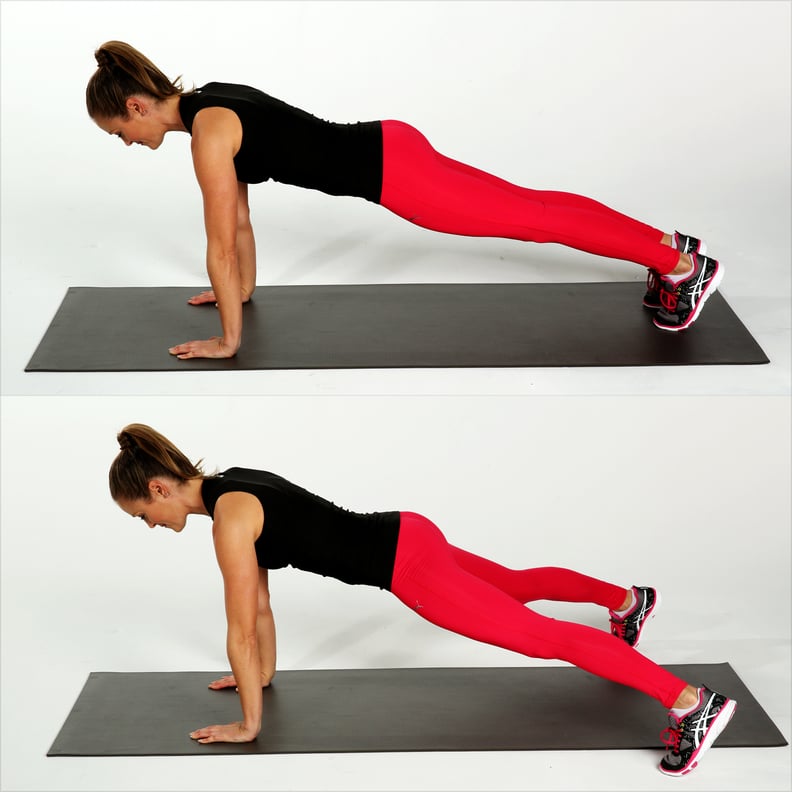 Plank Jacks
Begin in the plank position with your shoulders over your wrists, your body in one straight line, and your feet together.
Like the motion of jumping jacks, jump your legs wide apart and then back together to complete a rep. Keep the core strong and stable so you can land softly.
Keep jumping for 30 seconds.
This is another move with the potential to make a bit of noise; to modify, step the legs out wide rather than jumping.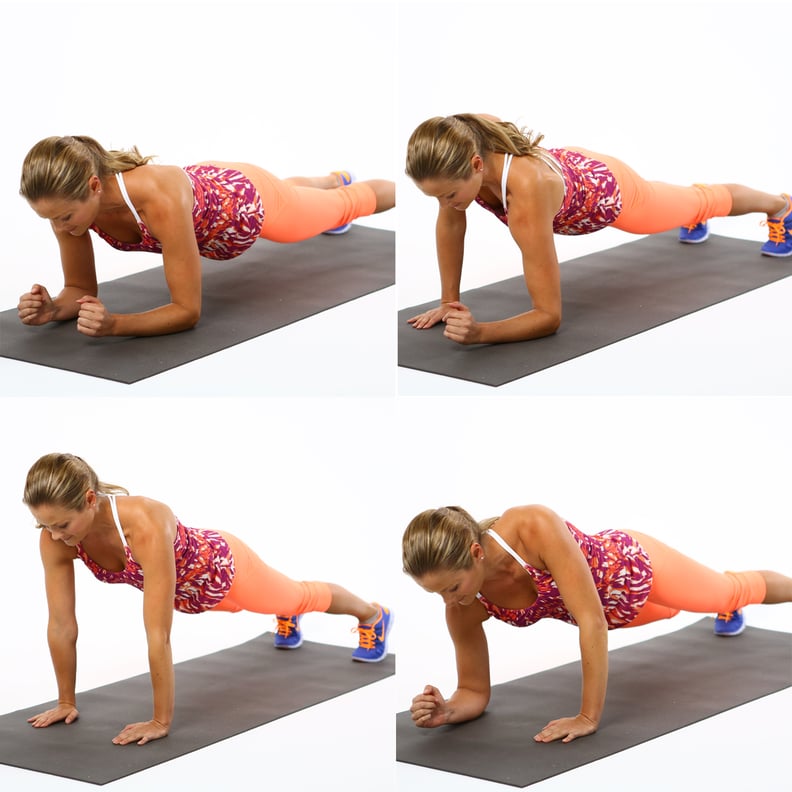 Up-and-Down Plank
Come into a plank position with your arms and legs straight. Your hands should be underneath your shoulders and your feet hips-width distance apart.
Keep your torso parallel to the floor, and lower your right forearm to the mat and then the left, coming into elbow plank.
Then step your right hand back onto the mat, and then the left, pushing yourself back up to plank position. This completes one rep.
Keep going for 30 seconds.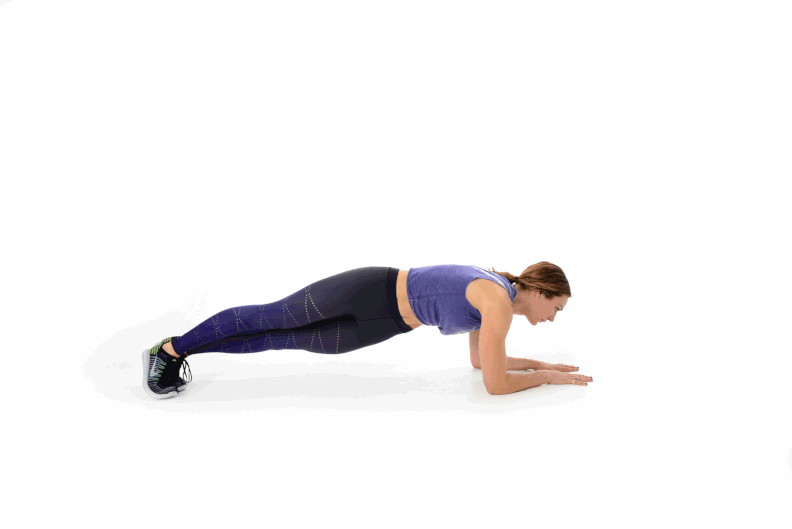 Forearm Plank Hip Dips
From an elbow plank, slowly rotate the spine to lower your left hip to just above the floor (about one to two inches from the ground). Come back to elbow plank.
Lower the right hip toward the floor. This counts as one rep.
Continue for 30 seconds.