6 Healthy Things I Wish I Had Taken Advantage Of in College
When you head off to college, there are so many things happening that it's really easy to forget (or not even know) about the insanely awesome health resources available to you. These things make it so easy to be healthy, feel happy, maintain your weight, and, if you need to, lose a little weight and get in great shape. And who knows? You might meet some new, fun friends at your campus's gym!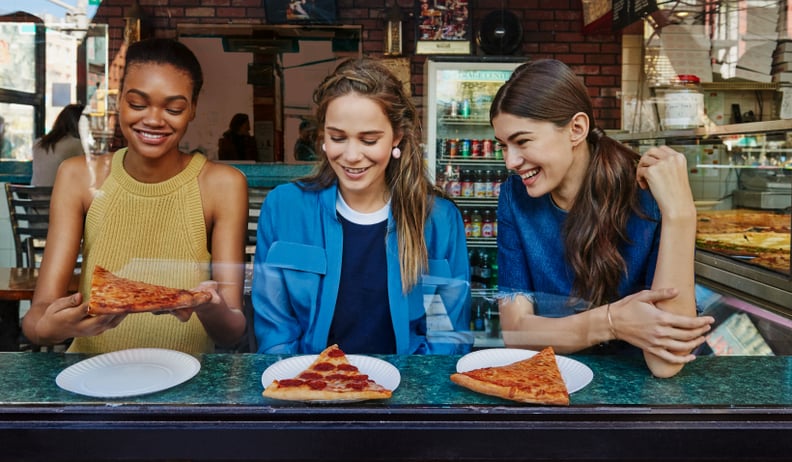 Once you get to the post-grad world, all of this stuff becomes expensive and harder to manage, so if your university offers these things (many do!), take advantage while you can.
There Are Free Gym Memberships
Do you know how much CrossFit costs? Or Pilates? Or just a regular old gym membership? As an adult, you could end up paying hundreds for a gym membership (hey, Equinox), ClassPass, or studio membership fees. In many cases at school, there's a gym on campus, and even if it's not a pristine, white, grapefruit-scented SoulCycle, it's still fitness. It took me until after college to realize that my school offered Pilates/Yoga fusion, hip hop cardio, TRX, and more — for free. I am kicking myself now. Don't make my mistake!
There's Probably a Free (or Cheap) Dietitian on Call
Did you know that many universities offer nutritional counseling or free dietitian appointments? In many cases, it's covered in your student health fee or tuition. In other cases, it's a very slight fee (like $20 a session, compared to $150 plus in the real world). The University of Southern California, University of Florida , University of Maryland, University of Wisconsin, and University of Nebraska-Lincoln are just some examples of schools that offer free dietitian and nutrition services. And as mentioned, once you're out of college, this stuff is not cheap.
The Doctor Is Way Cheaper
If you're just heading off to college, chances are that until this point, you have had zero idea what a medical bill looks like because you've always been on your parents' insurance (not painting with a broad brush or anything, just speaking from experience). This also means you may not realize how incredible it is to have doctors on campus at your medical center that you can visit for free, covered by your school's medical fee, tuition, or insurance.
Same Goes For Therapy
Another super important, yet incredibly expensive, resource in the real world: counseling. I personally think that anyone and everyone can benefit from therapy of some kind, as it contributes to a happier, more stable, more aware sense of self. In many colleges and universities, there are therapists and psychologists available for free or extremely discounted rates.
You Can Use Electives For Your Health!
If you're paying a semester or yearly tuition rate (not per class or per unit), then you might have a few spare units to take a fun elective. Take a dance class for a weekly workout — you're already paying for it! Or drop into a nutrition or physiology class to learn more about your body and how to fuel it. Even if it doesn't count toward your major, these are lessons you'll use throughout your everyday life.
Treat the Dining Hall Like the Whole Foods Salad Bar
I definitely remember my dining hall days in which there was seemly endless "free" food (you pay with your meal plan, of course). No limits on the fro-yo machine? This guy just makes me waffles whenever I want? They're not going to weigh my food, so I can just keep eating? Yeah . . . things can get out of hand. The flip side? There's healthy food, too, if you look hard enough.
Think of it this way: have you ever been to the Whole Foods salad bar? It's really expensive, but everyone's so damn obsessed with it because, you know, salad. They weigh your salad, so if you're loading up on hard boiled eggs and dense veggies, you might end up with an accidental $20 salad. Not the case with dining halls. You get those hard boiled eggs, girl! Pile your plate with veggies, and remember: you already paid for it, so load up on the produce.