A Rundown of How Gigi Hadid Stays in Top Model Shape
If you follow the fashion world, you definitely know about Gigi Hadid. The daughter of Real Housewives of Beverly Hills star Yolanda Foster is making waves as a runway model, Sports Illustrated swimsuit star, and all-around A-list socialite . . . but while many people are concerned with her (admittedly gorgeous) fashion choices, we've been wondering about her abs! One scroll through her Instagram feed reveals that she is athletic and healthy and has a great time staying in shape — so obviously we're dying to know her secrets. Keep reading to learn all about Gigi's diet and fitness routine, and spoiler alert: she literally kicks ass to maintain her fit bod!
Related: The Workouts That Got Gigi Hadid Ready For the Victoria's Secret Show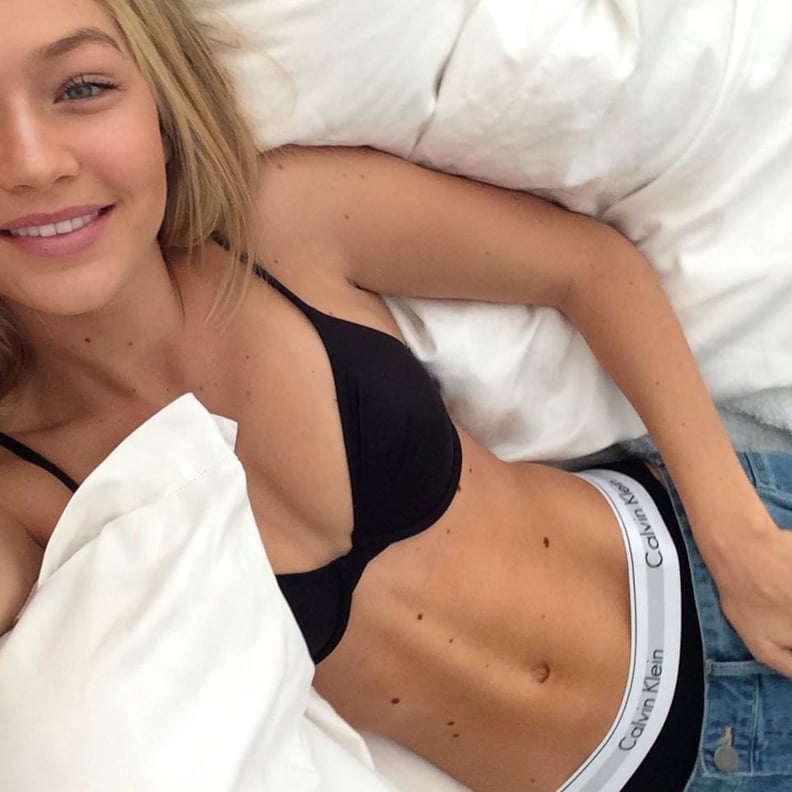 Eating Healthy
Because she is attending The New School in NYC, the 20-year-old is adjusting to a whole new cuisine. "New York is great for being healthy — I have a Juice Press right around the corner and I make my own food all the time. But burgers and fries are my weakness," Gigi told Into the Gloss of her eating habits. That professed love of burgers is all too real — when interviewed by her childhood friend, the model declared that she'd take a double cheeseburger over tofu any day!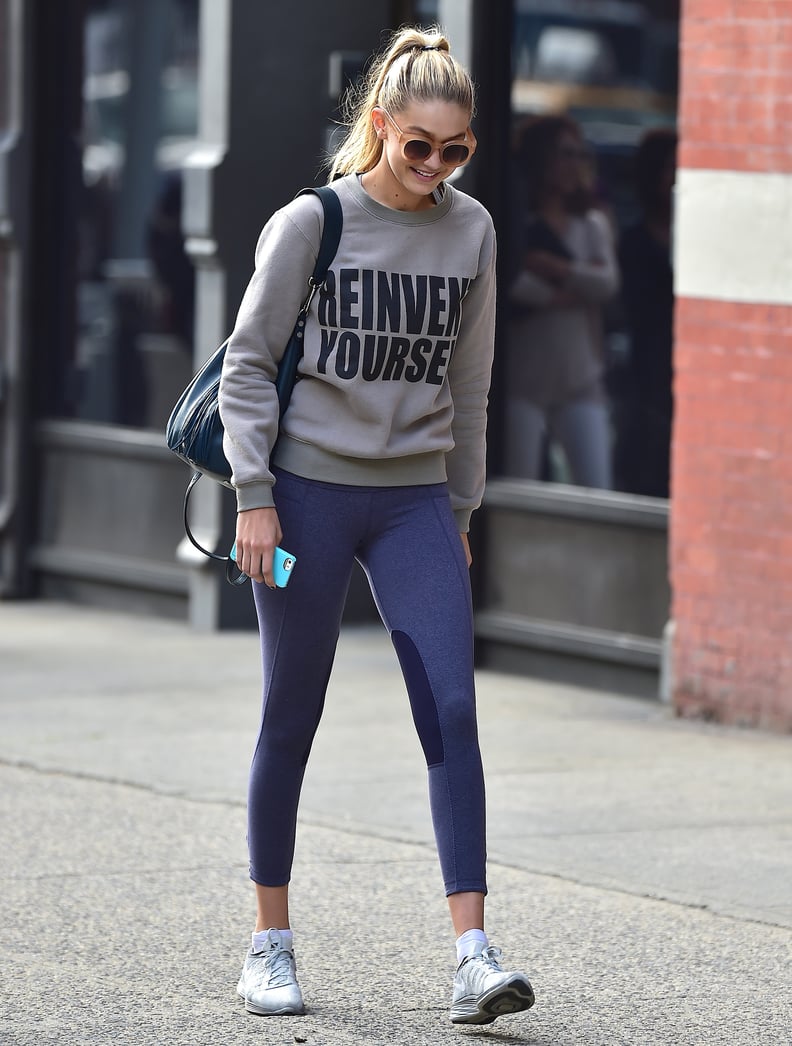 A Balanced Diet
"My biggest thing is just eat healthy and work out," the model shared about fitness and dieting. "I was a volleyball player for 12 years, I rode horses my whole life, and now I box every day. . . . Yeah, I think the biggest thing I always say is eat clean to stay fit, and then have a cheat day to stay sane." Our guess for her cheat-day eats? Definitely a burger and fries!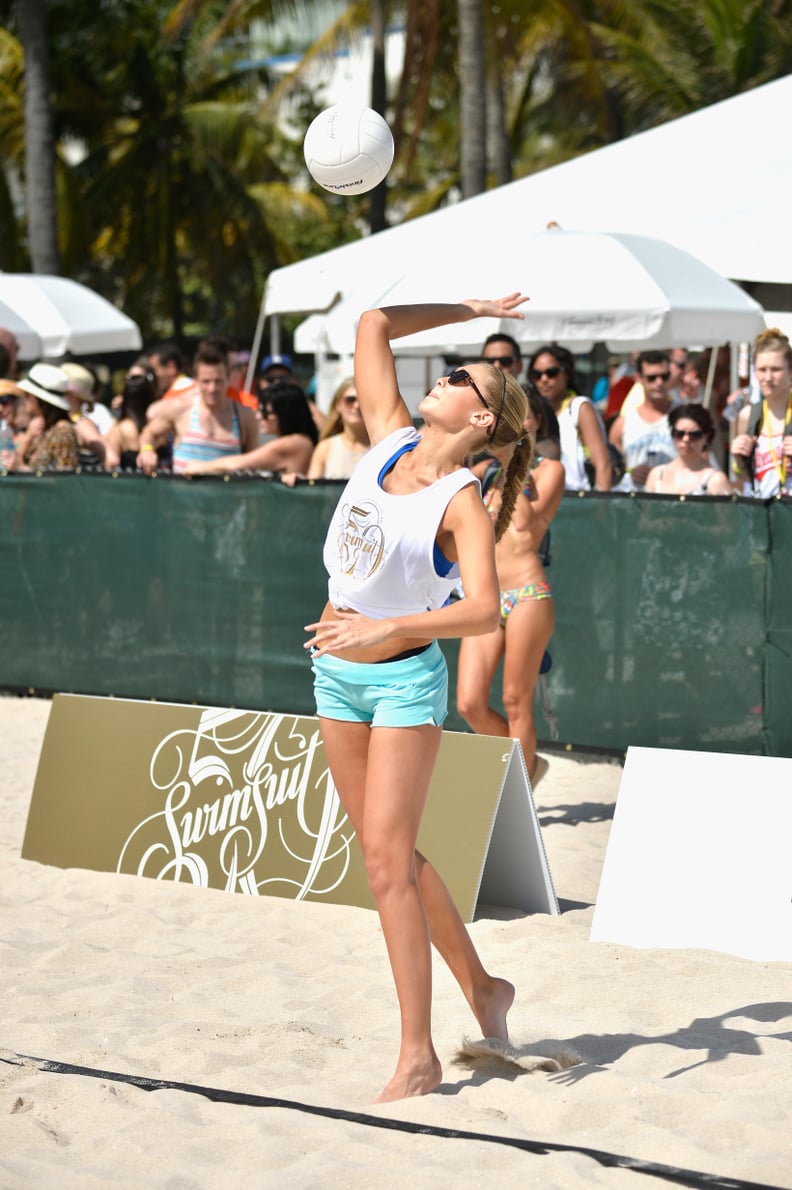 Volleyball and Team Sports
Gigi played volleyball throughout high school, which encouraged her competitive nature and taught her physical discipline.
Healthy Competition
As a Sports Illustrated swimsuit model, Hadid participates in group sports with the other featured women. Whether it's kicking butt in volleyball with teammate Lily Aldridge or throwing out the opening pitch at a professional baseball game, Gigi's job requires her to stay active.
When asked about her daughter's healthy lifestyle, Yolanda Foster cited sports as a healthy motivator for both Gigi and her younger sister, Bella: "They were raised doing lots of sports. They were both riding horses every day — their weekends were spent at the horse shows. They got up at 4 or 5 in the morning, and it was a very disciplined life. . . . They're girls that choose to eat healthy, that are in the gym, that are committed to do the work to stay in shape."
New Challenges
"Boxing has been great for me because it's like my new sport, and it's something that I can get better at," Gigi told Vogue as she showed the magazine some of her favorite moves, including the jab and uppercut. Getting Into the Ring
"When you're boxing, you get so into it mentally that you kinda forget what's going on, you forget that you're working out," the model said of her newfound passion for boxing, which works out her entire body but especially the core. "You always want more." An Experienced Trainer
At New York's Gotham Gym, Gigi trains with former pro fighter Rob Piela, whom she credits with igniting her passion for boxing. "We start with jump rope — there's no better way to slim down legs — and we end with ballet-inspired floor exercises. . . . In the middle, we box," Piela said of his routine with Hadid and the other top models who attend his training sessions. "All the girls I work with 
can fight — boxing is great for someone who's competitive."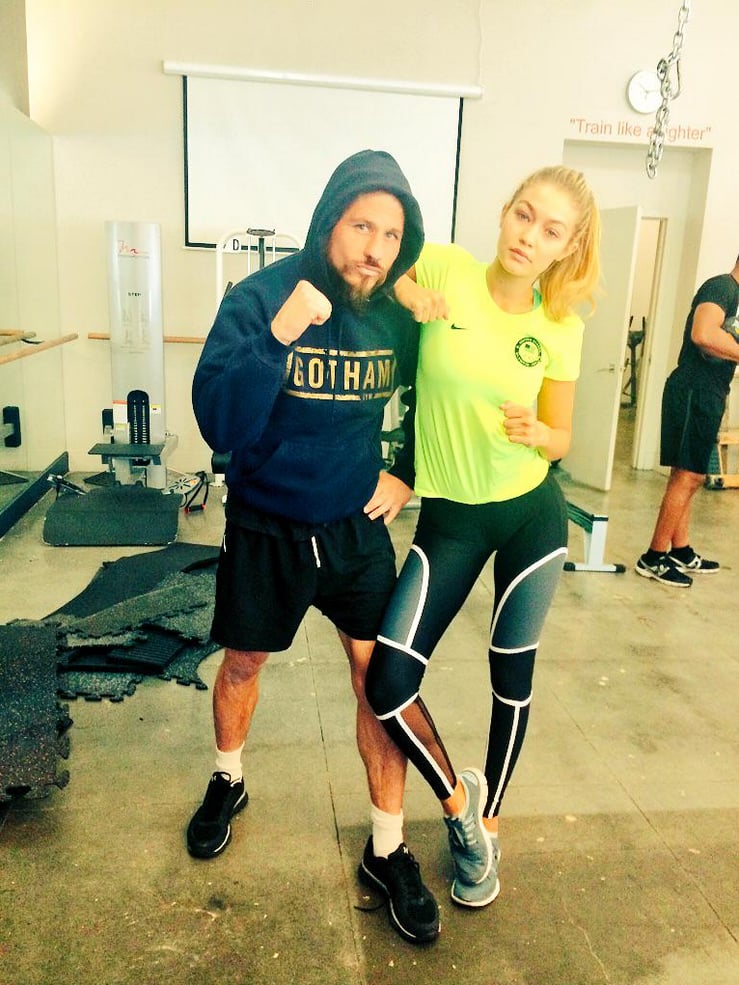 Bodyweight Training
When training Gigi and other A-listers at his gym, Rob Piela always keeps in mind their specific fitness needs. A few mainstays of his workout routine include bodyweight training, jump-rope cardio training, and a three-to-one boxing ratio: essentially, three minutes of sparring in the ring balanced with one minute of core-strengthening exercises.