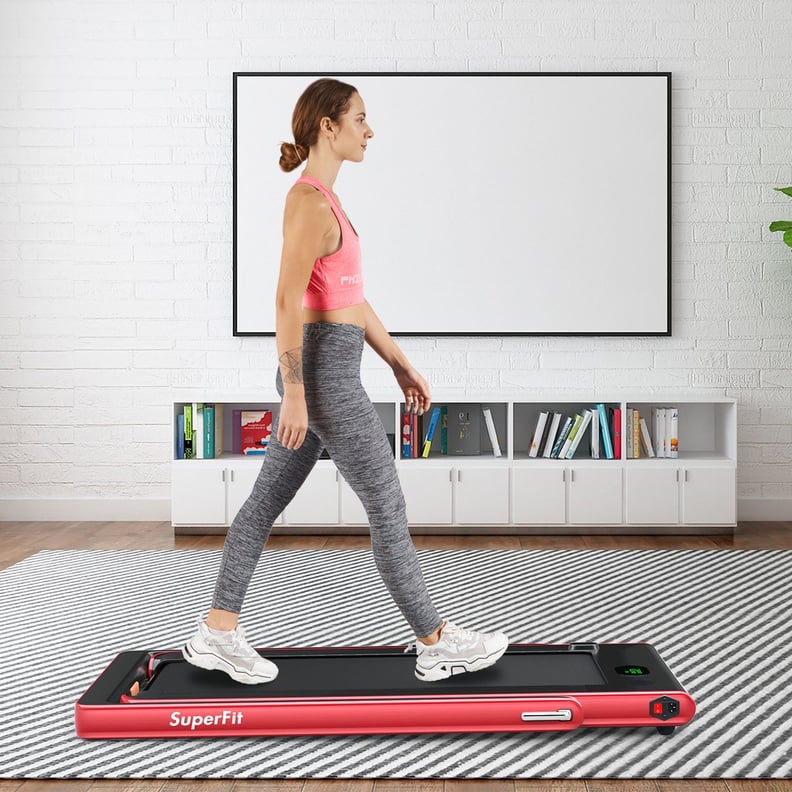 Walmart
Walmart
Every editorial product is independently selected by our editors. If you buy something through our links, we may earn commission.
I'm never going to be one of those people who loves to run. I've tried over and over again, jogging on tracks, treadmills, and through the woods. I just don't enjoy it. But I do enjoy walking. Getting in steps is my favorite way to spend my lunch hour, and my husband and I look forward to walking our dogs as our designated family time. Walking is a big part of maintaining my healthy lifestyle, but living in central New York where cold temps and dangerously icy sidewalks abound, I find that I have a difficult time reaching my daily step goal during the winter. I recently purchased the Goplus 2.25HP 2-in-1 Folding Treadmill ($330, originally $560) for my home, and now I wish I'd bought it years ago.
I'm fortunate that my home is fairly sizable. That being said, I still didn't want to designate a large area in my house to a bulky treadmill. My husband and I already have a weight bench, an indoor bike, and basically every piece of fitness equipment under the sun, so we wanted to keep our treadmill footprint small. In my search for the perfect compact treadmill, I came across the Goplus. (It can also connect to your phone or Bluetooth, and you can play music out loud while working out!) I promptly ordered the treadmill, excited to increase my winter step count, and have been using it every day for a few weeks. Turns out, it's awesome. Here's why I love it.
1. It really is small. This isn't one of those beast treadmills. It's a dainty 49"x27" pad with a small bar at the front. Its compact frame also means it's fairly easy to move. While I probably won't be hefting it over my shoulders anytime soon, it's more than light enough that I can drag it where it needs to go.
2. It folds! You can fold the handles on this treadmill, making it perfect for placement underneath a standing desk. It's also small enough once it's folded that it could be slid under a piece of furniture, such as a couch or a bed. I'm not sure I would want to be dragging it out on a daily basis, but it would be perfect for using and storing in a guest room, as it would be easy to make room for the occasional visitor.
3. It's inexpensive. Even though it's only been a few weeks, I feel like I've already gotten my money out of this treadmill. In my quest to purchase a home-walking solution, I quickly learned that most treadmills come at an elevated price tag. Is the Goplus 2.25HP the fanciest treadmill on the market? No. Does it get the job done? Absolutely.
4. It's versatile. Honestly, this little treadmill is more versatile than I initially gave it credit for. While I purchased it for walking, my husband has also been using it every day to run. The treadmill speeds range from 1 to 12 km/hr, which means you can, in fact, use it to go for a decent jaunt and get your heart rate up.
As someone who loves to walk, this treadmill has really been a wintertime lifesaver. My daily step count has been dramatically higher since adding this little piece of fitness equipment to my home, and as a result, I feel so much happier and healthier. If you, like me, enjoy walking but can't always physically get outside, I encourage you to hit "add to cart."