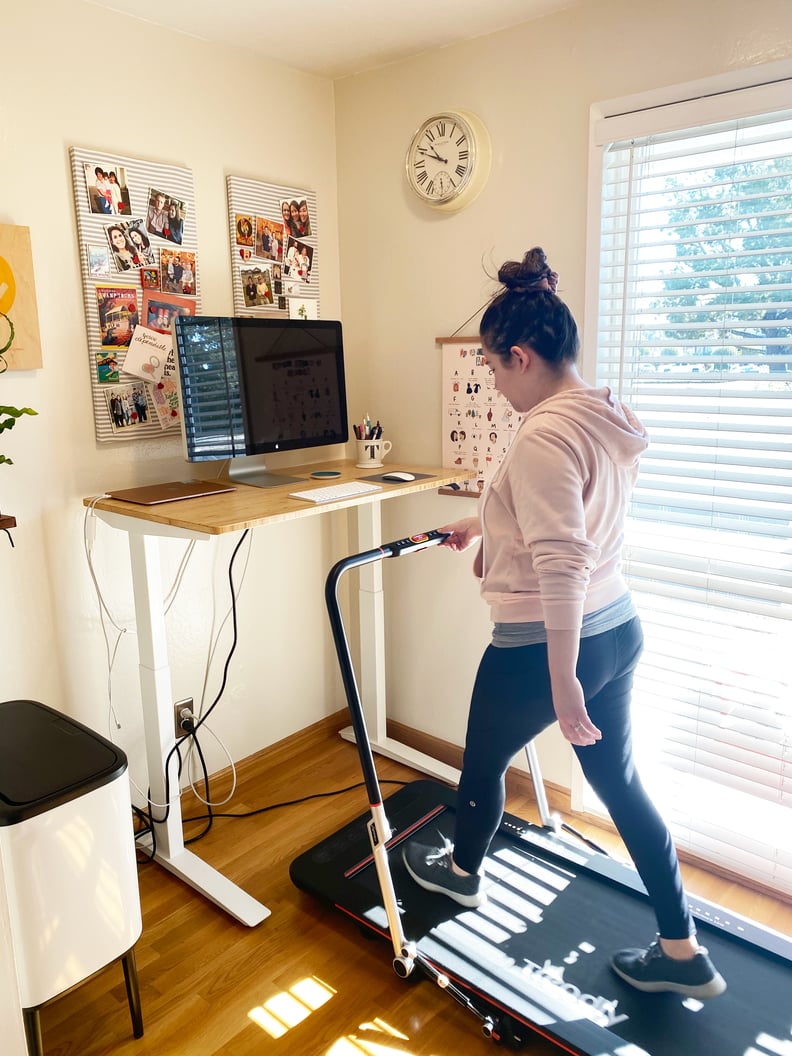 POPSUGAR Photography | Tara Block
As POPSUGAR editors, we independently select and write about stuff we love and think you'll like too. If you buy a product we have recommended, we may receive affiliate commission, which in turn supports our work.
Before the pandemic hit in 2020, I'd get around the city where I lived and worked via walking or public transit, walking a minimum of 30 minutes a day, often more. Once we transitioned to working from home full-time, my single form of daily physical activity screeched to a halt and I spent months simply moving from a less-than-ideal office chair to the couch to the bed and back again. My sedentary lifestyle really came to a head in September when I started having terrible lower-back pain. In addition to physical therapy, daily stretches and exercises for my back, a new ergonomic desk chair, and a sit-stand desk, I desperately needed a new way to get moving again.
By the second day, I was sold, and by the end of week two, I was whipping out my credit card, because this treadmill has transformed my WFH life.
After reading reviews for desk bikes, stair steppers, the Peloton bike, and other at-home workout machines, I was most intrigued by compact treadmills I could use to walk while I work and stash away when I was done. I reached out to Treadly, and they sent me a Treadly 2 Pro ($849, originally $949) to test out for a couple weeks for review purposes. By the second day, I was sold, and by the end of week two, I was whipping out my credit card, because this treadmill transformed my WFH life; I feel happier and healthier than I have in a year. Keep reading to get the full review and check it out in action.
Buy it here: Treadly 2 Pro ($849, originally $949)
Pros
Easy to set up and use: The Treadly 2 Pro is low-maintenance right from the start with no assembly required. You literally just open the box, take it out, plug it in, and go. The app is user-friendly and straight-forward, setting up the Bluetooth was a cinch (it has a speaker, so you can play music while you work out), and the full setup, including moving the handrail up or down, takes under a minute.
An app for controlling speed and tracking progress: When the handrail is down, you control the speed of the treadmill with the easy-to-use app. There's a manual setting, which is what I would use to walk while working at my standing desk, and an auto setting where your speed is controlled by where you're walking on the treadmill (toward the top it speeds up, center keeps you at your current speed, and toward the back slows you down and eventually stops you). This app is also great for tracking your steps, miles, and fitness goals.
Unlimited walk time: Some other similar products out there automatically shut off after a certain amount of time, but the Treadly will keep going until you hit stop or get off (it'll pause your workout if you get off of it while it's moving).
Quiet while in use: For a treadmill, it's relatively quiet; I can walk while watching TV and hear what people are saying in Zoom meetings (even participating while walking!). If you live in an apartment and worry about getting a noise complaint from your neighbors, it's still a treadmill at the end of the day. My husband works in the room above me and says he knows when I'm using it but it doesn't affect his workflow. I'm sure it would be more noticeable for someone below me, but because it's mostly for walking, it's not too disruptive.
Great for small spaces: The overall footprint isn't much bigger than a yoga mat (plus, it's only 3.7 inches tall!), which is awesome for storage if you live in an apartment or small home like I do. I'm 5'2" and it's the perfect length for my stride. It comes with wheels and rubber padding, so you can slide it under a bed or a sofa or store it upright. I've kept it in the hall closet up against the wall, and it barely takes up in any room.
Relatively light and easy to move: For gym equipment, the Treadly's 77-pound weight is ultralight. But if you're on the smaller side and don't have a ton of arm strength, it takes some getting used to to maneuver around (especially around corners or through tight hallways). The wheels help a lot, and after a few days, I was able to move it around and lift it no problem. Lugging it up my stairs, however, still seems daunting.
Cons
Short cord: The cord on the Treadly is pretty short (a complaint brought up from some reviewers on the company site as well), which limited where I could plug it in. That said, the shorter cord wasn't an issue when I had it under my standing desk, and I actually liked that it didn't add to the pile of cords from my WFH setup.
Speed limits: While I purposely got it to walk while I was working, if you're hoping to jog or run, the speed limits might be a downside. The max speed is 5 mph with the handrail up and only 3.7 mph with the handrail down.
Flawed auto-position speed control: My biggest issue has to do with the hands-free speed controls (aka auto mode) when the handrail is down. Every time I tried to slow down by walking on the bottom of the treadmill (the "slow zone"), it would just stop. So I usually use the app to control my speed.
Not easy to pause workout on app: The only downside with the app is there isn't a "pause" button, so you either have to hit "stop" (which stops your session) or you have to switch to auto mode and then walk in the slow zone to trigger pause. Or you can just hop off while it's moving and it'll automatically enter pause mode.
Not great on thick carpet: I've only used the Treadly on my hardwood floor, but some reviewers have noted that it's not great on carpet. According to the website, the Treadly 2 can be operated on both hard surfaces and low-profile carpets but isn't recommended for use on thick or plush carpet.
The cost: While it is a piece of gym equipment, at $849 for the app-supported Treadly 2 Pro (listed price is $949) and $749 for the remote-controlled Treadly 2 Basic (listed price is $849), this is an investment purchase and more expensive than some of the other similar compact treadmills on the market right now. The 30-day return policy (keep the box!) and one-year warranty help with the sticker shock, and based on my experience, it's a substantial, quality treadmill that will last longer than the cheaper models popping up on sites like Amazon.
Final Thoughts
Going into this, my goal was to find a low-impact workout that would fit into my current at-home lifestyle without being a disruption to my daily schedule. I know myself, and trying to carve out a separate time for fitness in addition to all my other interests, hobbies, and responsibilities wouldn't have been sustainable. Being able to multitask while walking on this compact treadmill has been a total game changer.
I surprised myself with how fast I can walk while I work, and it's the perfect way to get energized and warmed up every morning; I swear it helps get the creative juices flowing. In just two weeks, I walked 50 miles, which is such a huge accomplishment after I spent almost a year doing almost no physical activity. Walking is also easy on my lower back and more comfortable than standing or sitting for long periods of time.
One more note, on the website, there are some fun community components to the app as well as groups you can join, but many of these features haven't been rolled out yet. I also don't have any friends who own a Treadly (yet), so I'm not 100 percent sold on virtually working out with strangers. That said, I'm curious to explore the new features when the latest app version is released!
Ahead, you can see the Treadly 2 Pro in action and buy one for yourself if you're interested! It's currently $100 off the listed price.
Treadly 2 Pro: Setup
This is how easy it is to set up and get started. I put the bar up to show what that process is like, but typically I'd leave the bar down to walk while working at my standing desk.
Use code TREDP-100 at checkout to get $100 off plus free shipping on the Treadly 2 Pro ($849, originally $949).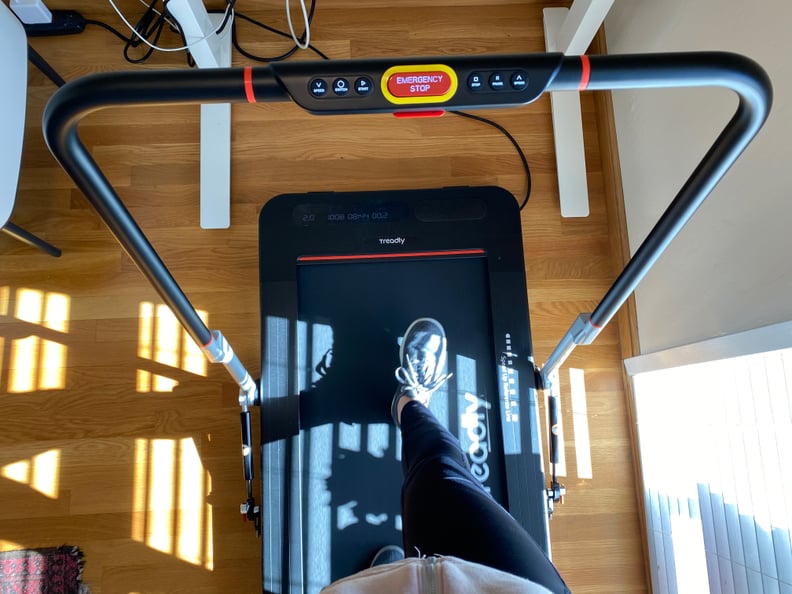 Treadly 2 Pro: Handrail
Here's what the controls look like on the handrail. With the handrail up, you can walk or jog up to 5 mph. With it down, the max speed is 3.7 mph (which is plenty fast for walking while working).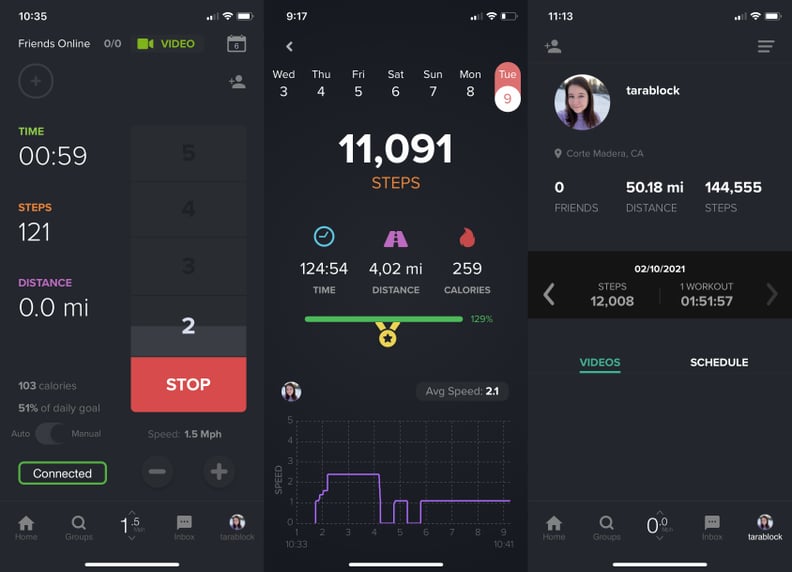 Treadly 2 Pro: App
Here are some screenshots of the app. The far left image is what it looks like when you use the app to control your speed (when the handrail is down). The center shot shows my daily stats. The far right shows my total stats to date (50 miles!).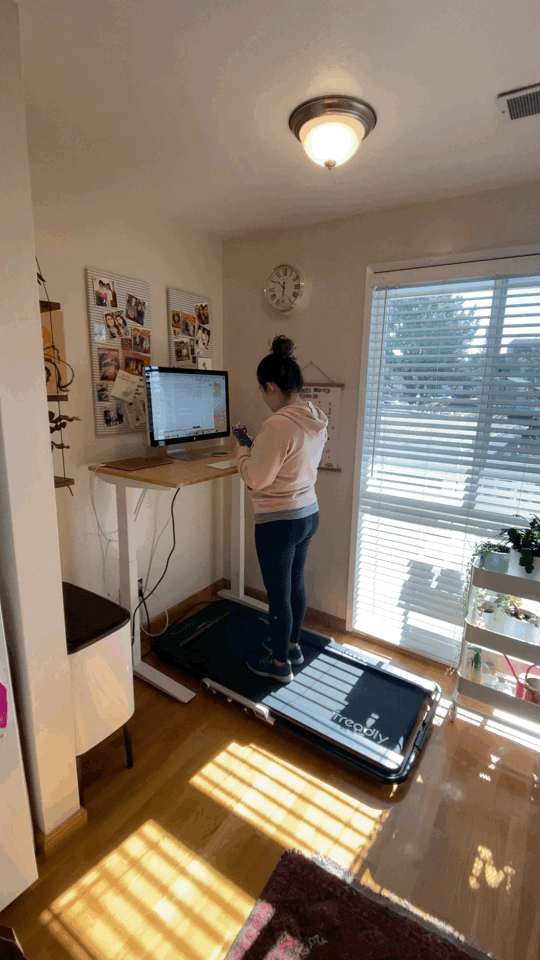 Treadly 2 Pro: In Action
Here's what it looks like when I control the Treadly with my app.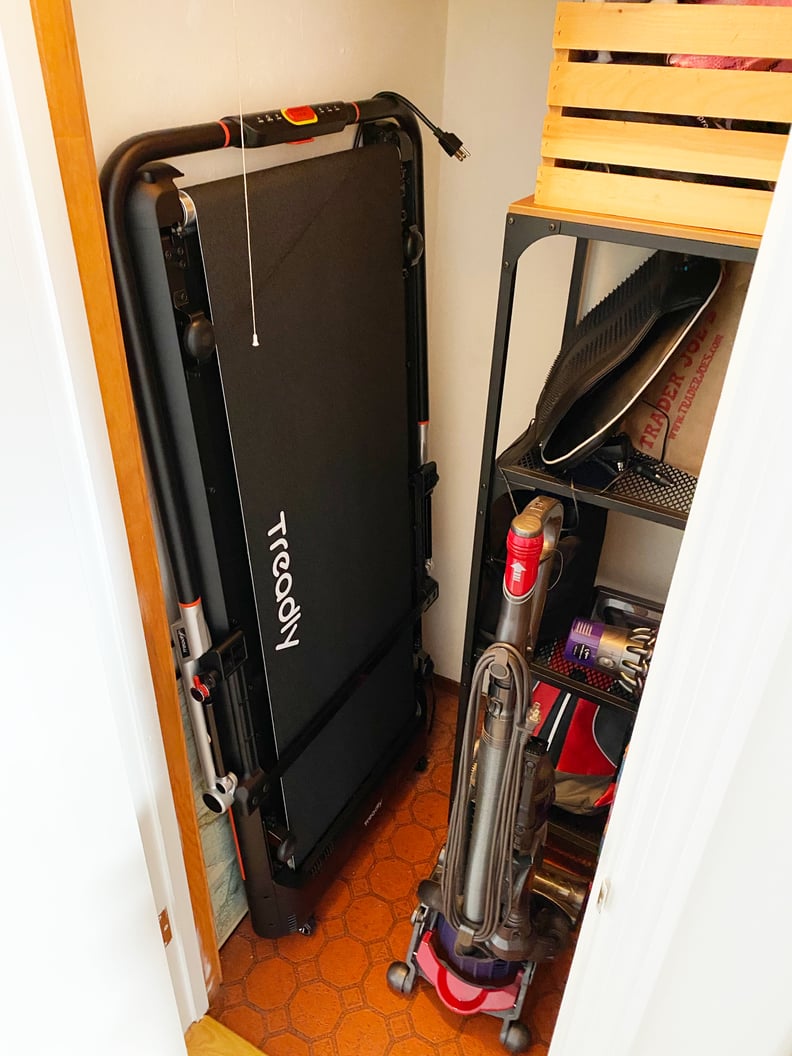 Treadly 2 Pro: Storage
The Treadly Pro 2 is under 4 inches tall (yes, really!) and has wheels for easy transport, so it could easily slide under a bed or sofa. It also has rubber padding that keeps it stable when stored upright. I tuck mine into the closet when not in use.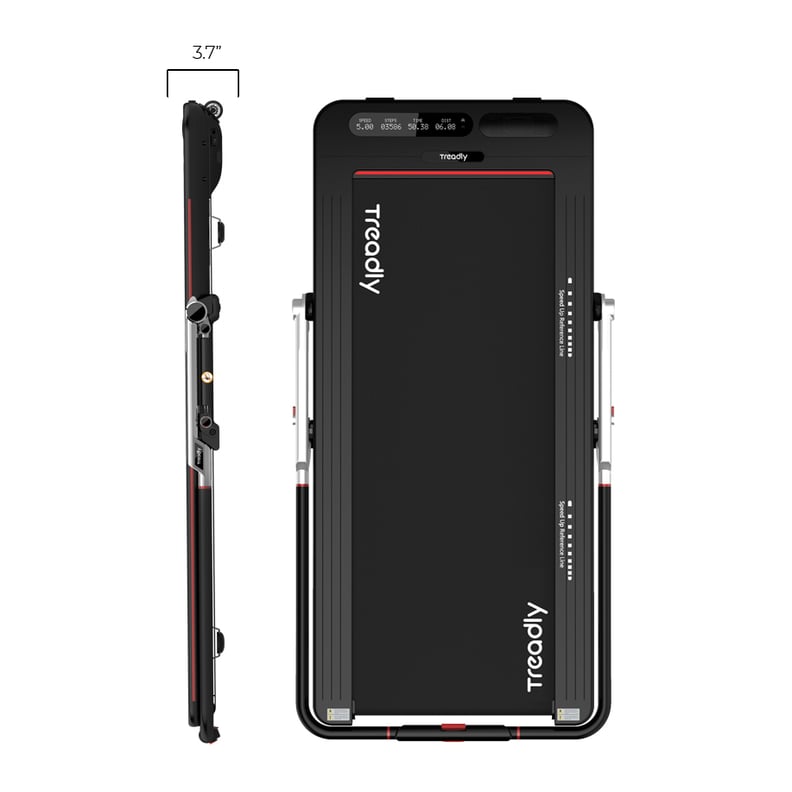 Buy the Treadly 2 Pro
Use code TREDP-100 at checkout to get $100 off plus free shipping on the Treadly 2 Pro ($849, originally $949).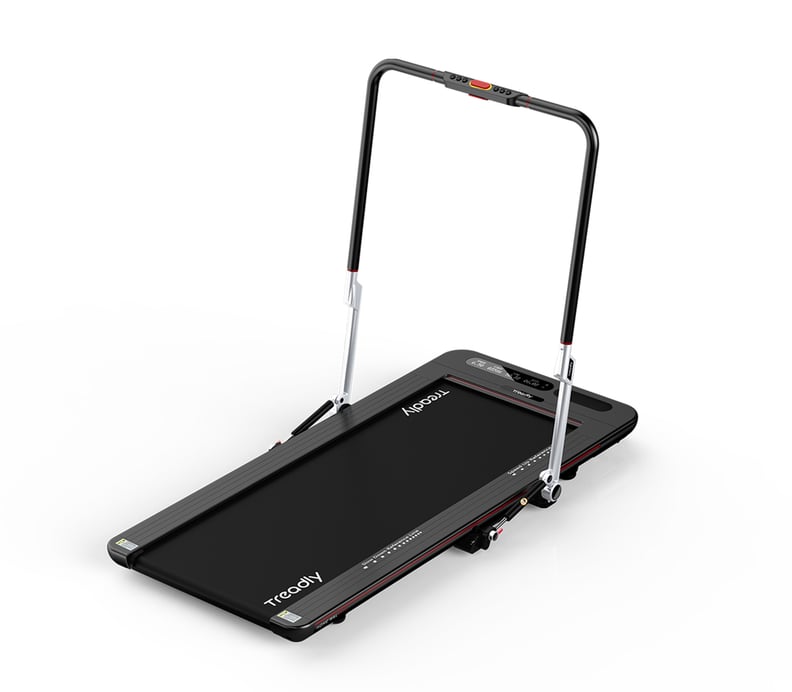 Buy the Treadly 2 Pro
Use code TREDP-100 at checkout to get $100 off plus free shipping on the Treadly 2 Pro ($849, originally $949).