The 3 Exercises a Celebrity Trainer Says You Need to Do More of For a Bigger Butt
If you thought the booty-building hype would die down, you were wrong. We're actually glad people are still interested in getting a bigger butt because we can teach you why having stronger glutes is important. Obviously, strong glutes means your butt will be tighter and probably get a little larger — all good things. More importantly, strengthening your glute muscles will ensure that they're firing during everyday activities like walking and lifting things. Not to mention they'll prevent dormant butt syndrome, which is when your hip flexors tighten and your glute muscles shut off from sitting for extended periods of times.
To find out the best booty-building and -strengthening exercises you should be doing, POPSUGAR spoke to Gunnar Peterson, NSCA, CSCS, a celebrity trainer and MitoQ ambassador. "You should be doing a number of squat variations and a number of deadlift variations," Gunnar told POPSUGAR. "Don't be afraid of the deadlift," he added. "You're deadlifting whether you realize it or not," he said, explaining that whenever you do movements where you lift something off the ground, you're performing a deadlift.
Continue reading for instructions on how to perform these three butt-strengthening exercises.
01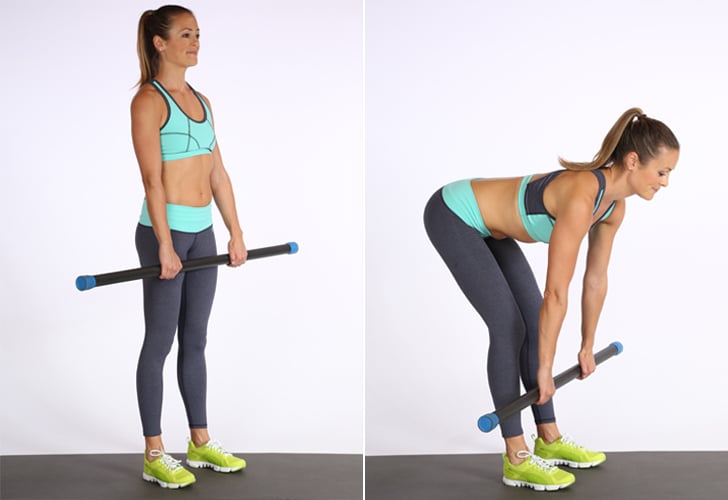 Romanian Deadlift
Holding the barbell (or two dumbbells at your side), keep your arms straight and knees slightly bent.
Slowly bend at your hip joint, not your waist, and lower the weights as far as possible without rounding your back, which should remain straight. Looking forward, not at the ground, will help you avoid rounding your back. Keep the weights close to, almost touching, your legs.
Squeeze your glutes to slowly pull yourself up. Be sure not to use your back or round your spine!
Here's a list of other deadlift variations you should implement into your strength sessions.
02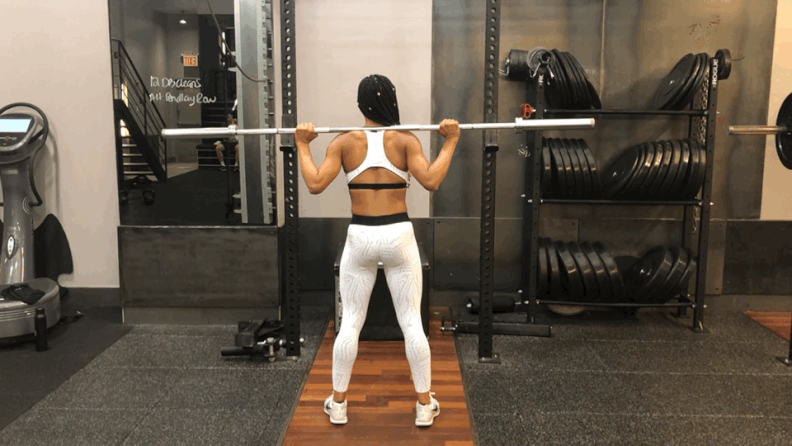 Barbell Squat
Start with a loaded barbell; 75 pounds is a great starting point. Beginners should start with just the barbell and gradually add weight as they become familiar with the movement.
Position your hands about shoulder-width apart on the barbell, and lightly grip the bar with an overhand grip.
Step in front of the rack, and rest the bar on your trapezius muscles (the muscle closest to your neck/upper back).
With your feet about hip-distance apart, lift the barbell off the rack. Take one to two steps backwards.
Shift your weight back into your heels. Brace your abs as you begin to lower into a squat, keeping your head and spine in a neutral position. Your knees should be as close to 90 degrees as possible. Hold for one second.
With your core still braced, drive through your heels to stand back up. Be sure to squeeze your glutes at the top of your squat. That's one rep.
Here's a list of other squat variations you should implement into your strength sessions.
03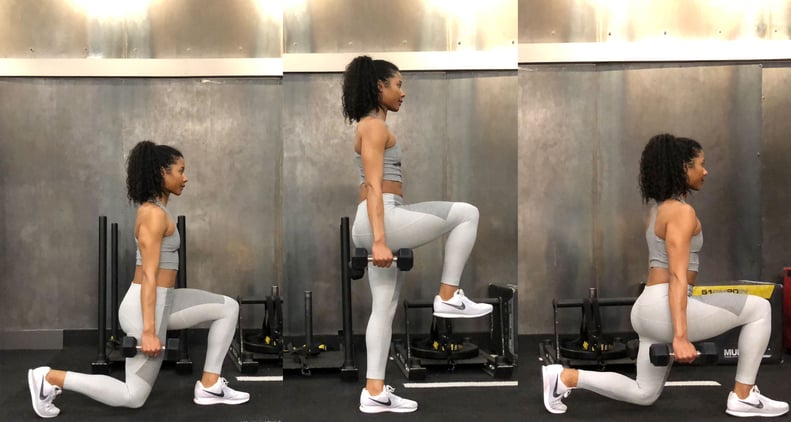 Dumbbell Walking Lunge
Stand upright, feet together, with 10-pound dumbbells at your side. Take a controlled step forward with your left leg, lowering your hips toward the floor by bending both knees to 90-degree angles. Your back knee should point toward but not touch the ground, and your front knee should be directly over your ankle.
Press your left heel into the ground, and push off with your right foot to bring your right leg forward, stepping with control into a lunge on the other side. This completes one repetition.
Here's a list of other lunge variations you should implement into your strength sessions.