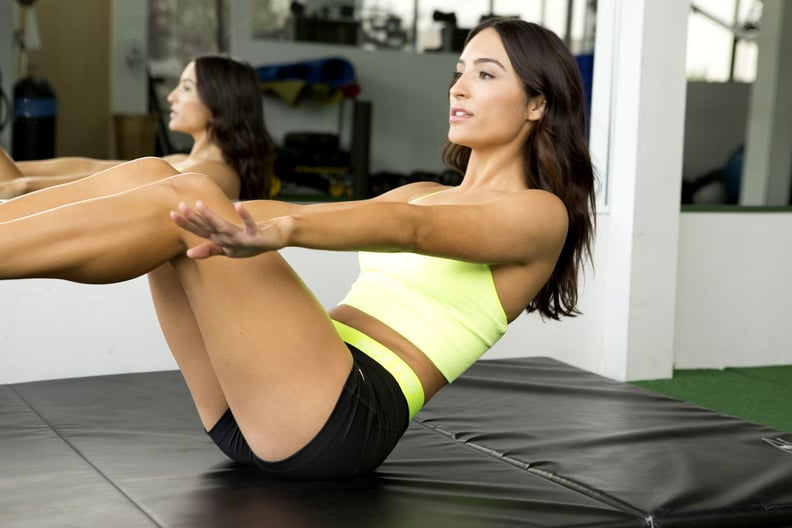 POPSUGAR Photography
POPSUGAR Photography
My stay at Rancho La Puerta in Tecate, MX, can be summed up in two words: fitness heaven. As a guest of the award-winning retreat, every day brought a slew of new classes to try — from hiking to kettlebells, there was something for everyone. While each class had its lasting benefits, weeks later, l still find myself going back to a simple tip mentioned during the Ranch's Ab + Cycle class.
Feeling fatigued after an intense ride on our Spin bikes, the entire class seemed to be struggling with the Pilates portion of the class. There was grunting happening, people propelling themselves up with force, and more than a few necks being strained. Seeing the potential for back injuries, our instructor, trainer JayDee Cutting III, offered a simple tip that has had far-reaching effects on all of my workouts since: "Focus on the muscle, not the movement."
JayDee went on to explain that if you solely focus on mimicking a movement, the integrity of an exercise can be compromised. Instead, think about which part of the body the exercise is targeting. For instance, if you're doing a squat and find that your glutes aren't fired up, rethink your form — doing so will ensure that your quads aren't overcompensating and your butt is getting the workout it deserves. JayDee also suggests that whenever doing ab work on the floor, start the first exercise by placing your hand on the muscle being worked. As you go into the exercise, keep your hand there to make sure the muscle is being activated. If you find that it isn't, regroup, engage the muscle, and perform the exercise at a slower pace to see the difference. You'll also find that when doing ab work, it only takes a small amount of movement to engage the core; something important to consider the next time you find that you're pulling yourself up by the neck. Focus on the core, and you can let go of this idea of getting your head as far up as possible.