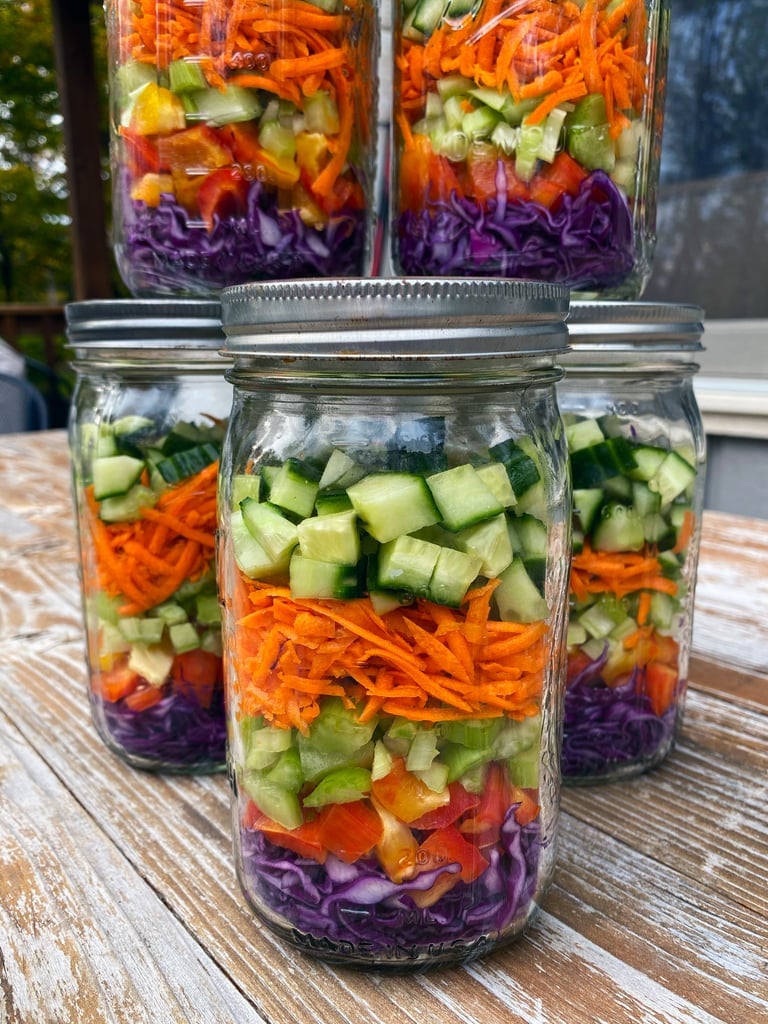 POPSUGAR Photography | Jenny Sugar
POPSUGAR Photography | Jenny Sugar
Eating a big salad for a meal is a great way to get in a ton of veggies every day, but it's a huge PIA to take out all the salad ingredients and chop up a salad every single day. So I prep a week's worth at once, so they're ready when I'm hungry. And with these simple salad-making tips, it ensures my meal tastes just as fresh on Monday as it does on Friday. I've also included tips on how to meal prep salads for the entire seven-day week — they stay crisp until day seven!
Even though you're making a week's worth of salad at one time, you can still make them all a little different by varying the types of toppings and dressings you use for each one — get creative! It's a great way to save time and money and ensure you're getting a dose of daily veggies for health and weight-loss goals.
Prep Before You Meal Prep
Before you can meal prep your week of salads, make sure you're prepared to begin. I have my clean containers ready to go on the counter next to my cutting board, knife, food processor (which I use to slice red cabbage and shred carrots), compost bowl, and my computer so I can watch YouTube videos while I chop.
Make sure to go food shopping beforehand, and set aside an hour or two to prep. The salads take under an hour, but you can also prep other things like cooked rice, beans, chopped veggies for dinners later in the week, and a big pot of soup.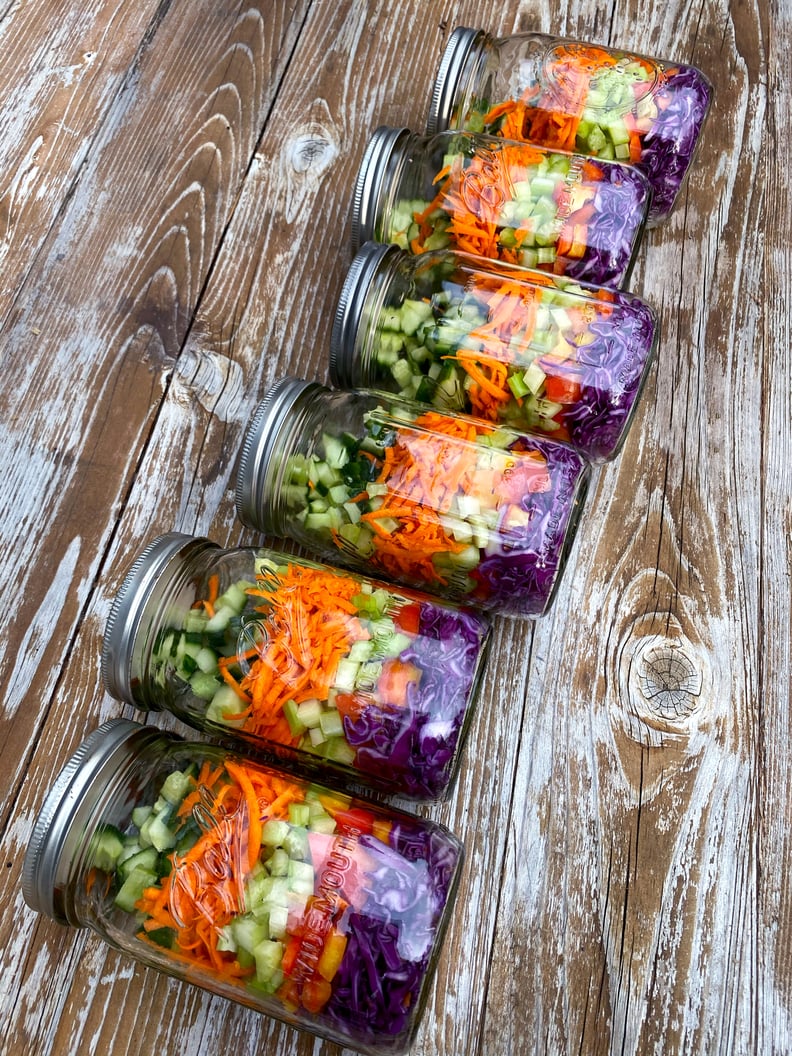 Use a Variety of In-Season, Fresh Veggies
If your salad is exciting and full of variety, you're more likely to eat it! I include all my favorite veggies like chopped red cabbage, carrots, bell peppers, and sugar snap peas. Choose the freshest, in-season veggies for best results, because those will last the longest.
If you're buying prepackaged veggies like shredded carrots or lettuce to save time, look for the latest date possible, which are usually on the back of the shelf.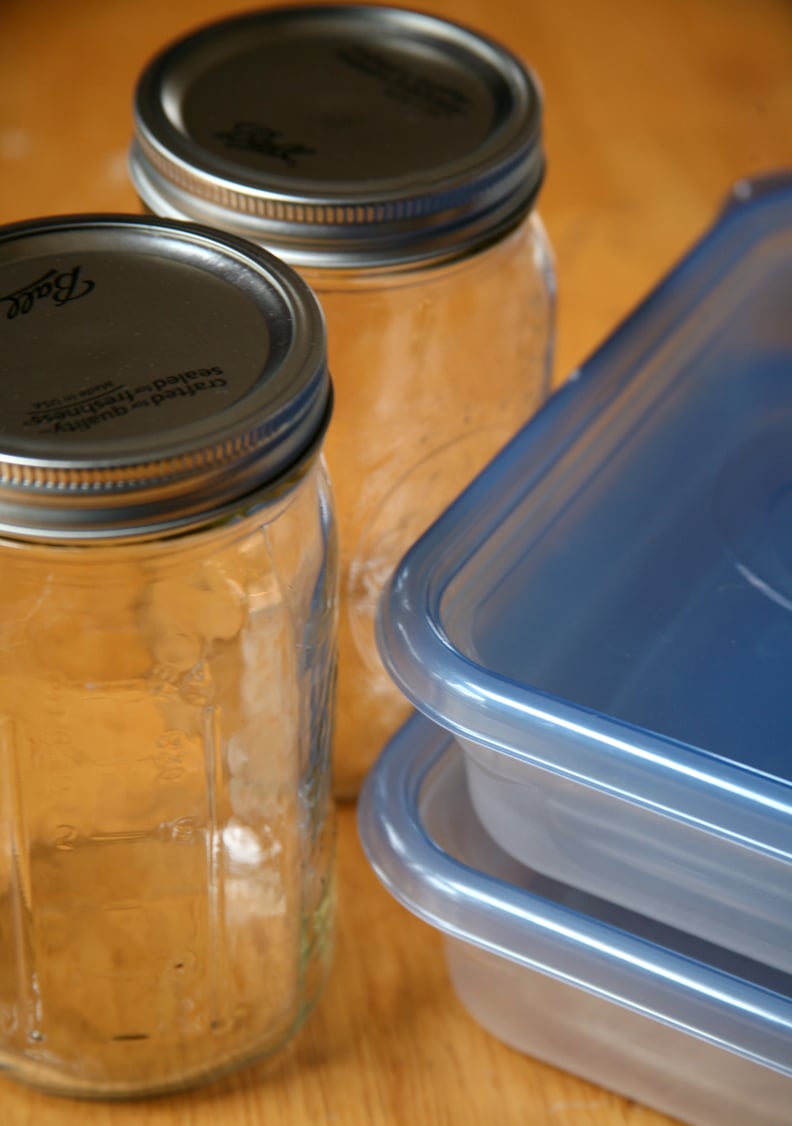 Types of Containers
Where you work and how you get there will determine which container is best for you. BPA-free plastic containers with lids are lightweight and rugged, making them great if you're carrying a lot on your commute or if you're biking or walking to work. They also fit well in lunchboxes with ice packs, which is essential if your office doesn't offer a fridge or you're on the go and eat lunch wherever you are.
You can also use glass containers, which are a must if you're concerned about eating out of plastic containers. I use the Ball 32-ounce wide-mouth jars, and my husband likes these six-cup Pyrex containers. Glass containers are fragile, so they're great if you're commuting in a car, bus, or train, if you're walking to work, or if you're working from home.
Both containers are dishwasher-safe and reusable, so you can feel good about putting less waste in the landfill. And both will keep your salads fresh for five to seven days, depending on how you pack them, which we'll get into on the next slide!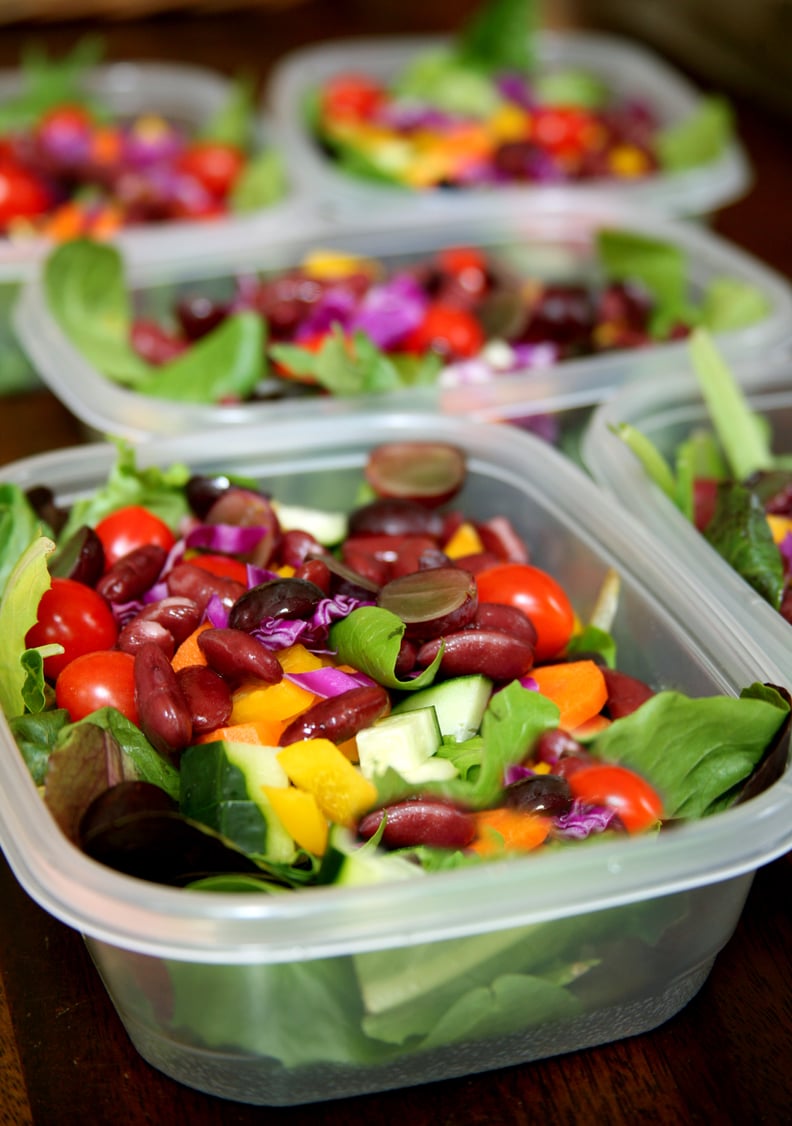 The Art of Packing: Plastic Containers
Choose plastic containers that are flat and rectangular in shape. These not only stack well in your fridge, but they also create more space for the veggies to spread out, preventing sogginess. This method keeps salads fresh for five days.
Start with the greens. To save time, pick up a package of prewashed salad greens. If you're using greens from your garden or a farmers market, just make sure they're completely dry before packing. Fill the container about three-quarters full of greens (about two to three cups).
Add the veggies, beans, and fruit. Go for carrots, cucumbers, tomatoes (use cherry and keep them whole), peppers, broccoli, chickpeas, kidney beans, corn, peas, or even fruit like grapes or blueberries — whatever your little salad-loving heart desires. Drying off each ingredient with a paper towel will keep them crisper longer.
Add protein. For protein sources like marinated tofu, grilled chicken, hard-boiled eggs, certain types of cheese like cubed cheddar, and cooked (and cooled) whole grains like quinoa or brown rice, add these on top of the first three salads only (Monday's, Tuesday's, and Wednesday's). Then on Wednesday night, add protein to Thursday's and Friday's containers. Do the same with avocado, nuts and seeds, or very wet fruits like sliced strawberries.
Keep dressing separate until the moment you eat your salad. Purchase a couple dip-size containers (I'm a fan of these small stainless steel containers from Kids Konserve). Or if you have an office fridge, keep a bottle of dressing there.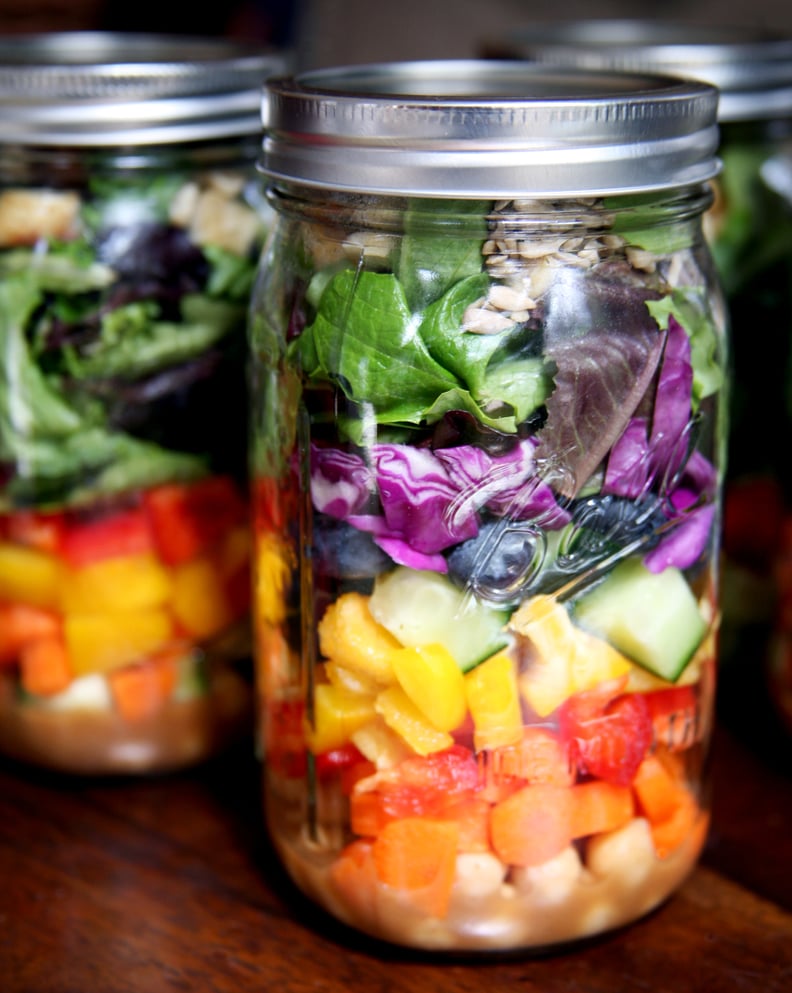 The Art of Packing: Mason Jars
Go for the quart-size jars with wide-mouth lids since these are easier to fill and eat out of. Use this system only if you can keep the jars upright. This method keeps salads fresh for five days.
Start with salad dressing. Since you keep the jar upright, the salad dressing will stay separated from your veggies. This is great if you don't want to pack a separate container for dressing.
Veggies are next. Start with harder veggies like carrots, radishes, onions, and chickpeas that will taste lovely mingling with the dressing. Then go for anything else like bell peppers, chopped cukes, and cherry tomatoes.
Layer up the greens. This should take up at least half the jar. As mentioned earlier, go for packaged greens to save time, or if you're using your own, make sure they're dry.
Protein last. Sprinkle sautéed tofu, marinated tempeh, grilled chicken, or cubed or shredded cheese on top. These will help push the lighter-weight greens down, so you add even more to your jar. You can also add avocado, nuts or seeds, and dried fruit.
Shake or pour when you're ready. At lunchtime, you can either shake up the container to distribute the dressing, or if you have the luxury, pour the entire contents into a bowl and mix it up with your fork.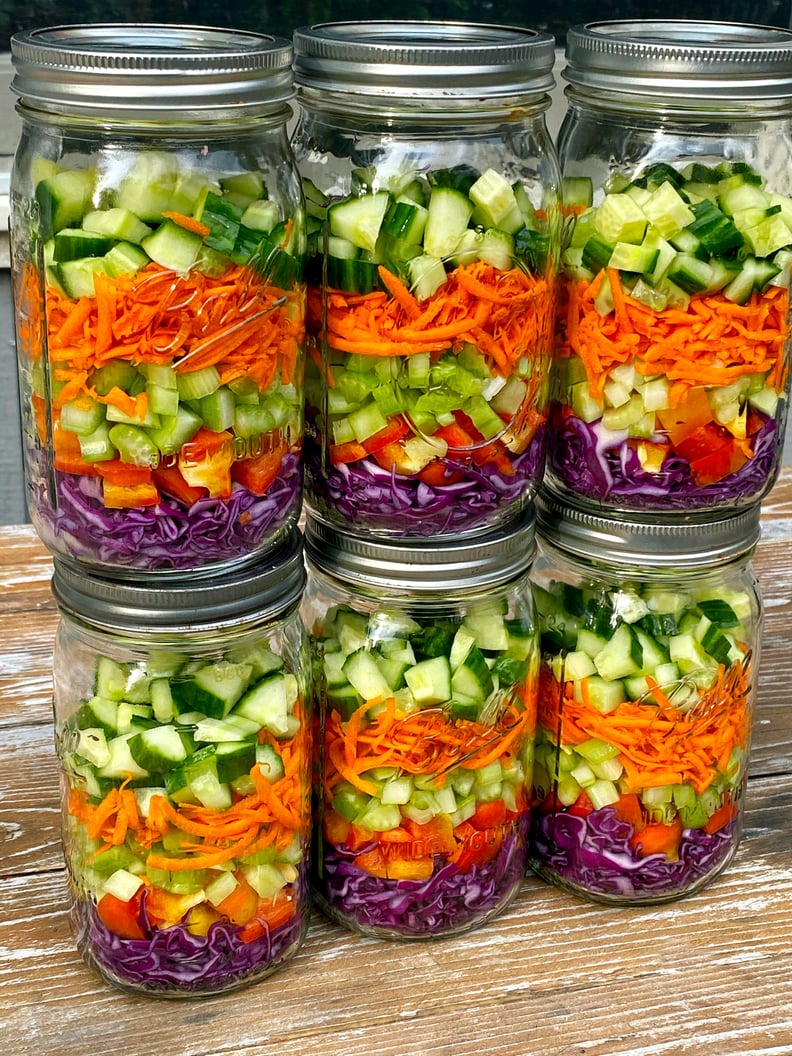 How to Store Salads That Last 7 Days
If you want to pack salads that will last more than five days, make sure your veggies are as dry as possible when you add them to the jar, and layer them so that the wettest veggies (like cucumbers) are on top. This is key to keeping them crisp!
For absolute freshness that lasts on days five through seven, don't add the dressing or other wet ingredients like beans, fruit, tomatoes, roasted veggies, or whole grains — add those to your salad bowl on the day you eat it. And keep your greens separate — more on that in the next slide!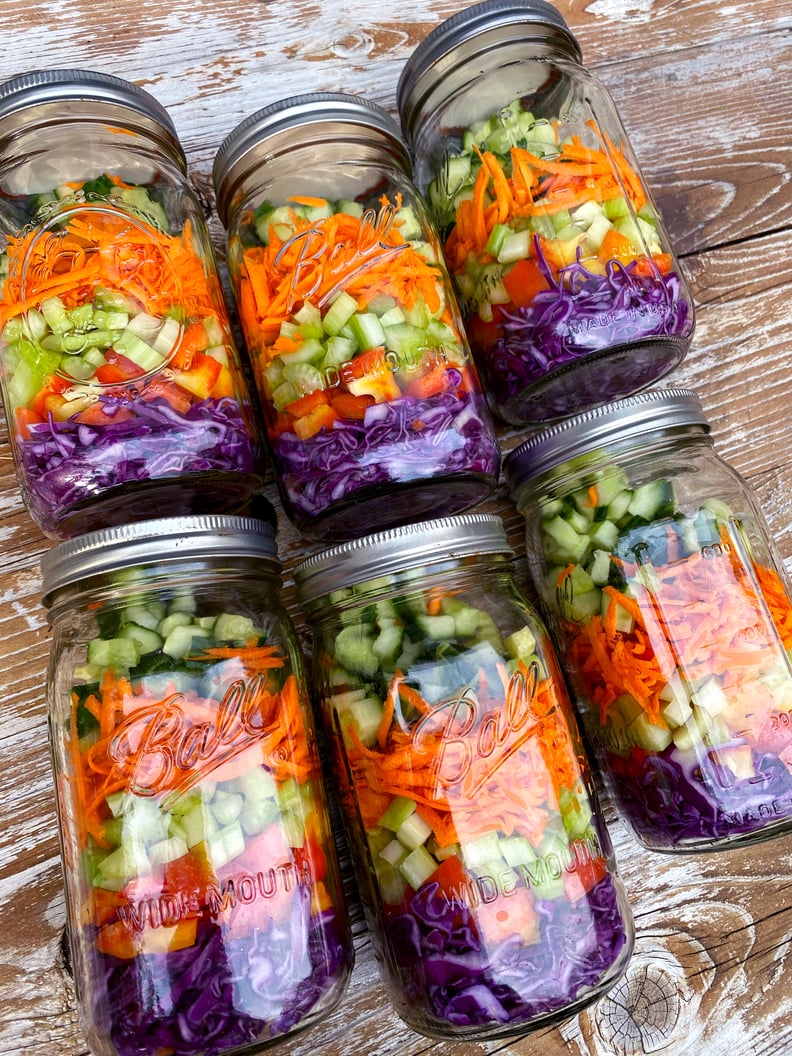 For Ultimate Crispness, Keep the Greens Separate
For the past few months, I've been trying to eat more greens, so I don't add those to the mason jar — there wouldn't be any room for the other veggies! I found that keeping my greens separate helps them stay fresher longer, especially the delicate ones like spring mix or spinach. My salads stayed fresh for over seven days!
You can buy the big containers of greens to make life easier, or if you prefer, you can prep big heads of lettuce or bunches of kale. Just wash the leaves, dry them using a salad spinner and dish towels, and place them in a big container with a few sheets of paper towel to absorb any excess moisture.
Use a Bed of Whatever Greens You Like
What I love about not putting greens in my mason jars is that depending on my mood that day, I can choose whatever greens I want. Some days I want fresh spinach, spring mix, or chopped romaine, and some days when I'm chilly, I like to sauté kale. Variety keeps my salads exciting!
I get out a serving-size bowl (it's huge!), add my greens, pour in the contents of the mason jar, and then add other toppings like fresh fruit, beans, cooked rice or quinoa, sautéed mushrooms, roasted potatoes, fresh tomatoes, seeds, and lately I've been into a generous drizzle of maple balsamic vinegar.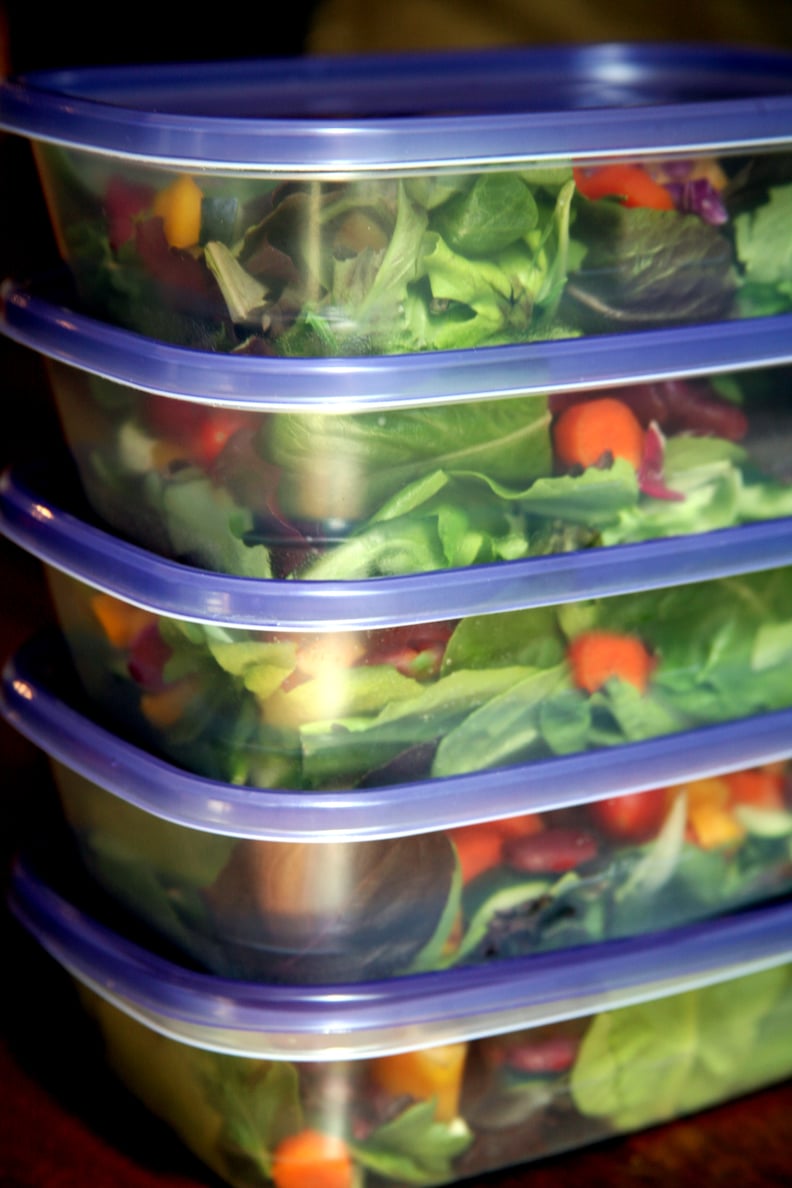 Shopping List
Here's an example of what to buy for five days of salads (buy more for seven days):
1 to 2 large containers of greens
2 cucumbers
1 small head of red cabbage
1 bunch of celery
2 to 3 bell peppers
5 medium carrots or a bag of shredded carrots
1 package cherry tomatoes
1 bag grapes or a container of strawberries
2 packages tofu
1 to 2 cans of beans like chickpeas
Small package of sunflower seeds
2 avocados
Bottle of your favorite salad dressing or balsamic vinegar