Celebrate #GivingTuesday by Giving Your Old Fitness Gear New Life
After the craziness of Black Friday and Cyber Monday, it only feels right to celebrate #GivingTuesday, a movement that's all about giving back. You can log on to the campaign's website and pledge your own intent to give on Dec. 2, then donate money to charity or volunteer your time — or do both by simply going out for a run using these apps.
There's more you can do to give back. Since exercising regularly means going through lots of fitness gear, instead of just tossing out old kicks or a worn-out yoga mat, do something good for the Earth. Here are ways to recycle or reuse old workout gear.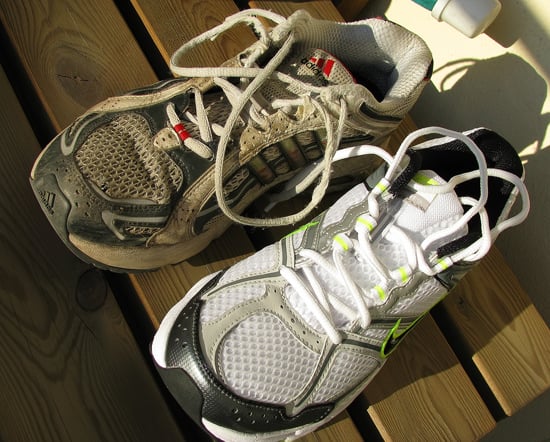 Sneakers
Donate: You can toss them in a Goodwill bin or send them to an organization that'll put them to good use. Soles4Souls's tagline is "Saving the world — one pair at a time." This organization takes your tired but "gently worn" sneakers and finds needy feet to fill them. You can drop off your pairs at a location near you or host a shoe drive to collect a whole bunch to mail at once. Another organization, Colorado-based nonprofit organization One World Running, has been serving runners around the globe since 1986. Through collection programs, it's able to provide shoes for needy runners across the world. Check here for drop-off locations.
Recycle: Turn your old shoes into something new. Nike Reuse-a-Shoe takes all brands of sneakers that are beyond "gently worn" and turns them into a recycled product known as Nike Grind, which is used to make tracks, indoor basketball courts, fields, and playgrounds. Just drop off your retired sneakers at a participating Nike store or mail them here.
Reuse: Keep an old pair of sneakers around for days when you're running or walking in the rain or on muddy trails. Some people even use old shoes as plant potters — talk about going green! Fill a disinfected shoe with soil and grow some basil or cilantro on your deck or windowsill.
Clothes
Donate: When you buy newer gear, pass on your old gear to friends or siblings, or donate them to Goodwill, a homeless shelter, or another charity store.
Recycle: Patagonia accepts all its products back for recycling. Either mail them to Patagonia or drop them off at a retail store.
Reuse: Used fitness clothes make excellent old rags for cleaning. Cut them up and store them in a bag under the kitchen sink.
Equipment
Donate: Send gently used sports gear such as balls, baseball bats, and bikes to Sports Gift, and it'll get it to impoverished children in over 50 countries. Or donate your fitness equipment to Fitness 4 Charity, and it'll make sure it goes to someone in need.
Recycle and reuse: If you have bulky equipment such as an old treadmill, check to see if your community has a recycling center that will be able to find use for the parts.
Yoga Mats
Donate: If you have a special place in your heart for four-legged friends, bring your used mat to the local Humane Society, where the organization will use it to line crates for the animals. The Bolder Mat Company also accepts old mats for its renew and recycle program, and it donates them to needy schools or community organizations. And through the JadeYoga 3R program, you can mail your worn-out mat to one of these yoga studios, and it'll pass it on to programs and people in need.
Reuse: Wash your old mat thoroughly, and place it under your treadmill to protect the floor from scratches, or fold it up and use it as a kneeling pad when gardening. Old mats can also be cut up and used under the litter box to prevent tracking kitty litter all over your house, on car seats under wet and muddy dogs, cut into circles and used to open jars, or in your trunk to keep bags of groceries from sliding around.
Source: Flickr user Tomi Tapio