If You're New to Journaling, These Therapists' Tips Will Help You Get Started
New trends are always appearing in health and wellness, and one trend we're really into is journaling. It's free and it's a great way to express yourself without fear of judgement. There are a lot of different ways to journal, which can feel overwhelming for some, but the good news is: there aren't any rules on how to journal.

If you've been wanting to explore journaling to improve your your mental health, to emotionally express yourself, or to track your goals, for example, we tapped experts for their best advice on how to get started. In the event you decide to journal for your mental health, please keep in mind that it is not meant to be a replacement for any treatment that you are currently partaking in. If you're ready to get started journaling, check out the tips ahead.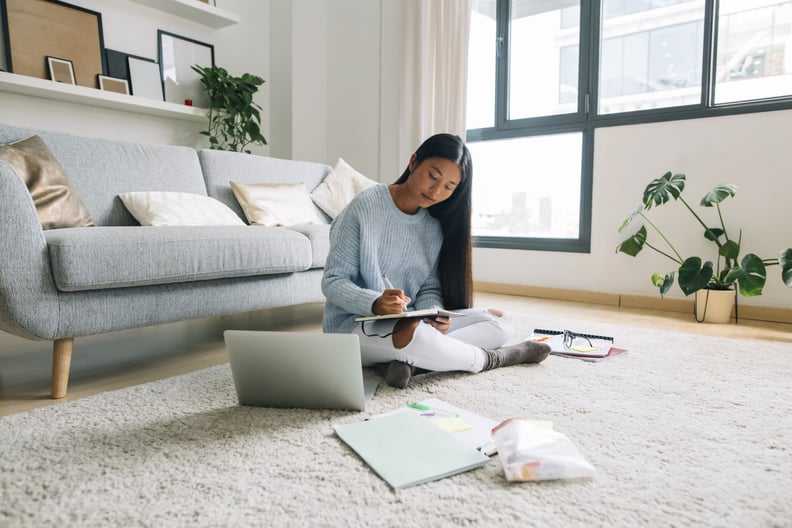 Start Simple
"For those individuals who are just beginning to journal, I would advise them to approach it in a very simple way so that they will not feel overwhelmed," Kim Boone, MA, LMHC, MATS, PsyD candidate, and clinical director at Recovery Works Merriville, told POPSUGAR.

Kim explained that journaling can be done by anyone and you don't have to be a "good writer" to benefit from journaling. "Journaling is a tool that is meant to be calming and one that allows for the release of everything that one may be feeling," she added. She recommends journaling whenever you feel overwhelmed, when your thoughts are racing and you can't make sense of them, when you need an outlet to release everything that has happened during the day, or whenever you want to remind yourself of the things you're grateful for.

As for how long or how often you should journal? Kim said, "A person should journal as often or as little as they'd like. There isn't a set time frame that is most effective. It's about what works for the individual."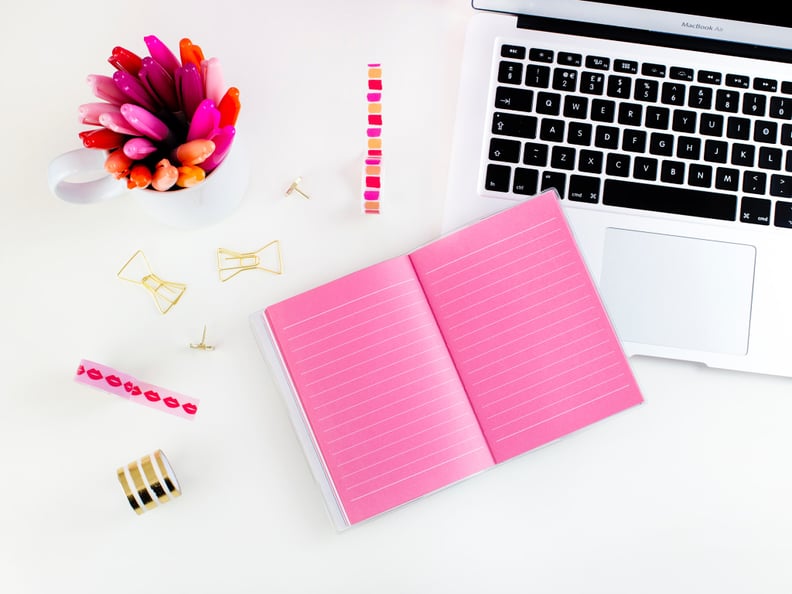 Don't Worry About a Time Limit or How Often You Journal
"It's important to keep in mind that there are no length limits. An expectation of a lengthy entry can result in them feeling overwhelmed or seeing journaling as a daunting task," Ebony E. White, LPC, NCC, ACS, an assistant clinical professor in the counseling and family therapy department at Drexel University, told POPSUGAR.

"For clients who are managing their mental health, I recommend journaling daily because it provides an opportunity to unload thoughts and emotions that may cause them problems. Additionally, it provides a metric to monitor progress or even patterns." Ebony recommends writing about whatever you'd like, although you can journal for a specific purpose, like coping with loss or working toward specific goals.

As a strengths-based therapist, Ebony also recommends journaling for personal development, starting by writing about what you think is good about yourself and what was good about your day.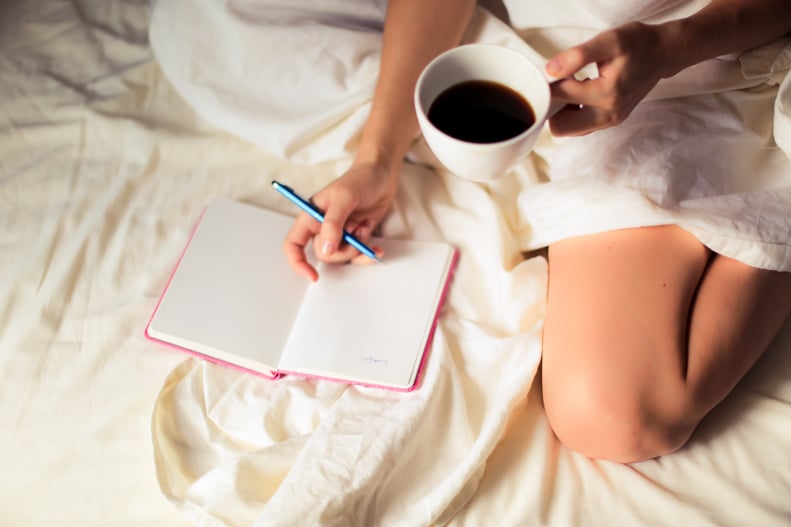 Write Without Judgement
"There isn't any topic that is off-limits or taboo when someone is journaling," Emin Gharibian, PsyD, the founder and director of Verdugo Psychological Associates, told POPSUGAR. He recommends writing about anything you'd like, especially things you've been ruminating about or things that have been causing you distress. "It's also important to focus on their little victories in life," he added. If something positive happened in your day, Dr. Gharibian said to write about it because journaling doesn't always have to be for negative experiences.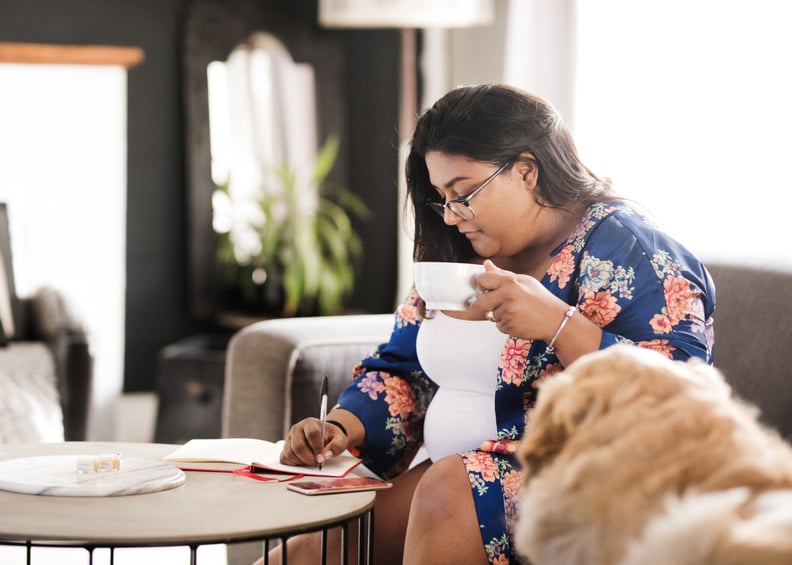 Write About Your Daily Experiences and Interactions
There isn't a right or wrong way to journal; Sheila Tucker, LAMFT, the owner of Heart Mind and Soul Counseling recommends writing about your daily experiences and interactions. For example, consider writing one to two things that went well or which you're grateful for that day or one to two things that you may have done differently, Sheila said. If you find yourself stumped, Sheila said to brain dump, meaning writing about whatever comes to your mind when you sit down to journal.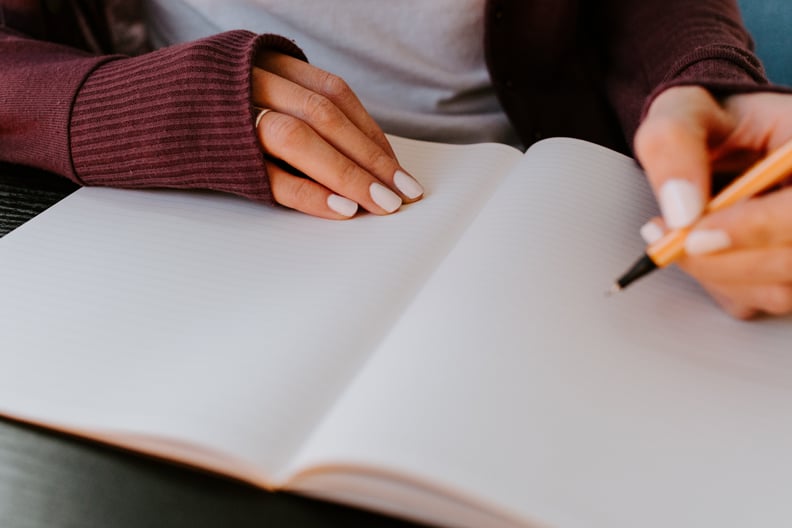 Write About Your Day and How You Managed Your Emotions
"Journaling has been seen as a connection to your subconscious mind and will allow you to express yourself freely," Brittany A. Johnson, LMHC, told POPSUGAR. To get started journaling, she recommends writing about the highs and lows of your day "but more importantly, how you managed your emotions during the day." If you feel like you need guidance and want specific topics, Brittany said to use the following prompts to get started: "I deserve . . . ," "I would like . . . ," and "I am good at . . . ."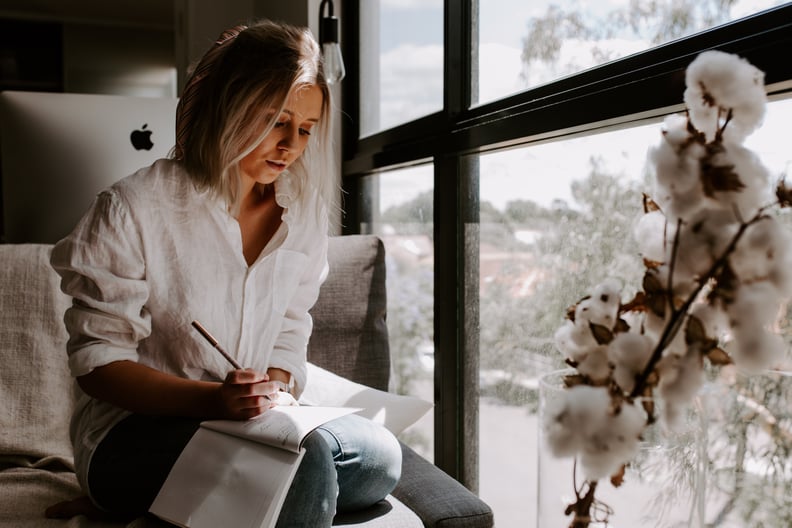 Remember Why You Started Journaling
"When beginning to journal, it's important to keep in mind why you're journaling in the first place," Saba Harouni Lurie, LMFT, ATR-BC, the founder of Take Root Therapy, told POPSUGAR.

If you want to use your journal for processing experiences and to better understand yourself or your feelings, Saba recommends following a stream-of-consciousness format. "Write as if no one is reading. Try not to judge yourself and let yourself land wherever you need to," she said. Additionally, you can write from your point of view on one page and then respond to yourself on the other page as if you were writing from the perspective of a close friend.

Another option is to journal for structure, such as tracking your progress to meeting a particular goal with bullet journaling. "Topics could include things you're grateful for, things that seem significant, or things that have moved you."