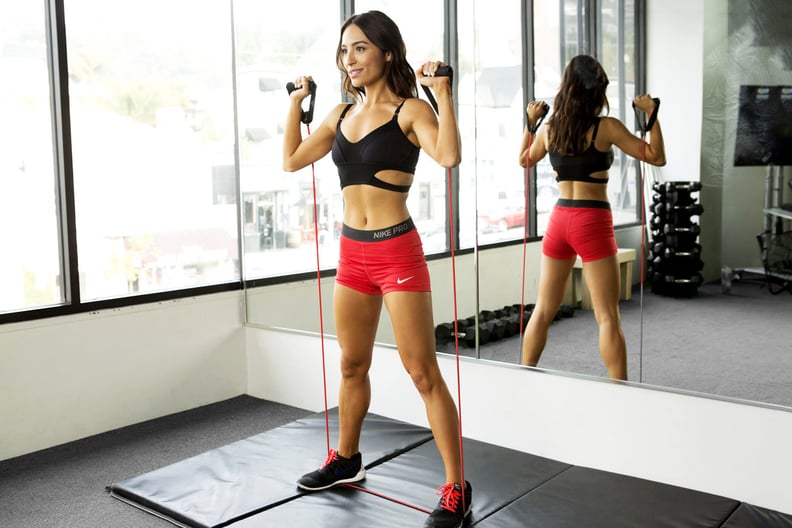 POPSUGAR Photography | Kat Borchart
POPSUGAR Photography | Kat Borchart
When I'm on vacation, I look forward to sleeping in, catching up on my reading, and hitting up cocktail hour (usually by a beach or a pool). But I also like to keep up a workout schedule so I can feel healthy and energized during my trip. Plus, it helps keep some semblance of structure to my days so I'm not completely off my normal routine.
Usually, that means hitting up the hotel or resort gym or going for a run. But sometimes, there isn't a gym or a safe running path available. To make sure I get in a good strength training workout, I pack a couple of resistance bands. Unlike dumbbells, they don't weigh down my luggage, and they are super flexible and easy to pack. And you don't need much room to use them; if you can find a place to stand up and extend your arms out, you can use a resistance band.
I like to do bicep curls, overhead presses, triceps presses, and squats, but you can also work your abs, too. I prefer the thicker bands with the handles, but you can also get in a good workout with the flatter, thinner ones without handles and smaller booty bands. At around $20 for a set, you can't beat the price.
If you're planning to spend a few days away from home, buy your own resistance bands, like this Tribe 11-Piece Set from Amazon for just $21. Throw some in your suitcase and get in a good workout on vacation!