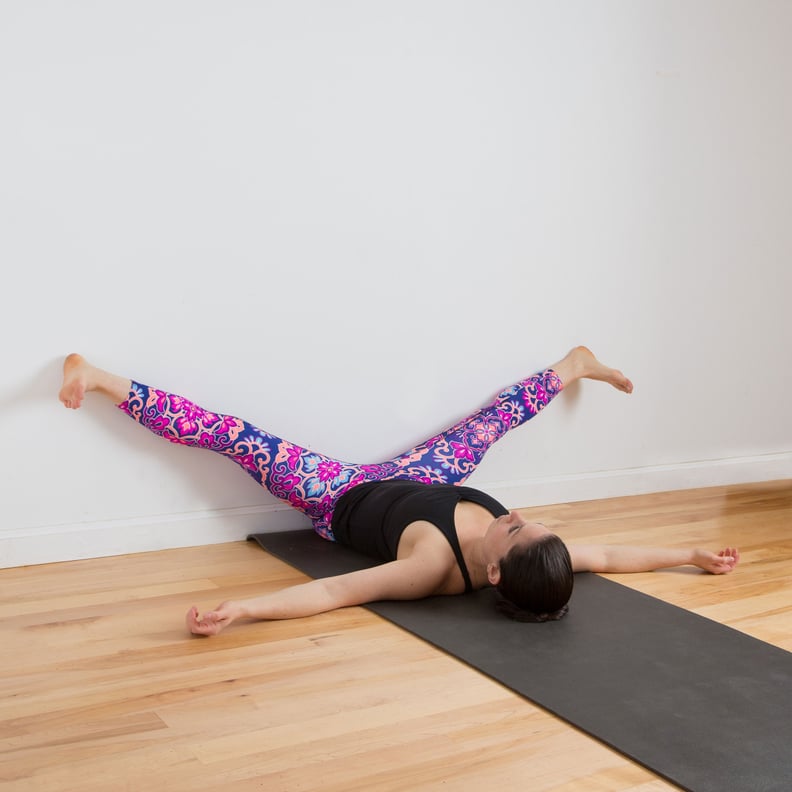 For added comfort, place a folded blanket, bolster, or pillow against a wall.
Sit down as close as you can to the wall, next to the pillow. Lie down on your back, place your feet on the wall with your knees bent, and scoot your body over so that your bottom and lower back are on the pillow.
You want to adjust your body so that your bum is touching the wall, and then place your feet straight up, resting your heels on the wall. Now separate your feet and slide your legs down the wall toward the ground, coming into a straddle position.
You can keep your arms by your sides or by your head (this position will stretch your shoulders).
Close your eyes and allow your entire body to relax, feeling gravity pulling your feet down and opening your inner thighs. If it becomes too intense, place your hands on the outside of your thighs for a little support.
Hold like this for several minutes or longer. Once you've had enough, slide your feet up the wall toward each other. Then walk your feet down the wall, draw your knees into your chest, and roll your body over to one side. Rest your head on the inside of your arm, staying like this, in fetal position, for a minute or so. Then you can roll up onto your knees and come to stand up.