Kayla Itsines Launched 2 New BBG Workout Programs
Kayla Itsines Launched 2 New Programs Based on Her Journey Getting Back Into Shape Postbaby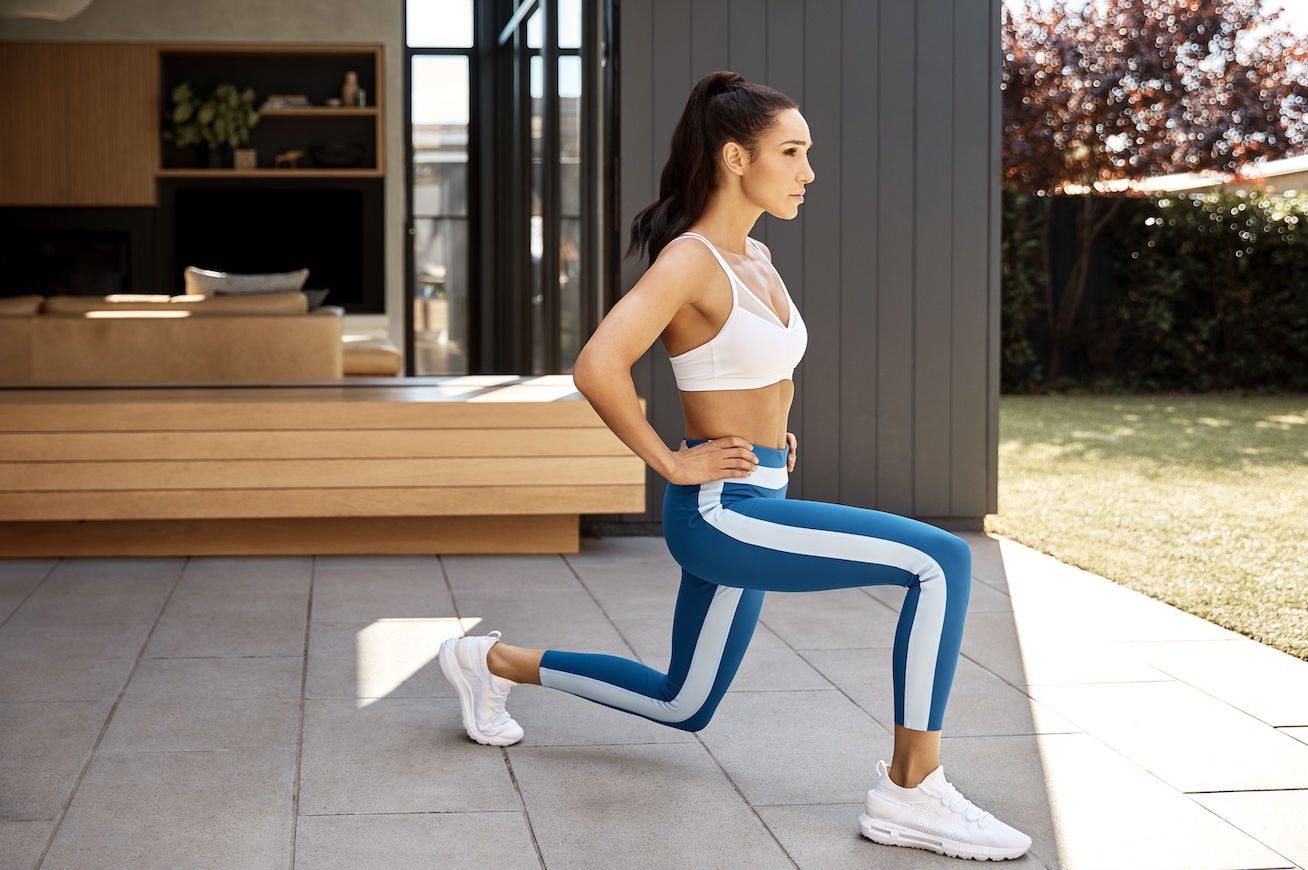 BBG, short for Bikini Body Guide, has been around for the better part of this decade thanks to Australian trainer Kayla Itsines. She then launched the SWEAT app, where you can find BBG as well as the more gym-focused BBG Stronger. On Nov. 18, Kayla officially added two new programs to the BBG family: BBG Beginner and Post-Pregnancy. These two in particular are close to her heart because, seven weeks after giving birth to her daughter, Arna, she was cleared to work out again, and her journey to regaining her strength commenced. It was a slow and steady process that, to her, was humbling, and she's still getting back to where she used to be. Kayla sat down with POPSUGAR to discuss these new programs that she can't wait to share with the world.
What Is Kayla Itsines's BBG Beginner Program?
The first four out of 12 weeks of Kayla's original BBG program are considered beginner level, but BBG Beginner itself is a separate eight weeks, and even the first four weeks of that have zero jumping. "BBG Beginner is a low-impact, low-intensity program that will slowly increase and allow you to enter into BBG, which is a high-intensity program," Kayla told POPSUGAR. "I felt like there was a need for BBG Beginner because I myself started off after postpregnancy into working in the beginner phase."
BBG Beginner is still set up like BBG, Kayla said. "It's time-based, there are more rests, but it gives you three exercises or, when you go up further [into the program], four exercises within a seven-minute time frame." Each week, you'll have two resistance-training workouts: lower-body and full-body. There are also low-intensity cardio sessions (LISS) like walking or biking built in, and the upper-body day that is optional in the first six weeks will become recommended in the last two. (Note: you'll be using light dumbbells for both BBG Beginner and Post-Pregnancy, and Kayla suggests picking a weight that you can do 12 to 15 reps with and feel the resistance.)
Kayla explained, "BBG Beginner was designed for the person who either hasn't worked out before and wants to build that foundational strength and fitness or for someone who was super fit but has taken six months off, and then doesn't want to go straight back into high-intensity and wants something that they can just start off with to build that strength." You'll have access to BBG Beginner if you pay the monthly ($20) or annual ($120) fee for the SWEAT app. Kayla answered more questions about BBG Beginner on her website.
What Is Kayla Itsines's Post-Pregnancy Program?
As mentioned above, Kayla was cleared by her doctor seven weeks after giving birth. She went to her physical therapist and worked through what exercises were safe for her to ease into (it was a lot of band work, she said). When she went back to the gym shortly after, she could barely keep up a 14-minute slow walk on the treadmill. She focused a lot on posture, and, because she had a C-section, ab exercises where she was sitting up were off limits at first, she said. Lunges were particularly difficult due to the way her C-section was cut. Kayla recalled, "I sort of just showed up day after day and just did a little bit, so it'd be a five-minute workout and then a 10-minute workout." Now, she said, she's built back up to doing the 28-minute workouts that BBG is known for.
Post-Pregnancy, backed by medical professionals, allows you to go at your own pace, which differs from how the other BBG programs are structured. "It's very focused on things that you need as a postpregnant mom," Kayla explained. "Great posture, correct posture, mobility, being able to move." It also is dependent on your own journey — before you start the program, you'll answer questions about the delivery you had and if there were any complications. It's a 12-week program with four extra foundation weeks in the beginning honed in entirely on rebuilding foundational core and pelvic floor strength.
Each week, there are two recommended workouts, Upper Body & Core and Lower Body & Core, and an optional full-body session. The workouts themselves take less time than typical BBG sessions — 15 to 25 minutes — and there are even shorter optional sessions that you can tack on as well: Upper-Body Posture, Hip Strength, and Lower-Back Relief. And, like BBG Beginner and the rest of Kayla's BBG programs, a few days of LISS are also built in.
"Post-Pregnancy is not a progression into any of the programs. It is a program within itself," Kayla noted. You can redo it if you listen to your body and realize you're not ready for anything further. You can also, Kayla said, try BBG Beginner depending on how you're feeling. Before getting started with Post-Pregnancy, Kayla advised you get clearance from your doctor. And, like BBG Beginner, you'll get access to it when you download and pay for that app. Kayla answered more questions about the Post-Pregnancy program on her website.
Looking Ahead
Kayla said that, after experiencing her own postpartum and beginner fitness journeys, she's able to confidently give guidance for those stages of a person's life with her two new programs. From there, people can take on BBG and BBG Stronger. Kayla's goal now is to get even "stronger and better" than she was before her pregnancy.
She said, "I think it took me three months to just ease into beginner work," and shared that progressing back into chin-ups was a big milestone for her in the strength-regaining process. She couldn't even do one at first, but she walked herself through what she typically tells her clients who are learning chin-ups, working with bands and practicing holding herself up to the bar. Only recently did she reach her goal of 15 in a row — and it felt amazing. "I just freaked out. My legs were shaking from excitement, and it was just a moment where I felt so proud of myself as an athlete. You set those goals for yourself and you complete them," Kayla stated. "I was my own motivation and my own trainer."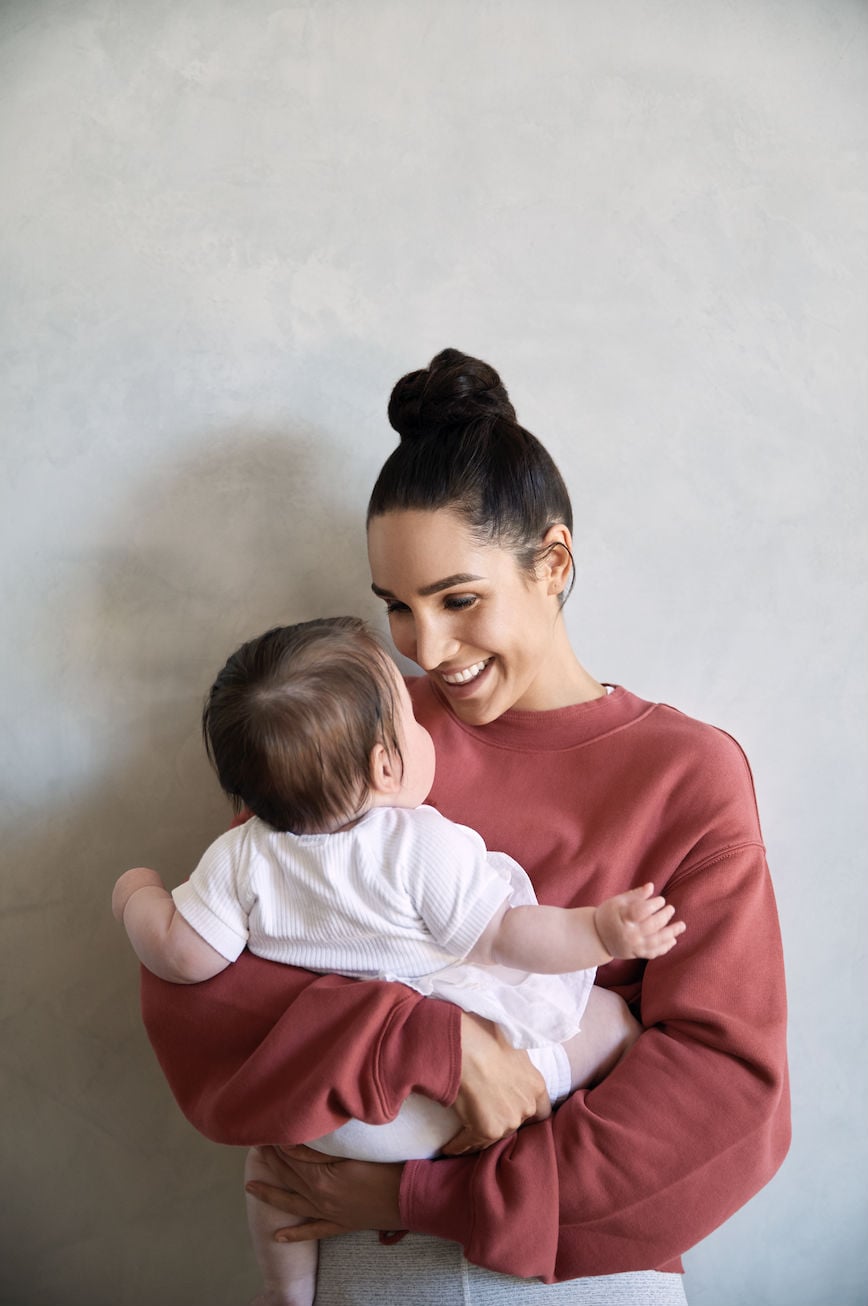 Image Source: SWEAT / Stuart Miller