What Is BBG?
BBG: The Supereffective Fitness Program You Need to Know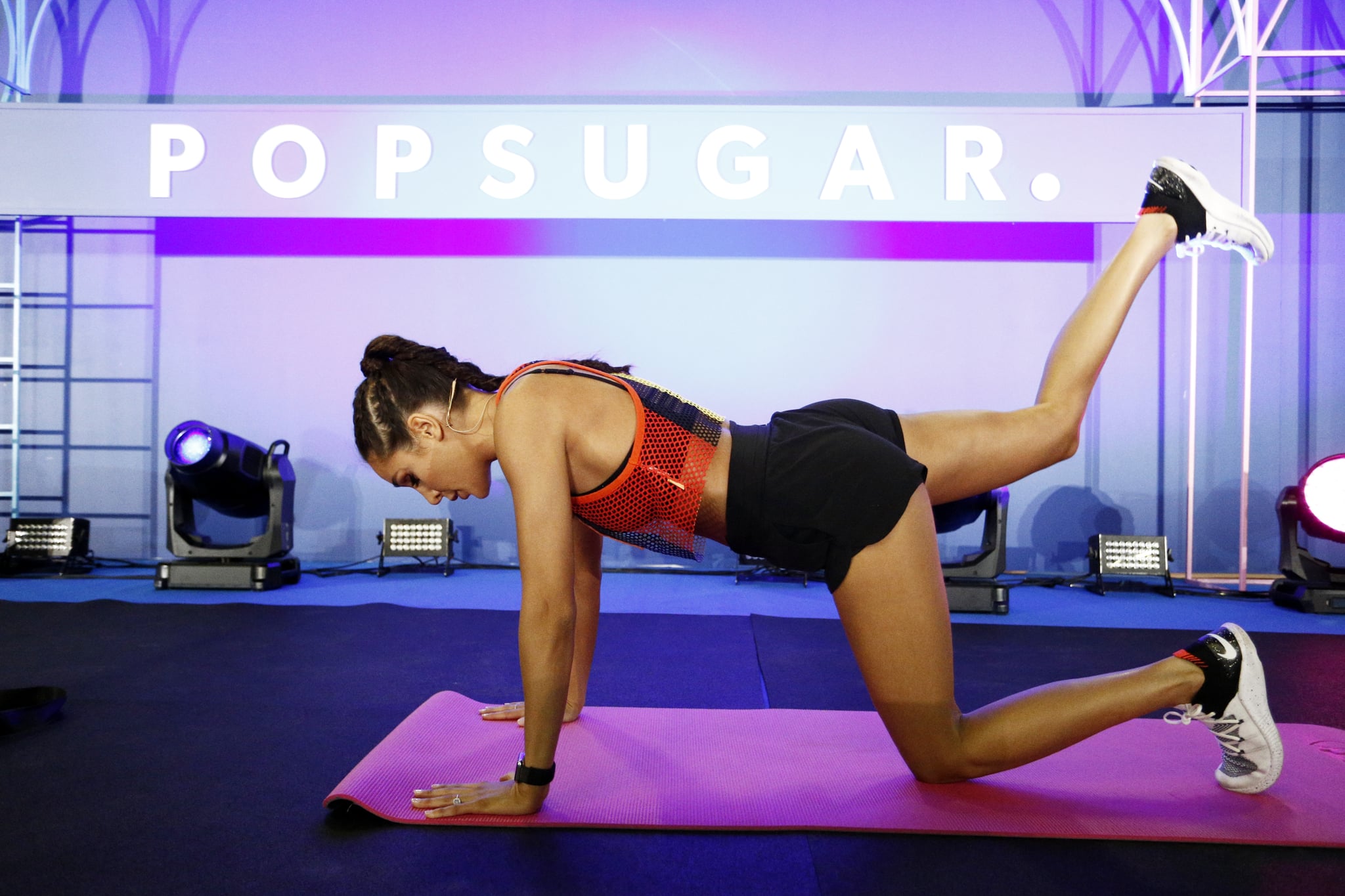 Image Source: Getty / Brian Ach / Stringer
We're totally fans of Australian trainer and Instagram star Kayla Itsines and her program, BBG. But what exactly is BBG? Let's take a step back and look at the program that made Kayla such a star and her clients so obsessed.
What Is It?
BBG stands for "Bikini Body Guide," and it's been transforming people's bodies since 2012. The guides include a fitness and nutrition plan spanning 12 weeks and can be done at home or at a gym.
The program is built around intense 28-minute workouts three days a week. That's it. They're broken down into arms and abs, legs, and full body, so each day of the week, you'll focus on a different muscle group. Expect to see moves like push-ups and planks, burpees, jumping jacks, mountain climbers, and weighted squats. The combination of weight training and cardio makes the program incredibly effective, while the meal plan helps people make more educated dietary choices to better fuel their bodies.
How Does It Work?
BBG programs are available as downloadable eBooks or in the app SWEAT: Kayla Itsines Fitness, both for a fee. During a workout, you'll have two circuits, each with four moves, for which you'll do a certain number of reps. For example, circuit one might look like: 15 burpees, 15 push-ups, 20 jumping jacks, and 20 lunges on each leg. You repeat circuit one as many times as you can within seven minutes at your own pace. You'll take a one-minute break and do the same thing with circuit two, which will be a new set of four exercise moves. After completing circuit two, you start over and do both again. The result? An insanely challenging workout completed in fewer than 30 minutes.
As far as nutrition goes, Kayla doesn't really eliminate foods. Instead, she focuses on healthier choices and provides members with healthy, delicious recipes for breakfast, lunch, dinner, desserts, and snacks. On her app, Kayla serves up weekly grocery shopping lists that provide the ingredients for that particular week's recipes, leaving zero guesswork.
What Makes It Different?
The simplicity and brevity of the workouts combined with their ability to be modified have made this program exceptionally attractive to many a newcomer. In fact, Kayla loves the idea that she is often a woman's introduction to fitness. She told POPSUGAR, "I want to be someone's first entry [to exercise], and I think it's a good way to enter, because you're entering into a community that focuses on how you feel rather than focusing on how you look."
Everyone's story is completely different when they come to BBG, but devotees find a way to make the program work for them, whether they're fighting ovarian cancer or thyroid cancer, beating obesity and losing 100-plus pounds, overcoming an eating disorder and building strength, or just trying to get a bigger booty.
We asked Kayla what she thinks makes BBG so special. Although Kayla said she created the program for women, anyone can benefit from BBG. "And then there's the fact that it's 28 minutes. . . . It's so quick and easy but also very challenging and pushes you." She also noted how it's a superempowering program that allows a woman to do everything on her own and feel accomplished as an individual.
While the program itself is appealing, what probably trumps it all is the BBG community. There's an element in this program that isn't really found in many other fitness programs, and it has created somewhat of a sisterhood. "It's really easy to lose motivation and lose inspiration," Kayla told POPSUGAR. "But when you have a community like the BBG community, it's actually very hard to lose motivation, because they're constantly encouraging you and posting photos. It's like a family."
Interested in being part of it? You can download the guides for yourself. Or consider Kayla's app, SWEAT: Kayla Itsines Fitness, which offers the same workout program but more streamlined and customized with a LISS tracker and guided recovery. You'll also get on-the-go grocery lists, recipes, and more.
Check Out a Workout From Kayla