Nordstrom Has Everything You Need to Work Out Like Khloé Kardashian
Paid Content For
Nordstrom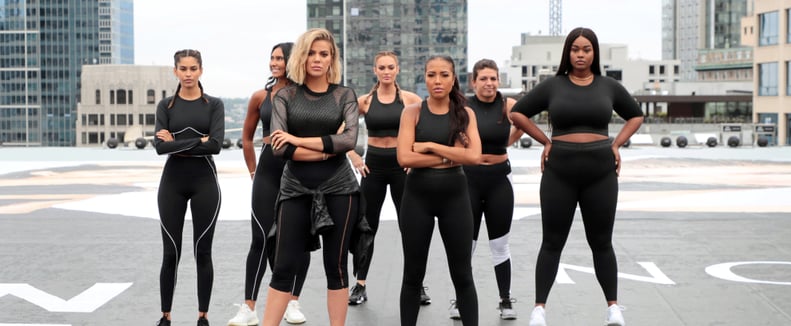 Eric Charbonneau | Le Studio Photography
Eric Charbonneau | Le Studio Photography
As POPSUGAR editors, we independently select and write about stuff we love and think you'll like too. If you buy a product we have recommended, we may receive affiliate commission, which in turn supports our work.
It may have been a classic, drizzly Seattle morning, but you wouldn't have even noticed with the palpable high energy among the group of 30 women gathered together in anticipation of the workout to come. After all, it's not every day that you get to work out on the rooftop of the Nordstrom flagship store with a panoramic downtown view — or with Khloé Kardashian, for that matter.
To celebrate the launch of Good American's new activewear line, available in select Nordstrom stores and online, Nordstrom hosted Khloé, the brand's cofounder Emma Grede, and members of the Good Squad for a fitness class with celebrity trainer Gunnar Peterson, and I had the opportunity to join in. And when you're in the presence of the fitness queen herself, well, you take notes. Keep reading to find out what I learned about working out like Khloé.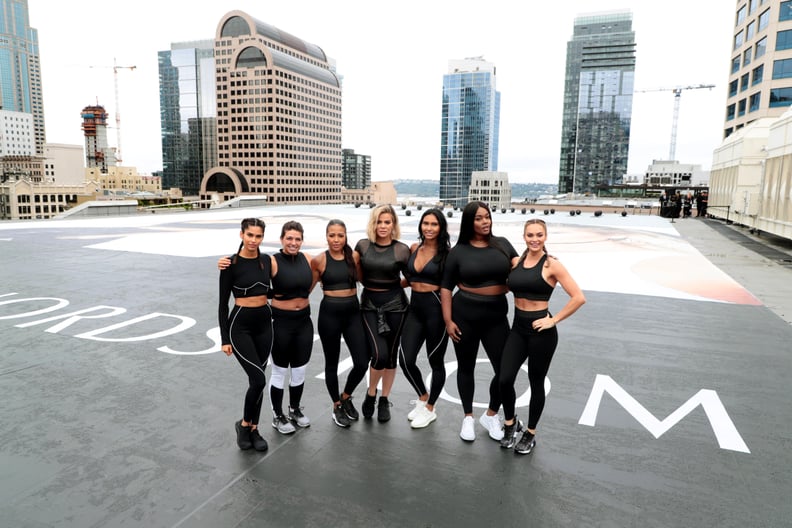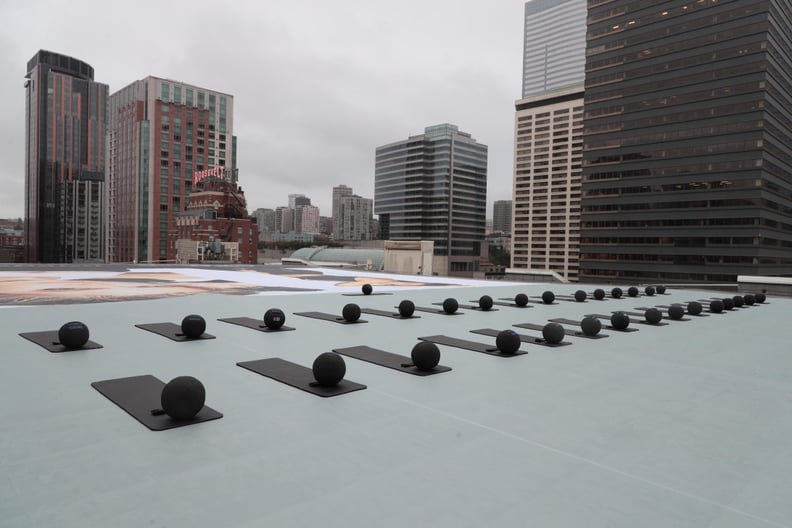 Energy Is Key
Anyone who's worked out in a group setting before knows how important the vibe can be. Luckily, the event boasted a lively, upbeat atmosphere with DJ Vashtie on hand to keep the pumped-up tunes coming. Plus, the positive energy of everyone in the group kept us all motivated and pushed us to work even harder. All the women were incredibly welcoming and inclusive no matter what your skill level — just like the clothing line itself. And the jaw-dropping rooftop setting didn't hurt!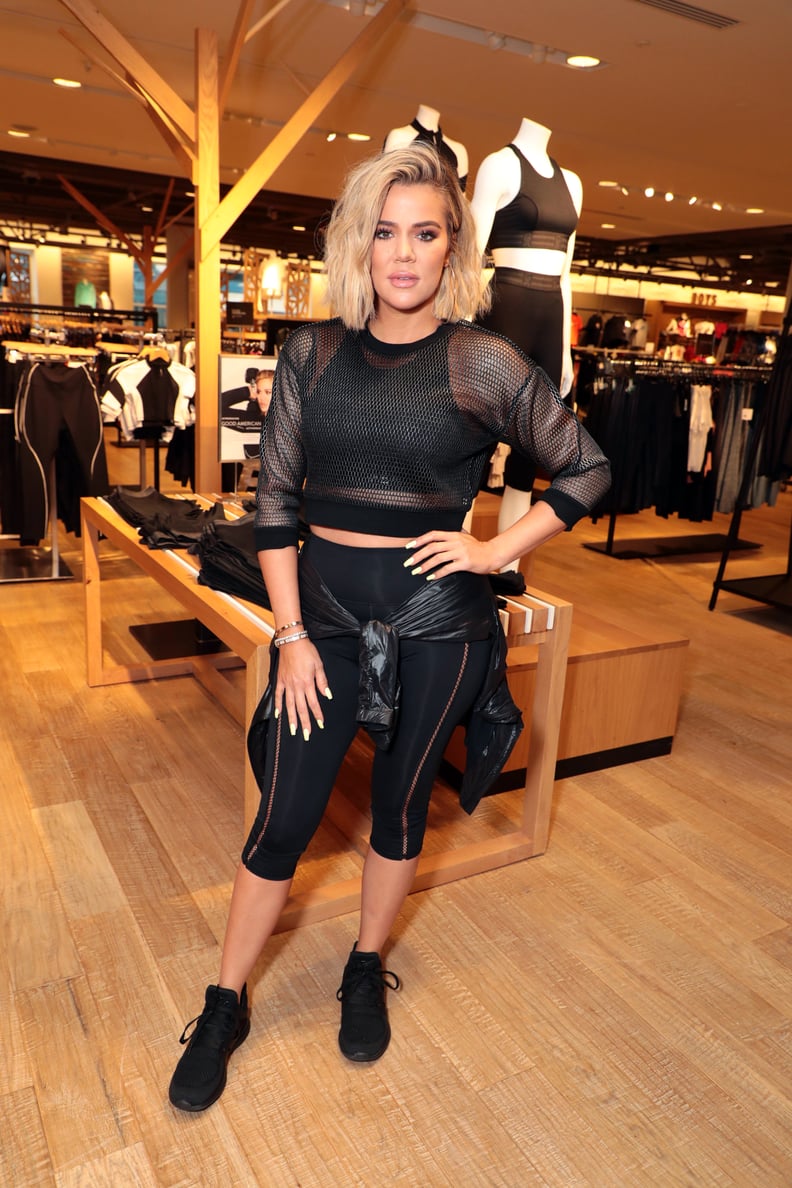 What You Wear Makes All the Difference
Your outfit can determine how good your workout will be — not only in terms of your comfort level and performance, but also how confident you'll feel. This workout was the perfect opportunity to put the Good American pieces to the test, and they did not disappoint.
"Each piece was really intentionally designed," Khloé said. "It was important that we were accounting for all the small details that make the line super cute, but also thinking about them and constructing each and every piece to ensure they perform as well." Sure enough, the pieces feature standout details like mesh or lace cutouts that look stylish at first glance, but as Khloé explained, they're placed very intentionally to help with ventilation during your workouts.
"Our fabrics feature a variety of properties you'd want in your workout gear: four-way stretch, compression, UV protection, and moisture-wicking materials," Emma added.
Here, Khloé is wearing the reflective sports bra ($65), the mesh crop leggings ($109), and the parka ($149).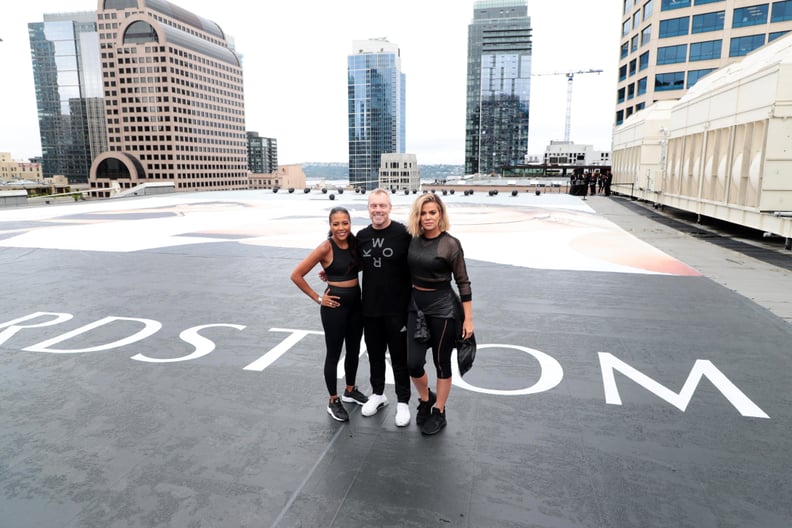 Low-Impact Helps Achieve Big Effects
With Gunnar at the helm, I knew an intense workout was in store. But what I didn't expect was how approachable it was — even for a beginner like myself. The workout consisted of an efficient 30-minute set of easy-to-execute, low-impact moves (think jumping jacks and side steps) perfect for getting your heart rate up.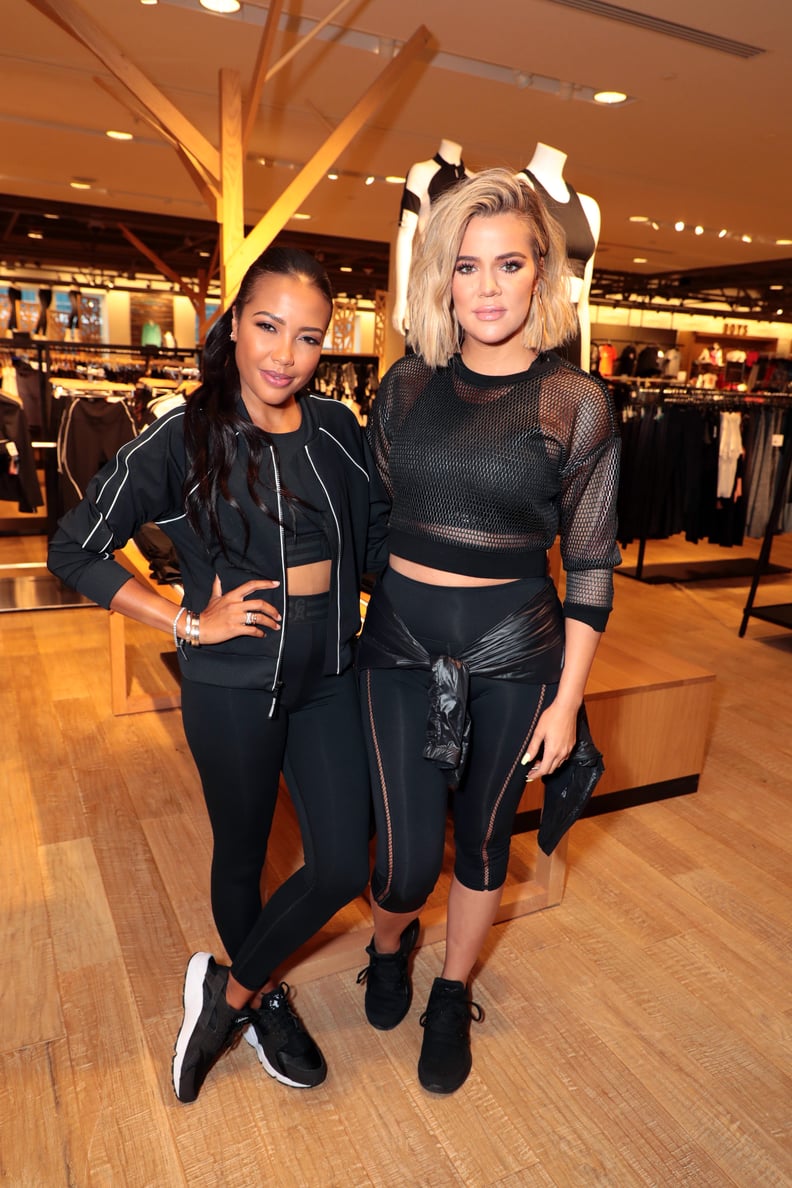 Working Out Is About More Than Just Exercise
For both Khloé and Emma, fitness isn't just about the physical results they experience — it's also about the mental boost that comes from taking some necessary me time.
"It's important to dedicate time for yourself during busy days," Emma said. "For me, and I know the same goes for Khloé, working out just makes us feel better mentally. It's a time to decompress and focus on yourself."
"Fitness is totally about the mind, body, and spirit for me," Khloé agreed. "I think that's the one thing that people get wrong — they assume working out is just to help with your size and shape, but really it's a time in my day where I can just focus on myself."