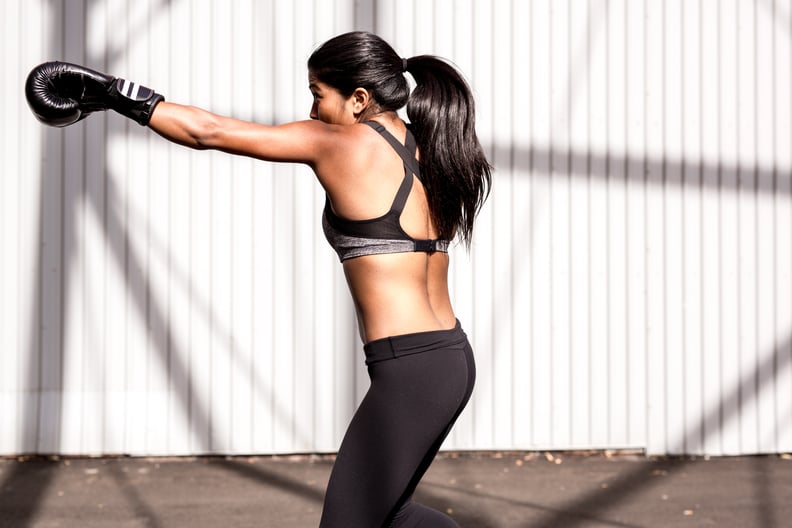 Getty | Weekend Images Inc.
If you have 45 minutes to spare, that's great — but in as little as five minutes you can knock out some stress with swift uppercuts, side hooks, and powerful kicks.
Kickboxing's high-energy mix of cardio and strength-training moves get my endorphins going as I punch my way to a better mood. That's why I keep kickboxing YouTube workout videos (of all levels and lengths!) bookmarked for when I'm on the brink of an anxiety-induced tension headache.
My five favorite kickboxing finds below are especially satisfying as they require zero equipment, which means there's one less thing in the way of fighting off negative energy.
5-Minute Cardio Kickboxing Workout With Katie Yovin and Rebecca Louise
Trainer and Burn app founder Rebecca Louise and fitness influencer Katie Yovin teamed up to prove that it only takes five minutes of squats, punches, and kicks to breathe heavily and feel great.
10-Minute Cardio Kickboxing Workout Legs and Butt With Love Sweat Fitness
By focusing on the biggest muscle in the body — the glutes — Katie Dunlop, an NCCPT-certified personal trainer and the creator of Love Sweat Fitness, is helping us burn more calories with just 10 minutes of toning and tightening.
25-Minute Kickboxing Cardio Interval Workout With Fitness Blender
Even during your rest periods, fitness influencer Kelli Segars encourages you to never stop moving throughout this jab- and kick-filled circuit. The video's calorie tracker will validate how effective the non-stop movement is in real time.
30-Minute Dance and Cardio Kickboxing Workout With POPSUGAR Fitness
ISSA-certified personal trainer Joseph D is combining kickboxing and dance moves for an energetic cardio workout that'll have you kicking, grooving, popping, and squatting through the burn.
45-Minute Epic Cardio Boxing Workout With POPSUGAR Fitness