I've Been Living Out of This Backpack For a Year, So You Can Trust When I Say It's Good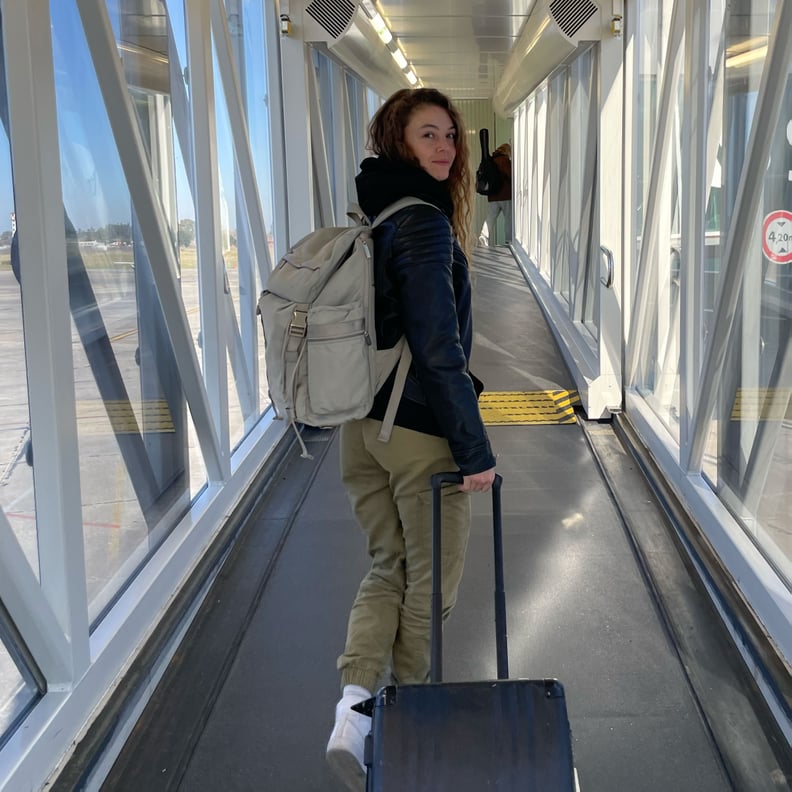 Lauren Mazzo
Lauren Mazzo
As POPSUGAR editors, we independently select and write about stuff we love and think you'll like too. If you buy a product we have recommended, we may receive affiliate commission, which in turn supports our work.
Backpacks endure a lot in their lifetime — getting dragged through trips, streets, trails, and gym locker rooms and crammed with way too much (sometimes wet, dirty, or stinky) stuff. And considering I've been living out of a carry-on suitcase and backpack for about two years now, I cannot understate the pressure that my backpack is under. My backpack is my bathroom medicine cabinet, my briefcase, my entertainment center, and my bookshelf. It's also my hiking backpack, my gym bag, my personal item, and my lunch bag. This thing has got to do it all — a seemingly impossible task for one bag.
Yet, somehow, I've found one that can take on the task: the Lululemon Wunderlust Backpack ($158).
I've had this Lululemon backpack for a little over a year now, and so far, it's been through 13 countries, more than 30 flights, and hikes in every type of weather, from the Arctic Circle in Norway to the "End of the World" in Tierra Del Fuego, Argentina. I've packed and unpacked it too many times to count.
So trust me when I say this backpack is the one. It can stand up to long hikes but also looks polished enough to take to the office. It can fit a hell of a lot of stuff yet still fits under an airplane seat (even when filled to the max). Its classic design means my husband doesn't mind carrying it for a while on long hikes (as you can see in the photos below). And even more importantly: it has a magnificent array of pockets.
If you are an avid traveler, have a lot of active hobbies, or just like a good backpack, keep reading for my take on why the Lululemon Wunderlust Backpack is simply the best.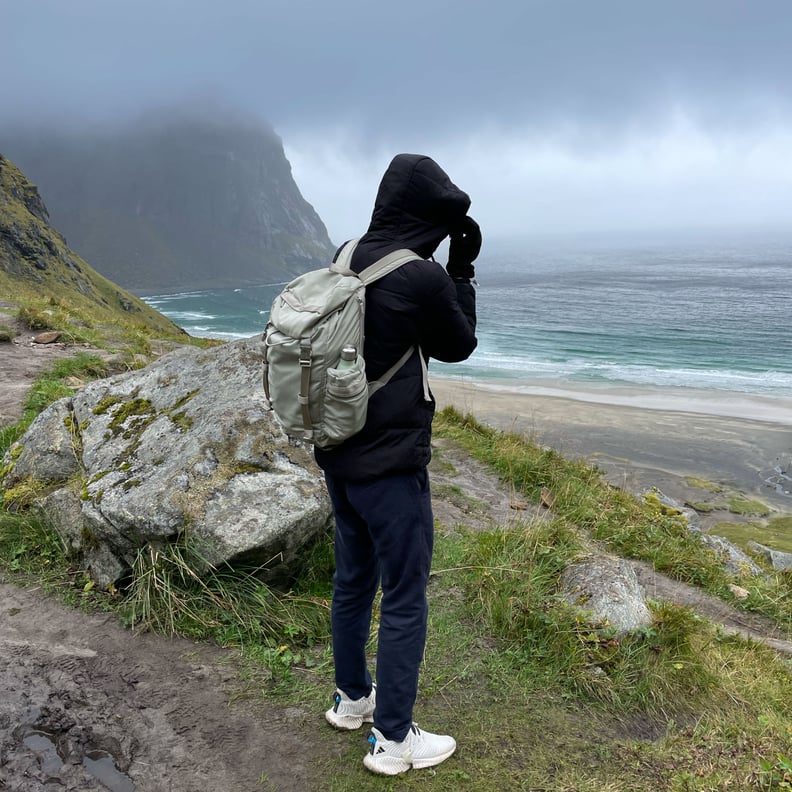 What I Like About the Lululemon Wunderlust Backpack
Most travel backpacks fall into one of a couple of categories: the super-intense nomad backpacks that look like a veritable turtle shell, cutesy carry-ons that don't fit much and suffice for vacationers only, or super-crunchy outdoor-adventure backpacks that can stand up to multiday backpacking trips. I need something in between, and this backpack fits the bill.
At 25 liters of volume, it can fit a LOT of stuff. For reference, my typical backpack load includes two books, a small notebook, a laptop, a bag of chargers, a case of toiletries, a pouch of miscellaneous personal-care items, a water bottle, an extra jacket, hand sanitizer, sunglasses, and a spare wallet. And because the main compartment closes with a drawstring, you can really push the limits of the amount of stuff you can cram in. For instance, if the gate attendants are being strict about the "two items only" rule, I can still fit my little crossbody purse inside my backpack in a pinch. Because of the drawstring and the adjustable buckles, it can also adjust to smaller loads — so if you're packing light for a day trip, you can physically downsize it versus carry around a big empty shell of a bag.
The trolley-compatible sleeve in the back is beyond helpful for slipping onto the handle of my carry-on so I have the option of either carrying it on my back or rolling it around (a must have for a travel backpack, IMO). And there's a padded zipper laptop pocket that you can access from the side — not through the main compartment. Take it from someone who treats TSA like a competition: this is huge if you are trying to be fast in the security line and don't want to rearrange your whole backpack to take out your laptop. Because it's padded and water repellant, I've also never worried about something happening to my computer while it's inside.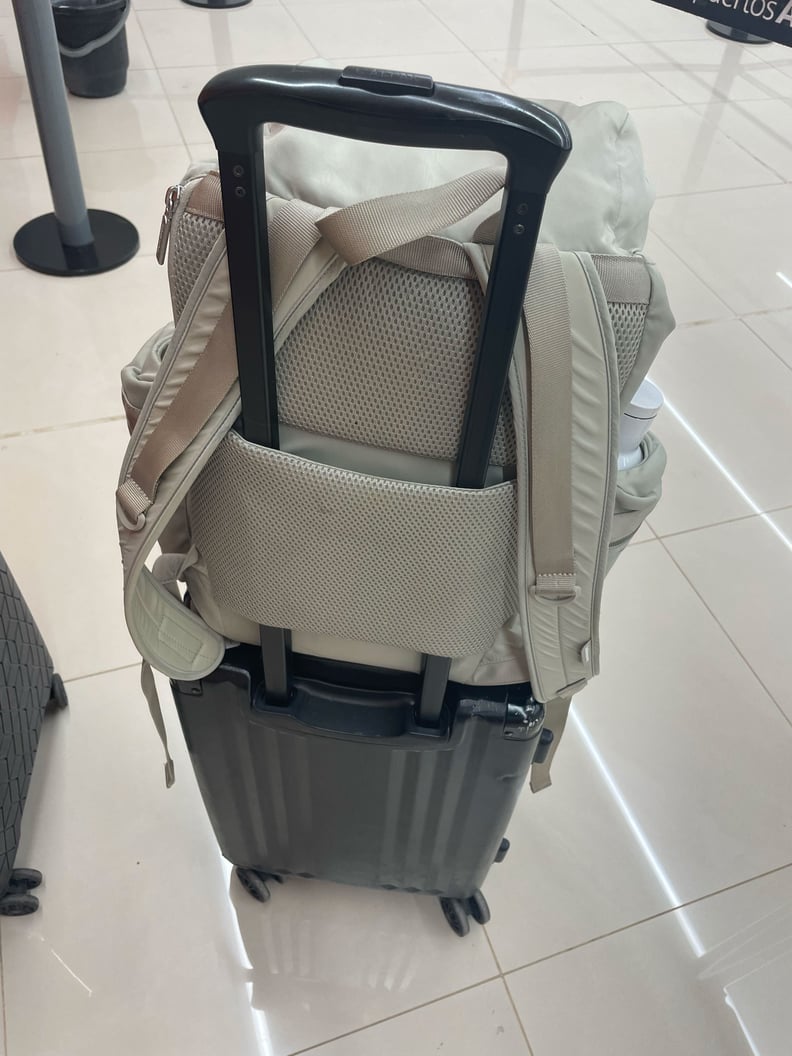 While it's not designed to be a hiking backpack first and foremost, the Lululemon Wunderlust Backpack has a lot of the features you need to hit the trail, like a padded back panel and straps, two easy-access water-bottle pockets, and water-repellant fabric. I have thoroughly tested that last feature: after getting caught in a surprise downpour while on top of a mountain in Brasov, Romania, I was soaked — but everything inside my backpack was perfectly dry. After that, I've never been nervous about getting caught in bad weather with this thing on, and it protects my stuff every time. I've comfortably worn this in all-weather hikes, from rain and snow to sweltering heat, and it's held up through it all (and has yet to smell, either).
An unexpectedly useful feature on this backpack are the tiny pockets on the outsides of the water-bottle sleeves. They don't fit much, but they're the perfect size to fit a phone charger for easy access or even to store trash when you're on a hike (remember: leave no trace!).
As for the other pockets, there's a small one inside the back of the main compartment that's perfect for stashing a few extra cards or some cash. (In case you haven't heard this yet: always split up your sources of money, so if you lose your wallet or purse, you don't lose everything. I learned this one the hard way.) There's another small pocket on the top of the backpack that's the perfect size for things like hand sanitizer or keys, and I've found it to be a great spot for sunglasses since they get crushed and will be easy to access when you arrive to your destination. Finally, there's a front envelope-like pocket with a snap closure that's perfect for thinner items like a notebook, passport, or book or even for keeping dirty laundry or a wet swimsuit separate from everything else (speaking from experience).
And despite how heavy I pack this thing (I can't even tell you how many cab drivers, hotel porters, family members, and friends have commented), this backpack shows no sign of tearing on any of the zippers, seams, or straps.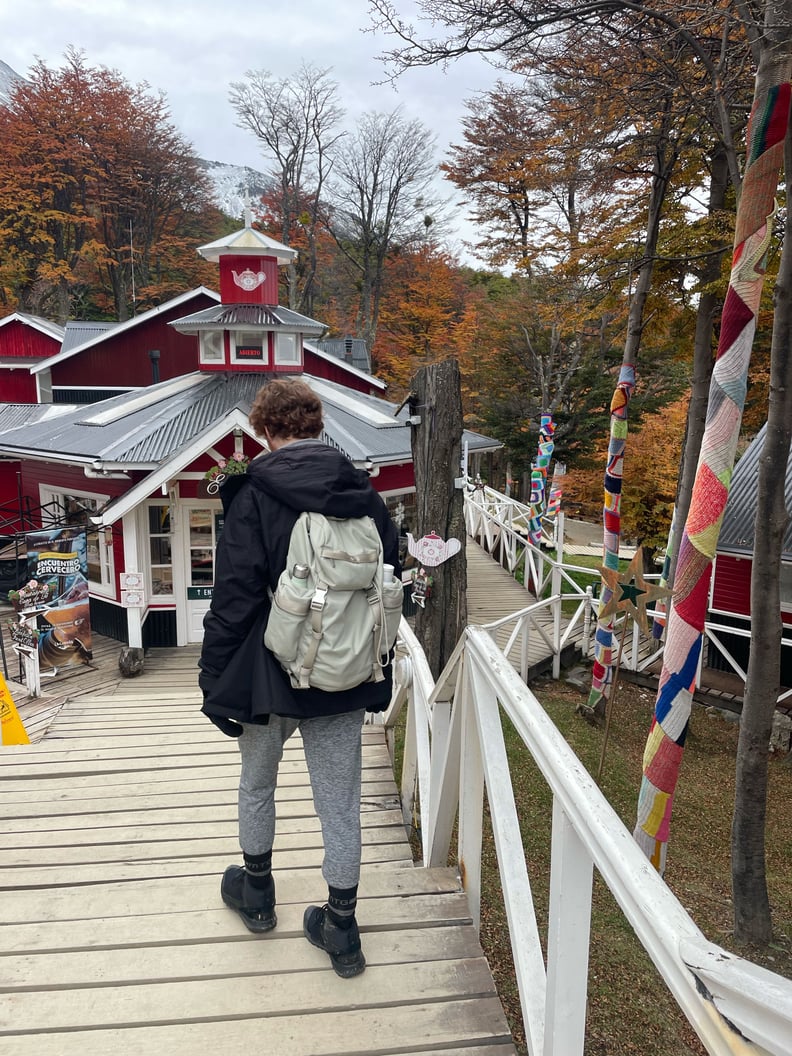 What's Worth Noting About the Lululemon Wunderlust Backpack
One of the only drawbacks I've found in my extensive use of this backpack is that the water-bottle sleeves are quite small. A 16-oz. Corkcicle bottle or Swell bottle will fit inside, but my other favorite water bottles (such as this giant Yeti or popular Hydroflask) don't.
I also chose the Raw Linen colorway, even though I knew it would get dirty. And it has, though not nearly as much as you might expect from all the travel and outdoor adventuring I've done with it. And that's truly lucky, because this thing is spot-clean only (another drawback).
Who the Lululemon Wunderlust Backpack Is Best For
While my personal needs are quite unique, I think this Lululemon backpack makes the perfect all-in-one backpack for anyone who likes to be active when they travel — someone who might need a backpack for a hike or day outside or even to hit the gym but doesn't want a backpack that screams "crunchy." You could equally use this backpack for day-to-day running around, especially if you need to change outfits a few times or bring a laptop or tablet with you.
Additional Details
Color options: Nomad (a camel-ish color), True Navy, Black, and Raw Linen (the one I have).
Dimensions: 14.2" x 6.1" x 20.1"
Laptop pocket: Fits up to a 16" laptop. I can fit my 13-inch laptop inside with a thin sleeve case on it.
Where Is the Lululemon Wunderlust Backpack Available?
The Lululemon Wunderlust Backpack is available on lululemon.com.
Rating
★★★★★