10 Carry-On Bags Every Jet-Setter Should Own, According to Our Editors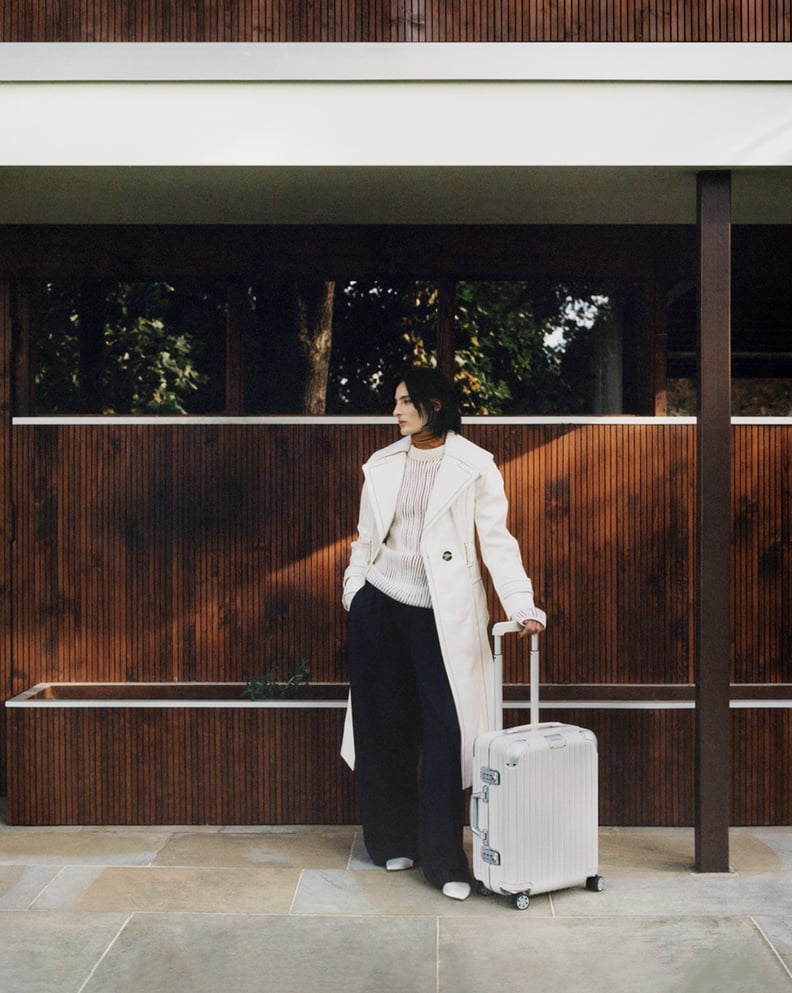 Rimowa
Rimowa
As POPSUGAR editors, we independently select and write about stuff we love and think you'll like too. If you buy a product we have recommended, we may receive affiliate commission, which in turn supports our work.
If you're anticipating a busy season of fall travel, you'll want to make sure that you have a good suitcase on hand that will keep you feeling supported and organized — regardless of where your next flight takes you. Airports are busier than ever these days, and with so many people having issues with lost luggage at baggage claim, we prefer to keep our packing light with carry-on bags and personal items. When shopping for the best carry-on luggage, oftentimes the biggest challenge is simply finding a silhouette that has all of the right features and that's durable enough to really last. Your needs will likely vary depending on your trip and travel style, so there are a couple of things to consider before making your next investment — especially concerning size, material, and brand.
What to Consider When Shopping For Carry-On Luggage
With so many different types of luggage sets on the market, it can be overwhelming trying to determine which model is best for you. If you're a business traveler, you might prefer carry-on luggage with pockets because these pieces will help you keep your useful gadgets more organized. Whereas if you're someone who often finds yourself jet-setting off on high-intensity adventures, you'll likely want a hard-side carry-on that's durable enough to keep up with you and your sporty lifestyle.
Whether you're traveling internationally, spending time with family, or have tight connections and don't want to wait for a checked bag, a high-quality piece of carry-on luggage is such a worthwhile investment. Ahead, you can find 10 top-rated picks that will make your next trip more organized — and even stylish. No matter if you're looking for something lightweight and easy to carry or you want a designer piece that's more of a splurge, there's an option that will fit your needs. From brands like Monos, Paravel, Rimowa, or even an Amazon bestseller, there are plenty of price points to shop, so everyone can find their new favorite. Take a look at our top picks for the best carry-on bags ahead, and get ready to fly!
— Additional reporting by Krista Jones and India Yaffe
01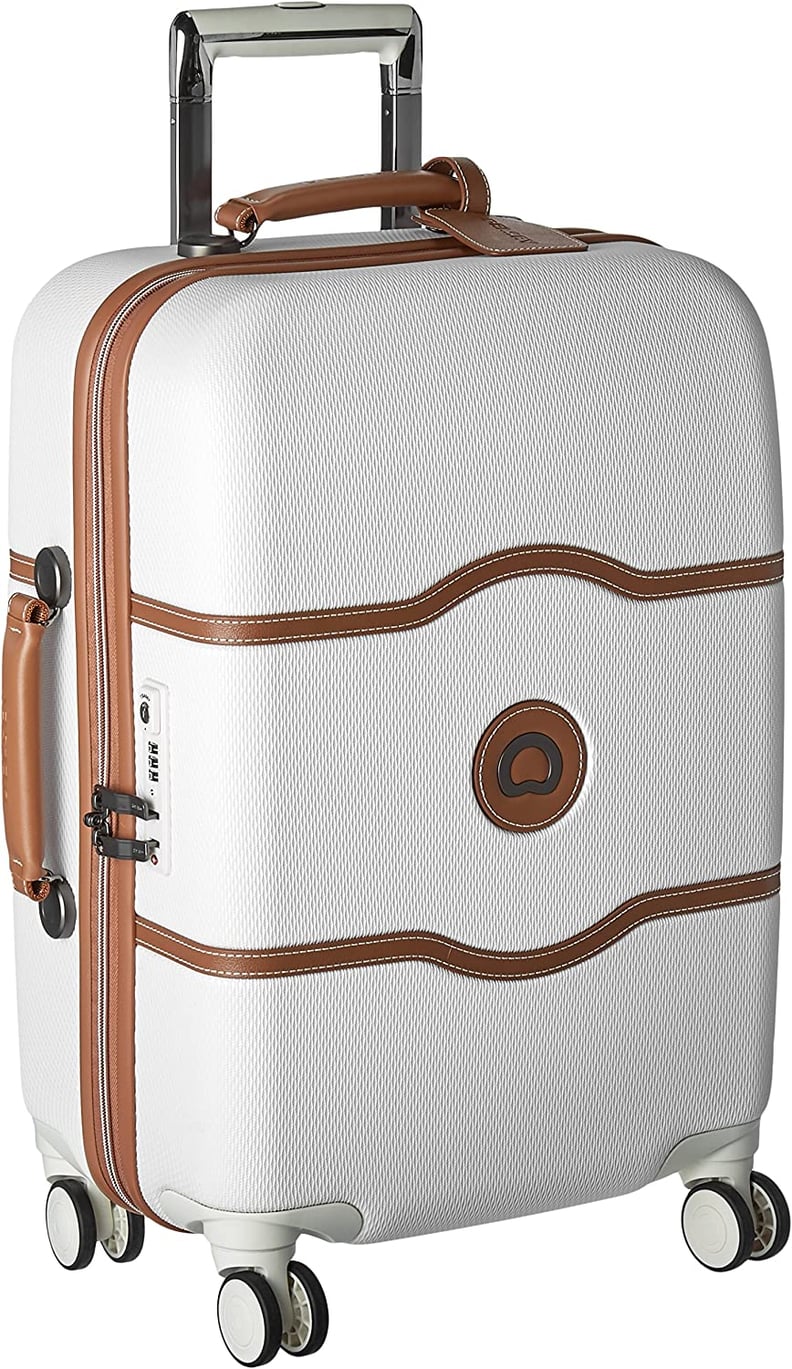 Best Carry-On Luggage For International Travel
Delsey Paris Chatelet Hardside Luggage ($201, originally $321)
This Delsey carry-on looks so luxurious, no one would guess you bought it from Amazon. This pretty style can be at your door super quickly thanks to Amazon's fast shipping options, making it ideal for those spontaneous trips where you're in a time crunch and need a new suitcase ASAP. One editor also said the model was so spacious, she even took it as her sole luggage on a two-week trip to Europe in this review of the Delsey Paris Chatelet Hardside Luggage.
02
Best Affordable Carry-On Luggage
iFLY Hardside Luggage Fibertech 20" Carry-on Luggage ($88)
This iFLY Hardside Luggage proves that you don't need to dish out a ton of money in order to get a quality suitcase. The durable carry-on has more than 37,000 near-perfect reviews on Walmart's website, with shoppers all raving about the product's sturdy build, practical interior compartments, and sleek design. With an under-$100 price tag, you really can't beat this model's affordability. Best of all, it's also a POPSUGAR editor-favorite. Read our review of the iFly Hardside Luggage to see why.
03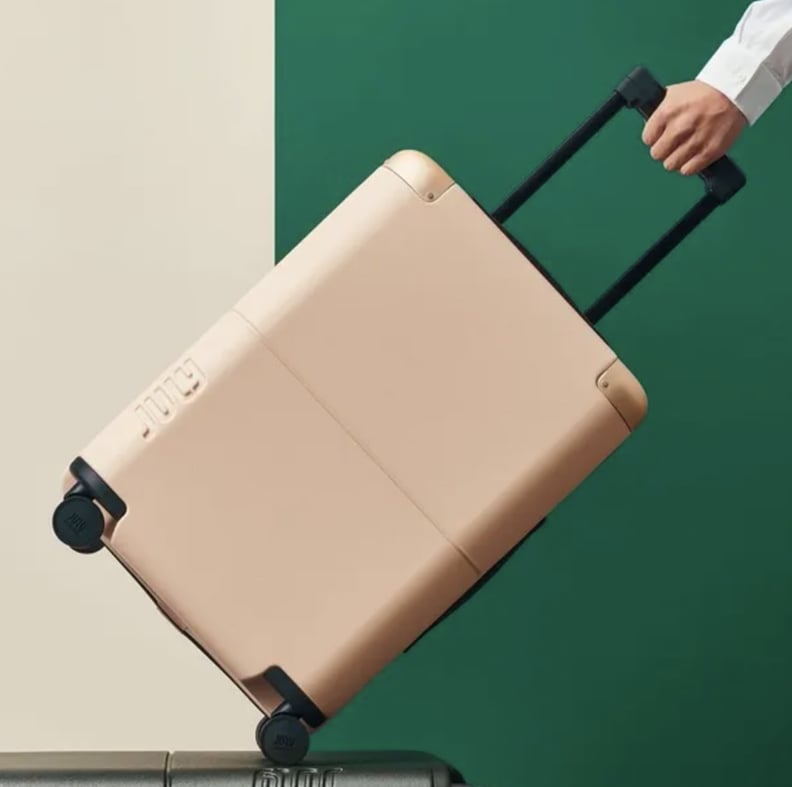 Best Lightweight Carry-On Luggage
July Carry-On ($295)
If you're looking for something lightweight, we suggest the July Carry-On, which is a POPSUGAR editor favorite. The crush-proof German shell is sturdy, yet light, and it also has an ejectable battery that'll keep your phone charged. It's available to shop in 13 colors, so you'll be sure to find your new favorite. Plus, it even comes with a hidden laundry bag, which is a lifesaver for trips of all lengths. For just $50, you can even get it monogrammed, which will certainly ensure you know which suitcase is yours. For more details, check out our full review of the July Carry-On.
04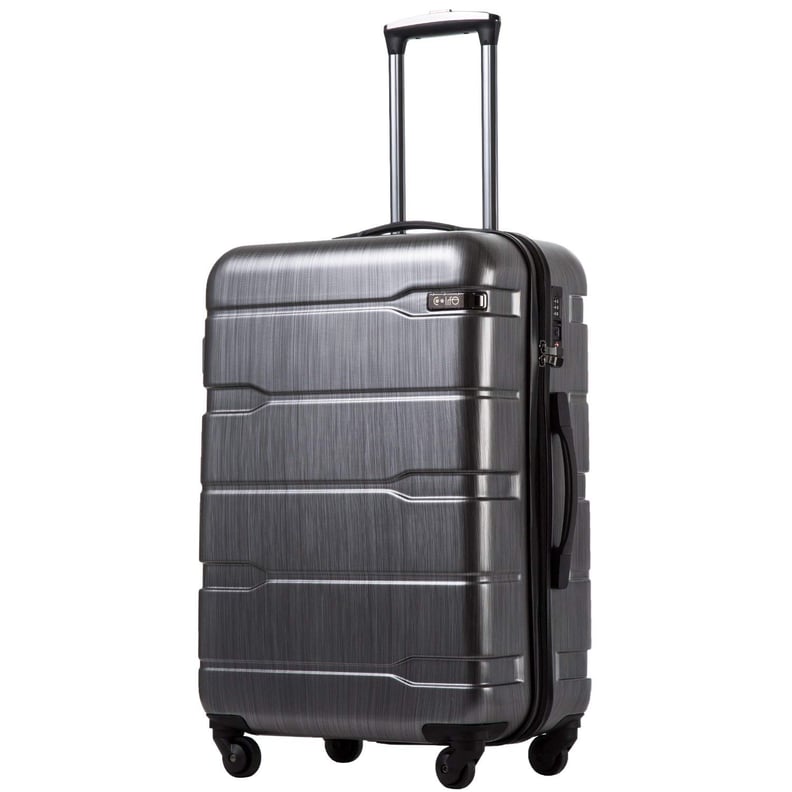 Best Expandable Carry-On Luggage
Coolife Expandable Suitcase ($80)
This expandable carry-on suitcase is one of Amazon's highest-rated luggage pieces, and features more than 10,000 positive reviews. If you want more than just a carry-on, this model also comes in two larger sizes, so you can stock up on the full set. This piece is a great bag for all types of family vacations; and since it comes in six different colors, each person can get their own shade, so everyone will know which bag belongs to them.
05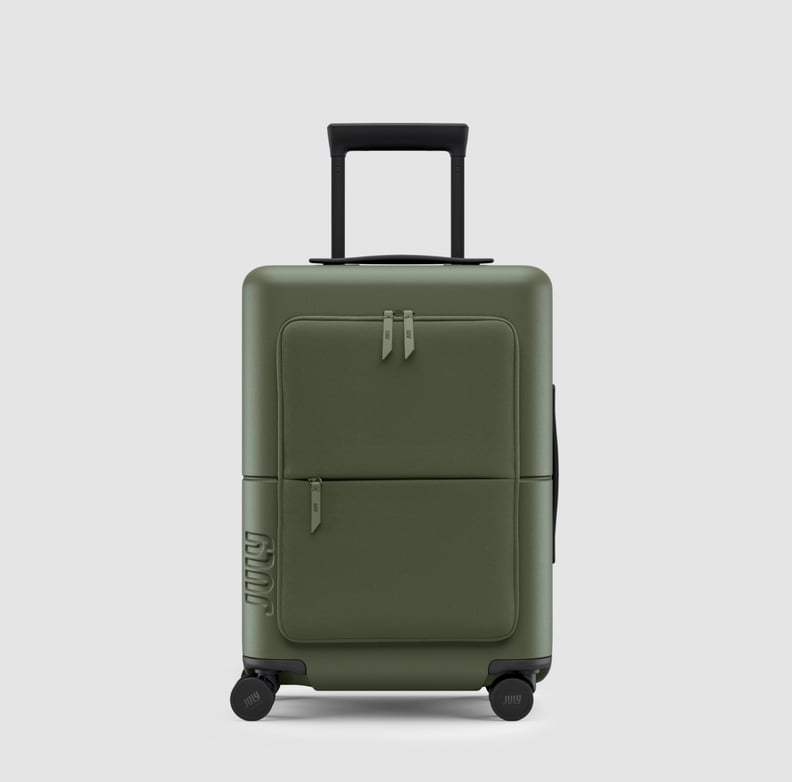 Best Carry-On Luggage With Pockets
July Carry On Luggage With Pockets ($325)
Whether you're a frequent business traveler or just someone who prefers to keep their tech with them at all times, this carry-on suitcase features practical front pockets that are ideal for those looking to keep their laptops, iPads, or even headphones organized while flying. Unlike other hard side carry-ons, this model features external zippered compartments to help you stow away any extra items you might not want in your personal carry-on bag during the flight. Plus, one POPSUGAR editor said the product's design made getting through airport security "a breeze," in this review of the July Carry-On Luggage with Pockets.
06
Best Rolling Carry-On Luggage
Paravel Aviator Carry-On Plus ($425)
Made from mostly recycled materials, the Paravel Aviator Carry-On Plus is the reliable luggage you've been waiting for. It's sleek and lightweight, with a ton of useful features. We love its classic look, and it's available in a handful of colors, with a unique option to monogram the product for an additional $50. If you're traveling internationally and want something smaller, you can also try the Aviator Carry-On ($395). It's an editor favorite, and you can read our review of the Paravel Aviator Carry-On to learn more.
07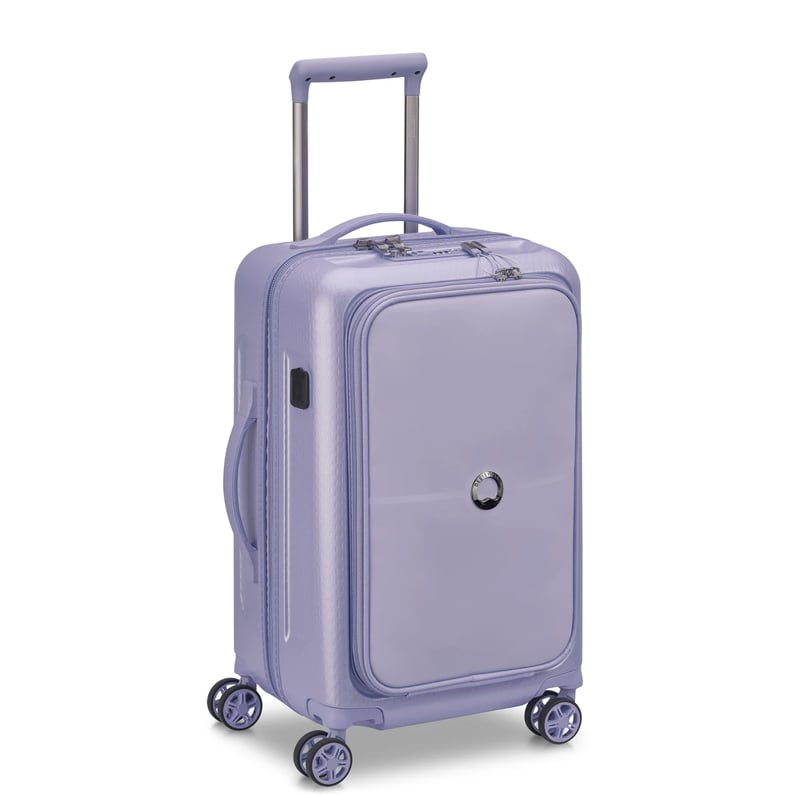 Best Spinner Carry-On Luggage
Delsey Turenne 21" Spinner Pocket Carry-On ($350)
Navigating through a busy airport can feel like enough of a challenge — especially after a long travel day. But with this top-rated spinner carry-on suitcase, you'll have no problem weaving your way through even the longest security and boarding lines. We love the product's sleek design and that it features a practical zippered compartment on the front. Full-motion wheels give it the ability to move around in any and every direction. One POPSUGAR editor called it the "ultimate summer travel essential" in this review of the Delsey Turenne Spinner Pocket Carry-On.
08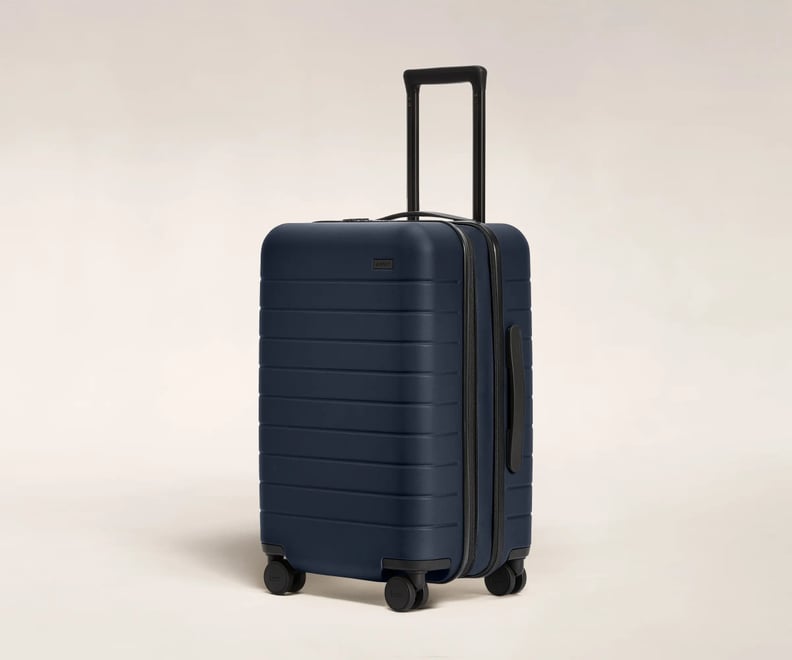 Best Large Carry-On Luggage
Away Carry-On Flex ($325)
The bestselling Away Carry-On Flex is an internet favorite. While it comes in a classic model, the brand also has this handy expandable option. It's a smart choice for a weekend trip — if you buy something, you'll have room to bring it back. This bag would be considered a carry-on when not fully expanded, but if you were to utilize the feature, some airlines may require you to check the bag. Learn why one POPSUGAR editor called this product the "one suitcase she can't live without" in this Away luggage review.
09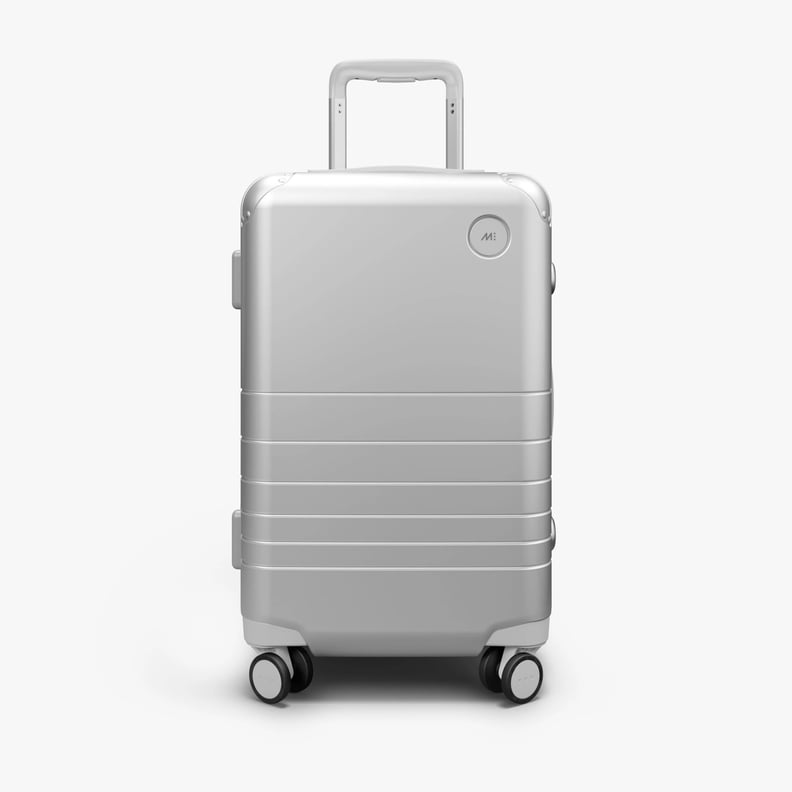 Best Hardside Carry-On Luggage