Try 1 of These 4 Meditation Techniques in Bed to Help You Instantly Fall Asleep
If you have a hard time quieting your body and the racing thoughts in your mind when it's time for bed, you can use your breath to help you unwind. Try these four mediation techniques that you can do in your pajamas while tucked under the covers in your bed. They're easy, even if you've never meditated before in your life. The best part is that within a few minutes, you'll feel calmer and ready to drift off to dreamland.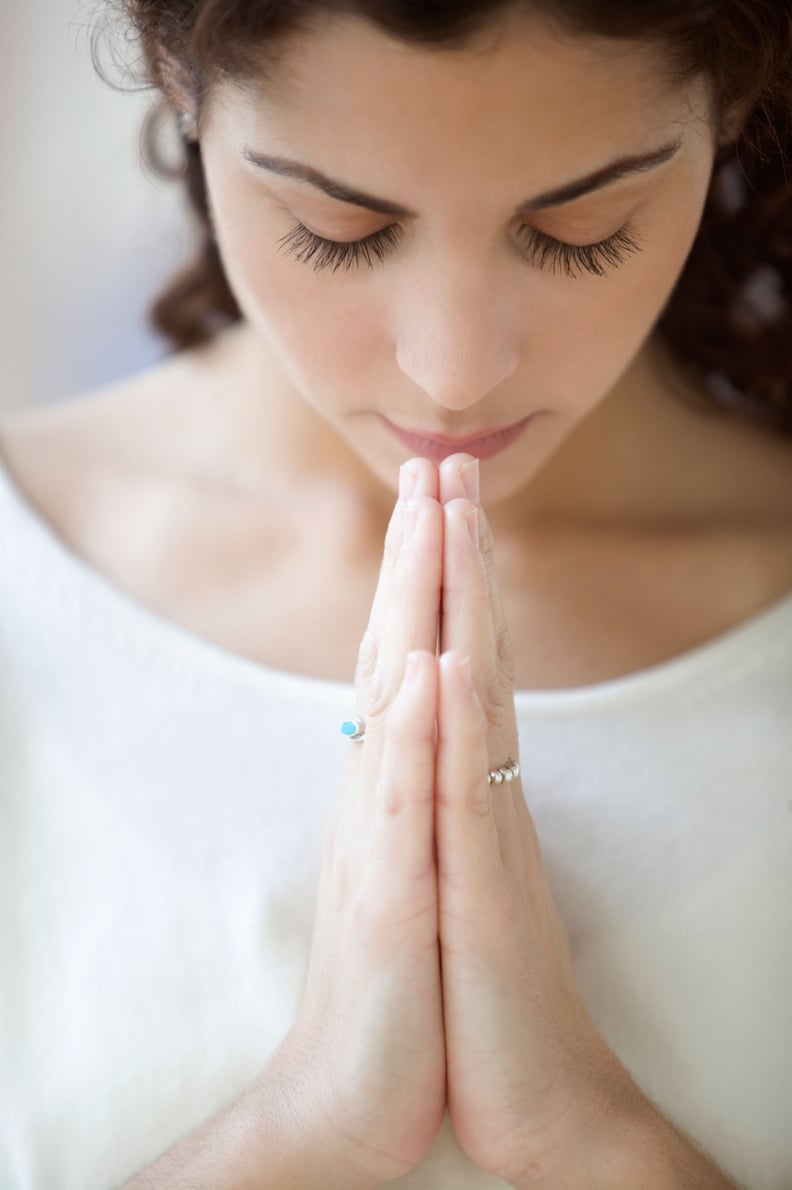 Word Meditation
Think of two words that are meaningful to you, that will make you feel calm yet inspired. Close your eyes, and as you inhale slowly, think the first word in your head. As you exhale slowly, think the second word in your head.
For example: inhale "gratitude," exhale "kindness," or inhale "love," exhale "peace." Just keep breathing deeply, thinking these words to yourself. If your mind starts to wander, just come back to the breath and back to these two words.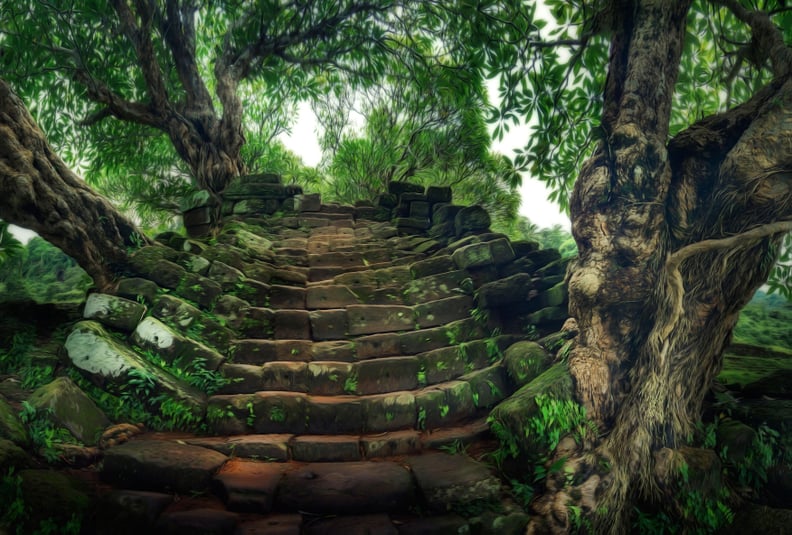 Stairs Meditation
Close your eyes and picture a staircase. It can be in a forest, near the ocean, or in the clouds — a place that makes you feel calm and at ease. As you take a deep breath in, imagine yourself slowly climbing up the stairs, counting, "1 . . . 2 . . . 3 . . . 4 . . . 5." Then imagine yourself slowly stepping down, "5 . . . 4 . . . 3 . . . 2 . . . 1."
Keep breathing slowly, feeling your chest rise and fall with each breath. This is a great meditation to do if your thoughts tend to bounce around before bed. Focusing on stepping up and down the stairs occupies your brain enough to quiet the mind.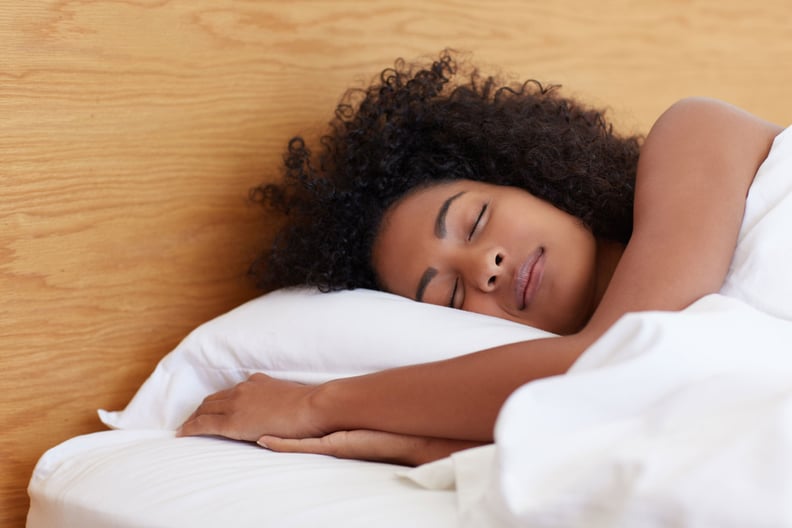 Breath Holding Meditation
Part of the practice of yoga involves pranayama, which is the practice of controlling the breath. This technique is easy to do, and works quickly to relax the body and mind.
Inhale for a count of five, hold your body full for a count of five, exhale for a count of five, and hold the body empty for a count of five. Keep repeating this rhythm, focusing on breathing slowly and deeply.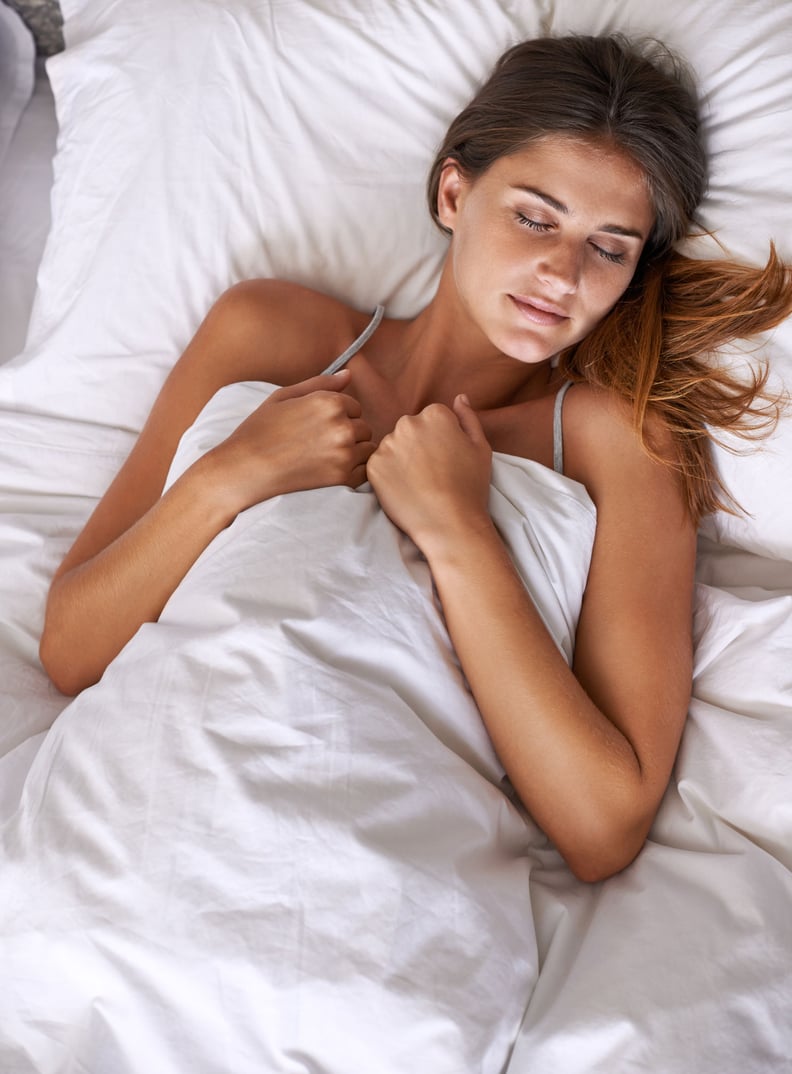 Chakra Meditation
This is a great meditation that uses the chakras as a visual to help you relax the body and mind. Each inhale and exhalation corresponds to a different chakra, beginning with the root chakra at the pelvic floor, and moves up the spine to the crown chakra at the top of the head. Even doing this one time through will leave you feeling calmer and more connected to your body.
Inhale pelvic floor
Exhale lower belly
Inhale lower belly
Exhale sternum
Inhale sternum
Exhale heart center
Inhale heart center
Exhale throat
Inhale throat
Exhale third eye
Inhale third eye
Exhale crown of head
Inhale crown of head
Exhale third eye
Inhale third eye
Exhale throat
Inhale throat
Exhale heart center
Inhale heart center
Exhale sternum
Inhale sternum
Exhale lower belly
Inhale lower belly
Exhale pelvic floor