Moderna Says Its COVID-19 Vaccine Is 94.5 Percent Effective
Moderna's COVID-19 Vaccine Is 94.5% Effective and May Start Rolling Out in December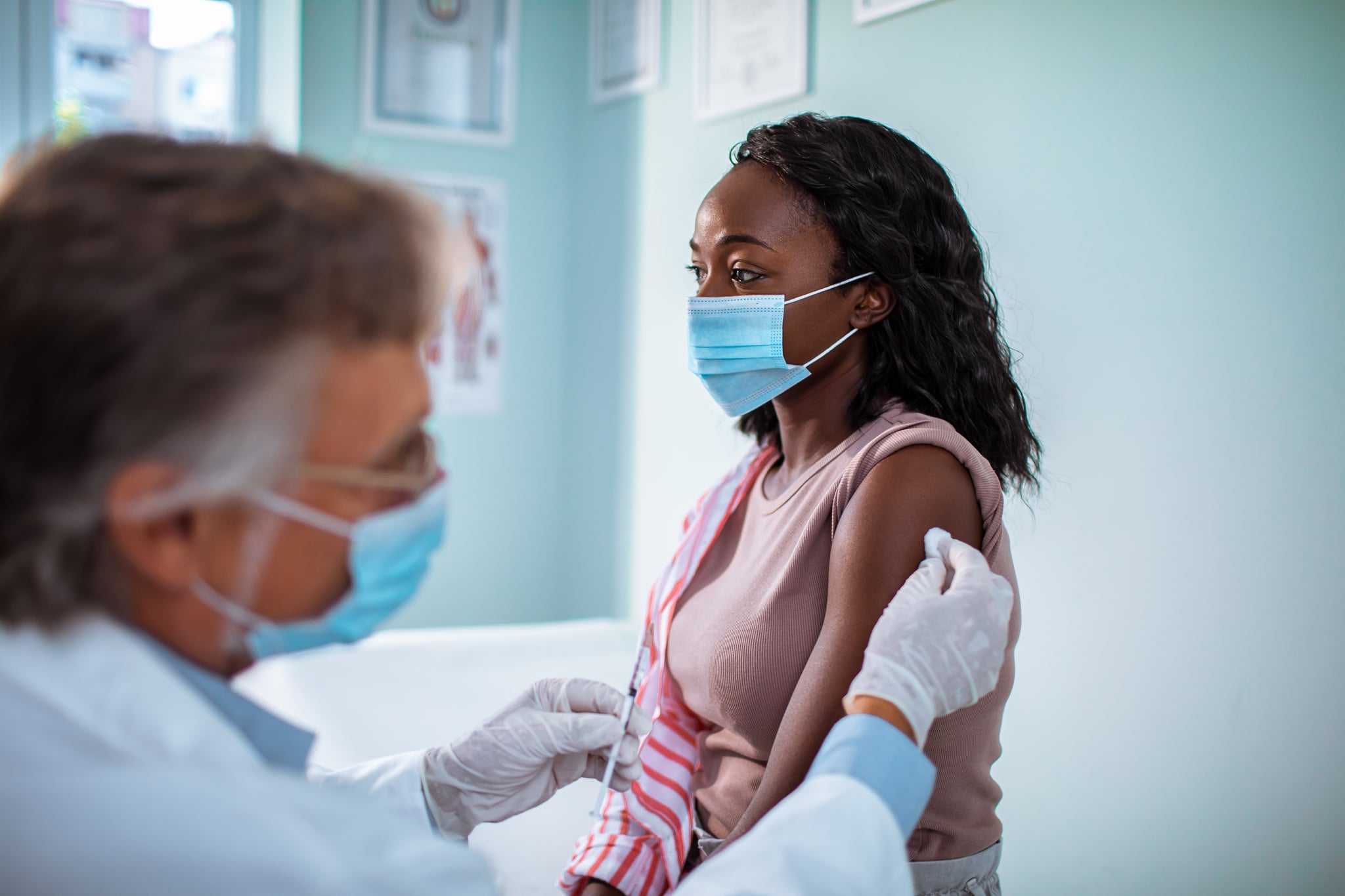 According to company data, drug maker Moderna announced on Nov. 16 that during phase 3 of testing, its COVID-19 vaccine is 94.5 percent effective. This makes Moderna the second company to report preliminary results with such a high success rate. This news comes a week after Pfizer, in collaboration with BioNTech, announced that their COVID-19 vaccine is over 90 perfect effective, later updating that number to 95 percent following an updated analysis.
The Moderna vaccine study enrolled more than 30,000 US participants. According to Moderna's press release, it was a randomized, 1:1 placebo-controlled study testing mRNA-1273, a type of messenger RNA made of a synthetic version of coronavirus genetic material, at the 100 µg dose level. According to CNN, both Pfizer and Moderna's vaccines use the same mRNA technology to create their vaccines, which is why they're showing similar efficacy results.
Half of the Moderna vaccine participants got two doses of the vaccine 28 days apart, and half got two shots of a placebo on the same schedule. Among the study participants were 95 instances of COVID-19 illness — 90 were in the group receiving the placebo and only five cases were in the vaccinated group. Of the 90 cases, only 11 were severe.
There were no reported safety concerns regarding the vaccine, and Moderna stated that it seemed to be "well tolerated." Some participants reported mild side effects including pain or redness at the injection site, fatigue, fever, muscle and joint pain, and headaches.
Anthony Fauci, MD, director of the National Institute of Allergies and Infectious Diseases, said in an interview on Today that these results are very impressive, and "now we have two vaccines that are really quite effective."
When Will the COVID-19 Vaccines Become Available?
Dr. Fauci projects that both Pfizer and Moderna's vaccines should become available to high-risk individuals by December, and to the general public by spring 2021, but warns that "the virus is not going to stop and call a time out." Help is on the way, which should encourage us even more to continue the necessary health precautions we've already been taking such as wearing masks, social distancing, and washing hands. Moderna CEO Stéphane Bancel echoed this message at the Bloomberg New Economy Forum on Nov. 19, explaining that the vaccine is "not a silver bullet . . . we need surveillance to be stronger. We need public health measures."
One issue brought up by the New York Times is how long immunity will last with these two vaccines. The Moderna vaccine study also didn't include children. Additional concerns are the low temperatures in which both vaccines need to stored — minus four degrees Fahrenheit for Moderna, and minus 94 Fahrenheit for Pfizer. This makes distribution of the vaccines a little more difficult, particularly to low-income areas in hot climates.
How Do the Moderna and Pfizer Vaccines Compare?
As mentioned above, both vaccines are made with a new technology using a type of messenger RNA made of a synthetic version of coronavirus genetic material. This means neither are made using live cells, like chicken eggs or mammalian cells, which means they're also manufactured faster. Both vaccines are administered in two doses, and as far as storage, Moderna's vaccine will last 30 days in the refrigerator, while Pfizer's only lasts five days, according to CNN. Moderna added that its vaccine will last 12 hours at room temperature. In the New York Times article, Dr. William Schaffner, an infectious disease expert at Vanderbilt University, said the relative ease of handling the Moderna vaccine would give it a big advantage over Pfizer's.
Both Pfizer and Moderna said they expected to apply within weeks to the FDA for emergency authorization to begin vaccinating the public. Moderna said it would have 20 million doses ready by the end of 2020 and Pfizer said it would have about 50 million by then. Since both vaccines require two shots, 20 million doses would be enough for 10 million people. This news is certainly hopeful, but as Dr. Fauci recommended, we should continue to do what we can to prevent the spread of the disease until these vaccines actually become available to everyone.