Watch Mya Hooten's 2022 Gymnastics Floor Routine
Mya Hooten's Floor Routine Sends a Powerful Message — and It Will Give You Chills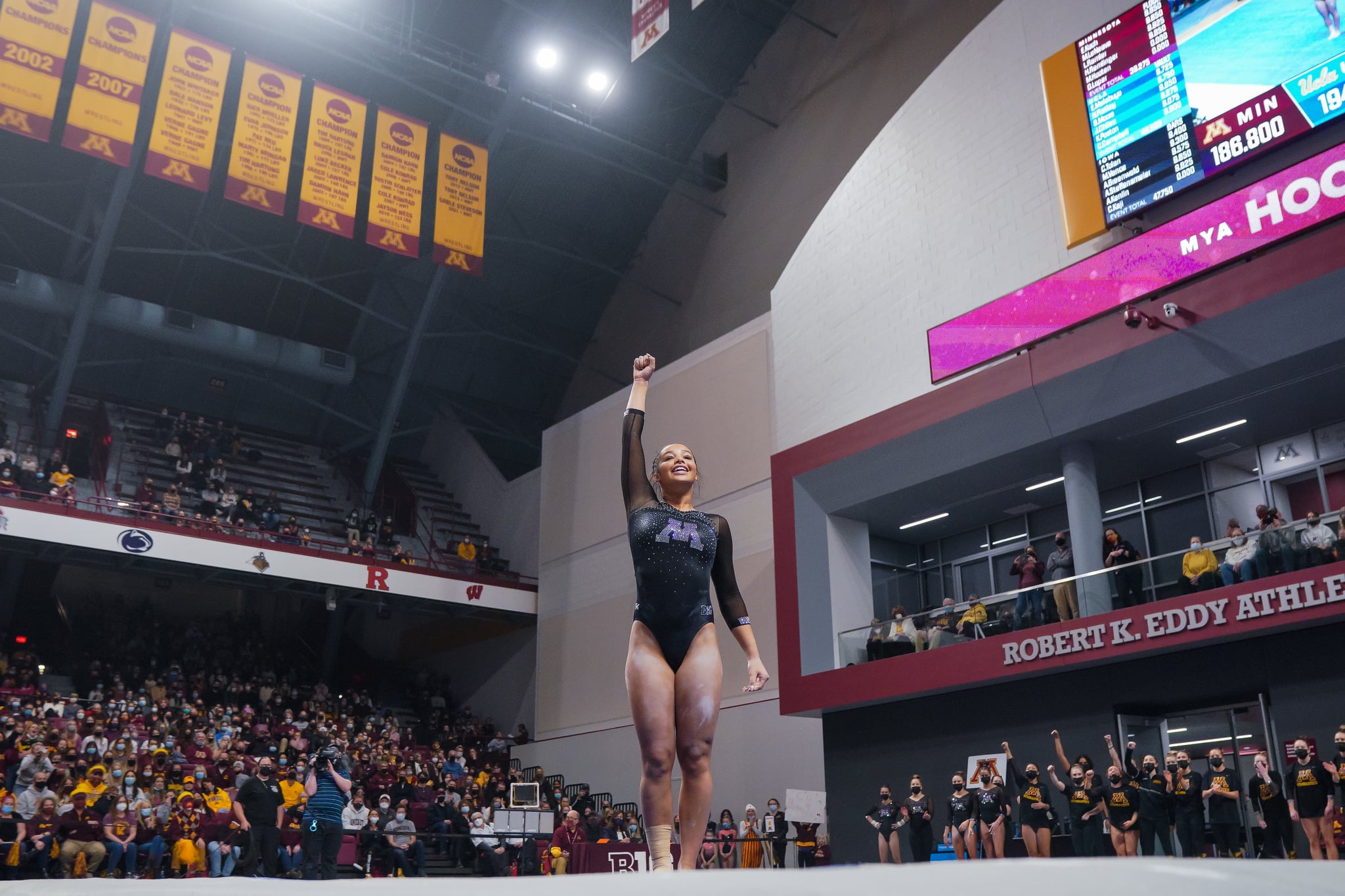 Image Source: Brad Rempel / University of Minnesota
Last year, Mya Hooten became the first athlete in University of Minnesota women's gymnastics history to score a perfect 10 on floor. Then, this year on Jan. 25, the sophomore did it again, scoring another perfect 10 with a floor performance set to music from Beyoncé's "Homecoming." And just today, the 19-year-old performed the routine in competition for the final time this season during the first semifinal round of the NCAA Gymnastics Championship. The music is fun and full of life, and even more importantly, the choreography holds a powerful message.
The dance sequence after her second tumbling pass (a front handspring to a front full and a front pike) carries a lot of meaning, Hooten tells POPSUGAR. After she lands the pass, she pushes away to signify combating hatred that the Black community faces, and she moves her hands to cover her mouth "because sometimes we don't have a voice." Then, you see her get down on her knee with her hands behind her back and seemingly struggle against an unseen force. This specifically signifies the act of getting arrested, she says, adding, "and I'm breaking the chains . . . and I'm free." Finally, she hits her chest and proudly pauses with her fist in the air — which pulls a roar from the crowd every time she performs.
"I want people to see how much I care about what's all happening and that I'm still standing strong — that we're all standing strong," Hooten says, who was inspired by former NCAA gymnast Nia Dennis, who used her floor routines in 2020 and 2021 to pay tribute to Black culture.
Hooten scored a 9.9500 today, finishing second in floor behind Oklahoma's Jordan Bowers. Unfortunately, Minnesota didn't qualify for the finals, so they won't compete in the finals on Saturday. (If you want to watch it anyway, you can catch it at 1 p.m. ET on ABC.)
Luckily, you can still watch videos of Hooten's powerful floor routine from the NCAA Championships in full, just ahead.
Our queen. https://t.co/CMcjvv4hxb

— Minnesota Women's Gym (@GopherWGym) April 14, 2022
—Additional reporting by Lauren Mazzo