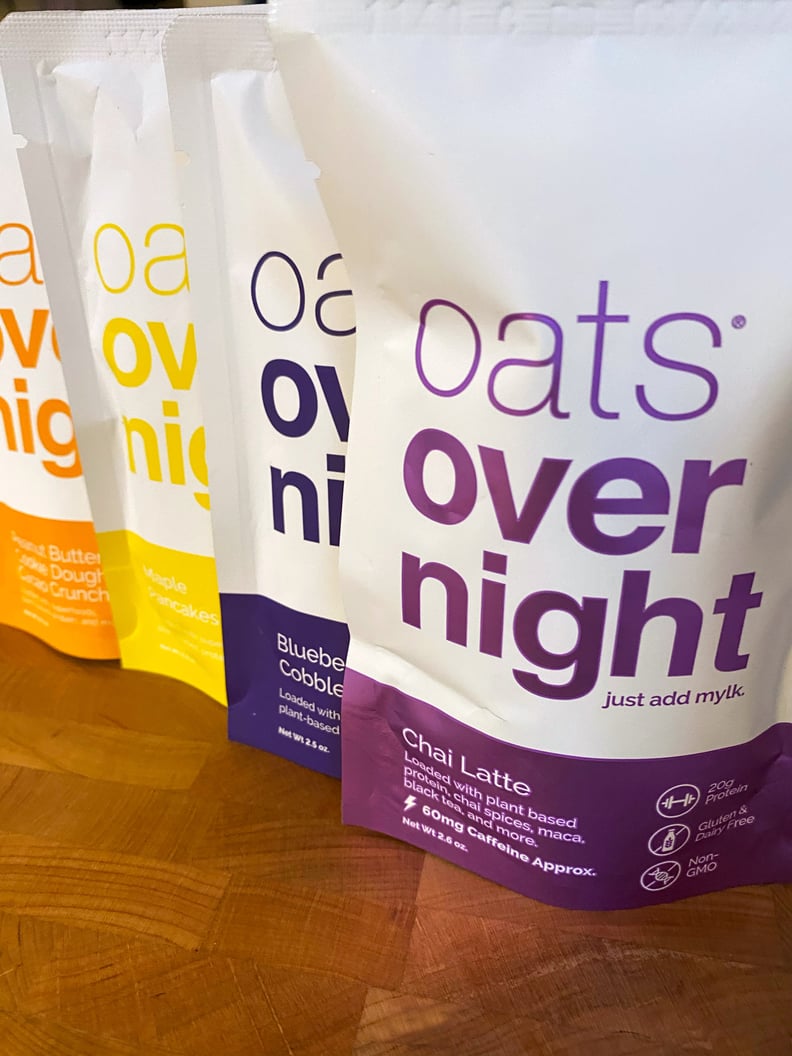 POPSUGAR Photography | Jenny Sugar
POPSUGAR Photography | Jenny Sugar
As POPSUGAR editors, we independently select and write about stuff we love and think you'll like too. If you buy a product we have recommended, we may receive affiliate commission, which in turn supports our work.
If you want a superquick, healthy, and hearty breakfast, but you want it to take less than one minute to prepare, check out Oats Overnight. All you need to do is dump these pre-made packets of overnight oats in a cup or jar, add milk, and breakfast will be waiting for you in the morning. It's so easy. They sent me the Dairy-Free Variety Packet, which is made with pea protein — but how do the flavors taste? Keep reading to find out.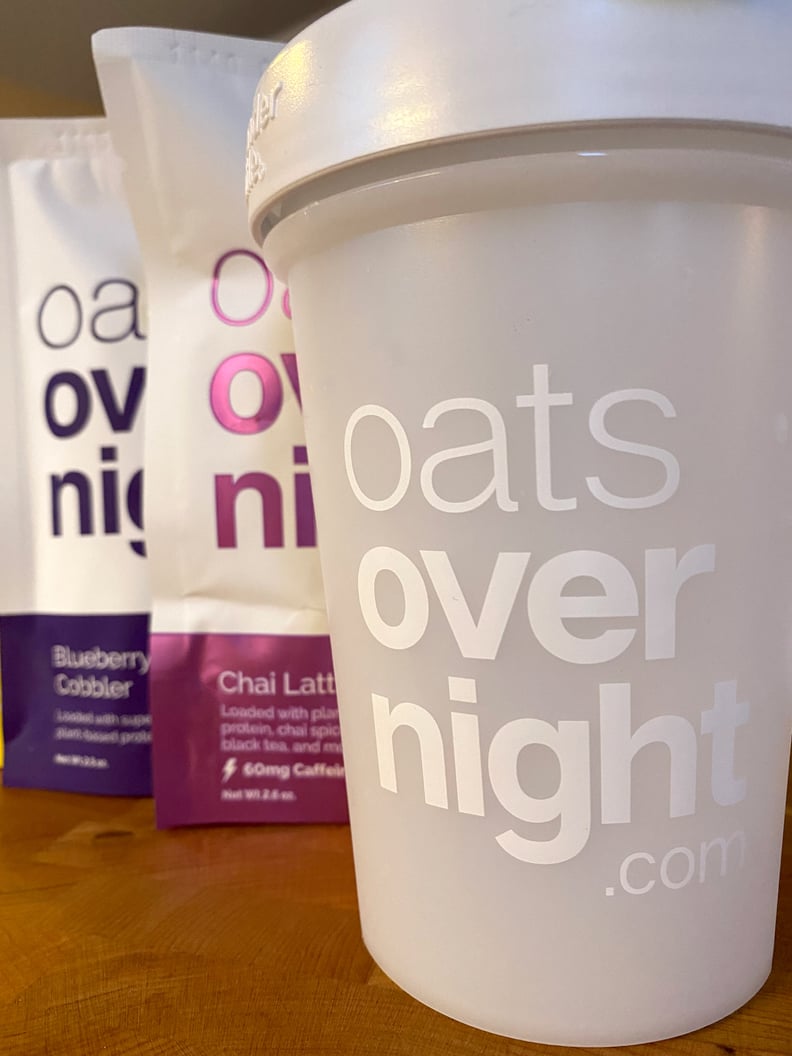 Why Do Oats Overnight Come With a Shaker Cup?
My Oats Overnight came with a shaker bottle you'd use for protein shakes, but why? Because one way you can enjoy your Oats Overnight is by drinking them.
Just fill the cup to the designated fill line with the milk of your choice (I used unsweetened soy milk), stir in the Oats Overnight packet, pop the container in the fridge, and in the morning, you just grab the bottle and drink it cold. Adding the one cup of milk makes it have more of a thick smoothie texture.
Or if you prefer a spoonable consistency, just pour the packet into a bowl or mason jar, add less milk (I used three-quarters cup), and in the morning you can enjoy it like regular oatmeal, cold or warmed up.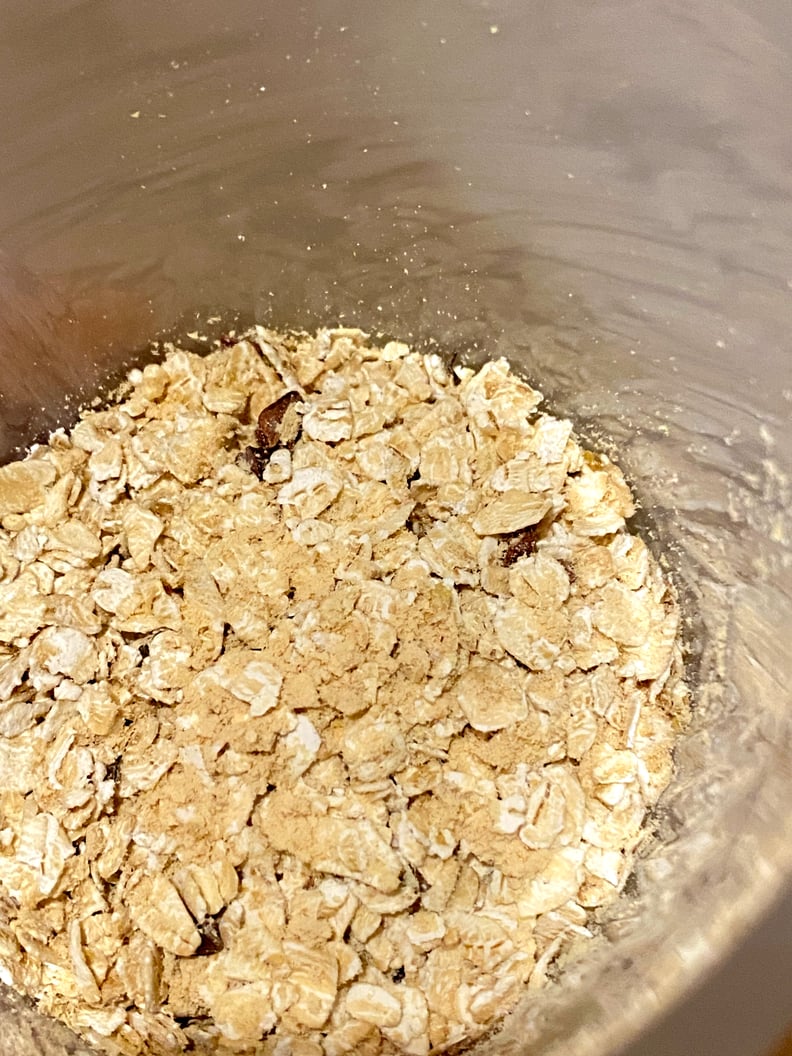 What Do Oats Overnight Packets Look Like?
Here's what the oatmeal looks like dry. This is the Peanut Butter Cookie Dough Cacao Crunch.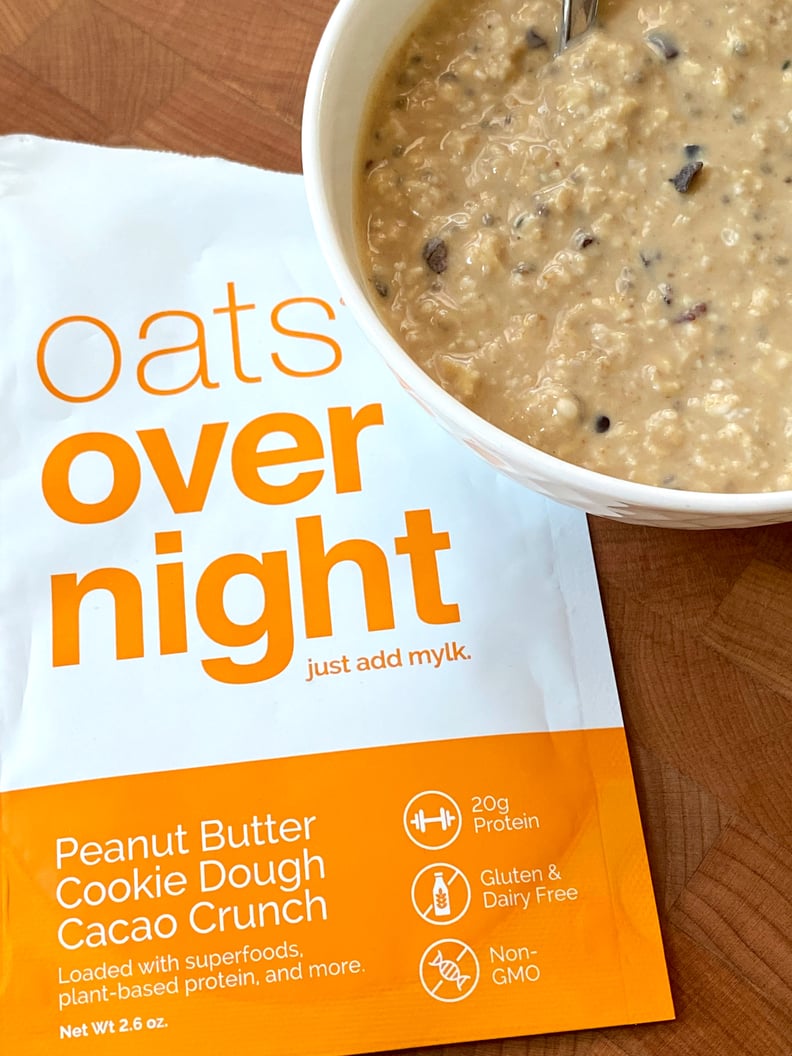 Are Oats Overnight Vegan?
I received the dairy-free variety pack ($27 for eight packets), which had four vegan flavors: Peanut Butter Cookie Dough Cacao Crunch, Blueberry Cobbler, Maple Pancakes, and Chai Latte. The other flavors they offer are made with whey protein, so they're not vegan.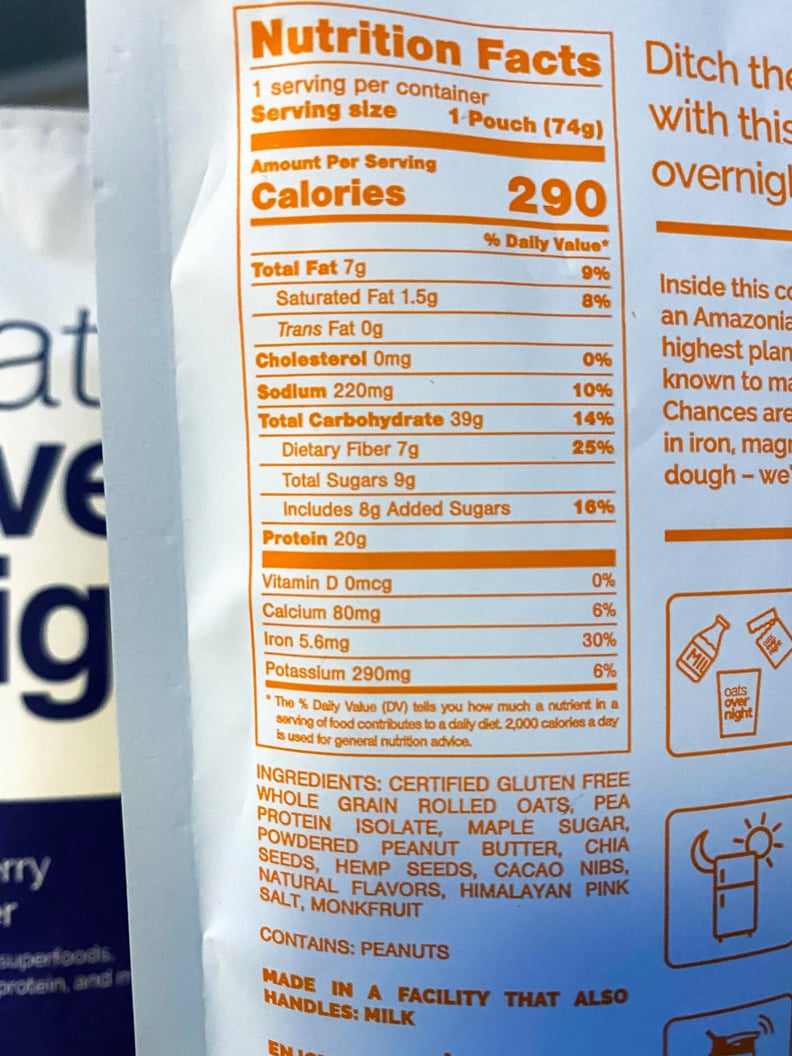 What's the Nutritional Info and Ingredients in Oats Overnight?
Here's the back of the packet of Peanut Butter Cookie Dough Cacao Crunch. One serving (one packet) is 290 calories, has seven grams of fat, 39 grams of carbs, seven grams of fiber, has eight grams of added sugar, and offers 20 grams of plant-based protein.
The ingredients are: gluten-free rolled oats, pea protein isolate, maple sugar, powdered peanut butter, chia seeds, hemp seeds, cacao nibs, natural flavors, Himalayan pink salt, and monkfruit.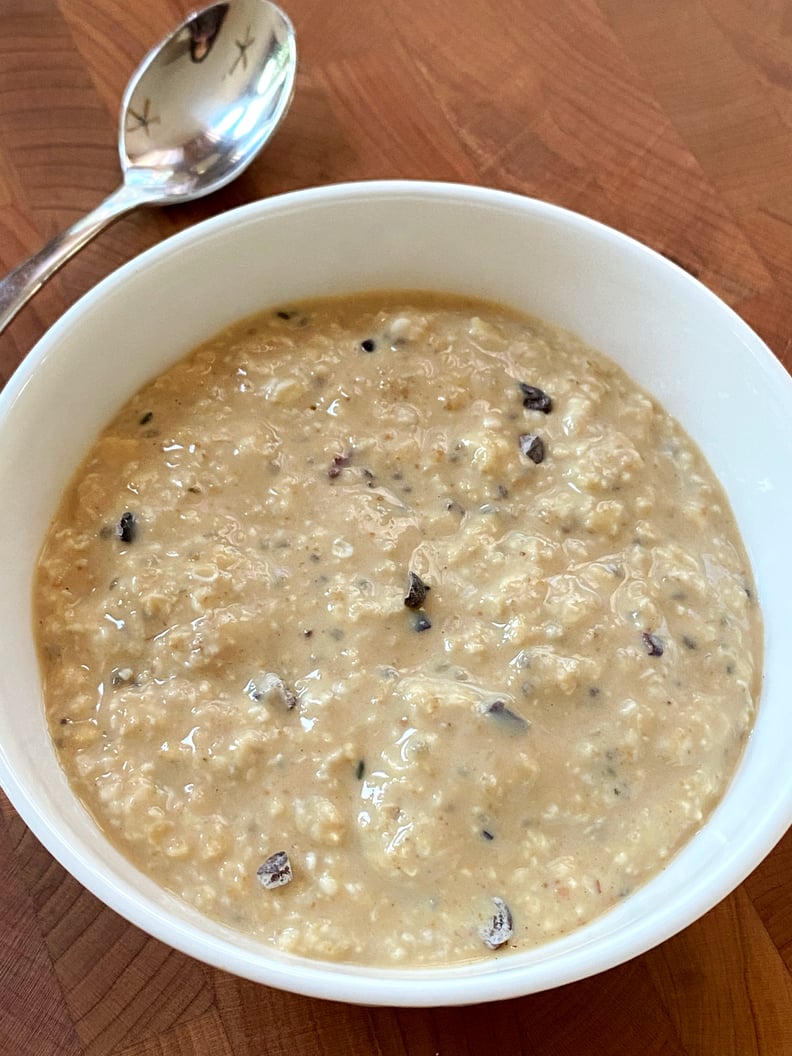 How Do Oats Overnight Taste?
I tried Oats Overnight both as a drink and thicker with a spoon, and preferred the more traditional oatmeal consistency. It was super creamy thanks to soaked oats and the pea protein, but there was no weird chalky texture. The flavor was perfectly sweet (like dessert!), and even though the Peanut Butter Cookie Dough Cacao Crunch was my fave, I really loved all the flavors. They tasted delicious on their own, but I also like adding fresh fruit.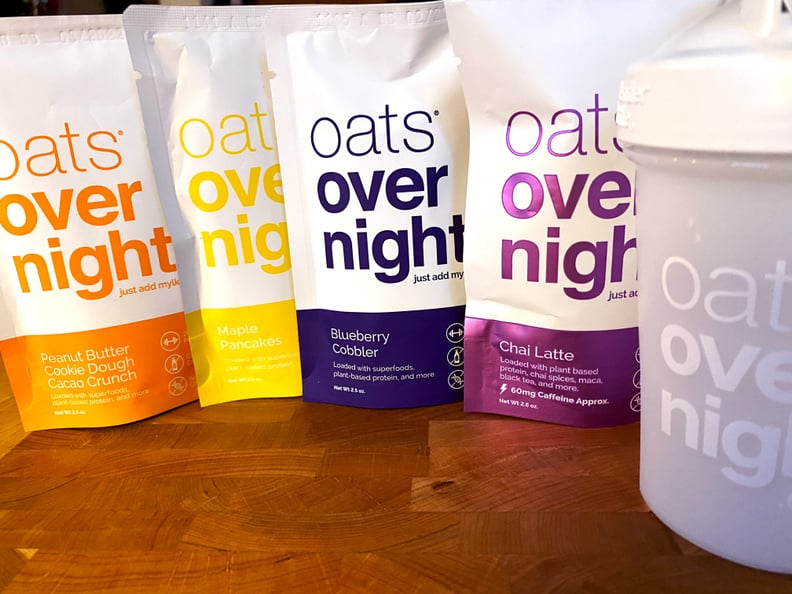 How Much Do Oats Overnight Cost?
There are three different options when ordering your Oats Overnight, and the more you order, the cheaper the cost per packet:
8-pack for $26.10 ($3.26 per packet)
16-pack for $49.50 ($3.09 per packet)
24-pack for $71.10 ($2.96 per packet)
How Do You Make Oats Overnight?
Check out this video to see how easy it is to make Oats Overnight. If you're pressed for time in the morning, and you don't want to make your own overnight oats, this is a delicious, healthy option.