Orangetheory Fitness Launches Live Classes So You Can Earn Splat Points at Home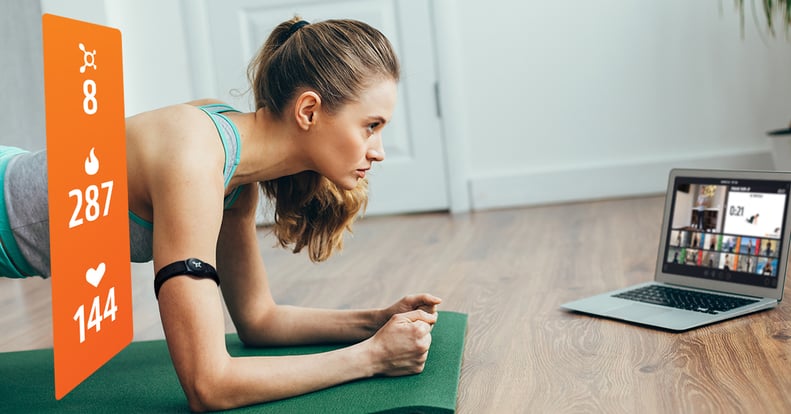 Orangetheory Fitness
Orangetheory Fitness
If you've been working out at home and avoiding the gym, whether out of COVID precautions or because the studios in your area are closed, you might be missing your favorite Orangetheory Fitness class. And while OTF has been offering virtual classes on YouTube, it's not the same experience as working out in real time with your favorite trainers and tracking your heart rate in the green, orange, and red zones.
Now, the popular fitness studio announced that Orangetheory Live classes are available online via desktop or laptop if you are a current Orangetheory Fitness member. OT Live is streamed on a proprietary streaming platform built by the brand, so you don't have to worry about any funky Zoom mishaps, although you will be able to interact with the coach and other members. The best part about this technology? You can use your OTF heart-rate monitor — the piece of technology that tells you how much time you have spent in the orange and red zones and that you achieved enough Splat points — to connect to the platform. At this time, the OTbeat Link, which works with the Apple Watch, doesn't connect to Orangetheory Live, but your OTbeat Burn will.
Orangetheory Live is accessible to current Orangetheory members (all OTF locations are franchised, so you must be a member at your local studio), so if you don't have a membership, you'll have to sign up to access the live classes. You can find your local studio here, and it can inform you about membership tiers and pricing for each class where you live; the cost of a membership and drop-in classes, including for in-studio and live, will depend on your local studio's pricing. Most studios offer your first class free, so if you have never been to Orangetheory before, you can try it at no cost (either live or in the studio).
Even if you don't have a treadmill or a rower, you can still get the most out of your live classes. An Orangetheory spokesperson told POPSUGAR they are modeled after traditional Orangetheory classes, so there is a cardio portion as well as a strength-training portion, and the workouts will feature the studio's format of endurance, strength, and power exercises. For now, dumbbells are recommended, but not required, and the spokesperson said that Orangetheory may roll out additional formats that could possibly incorporate booty bands and other equipment in the future. So lace up your sneakers, strap on your heart-rate monitor, and get ready to earn those Splat points!