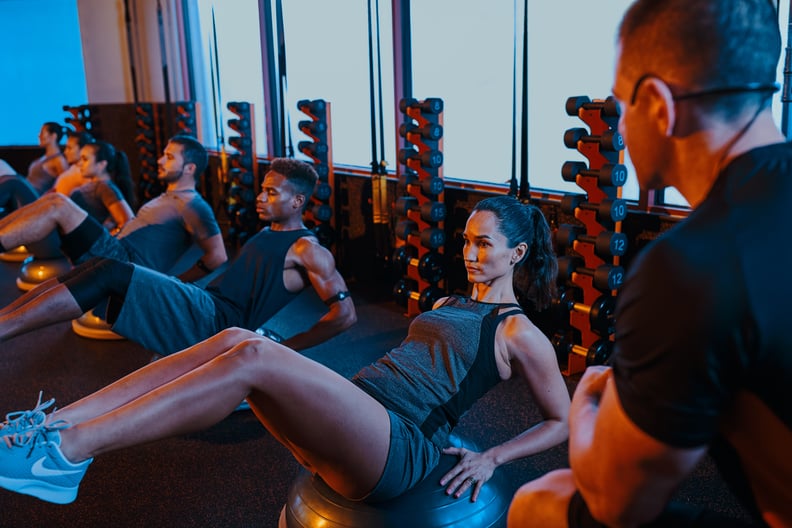 Orangetheory Fitness
Orangetheory Fitness
As someone who grew up playing competitive sports and even spent time on a Division I lacrosse team in college, I've always considered myself to be pretty athletic. And while my fitness level has wavered since graduating — hey, that desk job took some getting used to, right? — I'm proud to say I've been back on the horse for the last few years.
While living right outside New York City is incredible for so many reasons (cough, the food, cough), many people rely on various fitness classes to get in a good sweat. Though I've tried everything from Spin to Pilates to barre (not the worst) to boxing and beyond, I can confidently say I hate organized workout classes.
I can't pinpoint exactly why I feel this way. I really wish I didn't. It seems fun to wear Lululemon pants to work and genuinely be excited to sit on a Spin bike for 45 minutes once 6 p.m. rolls around. (Maybe it's because I feel like everyone's watching me? Who's to say.) But alas, that's just not me. It's true, I've always loved running outside — there's just something about that fresh air that improves my mental health — and honestly, I was about to throw in the towel on classes altogether until I tried Orangetheory Fitness (OTF).
My foray into the Orangetheory community began when I was talking to POPSUGAR Fashion Editor Sarah Wasilak. A runner with tons of races under her belt, Sarah had mentioned she was feeling so much stronger after committing to two classes at OTF per week. She's also one of the most toned people I have ever met, so I figured whatever the hell she does must work. To be fair, people had chewed my ear off about this studio before, but I was always too scared to go alone and the concept of wearing any type of monitor was pretty intimidating.
The beauty of Orangetheory is you're able to go at your own pace, whatever that may be.
But at the encouragement of my boss, who's a mom of two and also in amazing shape thanks to Orangetheory, I agreed to go to a class with Sarah the following week at our local studio in Jersey City, NJ. I showed up for my first session a half hour before the class began to get the rundown about the machines, the OTbeat wearable device — aka this little gadget that tracks everything from your heart rate to the calories you burn — and the overall structure.
If you're not aware, a typical 50-ish-minute Orangetheory class is broken down into three sections composed of a treadmill workout, a rowing portion, and some time spent with weights on the floor. Although it may seem like you're doing the same thing every single time you hit up a class, after eight sessions, I can confirm that each one is very, very different. Some workouts may focus on power or endurance, while others can have components that seek to improve your strength. Other times, you might be doing all three!
While the info was definitely a lot to take in at first pass — I learned that I have been rowing wrong for my entire existence, for example — once the class actually started, the instructions were pretty easy to follow. You're broken up into small groups in the beginning of the session, and you simply move from station to station until the coach tells you the time is up. And boy, do you sweat! I've never burned less than 600 calories in a workout, so yes, efficiency is the name of the game. And who doesn't love that?!
Oddly enough, as someone who usually hates structured exercise, I found that I thrived in the Orangetheory format. Because you change what you're doing often enough, it's hard to ever get bored. Additionally, you can kill multiple birds with one stone. For example, I really wanted to strengthen my upper body and get my mile time down. And I did, quickly. After just eight classes at Orangetheory, my average mile time dropped by a full minute. I've also lost six pounds since I've started attending, but hey, the scale isn't everything.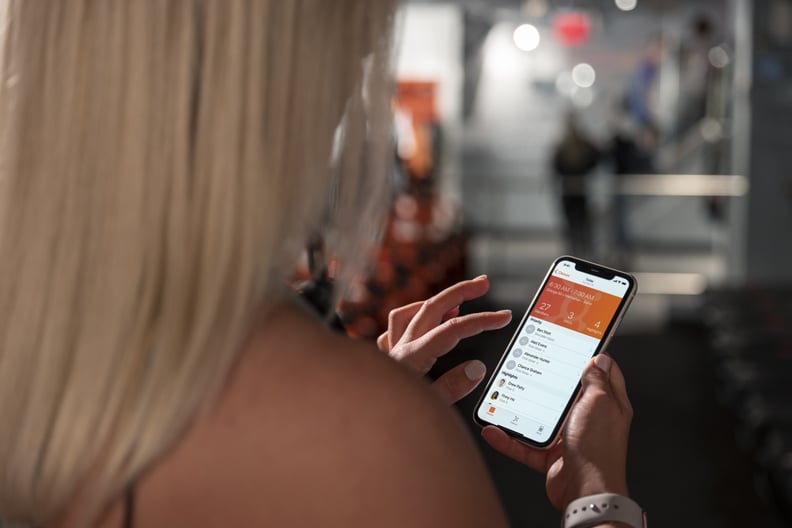 Another perk that I was initially terrified of but grew to love? Having all your stats for the class on a giant board. That means you know exactly how high your heart rate is and how many calories you're burning at all times. A fun concept that's unique to OTF are Splat points — a way to track when you're working hard enough that you're uncomfortable or going all-out — so that your heart rate increases. Thankfully, Orangetheory uses a color system to keep everything straight! Put simply: each Splat point signifies each minute spent in the orange or red zone. While no one's saying you need to exercise so hard you can't breathe, it's a good way to measure your progress through the class. Of course, to make things easier, there's also a free app to monitor all your workouts.
Although it may seem strange, having the other participants see my personal info didn't really bother me. Was I the only person in the red zone for 40 minutes of the class? Yes, probably. But honestly, who cares? The beauty of Orangetheory is you're able to go at your own pace, whatever that may be. Want to speed walk on the treadmills? Great. In the mood to really challenge your mile time? That works, too. There's no set pace for the class or anyone policing you for not working hard enough. As long as you're doing the exercises correctly and doing the best you can, it's a win-win.
All in all, I'm happy I dropped my typical stubborn 'tude for a morning spent at OTF. Not only are the instructors knowledgable — it's never too late to perfect your form! — but their high-paced energy (and playlists!) will also make you want to come back. Couple that with a supereffective, engaging workout and an affordable price point, and it's hard to beat!