As POPSUGAR editors, we independently select and write about stuff we love and think you'll like too. If you buy a product we have recommended, we may receive affiliate commission, which in turn supports our work.
Fitness giant Peloton is officially in business with Amazon — meaning you're now able to shop for select Peloton equipment, accessories, and apparel on the same site you use to shop for, well, everything else.
Just last year, Peloton announced the partnership and introduced a new Amazon storefront which allows you to purchase some of the brand's most coveted products — like the original Peloton Bike, Peloton Guide smart strength-training device, accessories (such as cycling shoes, bike mats, weights, and yoga stretch bands), and apparel. Only some of the products are eligible for Amazon Prime and its accompanying expedited shipping, but if you purchase the Peloton Bike on Amazon, you'll still be able to receive free in-home delivery and expert assembly — just as if you had purchased from the Peloton website itself. The products are also able to be returned, refunded, or replaced within 90 days of the purchase, so long as you still have the original receipt.
The brand is already known for its fiercely committed fanbase, but the Peloton's expansion into Amazon marks a shift in sales strategy; the brand has previously relied only on direct-to-consumer sales via showrooms and its own website. But the demand for Peloton on third-party sites is already there: in a statement for CNBC, Peloton's Chief Commercial Officer Kevin Cornils said there are already around half a million monthly searches on Amazon for the workout gear — and that was before Peloton even became available on the site.
Whether you're a longtime Peloton-fanatic, a newbie trying to expand on their collection of equipment from the brand, or just a fitness enthusiast looking to try something new, ahead, we rounded up the best Peloton equipment and gear on Amazon. Our selects range from the OG stationary exercise bike and cycling shoes to other cool accessories like a bike mat, dumbbells, a heart rate band, and more. Keep reading to shop the best Peloton gear and get ready to give your home gym the upgrade it deserves.
— Additional reporting by Angela Elias and Kyley Warren
A Set of Dumbbells
Peloton Dumbbells ($55)
Peloton might not have a reputation for all of the traditional workout equipment made beyond its famed exercise bike, but that doesn't mean it shouldn't. With more than 200 rave ratings on Amazon, these cast iron dumbbells each boast a weight range of five to 30 pounds and feature a urethane coating along the outside that's designed to provide extra grip support — meaning you won't have to worry about sweaty palms or calluses getting in the way of your next workout session.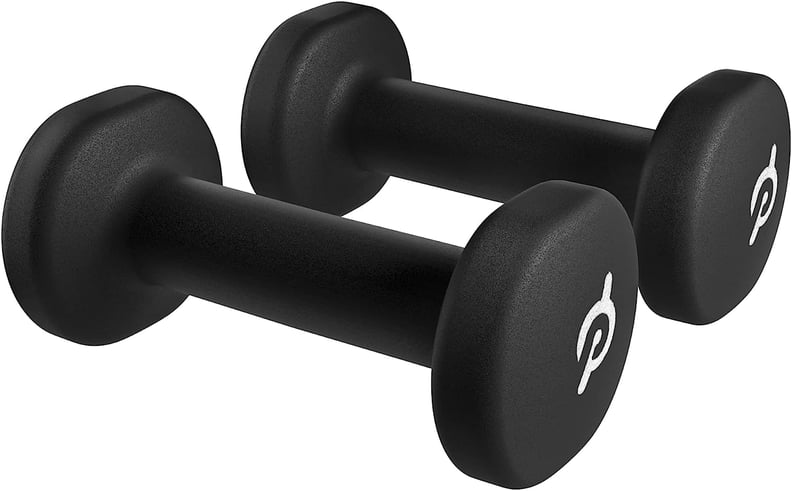 A Set of Light Weights
Peloton Light Weights ($25)
If you're looking for lighter weights that can fit securely on the back of your Peloton bike, these weights are perfect. They come in a small range of weights, spanning from one to three pounds and have a sweatproof, nonslip grip.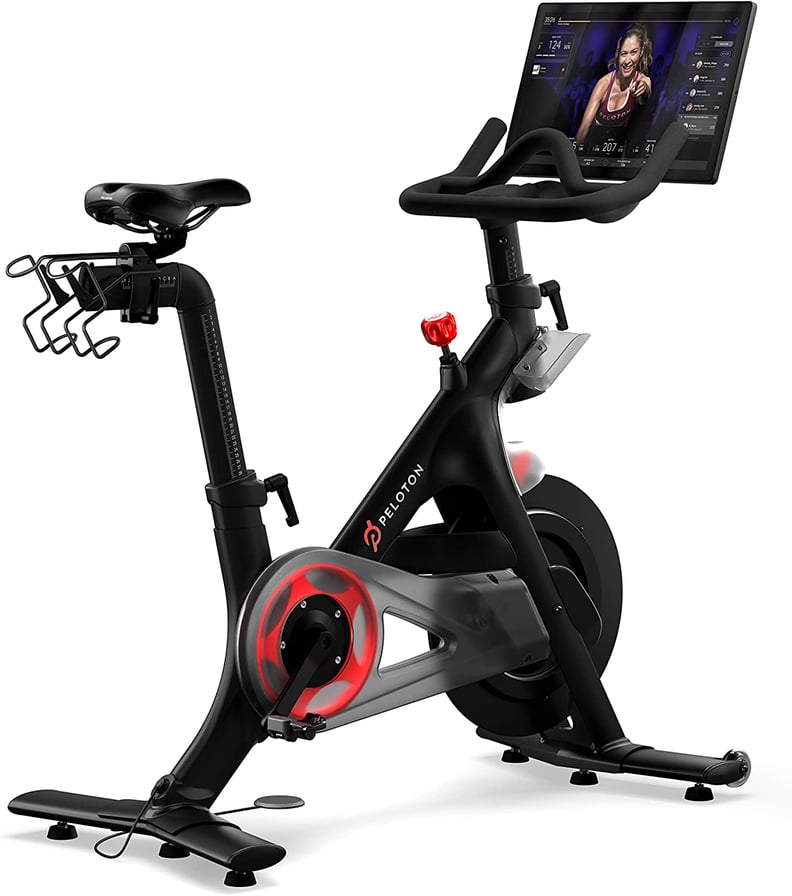 A Stationary Exercise Bike
Original Peloton Bike ($1,445)
For Peloton, this is the exercise bike that started it all — and inspired a bevy of new indoor bike-enthusiasts to invest in the exercise machinery. This indoor bike offers an upgrade on the classic cardio routine with an adjustable seat, comfortable handlebar that's front and center, and an attached screen which can tilt to accommodate different heights all while streaming hundreds of adrenaline-heightening workout videos.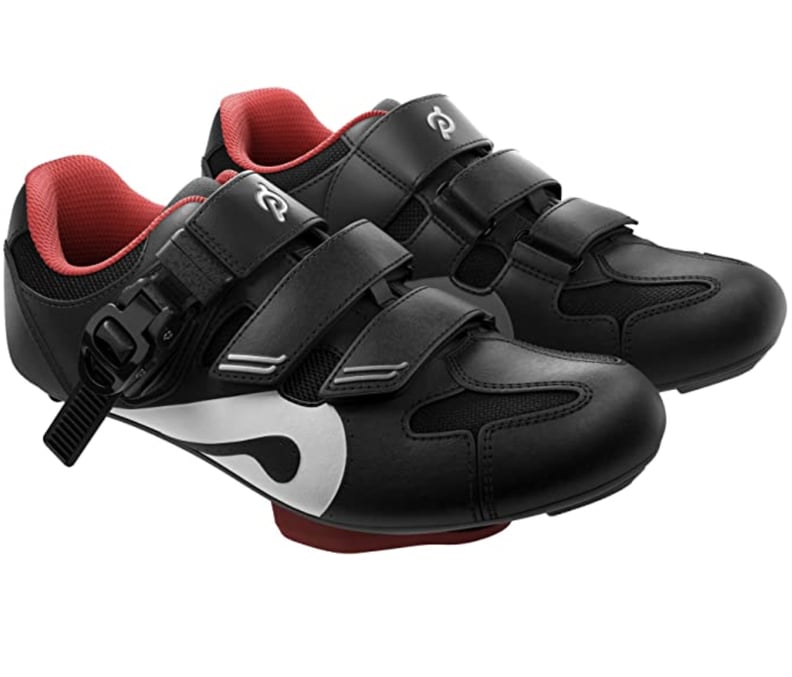 Cycling Shoes
Peloton Unisex-Adult Cycling Shoes ($125)
Frequent bikers understand just how important it is to have a quality pair of cycling shoes at the ready for any next stationary bike ride — but the Peloton bike often presents an entirely different challenge. Unlike traditional indoor exercise bikes, Peloton workouts have an increased intensity level that can put a serious strain on your ankles and calves if you don't have the proper footwear. Fortunately, these unisex cycling shoes are designed specifically for the Peloton bike and come fitted with delta-compatible bike cleats that clip directly into the pedals — so you don't have to worry about your foot slipping off while you cycle.

A Strength Training Device
Peloton Guide Strength Training Device ($195)
Upgrading your next Peloton workout is as easy as investing in this strength training device — no, really. The AI-enabled tool works to create an individualized strength training experience for every Peloton user. Through machine learning and an innovative camera technology, this device can track reps, suggest form-improvements, and recommend personalized classes that are geared towards your body type, preferred workout intensity, and more.
A Yoga Strap
Peloton Yoga Strap ($10)
When you're tired of using your Peloton bike and want to work a little yoga into your daily exercise routine instead, this yoga strap will be your best friend. The gear is crafted from a durable nylon material that's made to move with you and help you to achieve a wider range of motion in your yoga stretches.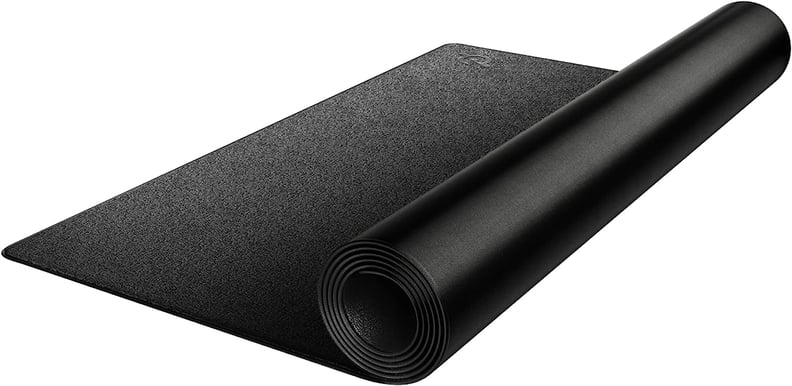 A Bike Mat
Peloton Bike Mat ($75)
When you're dealing with fitness equipment that's as heavy-duty as the Peloton, you want to make sure you're taking the necessary steps to keep the bike (and your home) in the best-kept condition possible. This thick mat is designed to go underneath your Peloton bike and provides a sturdy surface that'll keep the machinery in place even through your most intense riding session. Plus, it'll also help prevent any unwanted scuffs or marks on your floors.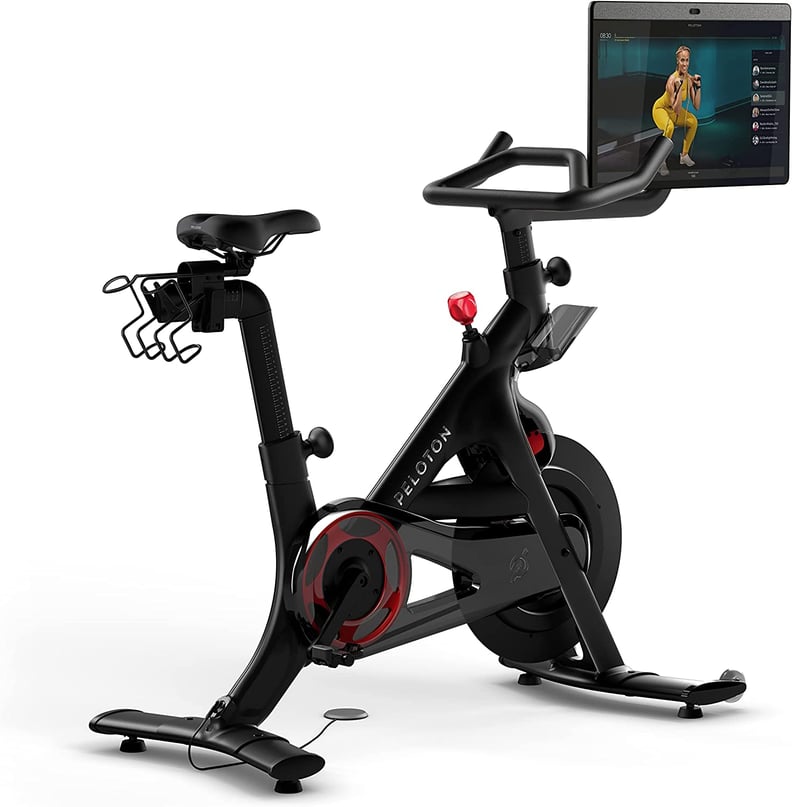 An Indoor Exercise Bike
Peloton Bike+ Indoor Stationary Exercise Bike ($2,495)
If you've been a longtime fan of Peloton's original exercise bike, perhaps you're due for an upgrade into a more advanced model — like the Peloton Bike+. This version takes everything that users love about the original model and translates it into a brand-new bike that provides a more full-body workout beyond just the classic cardio experience, plus access to a variety of classes through Peloton's all-access membership (which is available to purchase separately).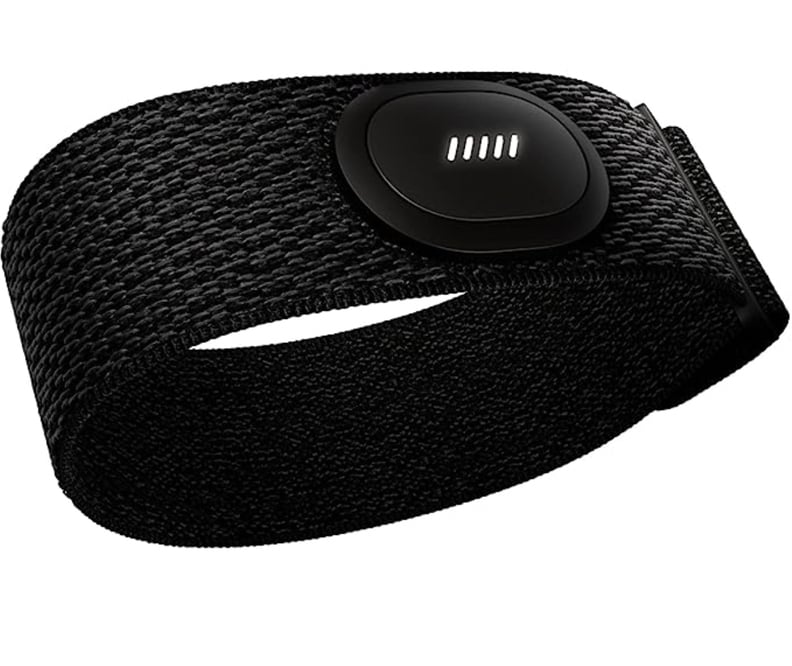 A Heart Rate Band
Peloton Heart Rate Band ($90)
Even more important than curating a high-intensity workout is making sure to keep your heart rate in check through it. This Heart Rate Band from Peloton aims to do just that as it connects to all Peloton products and relies on Bluetooth wireless technology to provide users with real-time updates of their heart rate — whether they're in the heat of a workout or just cooling down from a riding session.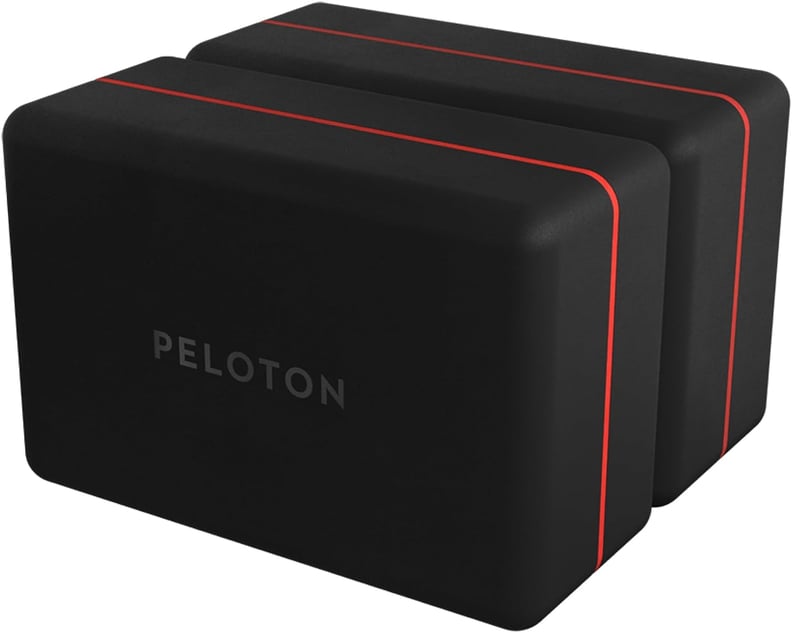 A Set of Yoga Blocks
Peloton Yoga Blocks ($30)
Give yourself steady support and balance while practicing yoga with these EVA foam blocks. They'll help to safely modify positions or allow you to hold difficult positions for a longer period.