POPSUGAR Fitness at Target TPE Yoga Mat Review
Why This Fitness Pro Is Adding This New Yoga Mat to Her Collection
As POPSUGAR editors, we independently select and write about stuff we love and think you'll like too. If you buy a product we have recommended, we may receive affiliate commission, which in turn supports our work.
As a yoga instructor who is 6'2" tall, I'm particular about the yoga mats I use. I need a mat that is wide enough for my hands in a Down Dog and doesn't leave my feet landing on the cold floor in a Low Lunge. So when asked to try POPSUGAR's TPE Yoga Mat ($45), I was excited to throw on my Old Navy Bodysuit and put this mat through a thorough test.
TPE is short for thermoplastic elastomer, which are rubber-like and recyclable materials. The TPE mat is 72 inches long, 26 inches wide, and five millimeters thick — which is just a couple inches shorter than me. One side of the mat is a zigzag embossed turquoise, while the flip side is a medium blue with golden printed constellations all over.
Testing POPSUGAR's TPE Yoga Mat
The hardest part of testing out any new yoga mat is to get it to lay flat — and this TPE yoga mat was no different. To get it as flat as possible, I grabbed one side of the mat and bent it at the center of its curve in the opposite direction. Then, I stood, walked, and pressed into that edge with my feet to make sure it wouldn't bounce back into the cylindrical form it came packaged in.
Next, I went through a series of yoga postures to test out the length, width, cushion, and gripability of this TPE mat. On both sides, my feet securely landed on the mat when I stepped forward into a Low Lunge and my heels felt the cushiony support in a Wide Squat. Even when I did a variation of Side Plank (pictured above), I was pleasantly surprised that my front heel landed on the mat — with most yoga mats, my heel would go on the floor entirely. I was also appreciative that my knee couldn't feel the cold tile beneath it when doing Gate Pose (pictured below).
After my test, I rolled up this mat and chose to put it in line with my others, as this is a great mat for me to use at home. Passing the postures test, it also fits comfortably in my apartment, is lightweight, and is supportive enough for me to do cardio workouts on. POPSUGAR's TPE Yoga Mat has certainly earned the stars printed on it.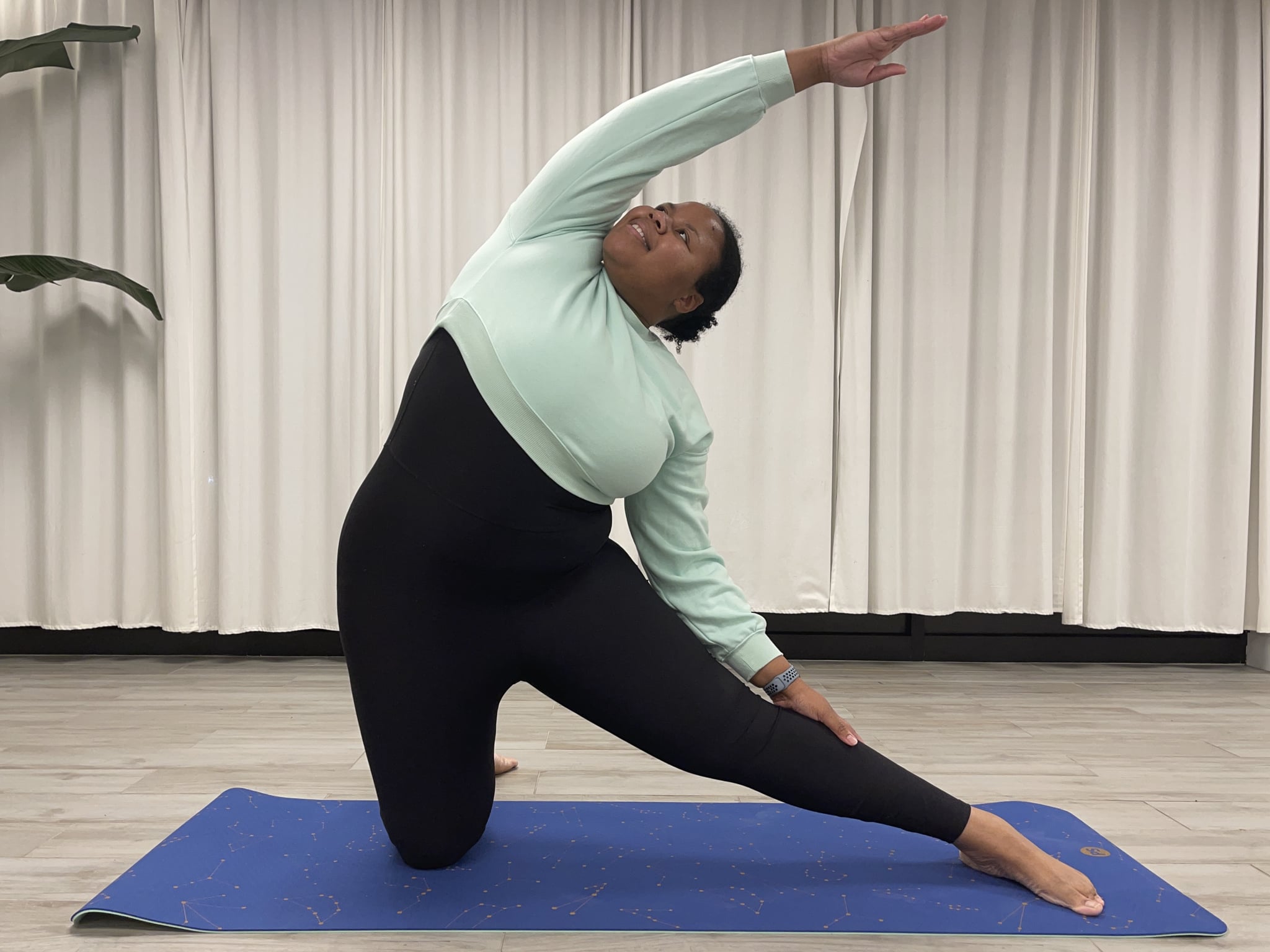 Image Source: POPSUGAR Photography / Angelica Wilson