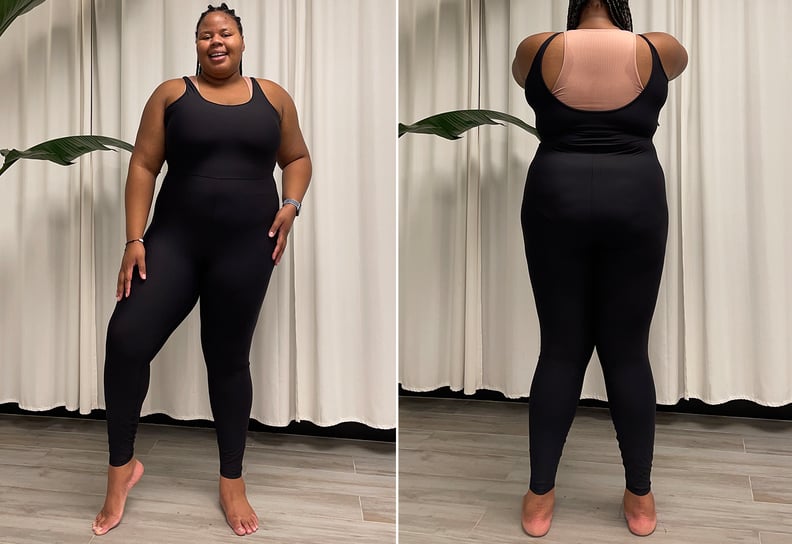 POPSUGAR Photography | Angelica Wilson
POPSUGAR Photography | Angelica Wilson
Every editorial product is independently selected by our editors. If you buy something through our links, we may earn commission.
Over the course of the past year, I've found a deeper appreciation for bodysuits. They're an easy way to get dressed without having to think too much.
I especially enjoy wearing a bodysuit when I'm working out because I don't have to throw on a bunch of layers to feel fully-dressed. With this newfound love of bodysuits I was excited to try the PowerSoft Performance Bodysuit for Women ($50) in the size XXL tall.
How Does Old Navy's PowerSoft Bodysuit Perform?
Looking at the size guide for tall people, I saw that an XL was a size 16-18 and an XXL was a size 20. To accommodate for my G-cup bust I went with the size XXL but when I put on the bodysuit I noticed that it was a bit big on me. I definitely could've gone down to the XL tall but still kept the XXL tall. I'd say if you're unsure of your size, go down, the powerful stretch of this bodysuit will have you covered.
Aside from the fabric I also appreciated that this bodysuit was truly tall. Meaning that it didn't stop mid-calf or above my ankle. It went all the way down to my ankles like a second skin.
Personally, the reason why my love of bodysuits is so strong at the moment is because more and more of them are being made without a shelf bra. Having a large bust, a shelf bra usually ends in a double-bubble disaster where half my chest is pouring over the top seam. This bodysuit has no shelf bra which means I can add a bra that best suits my workout — I think that really increases the versatility of this piece.
After completing a yoga class in this bodysuit I found that the fabric is truly sweat-wicking while the entire piece stretches with me, through splits and all.
I'm so glad that this Old Navy PowerSoft Performance Bodysuit is another workout-ready piece I can add to my closet.