3 Resistance Band Arm Moves From the Trainer Who Gets Victoria's Secret Angels Fit
P.Volve, the low-impact workout class created by trainer Stephen Pasterino (or "P" as his clients call him) that helped train the Victoria Secret's Angels for the 2017 fashion show, aims to get you a strong core and long, lean body through low-impact movements. "Smaller movements open up motion in your hips to firm the butt and slim the thigh," says P. "High-intensity is all about getting those results super fast by having you push your joints and muscles in a short amount of time — it doesn't really amount to anything."
The workout class, which I tried for the first time earlier this year, is working on a new way to tone your arms using those same small movements that got the Angels their firm and toned legs and a cool new tool P is calling, well, the P.Band ($30) — a resistance band and glove hybrid aimed at contouring the upper arm area.
The band has two fingerless gloves at both ends so it's secured around your fingers and wrists and you're free to concentrate on the program's curated moves — now integrated into the studio's signature classes — which sculpt the arm rather than add muscle to it. "If you want to gain muscle, that's where weights come in," P says. "If you're simply looking to carve the arm and tone it, you only need resistance."
As someone who has close to no upper body strength, the band is extremely appealing when compared to intimidating free weights. In barre or circuit classes, I feel myself burning out pretty quickly when using weights to work out my arms, and usually give up way before completing an entire rep. That wasn't the case with P.Band.
The band is easy to use and the moves that P guides you through are pretty simple, but not at all easy. Most of them involve keeping one or both arms completely straight and pulling your hands apart until you feel tension. Repeat the steps eight times on each side and you're pretty much good to go (and pretty exhausted). Ten minutes into the arm section and I was already working up a sweat.
No wonder the band has already gotten the stamp of approval from his clients like Blanca Padilla and Romee Strjid. "Arms are generally easy to tone if you stick to it in your regular workout," P told me. "You can start seeing a slimmer and more contoured arm in a matter of days."
If you can't make a class at P.Volve's New York City studio, no worries: P shared three of his favorite moves with us.
Move 1
Start by lifting your arms above your head and pulling the band taut. Then, pull one arm down while keeping the other in place and creating resistance. Do this move eight times, and repeat with the other arm.
"This move works the triceps and lats by pulling out and down on the resistance band," says P. "Both arms are working, but the arm that is stationary is being worked the most."
Move 2
Start by cactus-ing your arms at the elbow. Keep one arm steady, and pull down the other, keeping the 90-degree angle, until you start to feel resistance. Do this slowly about eight times before switching to the other arm.
"By pulling down on the band to a 90-degree angle at the elbow, you are pulling down at the lats and the rest of the back muscles (the rhomboids), while also flexing the shoulder and bicep," says P.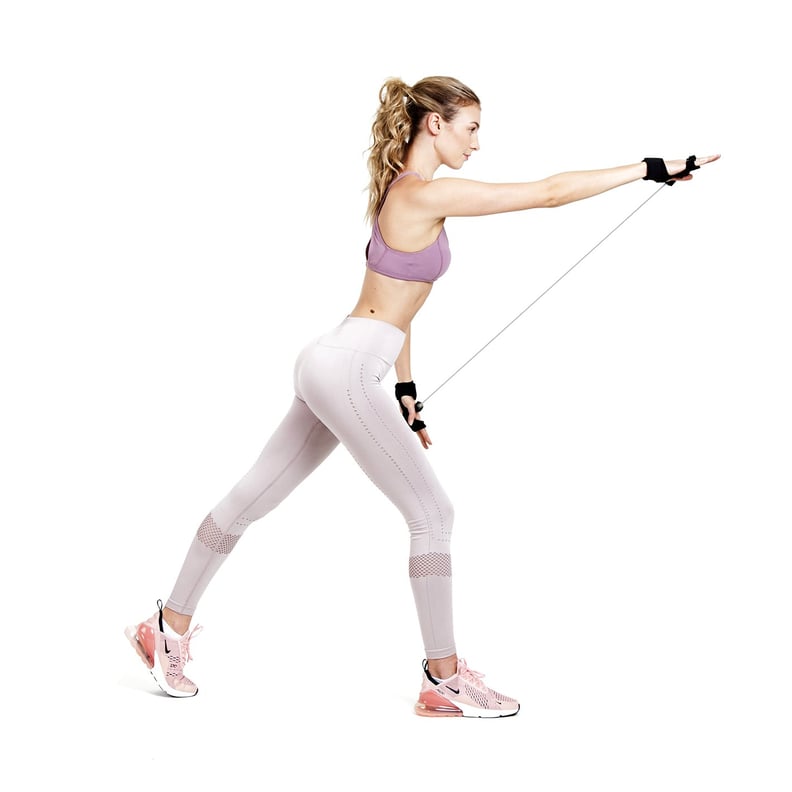 Move 3
Start by placing one foot behind the other, tilting forward with your back straight slightly, and forming a diagonal with your body. Then, extend both arms straight ahead of you at shoulder-level. If your left foot is back like our model's, pull your left arm down towards your thigh, while the other arm stays completely still. Stretch down slowly about eight times before switching to the other side.
"This should work the top of the arm and the shoulder by stabilizing the band," says P.