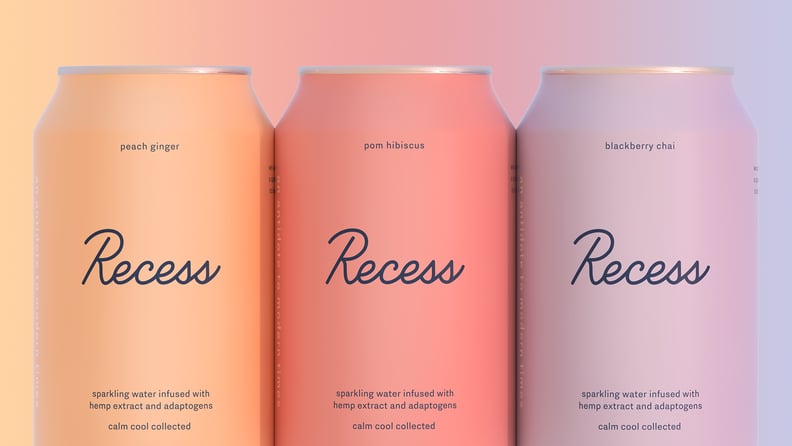 Recess
Recess
As POPSUGAR editors, we independently select and write about stuff we love and think you'll like too. If you buy a product we have recommended, we may receive affiliate commission, which in turn supports our work.
Ever since I started working at POPSUGAR, I've been inundated with all things CBD: oils, tinctures, creams, gummies, candy, tea, skincare . . . the list goes on. While I have found success adding it to my daily routine to help fight anxiety and make me calmer, I find most of the products are more hype than effective.
So when I heard about Recess, a flavored sparkling water made with hemp extract (where CBD comes from, since it's derived from the hemp plant), I knew I wanted to try it. Recess also contains adaptogens, including schisandra, ginseng, and L-theanine. After all, what could be better than combining my love of sparkling water and all things CBD?
Recess sent me a sampler back featuring the three flavors: Blackberry Chai, Peach Ginger, and Pom Hibiscus. Of all of them, Blackberry Chai was my favorite. It sounds like an odd flavor pairing, but the chai is the dominant flavor and it works well with a touch of fruity sweetness. The Peach Ginger was overwhelmingly peach with not much ginger, and the Pom Hibiscus wasn't for me (I'm not a huge fan of pomegranate, in general). Unlike LaCroix, which has a famously subtle fruit flavor, the flavors in Recess are much more bold; the water itself has color because it contains actual fruit juice. It reminds me more of Spindrift sparkling water, which is also made with fruit juice instead of "natural flavors."
Did I Feel Anything?
OK it tastes fine, but what about the effects? Since I regularly take CBD oil and tinctures (about 20-40 milligrams a day, depending on how anxious I'm feeling), I didn't expect the approximately 10 milligrams of CBD in Recess to do much. The ginseng also promised focus, the L-theanine supposedly helps reduce stress, and Recess claimed the schisandra "boosts immunity and promotes balance." I'm not sure about all that, but I did feel a little calmer after drinking a can. I was also able to crank out more posts at work than normal, which could have been the coffee I had earlier or my newfound focus from a magical sparkling water.
The Verdict
Like most CBD products, Recess doesn't come cheap: a six-pack sells for $5 per can ($30). Unlike LaCroix, each serving contains sugar (six grams) and calories (25). But if you're looking for a better-for-you alternative to replace your afternoon coffee and you already shell out $5 for a fancy latte, Recess could be your go-to beverage. In the meantime, I'll stick to my tinctures and teas.
Any cannabis products referenced above are not intended to diagnose, treat, cure, or prevent any disease. The writer is not a medical doctor, and their experience is based on personal use, the results of which may not be typical or intended. The legality of cannabis products varies by state, and readers are encouraged to check their local laws before purchasing and using cannabis products. Nothing in this article should be construed as advice regarding the legal status of cannabis products. Any views expressed in this article by a third-party sponsor are those of such sponsor, and do not necessarily represent the views of POPSUGAR.