Runner Kendall Ellis Heads to Tokyo Olympics For Track
Win or Lose, Olympic-Bound Runner Kendall Ellis Will Always "Be a Dog in the Race"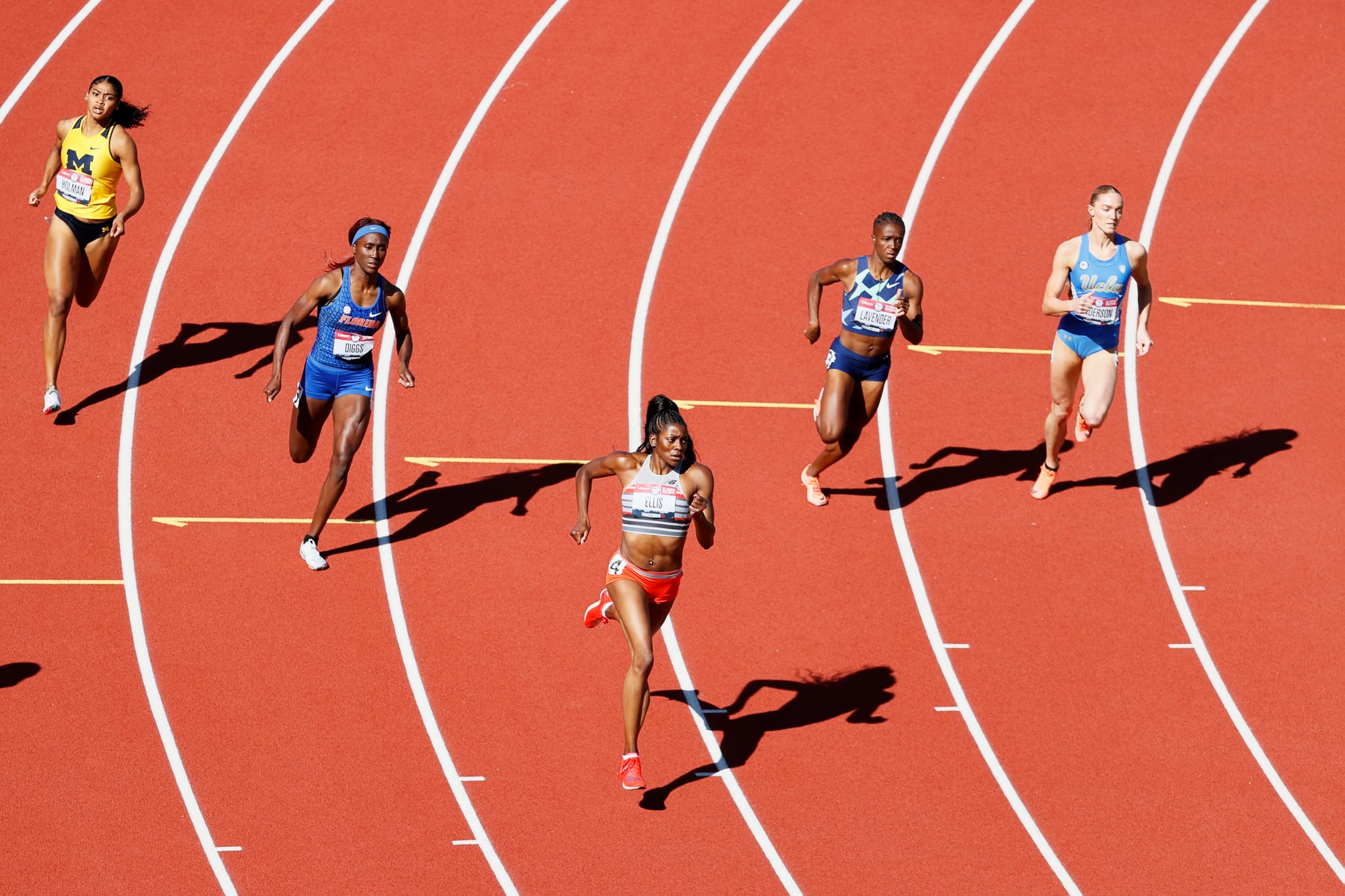 Kendall Ellis knows all about going big. In 2018, she set the indoor collegiate and American record for the 400-meter dash, and her unbelievable performance at the NCAA Track and Field Championships that year helped University of Southern California rebound from fifth place to claim the 4x400-meter relay title.
Ellis said she will run the 4x400-meter mixed relay for Team USA at the Tokyo Olympics in addition to the 4x400-meter women's relay prelims (she'll find out about the finals for that event once in Tokyo). She has a stellar finish to her races — that's when she pounds pavement the hardest — as showcased in that comeback closing lap three years ago for her USC squad.
"That last hundred, that last fifty, is who can really dig down and who wants to feel the pain," Ellis told POPSUGAR. "It's hurting, but who can tolerate it the most? And I think that's exciting for me. That's probably why my finish is so strong because I'm like, 'Yeah, this is the most challenging aspect for most people, so let me show everyone what I could do.'"
Ellis brings this confidence when she's mentoring young women athletes through advocacy, support, and content platform Voice in Sport, founded by former Nike executive Stefanie Strack. Ellis leads 45-minute to an hour-long group sessions with members between the ages of 13 and 23. She hosts the sessions about four times a month on topics such as turning pro and managing anxiety. "I have always wished that I had a mentor in the sport myself," she explained. "So I always said if I'm in a position to give back and have an impact, I want to be able to."
Making it onto the world championship team in 2017 for the United States (then again in 2019) assured Ellis that she was capable of Olympic-level speed. In Tokyo she will be doing what she regularly does: striding toward gold. Going all out is daunting, but "what's the worst that can happen?" Ellis challenges. This is how she felt when she just missed qualifying for the individual 400-meter race after finishing fourth at the Olympic Trials. Though she was disappointed, she knew that she'd tried her very hardest. "There was nothing else to give," she noted.
Ellis gives 110 percent — and advises others to do the same, though she also stresses the importance of finding balance and joy in your sport. She said, "You want to be the kind of athlete that gives your all, and you want people to be able to look at that and be like, 'No matter what, you know that she's going to be a dog in the race, win or lose.'"