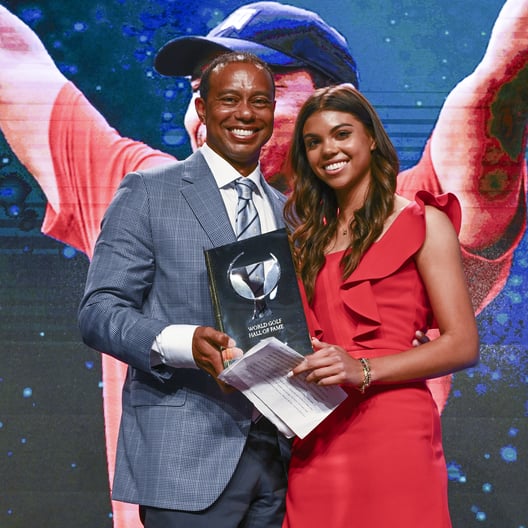 Tiger Woods was officially inducted into the World Golf Hall of Fame on March 9, and there to make his introductory speech was none other than Tiger's 14-year-old daughter, Sam Woods. As much as the night was about Tiger's accomplishments, we think it's fair to say that Sam stole the show with a speech that was sweet, funny, and emotional and showed us a more personal side of the golfing great. Tiger himself agreed: "I feel so honored to have been inducted into the @golfhalloffame tonight," he wrote on Instagram. "Having Sam introduce me and my family there watching, it made it even that more special."
So how did Sam honor her dad? Her speech introducing Tiger touched on his impact on her life and that of her younger brother Charlie, Tiger's children with ex-wife Elin Nordegren. Sam spoke about the day of her birth, June 18, 2007, when Tiger rushed from the US Open in Pittsburgh to the Orlando hospital where Nordegren was giving birth. "He may have lost that day," Sam joked, referencing Tiger's one-stroke loss at the tournament, "but he won the greatest gift of all."
She also spoke about Tiger's constant presence in her life and how she and Charlie slowly started to realize how much of a celebrity he was. "It's been at the soccer fields and golf tournaments over the years that Charlie and I have begun to realize how famous he actually is," she said. "I mean, how can a guy who still FaceTimes his friends to discuss Marvel and DC timelines, and who goes to Comic-Con dressed as Batman, be one of the greatest golfers who ever lived?"
Sam also referenced Tiger's February 2021 car crash, which severely injured his right leg. "We didn't know if you'd come home with two legs or not," Sam said. "Now, you're not only about to be inducted into the Hall of Fame, but you're standing here on your own two feet. This is why you deserve this," she continued, speaking of the induction. "Because you're a fighter. You've defied the odds every time." She cited a few of his accomplishments: becoming the first Black and Asian golfer to win a major, winning the 2019 Masters after a series of near-career-ending back and leg injuries, walking a few months after his car crash.
"I realized while writing this speech that no matter what life throws our way, we somehow come out together and stronger," Sam said. And while Tiger's subsequent 17-minute speech was inspiring, it was Sam who really tugged at the audience's heartstrings. "Crap, I just lost a bet to [Steve] Stricker that I wouldn't cry," Tiger said afterward. "Thank you, Sam."
Keep reading for more photos of Sam, Tiger, Charlie, and the rest of the Woods party (dressed in Tiger's signature black and red) at the Hall of Fame induction.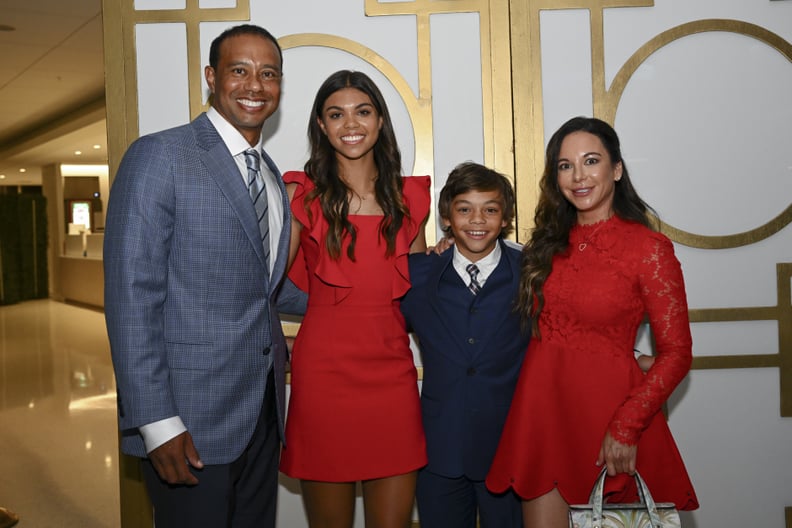 Tiger Woods with daughter Sam Woods, son Charlie Woods, and girlfriend Erica Herman at his Hall of Fame induction ceremony.
Sam Woods: World Golf Hall of Fame Presenter Speech — Tiger Woods (2022 Induction)