Watch Serena Williams's Bumble Ad and Feel Damn Proud to Be a Woman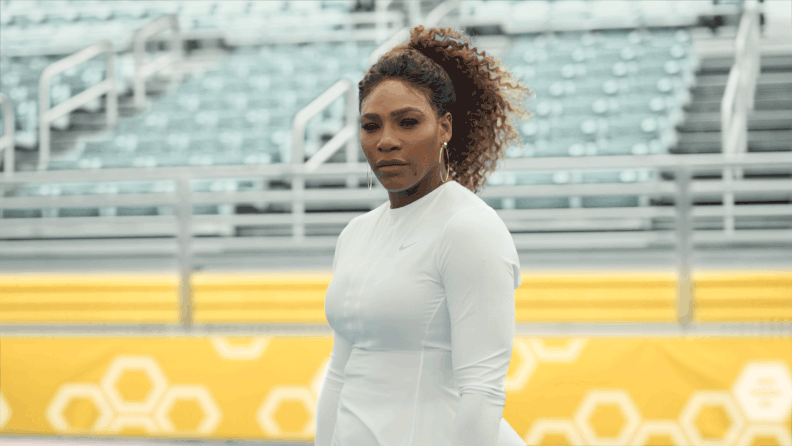 Bumble
Bumble
Can't get enough Serena Williams? Bumble's got you covered. The tennis champ is the star of the app's new commercial and the co-creative director of its new campaign, "The Ball Is in Her Court."
But wait — Serena didn't meet her husband on Bumble, did she? Nope, and even though Alexis Ohanian makes a blink-and-you'll-miss-it cameo, the focus of the ad isn't on Bumble as a dating app. For those of you who don't know (because we sure didn't), Bumble also offers platforms to network for business and make new friends. Bumble Bizz helps you find jobs and make professional connections in your area, while Bumble BFF lets you swipe right and left on potential friends, instead of dating partners. It's these offshoots that are the focus of the new spot, both using Bumble's signature "women make the first move" strategy.
The commercial follows Serena's journey "through her own experience of making first moves," Bumble said in a statement, starting with shots of young Serena (played by an actress) waiting by the side of a tennis court, hesitating to jump in. "The world tells you to wait," she says in a voiceover. "But if I waited to be invited in, I never would have stood out." Cut to Serena killing it on the court and in the office (she has her own fashion line, FYI), as she says, "If I waited for change to happen, I never would've made a difference. So make the first move. Don't wait to be told your place. Take it."
The ad ends with Serena on the court, ready to serve and looking into the camera. "Don't wait to be given power," she says. "Because here's what they won't tell you: We already have it."
Check out the full spot below, and catch the 30-second version during the Super Bowl this Sunday.