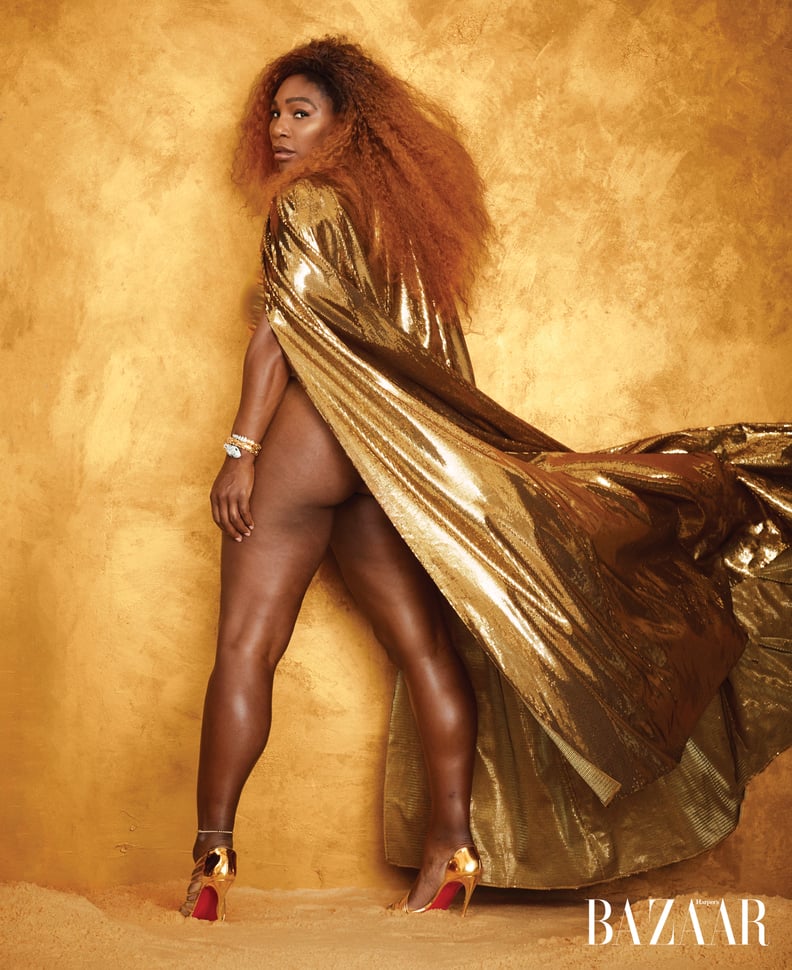 Alexi Lubomirski
Alexi Lubomirski
Serena Williams has 39 major titles to her name. She's also won gold medals — a lot of them. But, at the 2018 US Open, the tennis powerhouse faced a $17,000 fine for three code violations: illegal coaching, breaking her racket, and verbal abuse against the referee (if you haven't seen the footage from the Open, you can watch it below). In a new personal essay published in the Harper's Bazaar August issue, Serena goes into detail about her apology to her opponent and the winner that day, then-20-year-old Naomi Osaka, as well as the reasons why she still thinks her outrage was fair and just.
Serena wrote that once she returned home to Florida, she had unresolved frustrations and feelings about the Open. She went on to explain that she realized her outburst — calling the umpire a thief, demanding an apology, slamming her racket — took away from Naomi's win (it was her first-ever Grand Slam victory). So, Serena penned an apology to the young player. Naomi's response, according to Serena? "No one has stood up for themselves the way you have and you need to continue trailblazing."
That brings us to another major point Serena makes in this essay: "'Why is it that when women get passionate, they're labeled emotional, crazy, and irrational, but when men do they're seen as passionate and strong?'" For example, the US Women's Soccer Team was criticized for being "arrogant" during their first match against Thailand at the World Cup prior to their July 7 win. Their celebrations, to some, were seen as offensive.
Serena wrote, "So often, in situations similar to mine, when men fight back against the referees, they're met with a smile or even a laugh from the umpire, as if they're sharing an inside joke. I'm not asking to avoid being penalized. I am asking to be treated the same way as everyone else. Sadly, that's simply not the world we currently live in."
"It's shameful that our society penalizes women just for being themselves."
Serena continued on to say that the incident illustrated how women in any part of the workforce are treated every day. "We are not allowed to have emotions, we are not allowed to be passionate. We are told to sit down and be quiet, which frankly is just not something I'm okay with. It's shameful that our society penalizes women just for being themselves." Could she have handled the situation differently? Sure. But Serena says she won't ever stop raising her voice against injustice for her own sake and for the sake of her daughter growing up in this world.