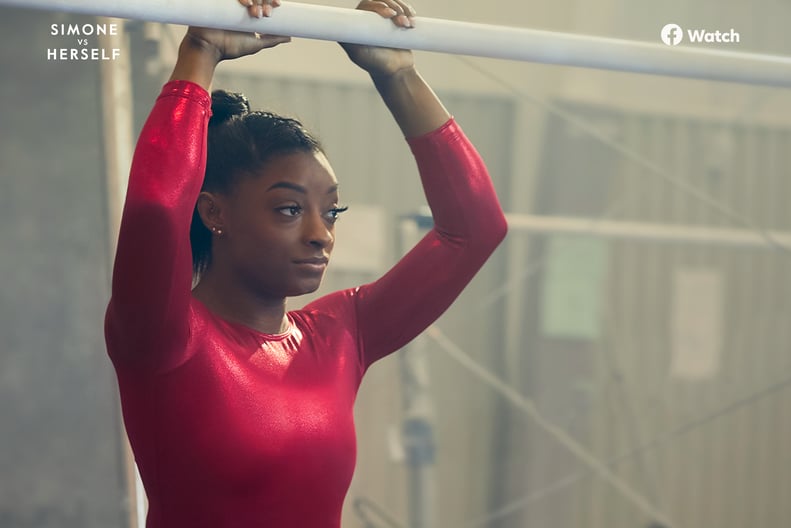 Facebook Watch | Religion of Sports
Facebook Watch | Religion of Sports
When the Religion of Sports production crew started filming the Facebook Watch docuseries Simone vs Herself, it was fall 2019, and Biles and Team USA took the stage at World Championships with gold in their eyes. Biles went on to become the most decorated gymnast in World Championship history, and Religion of Sports cofounder and director of the docuseries, Gotham Chopra, told POPSUGAR that no other top athletes are on her level.
"I've been around Tom Brady and Kobe Bryant and Steph Curry and LeBron James and Serena Williams, all of whom are just best of the best. I've never seen anyone just as physically gifted and yet work as hard as she does. It's just a different level," Chopra said. "I guess I've just never quite seen anyone who is as accomplished as she is but also dealt with the types of issues that she has." Chopra pointed to Biles's experience in foster care before being adopted by her grandparents and the trauma associated with past abuse from convicted former USA Gymnastics and Michigan State doctor Larry Nassar.
One thing Chopra identified that surprised him was that Biles — this record-setting athlete with four skills named after her and victories in every all-around competition she's entered in the past eight years — still admits to fear. He gave the buildup to Biles's new Yurchenko double pike vault, a skill no other woman does in gymnastics, as an example. When talking about this vault, Chopra said that Biles described feeling terrified standing at the end of the runway.
"She has a confidence. She wears that goat on her leotard. She knows how she good she is. She's doing these things, and yet there's a fear in her that is a motivator that I think is really interesting and pretty unique," Chopra explained. "Having worked with a lot of other elite athletes who are incredibly accomplished, there's a fearlessness in them." He admires this candidness and openness about Biles, and he noted that the docuseries as a whole will delve into two major storylines: her physical and mental training amid the COVID-19 pandemic as well as her life growing up.
Given that the series discusses her experiences as a survivor, along with mental health struggles, Chopra wanted to build a team of women whom Biles would feel most comfortable around during the day-to-day filming process. This team included co-executive producer Giselle Parets, senior producer Katie Walsh, cinematographer Jessica Young, story producer Mo Finn, and post supervisor Meghan Cirillo.
The interviews were very intimate, Chopra said, and though 24 is considered old in gymnastics, "she's still coming of age." Showing that side of Biles, he noted, is one of the strongest aspects of this docuseries. She's equipped with incredible strength — as Chopra put it, "she's like a superhero when she goes out there" — but she's also undeniably human.
Simone vs Herself premieres on Facebook Watch on June 15. New episodes air on Tuesdays.